After reliving the lovely memories associated with fresh yeast rolls, I want to share another special family recipe with you: Oven Baked Macaroni and Cheese. My love of macaroni and cheese runs deep. After all of the amazing things I've eaten, I still feel like I can say it's my favorite food.
In fact, I can remember many of the macaroni and cheeses I've enjoyed throughout the years. Apart from raiding the macaroni on the buffet at Quincy's, I remember getting double helpings when my family visited K&W, a cafeteria style restaurant. I also fondly remember when I finally endeavored to make the blue box macaroni on my own as a child, and proceeded to eat most of it on my own as well. The delicious soul food macaroni and cheese at Charlotte's historic restaurant, the Coffee Cup. The gourmet lobster macaroni and cheese at a restaurant in south Charlotte. The decadent, bready macaroni and cheese Mike's mom makes. Perhaps I should write a poem on the subject: my life in macaroni.
Over the years, one recipe tops the list as my favorite macaroni and cheese. I guess you'd expect it to be a labor intensive recipe with numerous cheeses and a mile-long list of ingredients. But you know what's funny? Sometimes the simplest things really are the best. This Oven Baked Macaroni and Cheese (with optional sausages) takes all of 5 minutes to throw together, bakes for 45 minutes, and is truly outstanding. I've had people ask if I put ricotta in it because it's so creamy, and I've had people request that I bring two pans of it to a party instead of just one. You're going to love this recipe, just like my family has for years.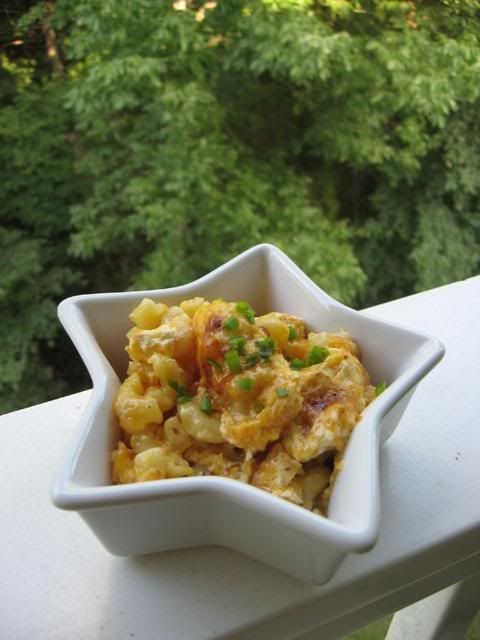 Oven Baked Macaroni and Cheese
I often serve this as a main course with the optional breakfast sausages on top. You can serve it with big spinach salads. In one particularly fabulous meal, I just made a big pan of this macaroni and a big pan of homemade yeast rolls and Mike and I loaded up on carbs! It also goes wonderfully as a side dish, of course. Here are my serving suggestions in photograph form (can you tell we eat this a lot?):

One serving suggestion: big spinach salads with Oven Baked Macaroni and Cheese (and some goodies in the background as a teaser — that post is coming soon!)



Another delicious way to eat Oven Baked Macaroni: with a big bowl of yeast rolls!




Last but not least, another carb indulgence: Oven Baked Macaroni and Cheese acting as a side dish to our Taco Stuffed Crescent Rolls (another great and easy recipe I'll have to post soon!)


Oven Baked Macaroni and Cheese
---
Recipe By: unknown
Yields: a large casserole dish; serves about 4.
Ingredients:
3 tablespoons butter
2 cups dry macaroni
4 cups milk
1 block sharp cheddar cheese, grated (or about 4 cups)
1 package breakfast sausage links or bulk sausage, cooked (optional)
salt and pepper
a sprinkle of fresh chopped chives (optional)
Directions:
Preheat oven to 400 degrees. Spray large, rectangular pyrex dish with nonstick cooking spray. Put butter into dish and set it in the oven as it preheats. When butter is melted, take the dish out and add macaroni. Stir until macaroni is coated. Add milk, cheese, salt, and pepper. Stir and make sure ingredients are evenly distributed. Bake at 400 for 45 minutes, stirring twice during baking. Place cooked breakfast sausages on top (and sprinkle a little extra cheese if desired) and heat in oven until hot. Sprinkle on fresh chopped chives if desired.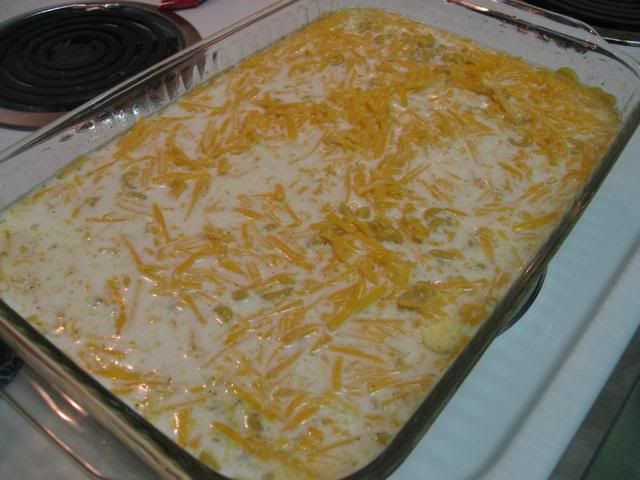 Ready for the oven!



Ready to eat!



As a bonus, will you just LOOK at my adorable cooking buddy's sleeping position as I type this? I had to capture it with my grainy Photobooth since my camera is nowhere in sight. Isn't she the cutest?!

Sleepy little Byrd helping Mom post recipes and dreaming of belly rubs!