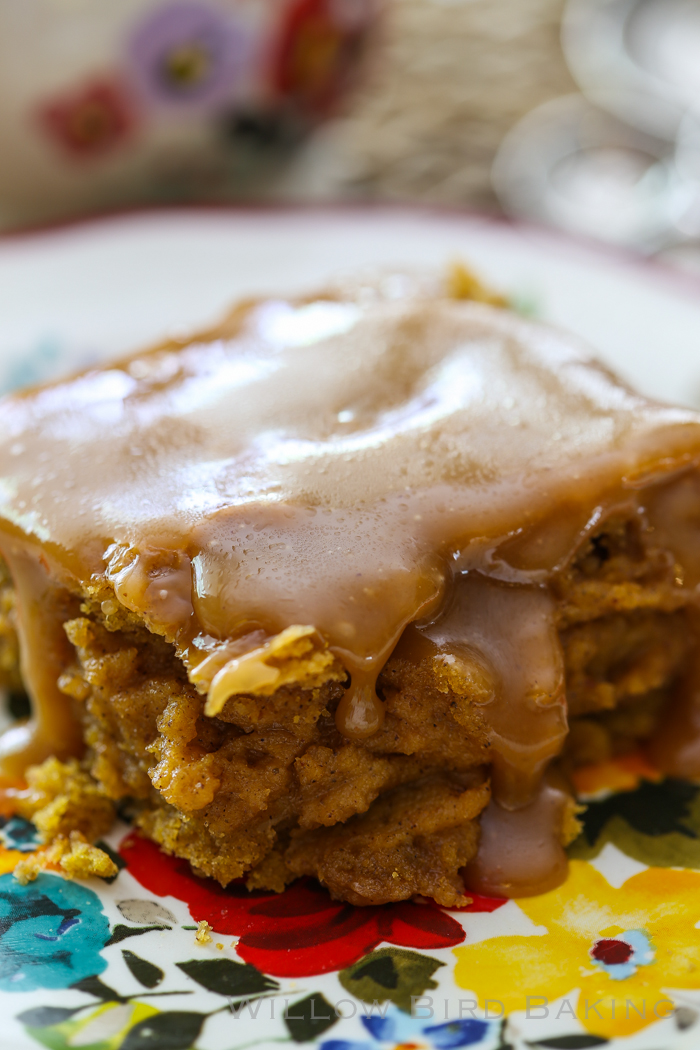 Sticky Toffee Pumpkin Cake
I still feel so weird. It's been over a year since Mike and I packed up everything (or really, sold most things and packed up the rest) and drove across the country. I knew everything would turn upside down for me and that it'd take quite awhile to settle back the right-way-round — in fact, I budgeted a year in my mind — but it still hasn't happened.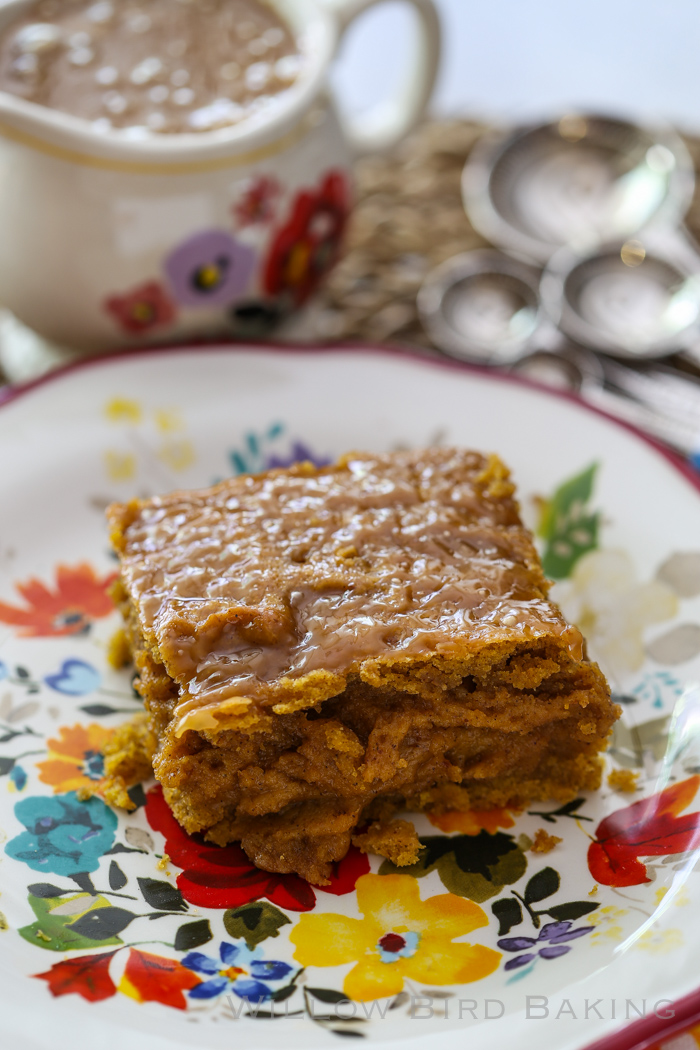 So much has changed. The weather's different, the vegetation is different, the people are different, the food is different, the animals are different, the land is different. But I'm different, too, and in a way that has no continuity. It's like time broke into two parts on our week-long drive. My past self isn't connected to my current self. I don't remember being the me I was. (Shout out to my fellow sufferers of identity disturbance.)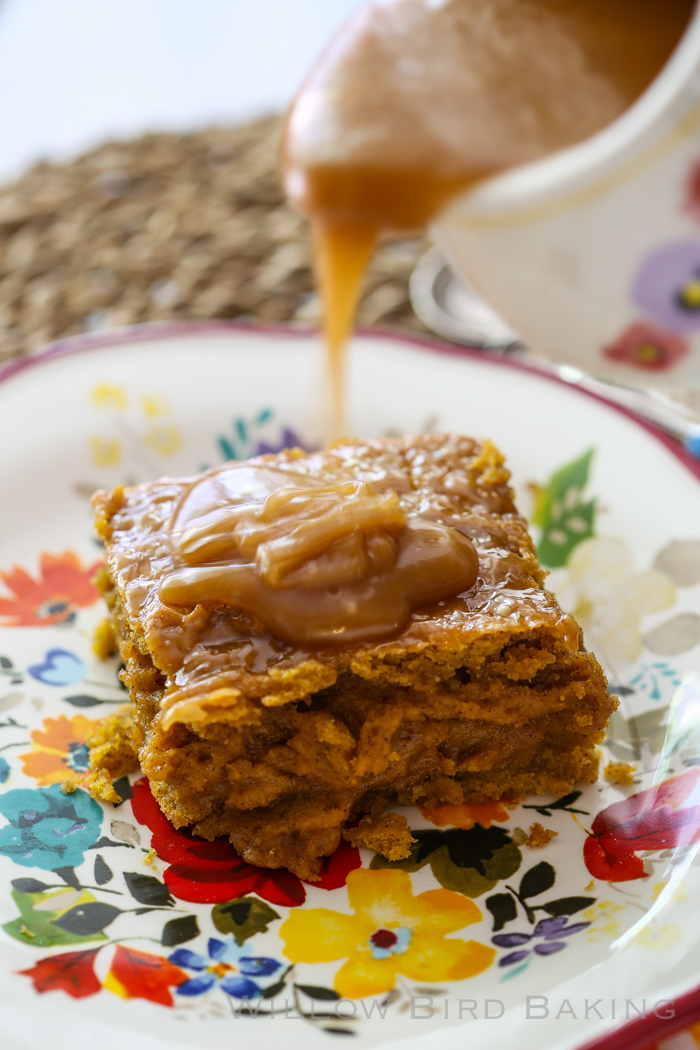 If I could pick the moment when it happened, it'd be this one in Las Cruces, New Mexico while my car's air conditioning was being fixed — again. I finally had a chance to breathe but I felt like I was on another planet. And that feeling's never really gone away.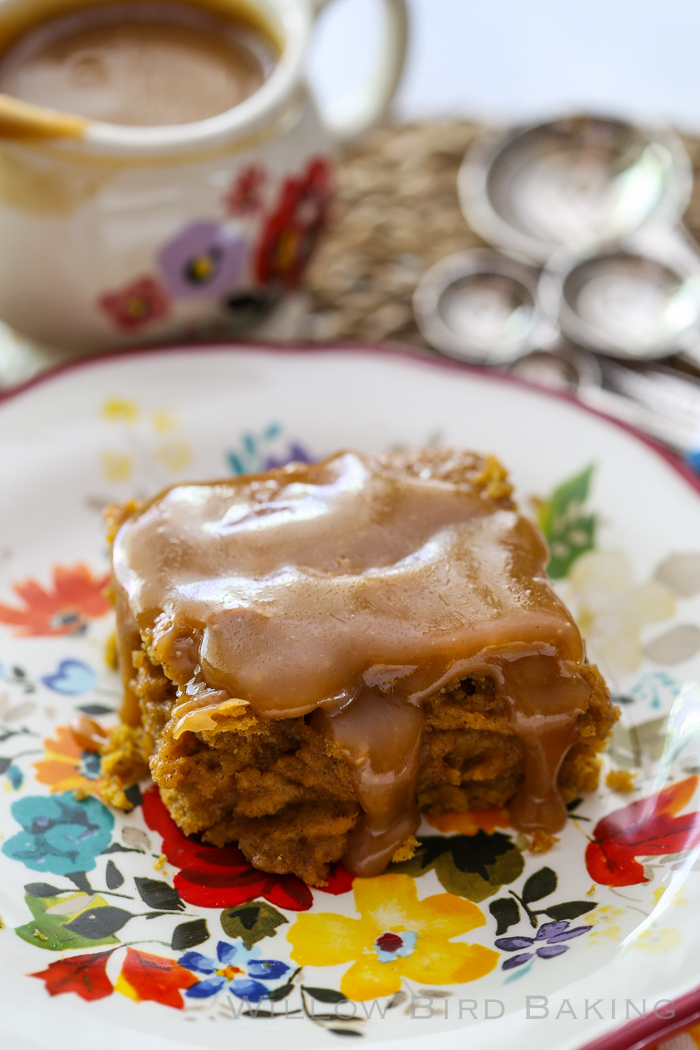 Things are good. Really good, even. I'm finally back in the classroom after my year in graduate school, and that's definitely the right place for me. It's just surprising to me that I'm rebuilding myself from the ground up. I knew it'd be a shift but I didn't count on a total loss. Lots of people move across the country, right? And some people move all the time. Does it always feel this way?
One year ago: Apple Streusel Cheesecake Pockets
Two years ago: Pumpkin Spice Latte Snack Cake
Three years ago: Easy Carrot Cake with Whipped Icing
Four years ago: Pumpkin Cheesecake Pillow Popovers
Five years ago: Gooey "German" Pumpkin Skillet Cake
Six years ago: Pumpkin Spice Pull-Apart Bread with Butter Rum Glaze
Seven years ago: Red Velvet and Oreo Kisses

Sticky Toffee Pumpkin Cake
Moist pumpkin cake and sticky toffee pudding are two of my favorite things — and they merge in this delicious dessert recipe! Sticky Toffee Pumpkin Cake is a moist pumpkin cake covered in buttery toffee. Serve it with whipped cream or ice cream — or all by itself!
Author:
Willow Bird Baking
Ingredients
Cake Ingredients:
3/4 cup butter
2 teaspoons cinnamon
1/2 teaspoon nutmeg
1/2 teaspoon ginger
1/4 teaspoon allspice
1/4 cup vegetable oil
3/4 cup granulated sugar
1/4 cup firmly packed light brown sugar
1 teaspoon vanilla extract
2 eggs
1 cup pureed pumpkin
2 1/8 cups all-purpose flour (1/8 cup is 2 tablespoons)
1 teaspoon baking powder
1/2 teaspoon baking soda
1/2 teaspoon salt
Toffee Sauce Ingredients:
1/2 cup butter
1/2 cup heavy cream
1 cup packed light brown sugar
Instructions
Preheat the oven to 350 degrees F and grease an 8-inch square baking pan (I also place a greased sheet of parchment in the bottom for extra assurance.)
Brown the butter and bloom the spices: Heat the butter in a saucepan over medium heat until melted, 1 to 2 minutes. Continue to cook, swirling pan constantly, until butter is light brown and has faint nutty aroma, 2 to 4 minutes. Add spices (cinnamon, nutmeg, ginger, allspice) and continue to cook, stirring constantly, 15 seconds. Pour the butter into a large bowl and allow it to cool.
Once the butter has cooled, whisk in the vegetable oil, sugars, vanilla extract, eggs, and the pumpkin. In a medium bowl, whisk together the flour, baking soda, baking powder, and salt. Whisk these into your wet ingredients to combine. Pour the batter into the prepared baking pan and smooth out the top. Bake for 28-32 minutes or until a toothpick inserted into the middle of the cake comes out with just a few moist crumbs. Allow the cake to cool completely.
In a small saucepan, combine the butter, heavy cream and brown sugar. Bring this to a boil, whisking constantly. Boil gently for about 8 minutes over medium low heat, or until the mixture is thickened. Top the cake with about 1/3 cup of the toffee sauce and spread this around evenly on top. Place the cake under the broiler until the topping is bubbly, about 1 minute (keep a close watch! I rotated mine carefully every few seconds for even bubbling). Serve slices with extra toffee sauce and whipped cream or ice cream.