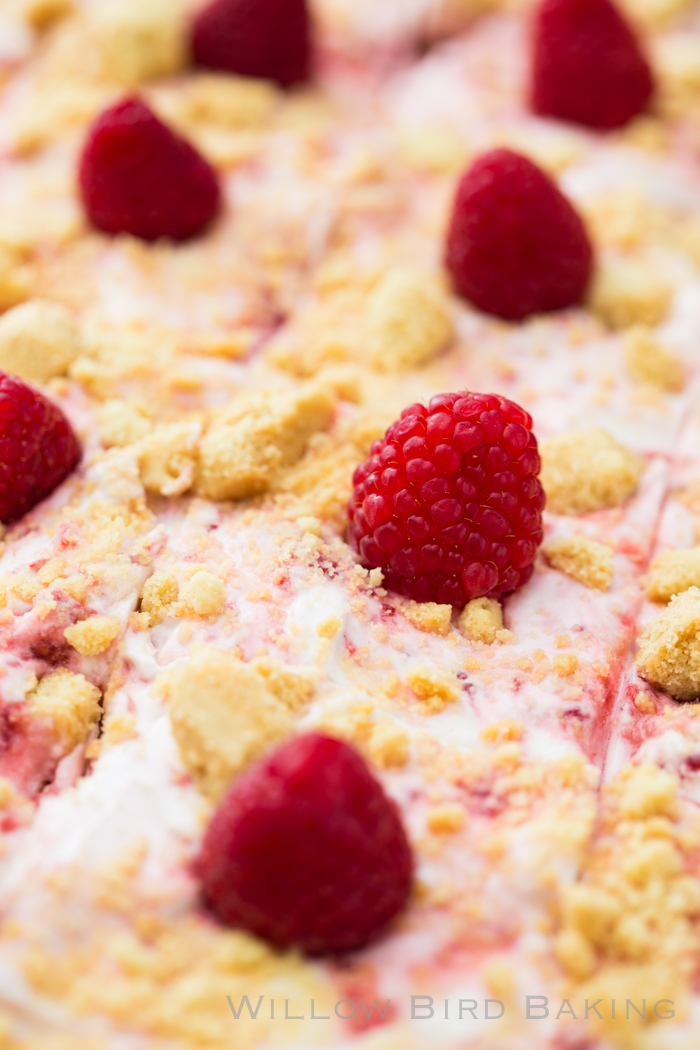 Raspberry Fool Sheet Cake
It's AUGUST 1ST, which means I'm frantically scrambling to do ALL THE THINGS I'VE HAD A FULL, BEAUTIFUL MONTH TO DO but didn't do because I was drinking fancy tea and eating pastries shaped like fish and enjoying frosé. YOU KNOW. IMPORTANT STUFF.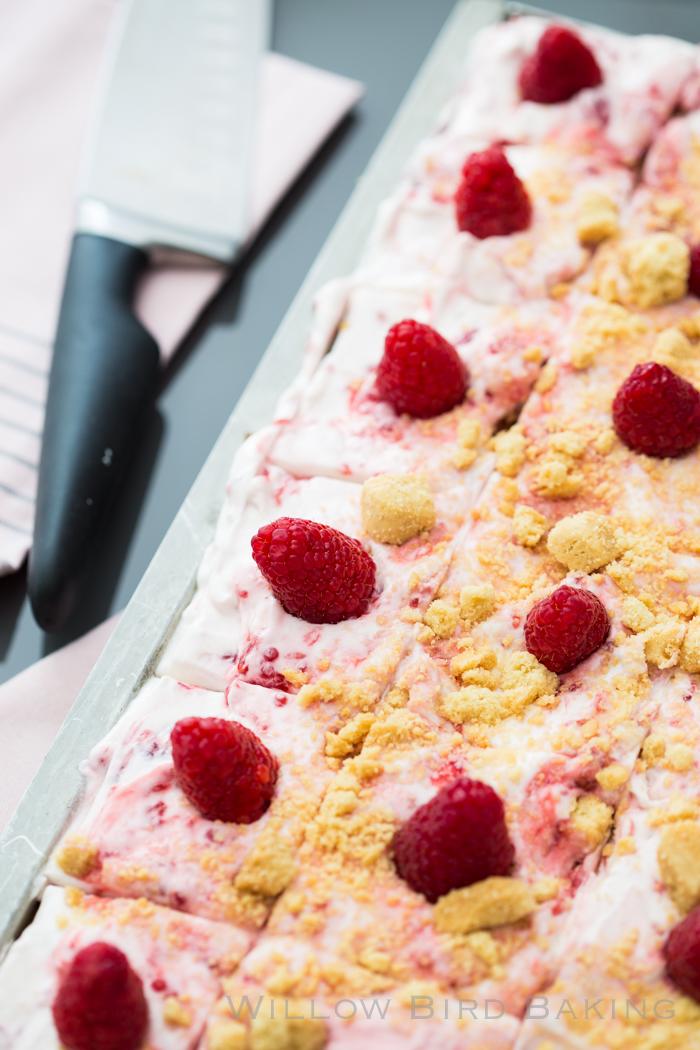 So anyway, today I'm writing an article that's due today because I'm me. Currently, my writing process is as follows:
1. Check Facebook for 45 minutes and quietly unfriend anyone who is doing anything fun while I'm stuck writing this article (JUST KIDDING I only unfriended you in my imagination. Probably.)
2. Laugh at approximately 9025234367 memes.
3. Scroll through Twitter until there are legit no Tweets left to scroll through. Like, I saw them all. Done. Finished.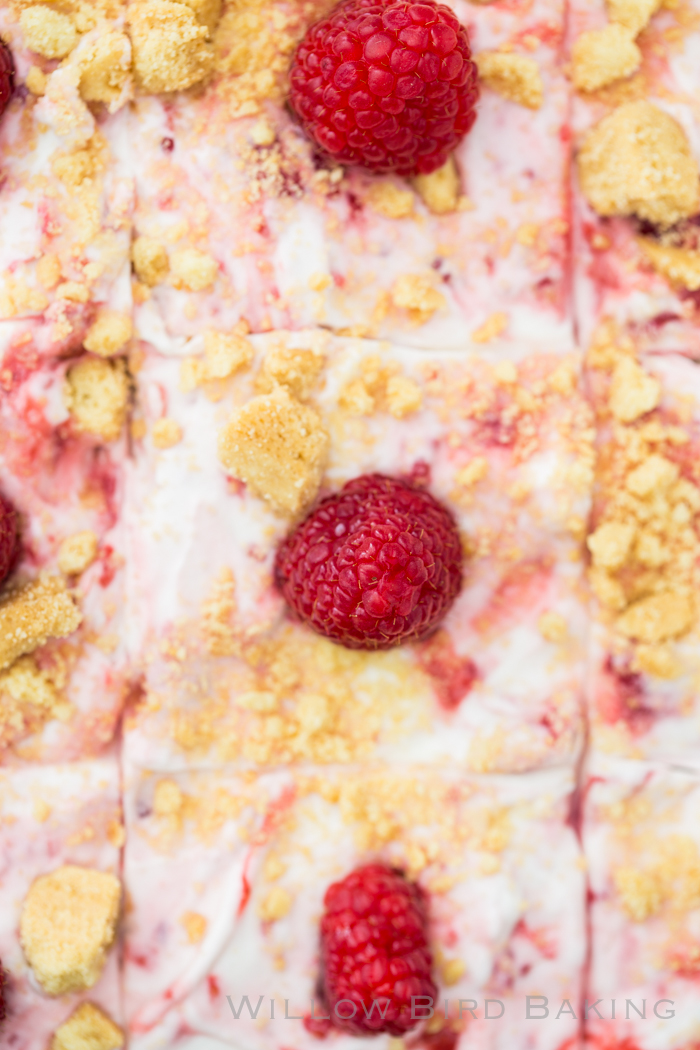 4. Cry.
5. WRITE A SENTENCE I'M DOING IT I'M A WRITER ALSO I'M A SUPERHERO RIGHT NOW —
6. Realize the sentence is terrible, I'm a sham, nobody loves me, I don't even love me, I bet my dog only pretends to love me —
7. Recover by checking Facebook for 45 minutes to distract myself from my desperate and deeply embedded fear of inadequacy. Annnd from the fact that I have to pee now because I've wasted so much time and that means choosing to pack up all of my crap to schlep to the coffee shop bathroom OR acquiesce to the possibility that someone will steal my computer because I'm lazy. Ugh, decisions.
8. Repeat.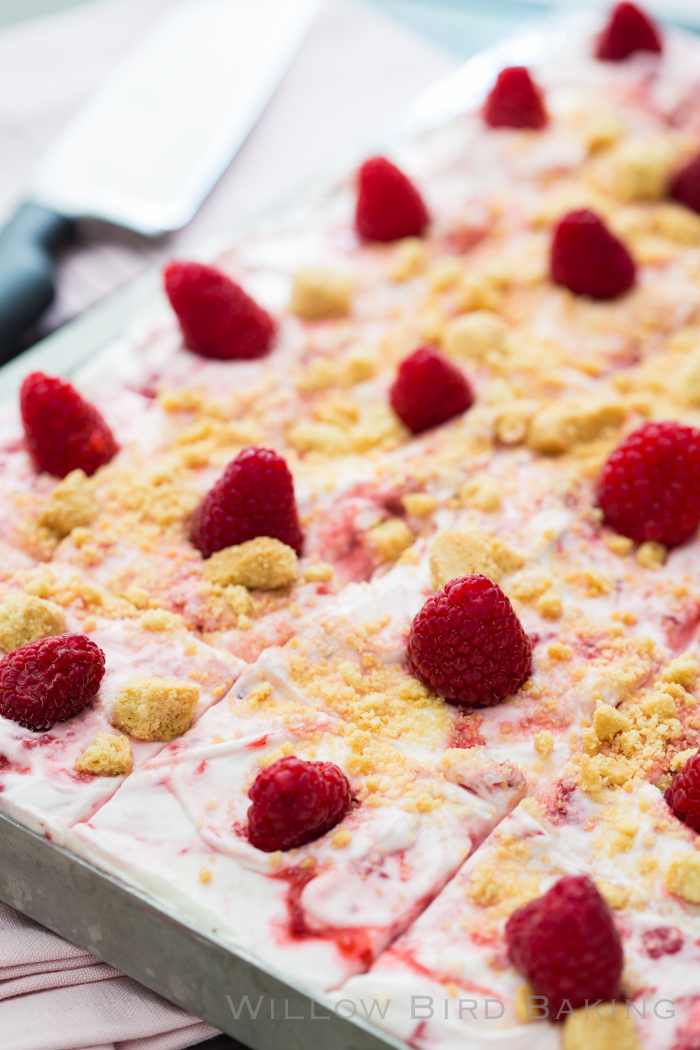 At this rate, the article that's due today will definitely be ready by December. Don't even remind me about the OTHER article that was due in FEBRUARY that I'm still in the middle of. Or the exam I have on Friday. Or… Y'all. Just feed me cake. And maybe another of those pastries shaped like a fish.
One year ago: Buckeye Brownies
Two years ago: Quick Lemon-Iced Yellow Cake
Three years ago: Hot Raspberry Cake with Vanilla Ice Cream
Four years ago: Homemade S'mores Marshmallows
Five years ago: Lemon Raspberry Squares
Six years ago: Sweet and Spicy Pickled Grapes with Goat Cheese
Seven years ago: Overnight Yeast Rolls

Raspberry Fool Sheet Cake
Raspberry Fool is an old, old, old recipe (dating back to 1598!) These days, this vintage recipe involves folding macerated raspberries into whipped cream to make a delicious mousse-like treat. In this Raspberry Fool Sheet Cake, my favorite yellow sheet cake is topped with fluffy raspberry fool and crushed shortbread cookies. It's perfect for a crowd at a potluck or picnic!
Ingredients
Cake Ingredients:
1 cup butter
1 cup water
2 1/4 cups cake flour
2 cups white sugar
2 eggs, lightly beaten
1/2 cup sour cream
1/2 teaspoon almond extract
1/2 teaspoon vanilla extract
1 teaspoon baking soda
1 teaspoon salt
Raspberry Fool Frosting:
3 cups raspberries
3 tablespoons sugar
2 tablespoons water
2 cups cold heavy whipping cream
1/2 cup powdered sugar
8 whole shortbread cookies, crushed
Instructions
Make the cake: Preheat the oven to 375 degrees and grease a 15 x 10 x 1″ baking sheet. In a medium saucepan over medium heat, bring the butter and water to a boil. In the meantime, in a separate large bowl, whisk together the cake flour and sugar before adding the eggs, sour cream, almond extract, vanilla extract, baking soda, and salt. Mix to combine. While mixing, slowly pour in the boiling butter and water mixture. Mix to combine completely. Your batter will be very runny. Pour the batter into the prepared baking sheet.
Bake at 375 degrees for 17-22 minutes or until a toothpick inserted in several places comes out with a few moist crumbs (don't wait for the top to get golden brown, necessarily — mine stayed pale). Cool completely.
Make the raspberry fool frosting: Stir together 2 cups of the raspberries, sugar, and water in a medium bowl and let this sit for 15 minutes. Beat the heavy whipping cream and powdered sugar together to soft peaks. Mash the raspberry mixture until it's completely mixed together. Spoon half of this mixture into the cream and fold it in just 1-2 times. Frost completely cooled cake with this mixture, drizzling remaining raspberry mixture over the top and swirling it gently. Top the cake with crushed cookies and remaining raspberries for garnish.