Thanks to ConAgra Foods for sponsoring this post!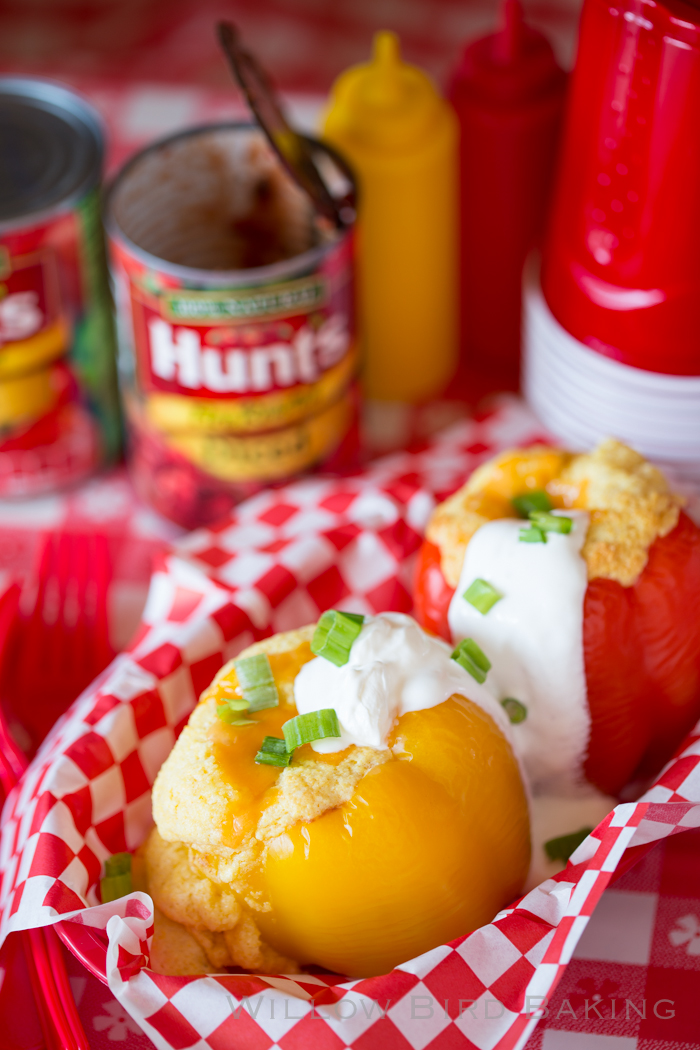 Cheesy Tex-Mex Cornbread Stuffed Peppers
I love football and all the giddiness of game watching, but you lose me at tailgating. I don't mind standing around with friends and eating, but to be the one who has to lug a whole bunch of equipment somewhere and deal with the weather and a bunch of drunk fans? Not my scene.
Enter homegating: inviting people you actually like to tailgate in your home, where God-willing there are sofas, a built-in oven, and central air. It's what glamping is to camping. Here are some tips to improve your homegating game: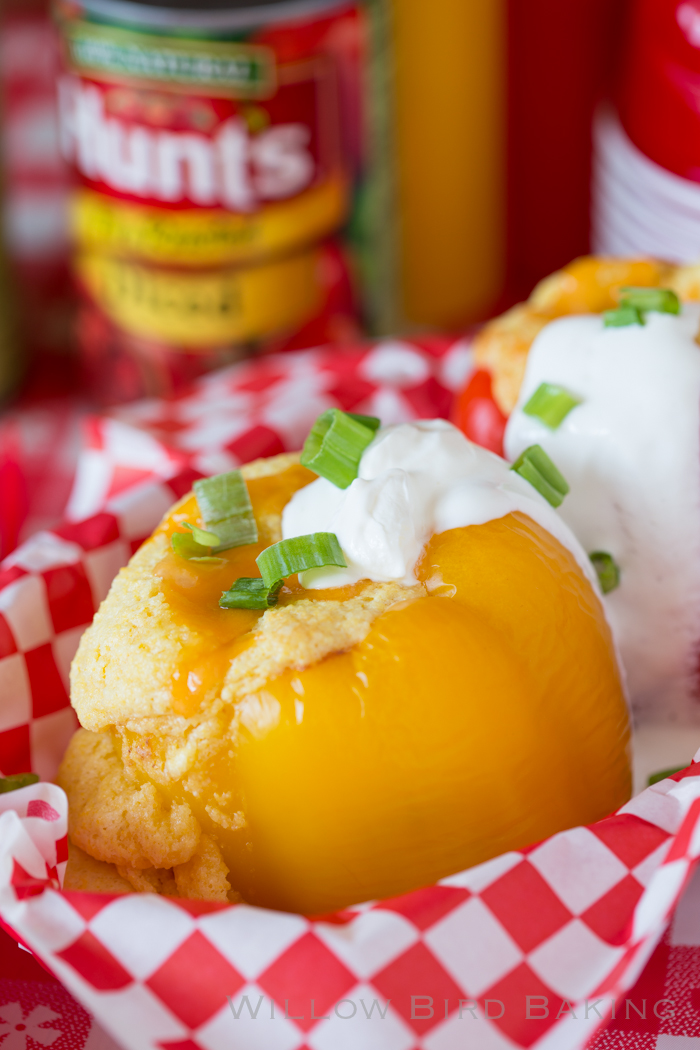 1. Think small. We've been instructed by our mothers, cheesy inspirational movies, and the occasional fortune cookie to THINK BIG, but the glory of football food is that everything's small. It's one of those glorious times when your entire meal can be made of small bites and appetizers. Consider prepping a few different apps that require the same base — for instance, I created two kinds of stuffed peppers.
2. Opt for versatile decor. You may be tempted to skip decorations and just set out the chip bowl, but it's amazing what a little ambience will do for your gathering. I always opt for decor that can be used for a lot of different occasions instead of specific team colors and mascots. I love cute diner decor like a red-checked tablecloth, plastic baskets, and a few glass-bottled sodas.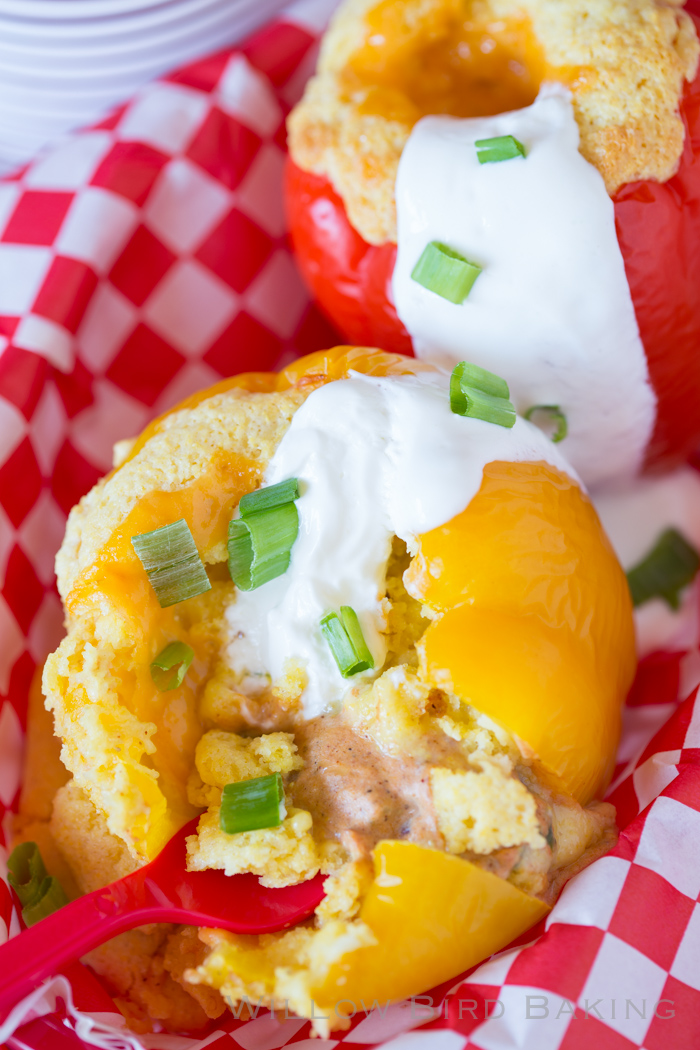 3. Get silly. Goofy football hats, face paint, and foam fingers make homegating just as exciting as being at the game. Your guests won't be expecting them, but that's what makes them fun!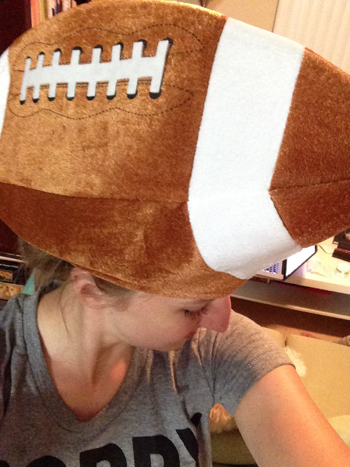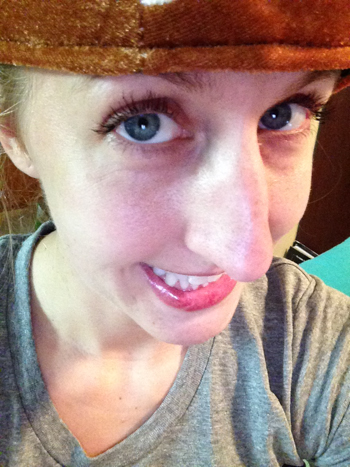 I bought this.
4. Have a friendly food competition. Try making a few different versions of the same dish (or having each friend bring a version) to add some fun besides the big game. Mini chili cook-off, anyone? We had our own little stuffed pepper cook-off at my homegating party and it was quite a close race! These Cheesy Tex-Mex Cornbread Stuffed Peppers won by a narrow margin, but I'll share the delicious Vegetarian Sloppy Joe Cornbread Stuffed Peppers with you too!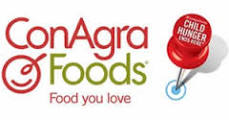 ConAgra Foods products can be found in 99 percent of American households, and include many iconic brands such as Hunt's, Hebrew National, Swiss Miss, Manwich, PAM Cooking Spray and many more. Whether on their own or as part of a delicious recipe, ConAgra Foods brands are perfect for nearly any eating and entertaining occasion.
One year ago: Smoked Whitefish Salad Vols-au-Vent
Two years ago: Lemon Raspberry Gooey Butter Cake
Three years ago: German Chocolate Cheesecake
Four years ago: Gooey S'mores Bars
Five years ago: Ina Garten's Lemon Loaf Cake
Six years ago: Plum and Cream Mini Tortes

Cheesy Tex-Mex Cornbread Stuffed Peppers
These sweet bell peppers are stuffed with cheesy, creamy Tex-Mex mixture topped with sweet cornbread. Serve with sour cream and green onions at your homegating party!
Author:
Willow Bird Baking
Ingredients
6 sweet bell peppers, halved lengthwise with seeds and membranes removed
8 ounces cream cheese, softened
1/2 cup shredded cheddar cheese, plus extra for topping
2 tablespoons chopped green chiles
1 teaspoon olive oil
1 (15-ounce) can black beans, drained and rinsed
1/2 cup frozen corn kernels
1 (15-ounce) can Hunt's Fire Roasted Diced Tomatoes, drained
2 teaspoons ground cumin
1/2 teaspoon salt
1 package cornbread mix, plus ingredients needed to make it (usually milk and eggs)
sour cream (for serving)
chopped green onions (for serving)
Instructions
Preheat the oven to 350 degrees F and line a baking sheet with foil sprayed with PAM Cooking Spray. In a large Dutch oven or stockpot, boil enough water to cover the peppers. Place the peppers into the boiling water and cook for 2 minutes. Drain and set aside.
Place cream cheese, cheddar, and chiles in a medium bowl. Place olive oil in a medium saucepan over medium-high heat. When the oil shimmers, add the cumin and toast it for a few seconds until fragrant. Add the beans, corn, and tomatoes and cook until they're heated through and most of the moisture has evaporated, about 5 minutes. Stir in the salt. Pour this hot mixture over your cream cheese and cheese and let it it for a couple of minutes to get melty before mixing it together until well combined. Fill each pepper with the mixture, saving some room on top for the cornbread.
Prepare your cornbread mix according to package instructions. Spoon a generous amount in the top of each stuffed pepper. Bake for 20-25 minutes or until the cornbread is done. Sprinkle with cheese and place back into the oven just until the cheese is melted. Serve with sour cream and chopped green onions.