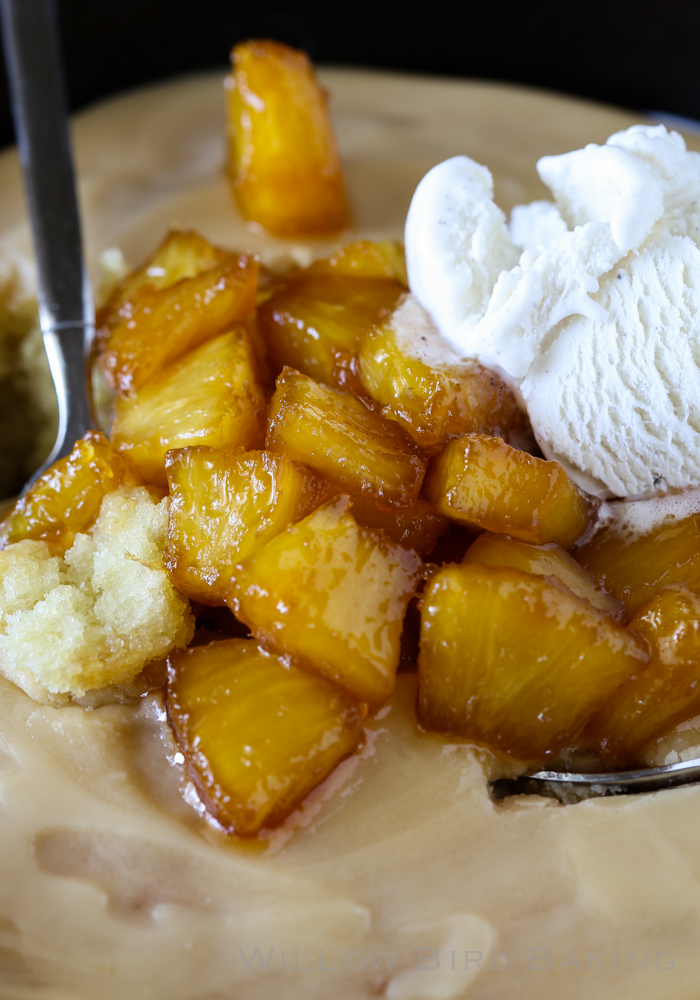 Hot Yellow Cake with Caramelized Pineapple
Aastha, one of my 7th grade students (almost 8th!), is a ballerina and a fantastic nail artist, but I can't relate to those things. Grace is a foreign concept to me and I have to use clear nail polish or I look like I've been trying to finger paint in a cement mixer.
But Aastha is also a passionate writer and baker, and those things I can relate to. For her Passion Project, a project wherein students spend an entire year exploring their personal passion and using it to improve or inform their society, she decided to create a cookbook of cupcake recipes adapted for special diets.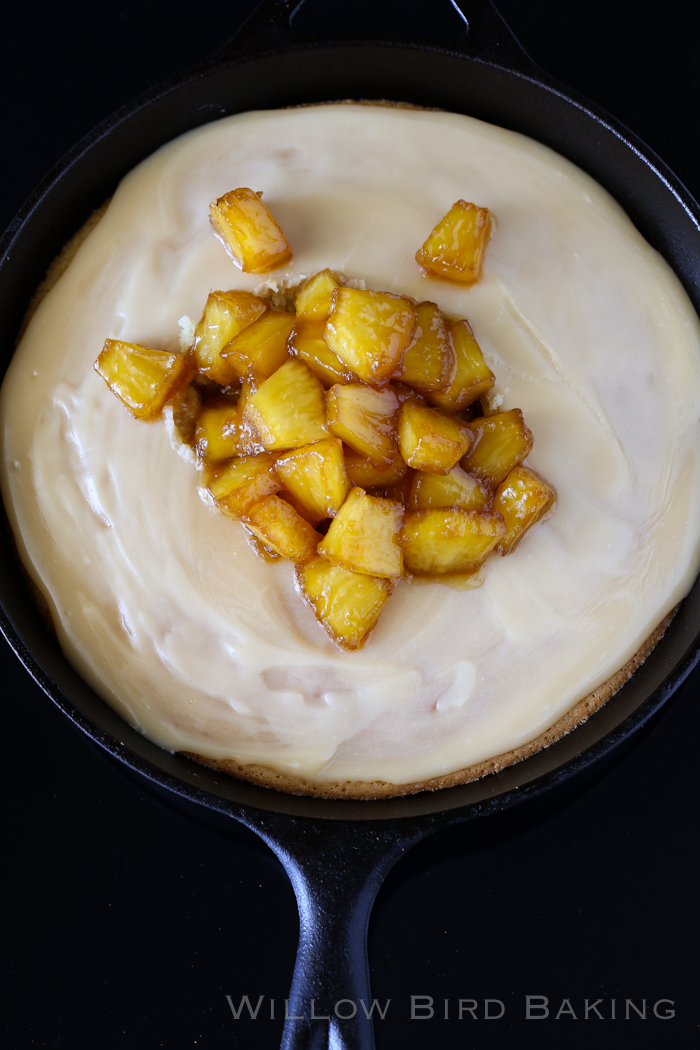 She also participated in Kitchen Nightmares, a week-long cooking and baking workshop I helped with at school. One of our activities that week was Cupcake Wars. Don't tell the kids, but it was kind of sneaky. When else does a teacher get to give students a slew of ingredients, sit back while they prepare awesome cupcakes, and then eat each of those awesome cupcakes in the name of "judging the competition"? It's pure genius.
When the clock started, most of the kids dove for the chocolate, Oreos, and candy and dressed up some impressive cupcakes. They were all delicious. But Aastha and her partner spent a good 30-40 minutes of their time slaving over something on the stove. What in the world were they doing that was worth using up almost half their prep time?
Caramelizing pineapple, that's what.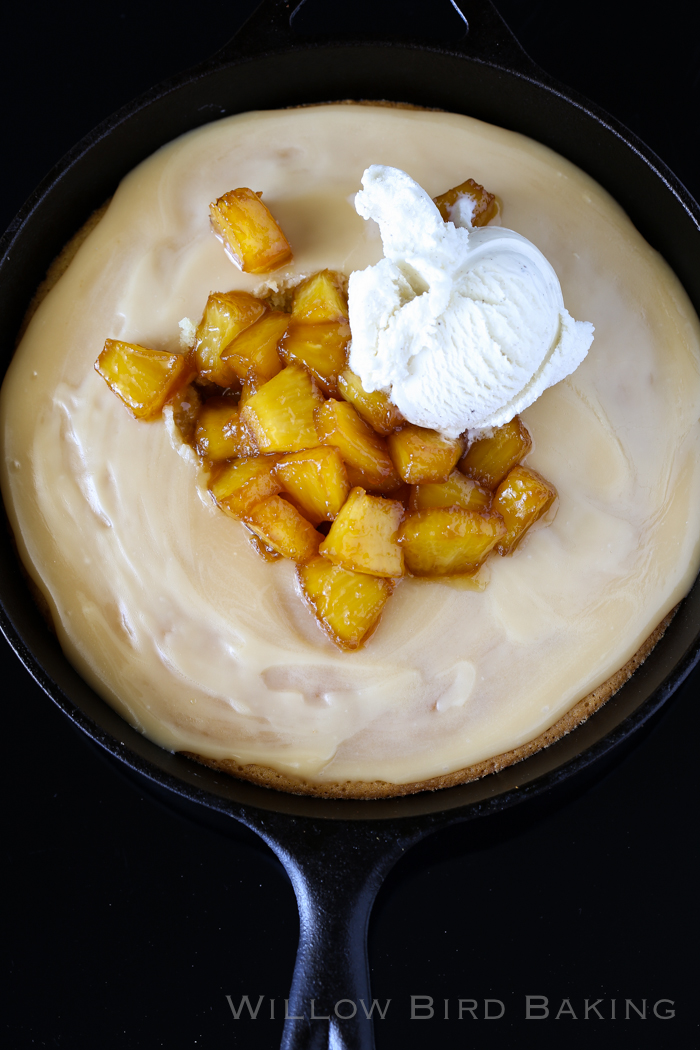 I had never caramelized pineapple before and I was skeptical. I like pineapple or whatever, but I'd rather eat a lemon something-or-other any day of the week. So when Aastha and her partner offered me a quick taste, I prepared to exaggerate my appreciative reaction.
Um. You guys. No exaggeration needed, as it turns out.
"WHAT DID YOU DO TO IT?" I demanded, preparing to eat the rest of the pan before they could assemble their cupcakes.
"Caramelized it with some brown sugar and butter."
"IS THAT IT?"
That's it. Caramelized pineapple is apparently just another way of saying "THE BEST THING YOU'LL EVER TASTE except for coconut, because let's be real, nothing will ever be better than coconut."
I promptly stole Aastha's idea and developed the recipe below with it: an incredible hot skillet cake with crackle icing and a huge pile of caramelized pineapple right in the middle. It does take awhile for pineapple to caramelize — 40 minutes on the stove or a couple of hours in the oven — but it's an understatement to say that it's worth it. Serve your hot cake and caramelized pineapple with lots of vanilla bean ice cream.
Do you have a special diet but love cupcakes? Stay tuned, because soon I'll share a link to purchase Aastha's thoughtfully prepared cookbook!
One year ago: Easy Cheesy Artichoke Dip in a Baguette
Two years ago: Lobster Roll Salad (and salad tips!)
Three years ago: Blueberry Scones with maple Glaze
Four years ago: Coffee Mousse Filled Doughnuts
Five years ago: Toasted Almond Cake with Mascarpone Cream and Amarena Cherries

Hot Yellow Cake with Caramelized Pineapple
I can't even articulate how good this cake is. This is definitely a MUST MAKE. Caramelizing pineapple takes awhile, but I've included two options (stovetop and oven) that I've tested out for you. When caramelizing, be patient. Don't stop when the fruit has pale coloring; instead, wait until you have those gorgeous, dark-golden tones. You're going to want to start keeping caramelized pineapple on hand all the time for topping ice cream (and skillet cakes, duh.) Don't ask me how I know this.
Ingredients
Caramelized Pineapple Ingredients:
1/4 cup unsalted butter
1/2 cup brown sugar
1 pineapple, cored and cubed (or 8 canned pineapple rings, cut in half)
Cake Ingredients:
1/2 cup butter
1/2 cup water
1 1/8 cups cake flour
1 cup white sugar
1/2 teaspoon baking soda
1/2 teaspoon salt
1 egg, lightly beaten
1/4 cup sour cream
1/4 teaspoon almond extract
1/4 teaspoon vanilla extract
Icing Ingredients:
1/2 cup sugar
1/4 cup butter, cut into chunks
1/3 cup evaporated milk
pinch of salt
1/2 teaspoon almond extract
vanilla bean ice cream (optional, for serving)
Instructions
Caramelize the pineapple on the stovetop or in the oven. STOVETOP: Melt the butter in a large skillet over medium heat. Add the sugar and cook, stirring, for 1 minute (the butter and sugar will remain separated). Add the pineapple and cook, tossing periodically, until the juice has mostly evaporated and the pineapple is nicely caramelized, about 35-40 minutes. OVEN: Preheat the oven to 300 degrees F. Place the chopped pineapple in a baking dish, melt the butter in the microwave, and pour the melted butter evenly over the pineapple. Crumble the brown sugar evenly over the pineapple. Bake for around 2 hours, tossing every 20-25 minutes, until caramelized and delicious.
To make the cake: Preheat the oven to 375 degrees and prepare a 10-inch oven-safe skillet sprayed with cooking spray. In a medium saucepan over medium heat, bring the butter and water to a boil. In the meantime, in a separate large bowl, whisk together the cake flour, sugar, baking soda, and salt before whisking in the egg, sour cream, almond extract, vanilla extract. Mix to combine. While mixing, slowly pour in the boiling butter and water mixture. Mix to combine completely. Your batter will be very runny. Pour the batter into the prepared baking pan. Bake at 375 degrees for 17-22 minutes or until a toothpick inserted in several places comes out with a few moist crumbs. While the cake bakes, prepare everything to start your frosting.
Make the icing: When the cake is fresh out of the oven, bring the sugar, butter, evaporated milk, and salt to a boil over medium-high heat (I use the same saucepan as before). Reduce the heat and simmer, whisking constantly, for 10 minutes. The frosting will bubble like caramel most of the time and you'll notice it start to pull away from the sides of the pan as it nears the 10 minute mark. Remove the icing from the heat and whisk in the almond extract. Pour the icing over the hot cake and spread quickly, because it begins to set immediately. Top the cake with the caramelized pineapple (I scoop out the middle of the cake, eat it (ahem), and then pour the pineapple into the crater). Serve immediately with vanilla bean ice cream.