Thanks to Philadelphia Cream Cheese for sponsoring this post.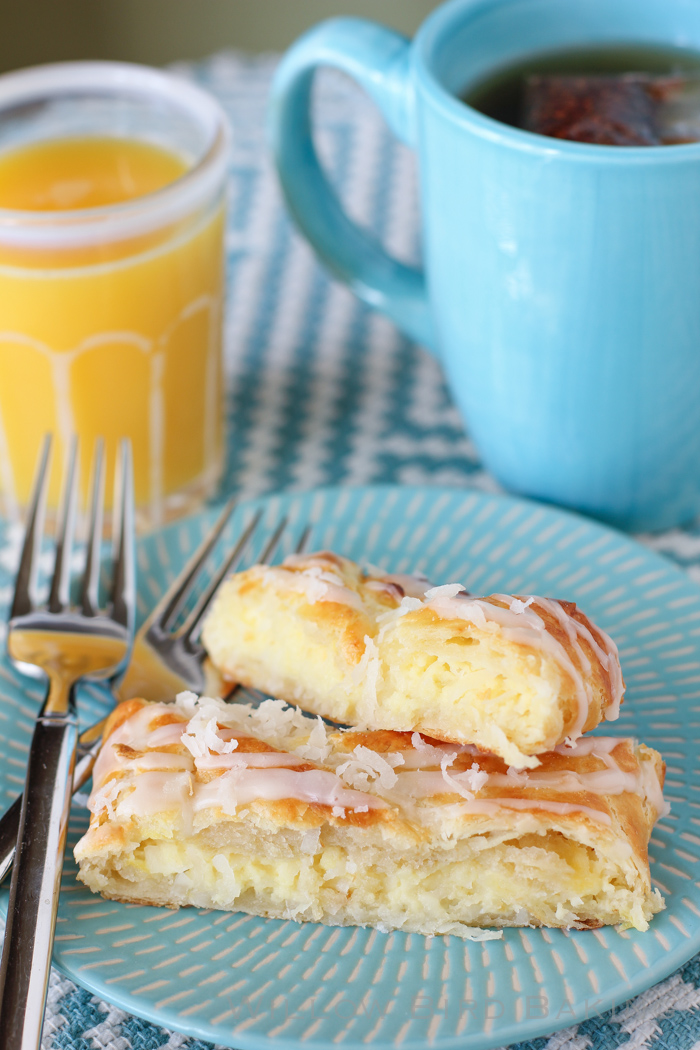 Coconut Cheesecake Breakfast Braid
So many holiday mornings of my childhood were spent climbing into the car with my dad to drive over to the French Bakery. I think it had an actual name other than "French Bakery," but that's all we ever called it. We drove down Sharon Amity Road and turned right onto Albemarle. From there it was a short trek to the little strip of shops out in front of Eastland Mall where the bakery entrance was situated under a big arch. As soon as we walked in I was transported to France.
Really, I had never been to France and didn't know much about it. But Elliott Erwitt's iconic print, Provence 1955, hung on the wall and I knew that was quite French. Just look at the bicycle! The baguettes! The beret! And the ethereal perfume of freshly baked pastries — not just any pastries, but the ones with the dark golden sweet crunch on the outside and perfect flaky layers on the inside — was undoubtedly French! So what I mean to say is, I was transported to the France of my imagination.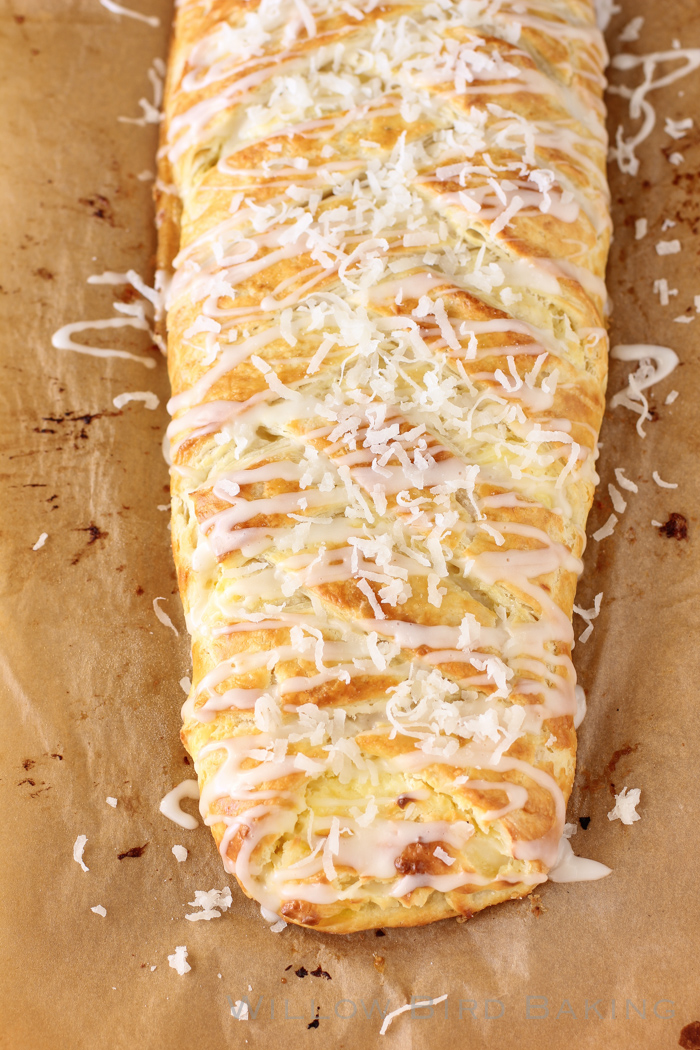 There were plenty of beautiful things in the bakery cases including the occasional lavish cake, but on the special occasions when we got to go to the French Bakery, I had eyes for only one thing: a cream cheese danish.
You've probably had plenty of mediocre danishes in your time, and so have I. But this wasn't like those soggy, bready things. This was crisp, buttery, creamy, amazing. All the danishes were good: cherry, blueberry, lemon. But the cream cheese danish had my heart. It made a holiday a holiday when we could drive home with the big white box full of pastries.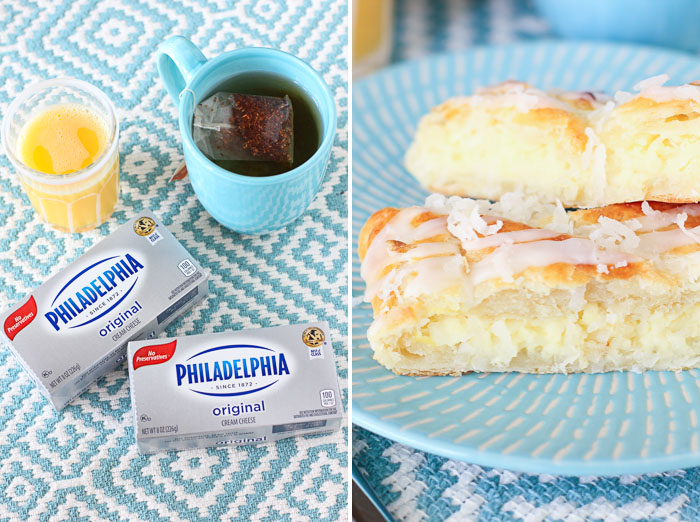 When I was a little older, the French Bakery moved about 10 miles farther away. Then, just like that, it disappeared altogether. Holiday mornings were never quite the same (thankfully, my mom could still make her awesome cinnamon rolls.) No matter how many bakeries I try — even the Frenchiest looking of the French bakeries — I can't find anything like the French Bakery.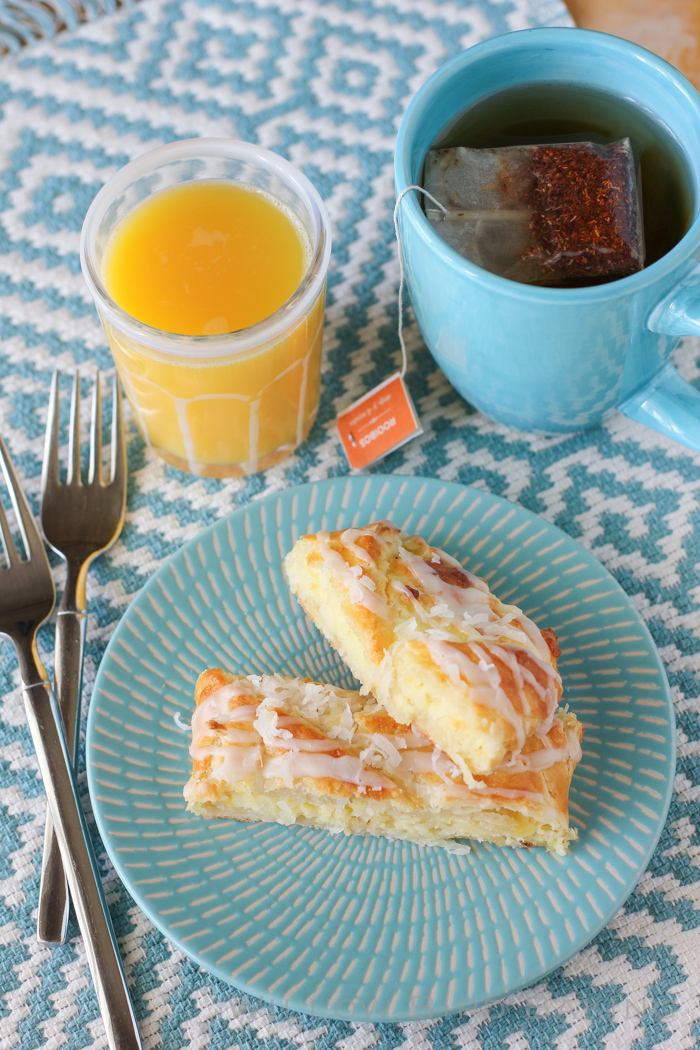 BUT NOW I AM A GROWN-UP (do grown-ups call themselves grown-ups? Whatever.) NOW I CAN BAKE TOO. Since I can't have my beloved French Bakery, I've taken to making allllll the pastry braids (I don't know if you've noticed? The roughly 800,839,405 braids on Willow Bird lately?)
I couldn't rest without a creamy coconut version for Easter morning. This crisp, gorgeous pastry filled with a cheesecakey center reminds me of my beloved French Bakery mornings and it's definitely fit for a holiday table. It's also so easy to make. I've included some handy photos and a tutorial video below so you can see how the braid comes together.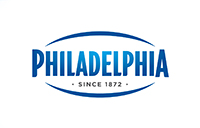 Thanks to Philadelphia Cream Cheese for sponsoring me to create a delicious Easter breakfast recipe. It's not an original Philadelphia Cream Cheese recipe — it's all mine! Just in case you couldn't tell by the braid.
One year ago: Bailey's Mint Oreo Icebox Cake
Two years ago: Bailey's Hazelnut Chocolate Tiramisu
Three years ago: Tres Leches Coconut Cake Trifle
Four years ago: Soft Pretzel Dogs
Five years ago: Best Blueberry Pie with Foolproof Pie Dough

Coconut Cheesecake Breakfast Braid
This recipe makes a delicious, crisp pastry braid filled with creamy coconut cheesecake. It's perfect for your Easter breakfast table!
Ingredients
Dough Ingredients:
2 cups all-purpose flour
2 tablespoons powdered sugar
1 teaspoon baking powder
½ teaspoon salt
½ cup unsalted butter
3 ounces cream cheese
½ cup milk
½ teaspoon almond extract
1 egg whisked with 1 teaspoon water for egg wash
Filling Ingredients:
1 (8-ounce) package Philadelphia Cream Cheese, softened
a scant 1/4 cup sugar
1 teaspoon coconut extract
1 egg, room temperature
3/4 cup sweetened shredded coconut (plus more for topping)
Glaze Ingredients:
½ cups powdered sugar
⅛ teaspoon coconut extract
⅛ teaspoon vanilla extract
1 tablespoon milk
Instructions
Make the filling: Cream the softened cream cheese in a medium bowl until fluffy before adding sugar, coconut extract, and the egg. Mix together until well combined. Stir in coconut. Set aside on the counter while you prepare the rest of the braid.
Make the pastry braid: Preheat the oven to 425 degrees F. In the bowl of a food processor, mix the flour, powdered sugar, baking powder, and salt. Add the cream cheese and butter into the flour mixture and pulse to cut the fat into the flour (about 6 pulses). Add the milk and almond extract and blend until it's just starting to come together into a loose dough.
Turn the dough out onto a big sheet of lightly-floured parchment paper and knead each very lightly for just 4-5 strokes (be careful not to overwork the dough or it'll be tough! Don't worry about getting it smooth — just knead for these few strokes and let it stay a little rough.)
Very lightly flour the top of the dough and place another sheet of parchment paper on top. Between two sheets of parchment paper, roll the dough to an 10- by 12-inch rectangle (I lift the paper off every now and then and flip the dough and repeat on the other side, to ensure the dough isn't sticking). Remove the top sheet of parchment and discard. Measure and mark the dough lengthwise into thirds. Dollop the cream cheese mixture on top of the butter and spread it out (I use the back of two spoons to spread it around). Things will get oozy and you will worry that you're messing the braid up. Take a deep breath and soldier through, because it's gonna come out amazing!
Continue assembling the braid: (Remember, there are photos below to help visualize this step!) Make diagonal cuts at 1-inch intervals on each the long sides. Do not cut into the center filling area. Fold strips, first one from one side and then one from the other side in an alternating fashion, over the filling. It will now resemble a braid. Use the sheet of parchment to carefully transfer your braid to a baking sheet. At this point you can cover and refrigerate the braid overnight, or you can continue to the next step.
Bake and glaze the braid: Brush the pastry braid with the egg wash mixture. Bake in the 425 degree oven for 20-22 minutes, until the dough is really golden on top and the filling is set. After allowing the braid to cool for around 30 minutes, whisk together the powdered sugar, coconut and vanilla extracts, and milk in a small measuring cup with a pour spout. Drizzle over the top of the braid. Top with extra shredded coconut and serve!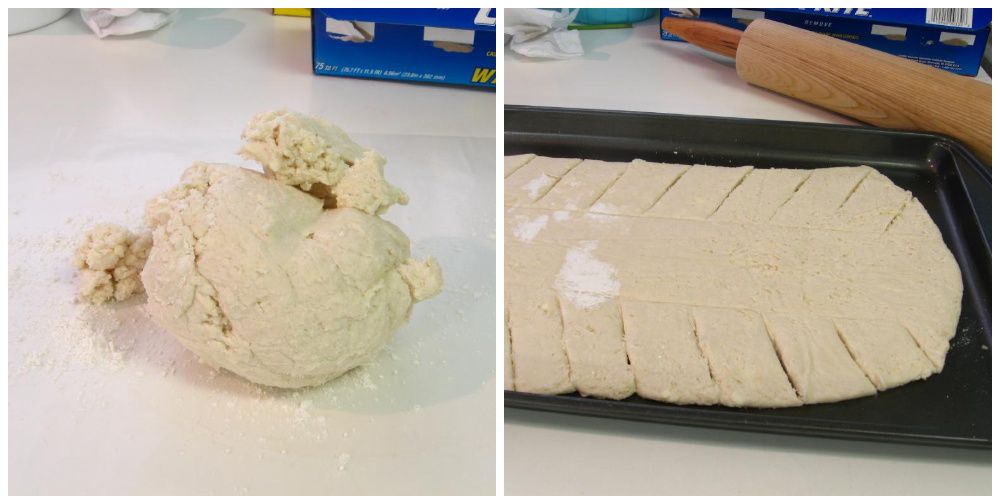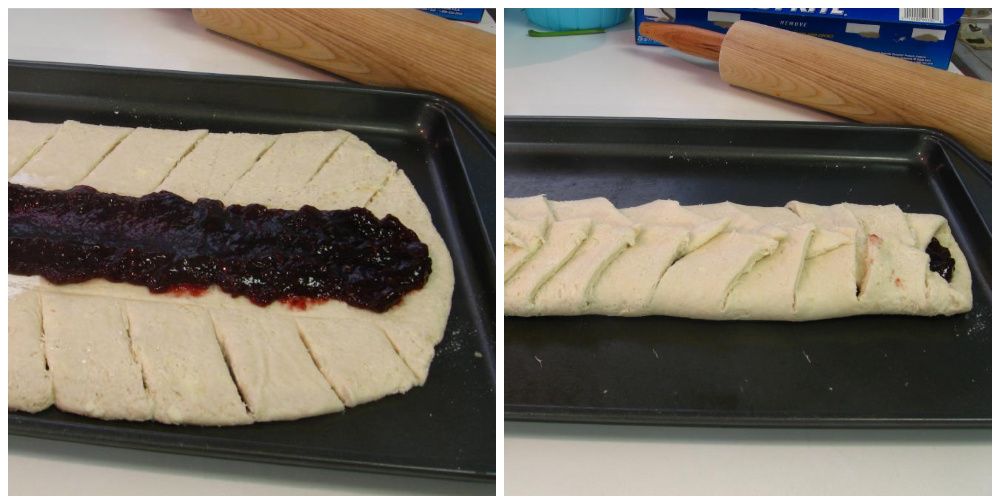 Example of how to cut and assemble braid.
And here's a video illustration:
https://youtu.be/kfmkkSFIKgY