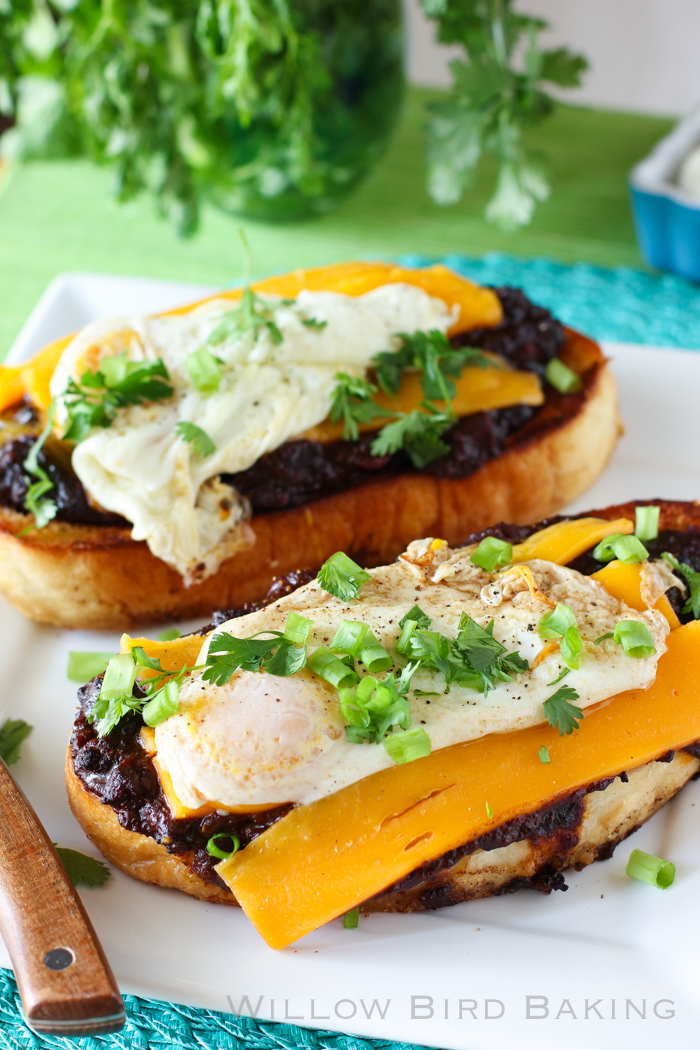 Open Faced Chili Grilled Cheese with a Runny Egg (The Perfect Grilled Cheese)
I AM SO EXCITED.
GUESS WHAT I GOT. JUST GUESS.
Here's a hint: What do snapshots of my raisin toast, the book I'm currently reading, selfies, and my dog have in common?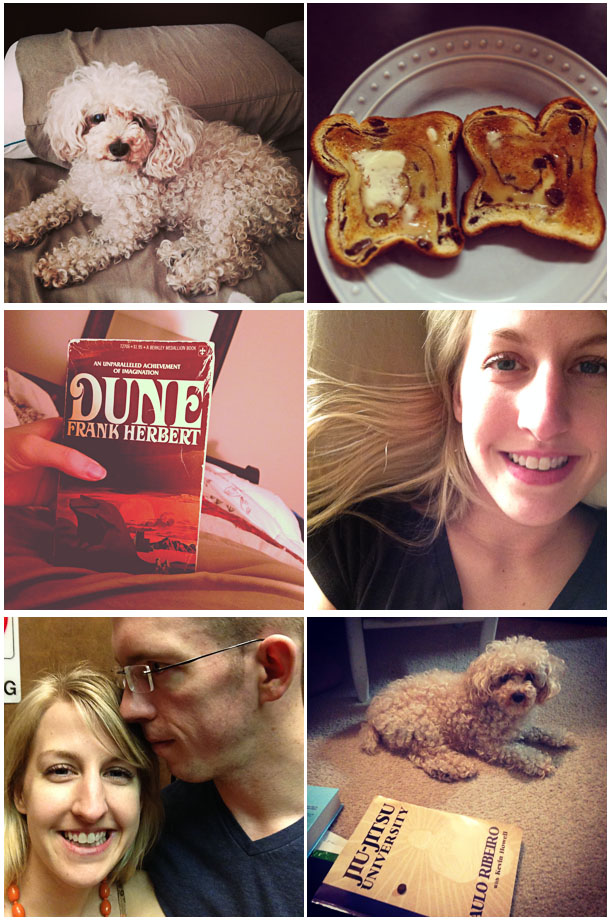 Not much. Except that these snapshots were all taken with MY NEW iPHONE 5C: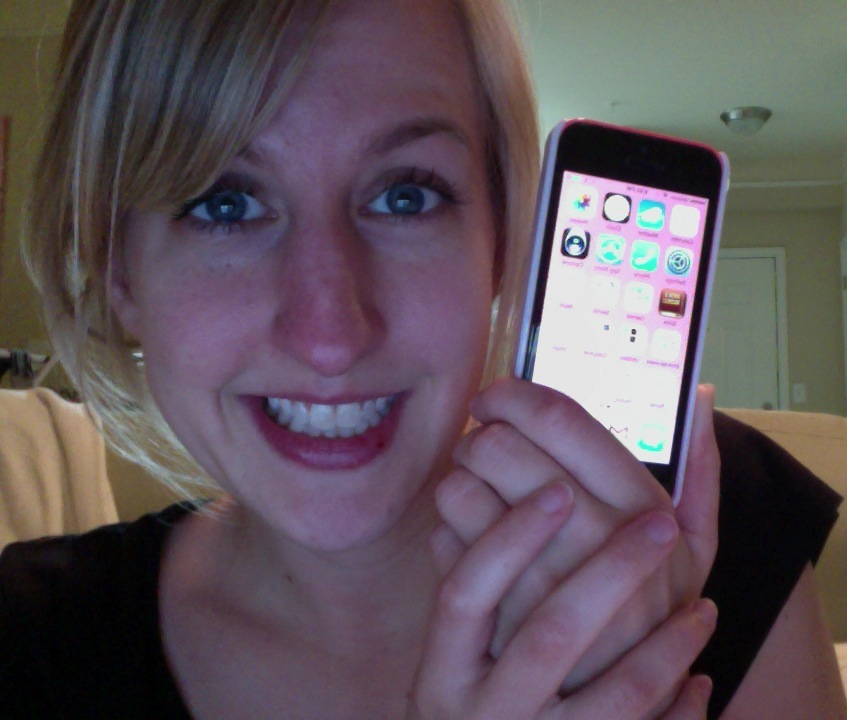 Welcome to this millenium, Julie.
It's pink and it's beautiful and it's got apps and now I know what apps are and I named it Elsie and I now have an INSTAGRAM ACCOUNT and…brb, have to jump up and down some more.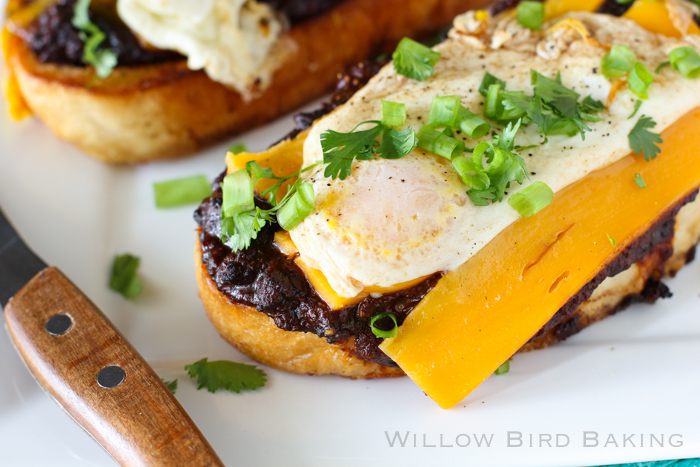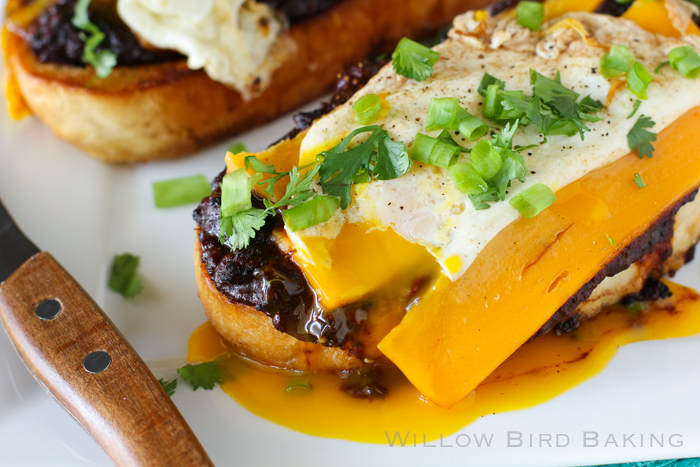 This phone was darn expensive, but I should've made the investment long ago. It really does change your life in an instant. I wish everyone could own one.
For instance, speaking of life-changing, I've been walking around playing Plants vs. Zombies nonstop for three days. Ahem. Okay, nevermind that part.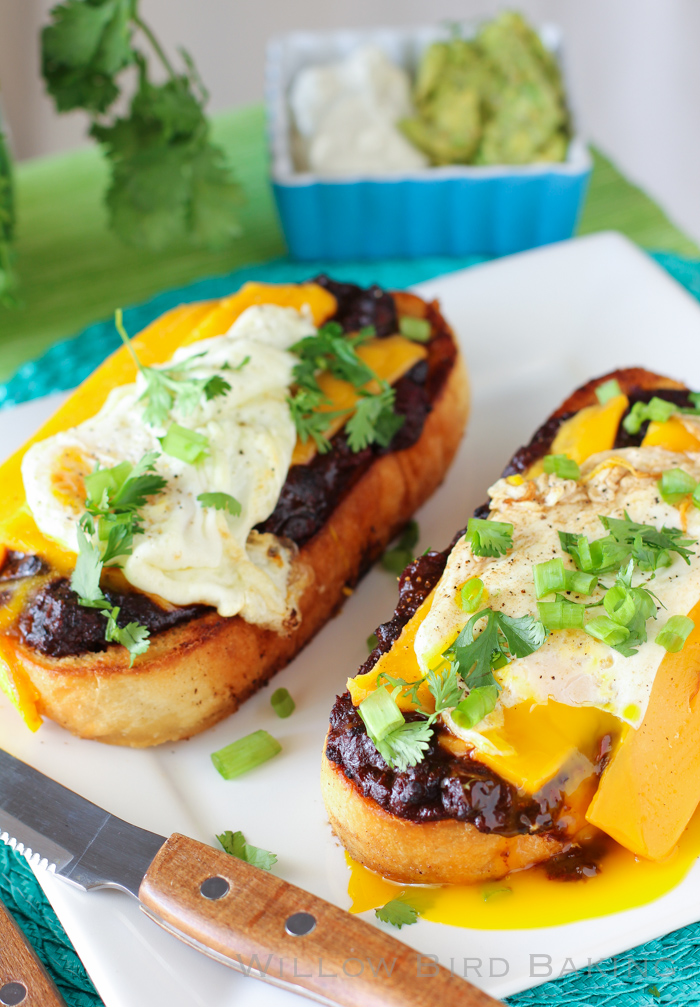 To add icing onto the iPhone cake, I made the best lunch ever! This has to be the world's best grilled cheese sandwich. Buttery, toasted sourdough bread is topped with my absolute favorite chili, razor sharp cheddar cheese, a runny fried egg, cilantro, and green onions. When that runny yolk sauced the sandwich, oh goodness, it became pure luxury. You have to make this. HAVE TO.
And then snap a photo of it to share with me on INSTAGRAM, OBVIOUSLY.
What apps do you love for the iPhone? What should I download?

One year ago: Flan Tres Leches Cake
Two years ago: Malted Chocolate Chip Cookie Dough Bars
Three years ago: Maple Bacon Doughnuts
Four years ago: Assorted Truffles in a Chocolate Bowl
Open Faced Chili Grilled Cheese with a Runny Egg (The Perfect Grilled Cheese)

---


Recipe by: Willow Bird Baking, with chili recipe adapted from Cooks' Illustrated, as found on Brown Eyed Baker. Sandwich inspired by BS' in the Kitchen.
Yield: 4 servings

This meal was insaaane. Turns out, the perfect grilled cheese requires the perfect homemade chili. You can use any leftover chili for this sandwich, but it's so worth it to make the chili linked below; it's the best I've ever had, hands down. It looks complicated, but it's actually a cinch to prepare and can be made a few days ahead and refrigerated until you're ready to assemble your sandwiches. The recipe below makes about three times the amount of chili you need, but I make the whole batch because I know I'll want to freeze some for other uses.

Ingredients:
1 tablespoon mayonnaise
lots of butter (around 1/2 cup), softened to room temperature, plus more butter for cooking
2 slices of a sourdough bread boule (about 1 inch thick and 8 inches long)
about 3 cups homemade chili from this recipe
sharp cheddar cheese, sliced thin
2 eggs
salt and pepper
2 green onions, chopped
cilantro, chopped
optional serving suggestions: guacamole, sour cream, avocados, salsa

Directions:
Preheat broiler. Mix softened butter and mayonnaise in a small bowl and spread a good layer on both sides of each slice of bread.

Heat a heavy, oven-safe skillet over medium heat. Toast one side of the bread in the hot skillet until golden. Flip the bread and pile on the chili. Top with cheese strips and place the skillet immediately under the broiler to melt for 2-3 minutes, watching closely. Pull the skillet out of the oven when the cheese is melty and remove the sandwiches to a plate.

Melt another tablespoon of butter in the skillet over medium heat and break two eggs into it. Cook the eggs just until you can flip them, cooking them only slightly on the other side. Remove the over-easy eggs to the tops of the waiting sandwiches and top with salt, pepper, cilantro, and green onions. Serve with sour cream, guacamole, and salsa if desired.