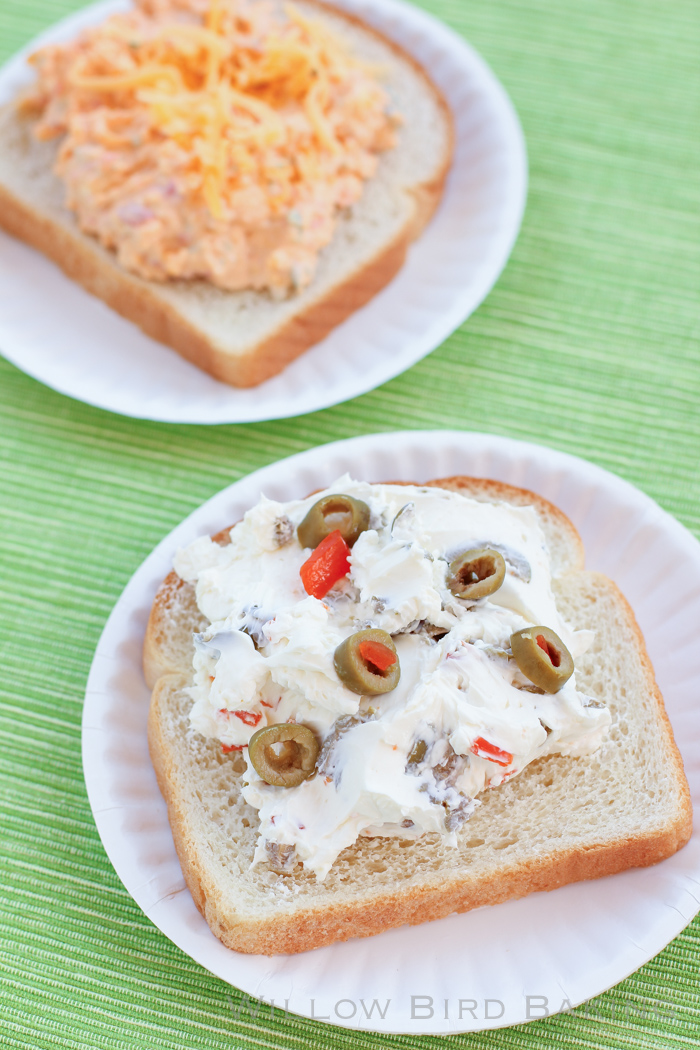 Simple Sandwich Spreads: Pimento Cheese and Olive Cream Cheese
A few times a year I get an intense craving for pimento cheese. Not lame pimento cheese: it has to be fresh, spicy, homemade pimento cheese. And not served in just any way: it has to be piled onto a slice of plain white bread, folded over and served with a Coke.
A few years ago I shared this craving on Facebook and Edward, the dad of the two kids I babysat in college, chimed in and told me I had to try Olive Cream Cheese sandwiches, a childhood favorite of his. It sounded wonderful to me: briny olives in cream cheese on white bread. I resolved to give it a try but then promptly forgot all about it.
A week ago, when I found out Edward had passed away after a short battle with cancer, I was flooded with memories of my time with his sweet family. Swimming around in my mind, too, was the memory of the Olive Cream Cheese sandwich. I don't know why that forgotten sandwich, of all things, popped into my head. It seems like such a small thing, but I guess in a way it represented the time running out of the hourglass before anyone was ready.
Edward always had a fantastic sense of humor (in fact, his family is wearing Hawaiian shirts to his celebration of life today). That's why, even though it may seem silly, I decided he would appreciate if my memorial to him was eating and sharing an Olive Cream Cheese sandwich. It was just as delicious as I imagined it would be; I only regret that I can't tell him how much I enjoyed it.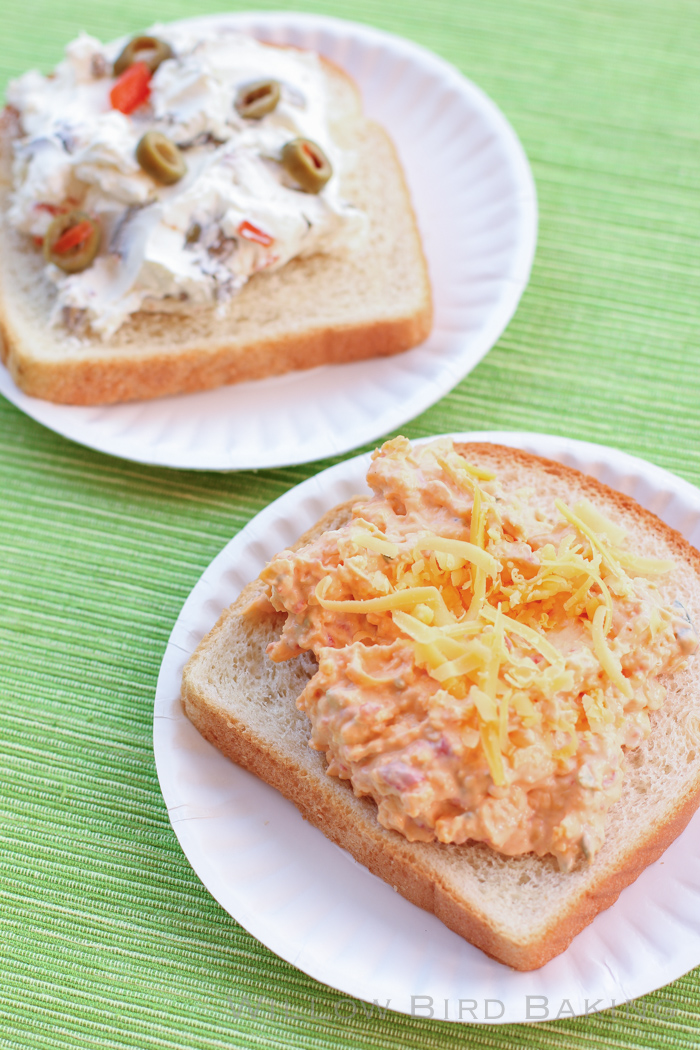 Below, I share both recipes for quick and easy sandwich spreads: my amazing hot pimento cheese and Edward's delicious Olive Cream Cheese spread. Enjoy them on some plain ol' white bread for an easy, nostalgic meal.
One year ago: Buttery Almond Stuffed Morning Buns
Two years ago: Boozy Icebox Cake
Three years ago: Milnot Cheesecake Cheesecake
Four years ago: Lemon Berry Crumble Breakup Bars
Five years ago: Pumpkin Cheesecake Bread Pudding
Hot Pimento Cheese
Simply the best pimento cheese ever: extra sharp cheddar, pimentos, perfect seasoning, and a jalapeño kick! I love this on plain ol' white bread! Making this in the food processor will result in a more puréed condiment, while mixing by hand will leave things textured. I prefer the latter for presentation's sake, but the former when I'm in a hurry. Either way, this pimento cheese is ALWAYS better after being allowed to sit and meld in the fridge for a day before serving.
Ingredients
3 ounces cream cheese, room temperature
3 cups grated extra sharp cheddar
1/2 cup Hellmann's mayonnaise
1 teaspoon Frank's Red Hot Sauce
1 medium jalapeño, chopped finely with seeds removed
1/4 teaspoon McCormick's roasted garlic salt (or regular garlic salt if you can't find it)
pinch of ground pepper and extra salt to taste
3 tablespoons pimentos, smashed
Instructions
In a food processor: Mix the cream cheese until fluffy. Add 2 cups of the cheese, mayonnaise, jalapeño, garlic salt, pepper, and smashed pimentos and mix until combined. Remove the pimento cheese to a medium bowl and fold in the last 1 cup of shredded cheese. Cover and chill in the fridge overnight before serving (if you're patient enough!)
By hand: Beat the cream cheese until fluffy. Beat in the mayonnaise, jalapeño, garlic salt, and pepper and beat until combined. Fold in the cheese and smashed pimentos until well combined. Cover and chill in the fridge overnight before serving (if you're patient enough!)
Olive Cream Cheese
This little "recipe" is a childhood memory from my late friend, Edward. He shared this with me a few years ago and I regrettably never got the chance to try it until now. I was missing out: it's a simple, perfect combination on a slice of white bread. As is often the case, the flavors are even better when allowed to meld overnight in the fridge.
Ingredients
5 ounces cream cheese
3 tablespoons sliced Spanish olives, plus some extra for topping
Instructions
Beat the cream cheese until fluffy. Fold in the olives until well combined. If you're patient enough, chill overnight. Serve on sliced white bread with a few extra sliced olives on top.