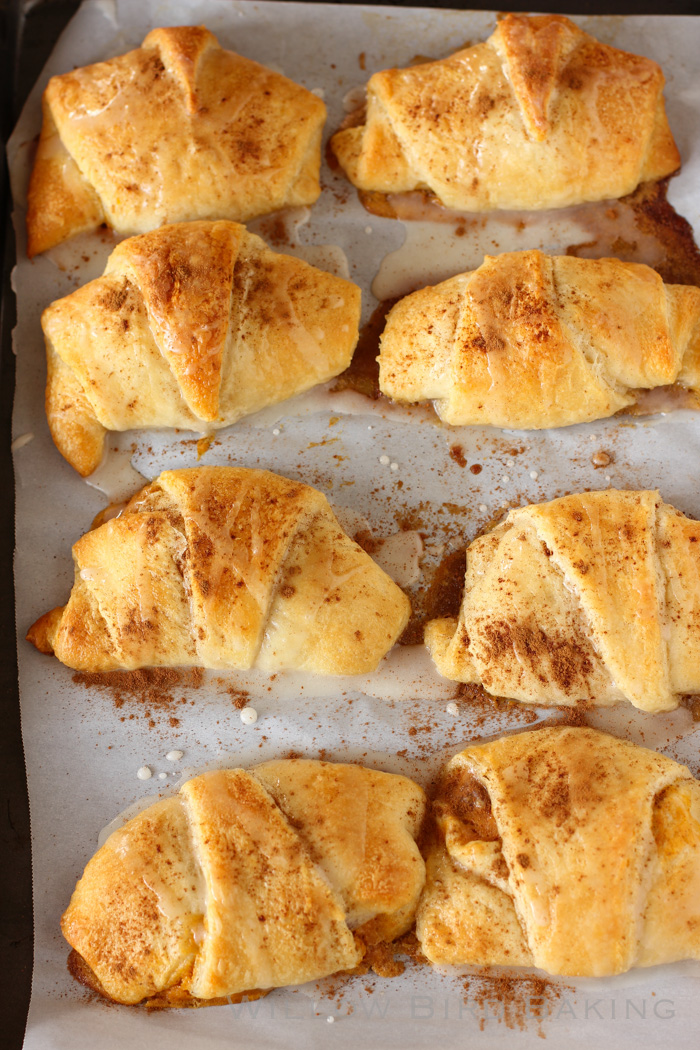 Lazy Pumpkin and Pecan Pie Pockets
I've partnered with ALDI to try out their grocery stores and develop holiday recipes for you! ALDI has compensated me for my time and recipe development, but all my opinions are my own.
I'm so glad you guys turned out to be ALDI fans and nursed me along as I figured out what the store is all about. It's definitely one of those places you can walk into and not really understand at first. Why all the boxes? Where are the bags? Why are all these carts chained together? What's good to buy here? But it turns out ALDI is quite the cult phenomenon, so I'm glad I had you here to orient me. In case you missed it, here's the recap of my first couple of visits.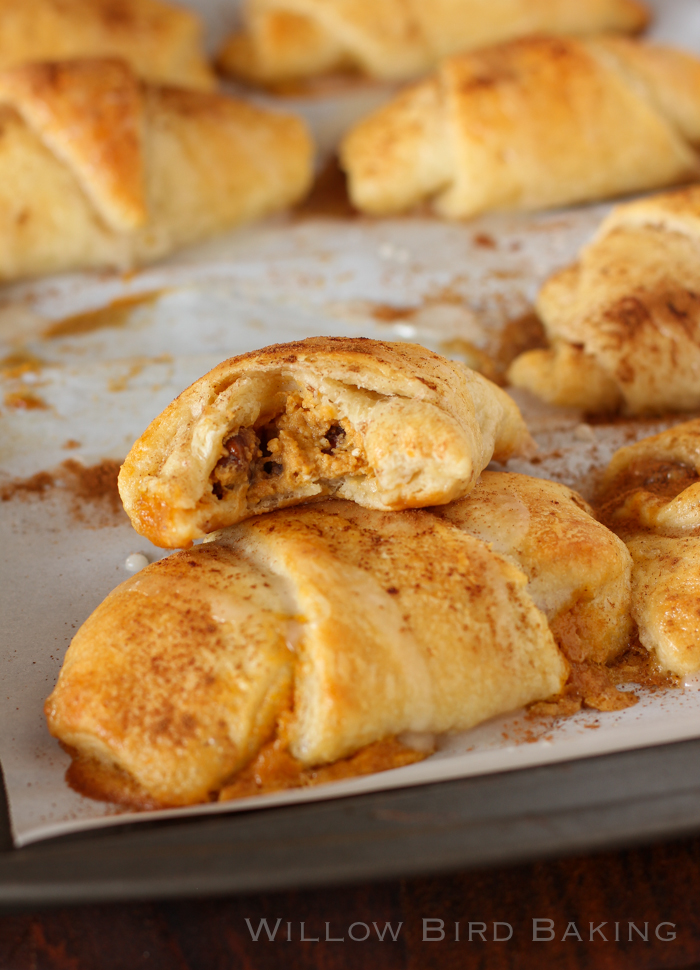 Two weeks ago, I finally made the journey to ALDI headquarters near Chicago and, in addition to enjoying some excellent coffee and hanging out with the amazing Emily of Sweet Bella Roos, I learned a ton more about this new-to-me grocery store. Here are my top 5 ALDI revelations:

1. ALDI stuff tastes as good or better than the national brands you're used to — and sometimes it's even the same thing. We got to participate in the same kind of testing ALDI folks do to decide on which products to buy. They line up a blind tasting to evaluate whether a product they're thinking of supplying tastes as good or better than the national brand and if it doesn't, they'll stock the national brand instead. (Incidentally, this is why ALDI carries Pringles – can't nobody replicate a Pringle. This oft-suspected fact has finally been proven true.)
I consider myself a pretty adept taster (which you'll find funny later) and I struggled to tell the difference between the brand name products and the ALDI products. After some Q&A, I discovered that many of the manufacturers that make those iconic brands we're used to also produce the ALDI brands! So in some cases, ALDI is literally selling the same thing for less.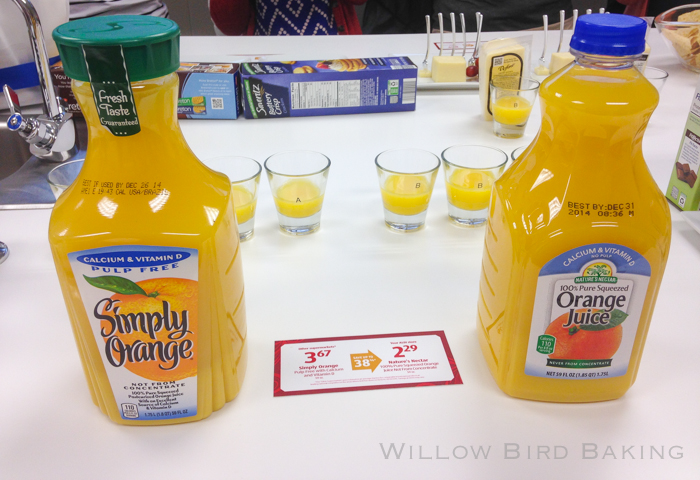 Many of us agreed ALDI orange juice was way tastier!
2. ALDI is at efficiency level: ninja. We all know now that ALDI doesn't stock bags and doesn't hire someone to wheel your cart around for you, but it turns out those are just the obvious ways they save money. When it comes to piling up hidden costs, apparently the devil is in the details. For instance, have you ever thought about how long it takes a grocery store clerk to ring up your purchases? They're tired from standing at that awkward-shaped counter. They have to fiddle with each package for a few minutes to find the barcode. That time translates to money lost. At ALDI, they give cashiers chairs and efficiently configured belts to ramp up the speed. Not only that, but they print barcodes on all sides of their packaging so cashiers won't need to search.
Ever realized that stockers have to rearrange the shelves when a product runs out? ALDI has freezer shelves that slope downward so that when an empty box is removed, the next one slides into place automatically. These tiny details end up saving time (and therefore money) in ways I never would've considered.
3. ALDI doesn't save you money by buying inferior products; instead, they form close relationships with suppliers they trust. Something about a store having super low prices and no extra frills sometimes gives you the heebie-jeebies, right? You sort of wonder if they're buying cast-off boots to make their cheese with or something. ALDI explained their relationships with suppliers and it's actually the exact opposite. They never buy bulk cast-offs (like bulk leftover grapes to make wine with) but instead cultivate excellent relationships with a few suppliers they trust. Apart from going through the aforementioned taste test, all their products are analyzed in a lab to ensure they include the same quality ingredients as the leading brands. So no need to worry that buying cheaper items means buying questionable items.
4. Look for ALDI special buys on either Sunday or Wednesday in your local store and then vote with your money! ALDI stocks special products that they're testing out in certain markets as "special buys." The employees at your store will be able to tell you the day the "special buys" come in. If no one buys these items, ALDI assumes consumers aren't interested. So if you see something you love on the special buys shelf, buy it! You can also write in to tell ALDI you love it and want to see it stocked on a regular basis.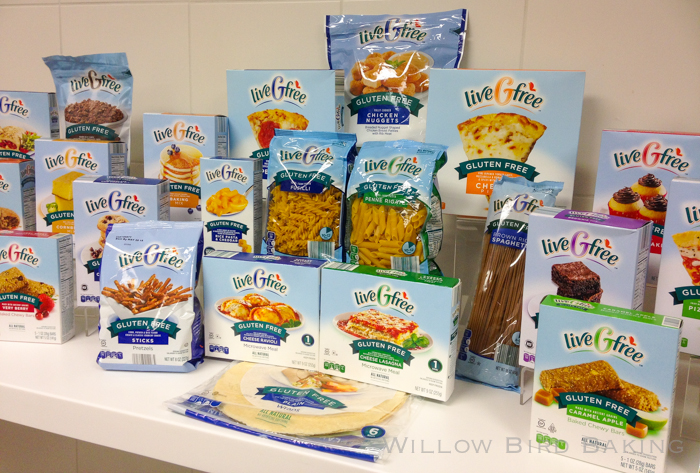 ALDI's new gluten-free line of products, Live G Free, started as a special buy.
5. ALDI DOES WINE. Good wine, too, according to all the bloggers I drank 800 gallons of it with at the wine tasting in Chicago. You have to take their word for it, because I'm a wine doofus. I just can't get into it. We had this lovely sommelier teach us all about it: I learned that fruitier wines are "New World" wines while earthier wines are "Old World" wines. Also, you have to hold a wine glass almost sideways to evaluate the body of the wine, but you swirl it to see its legs. Not sure if there are arms or a face or anything — that's as far as we went on that subject. And apparently wines can have flavor notes of all sorts of things? Every time the sommelier asked, "What fruity notes are you tasting?" she received exotic answers like, "Kumquat? Persimmon? Gila Monster?" and I was just over there like, "…Grapes?"
I'm an awesome taster, remember?
Anyway, everyone who knew about wine loved the wine. And it's so cheap: we're talking $5-$9 a bottle! The only downside is that if grocery stores can't legally carry wine in your state, your local ALDI won't stock it. No gila monster for you.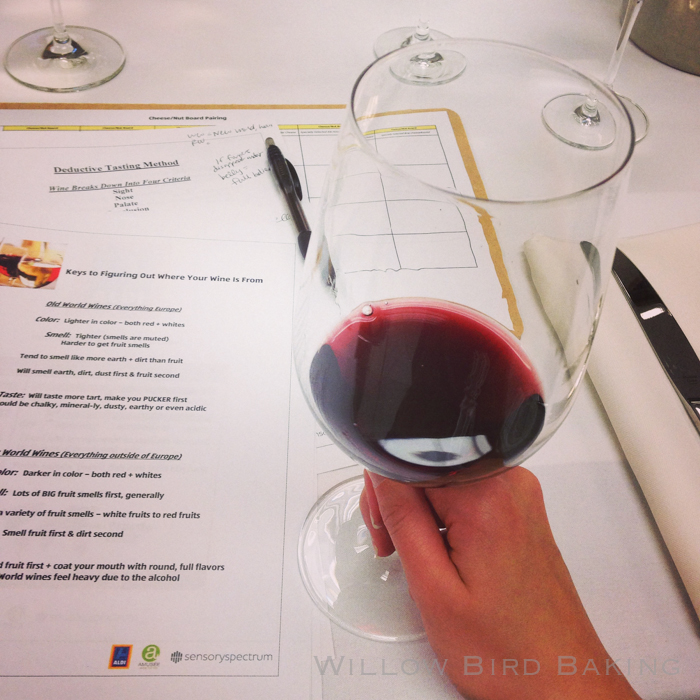 I have no clue what I'm doing.
But you can still have some Lazy Pumpkin and Pecan Pie Pockets. I'm biased, but I think they taste better than gila monsters. If that Pumpkin and Pecan Pie Pastry Braid I posted last week looked delicious to you but you pinned it to your, "Things I'll Never Have the Energy to Make" pinboard, you should know two things: (A) it's really surprisingly easy, and (B) the recipe below is an EVEN EASIER VERSION.
These pluffy crescents are filled with a mixture of pumpkin pie filling and pecan pie filling and drizzled with maple glaze. I can picture these as an amazing Thanksgiving breakfast or an easy, cute dessert. Enjoy!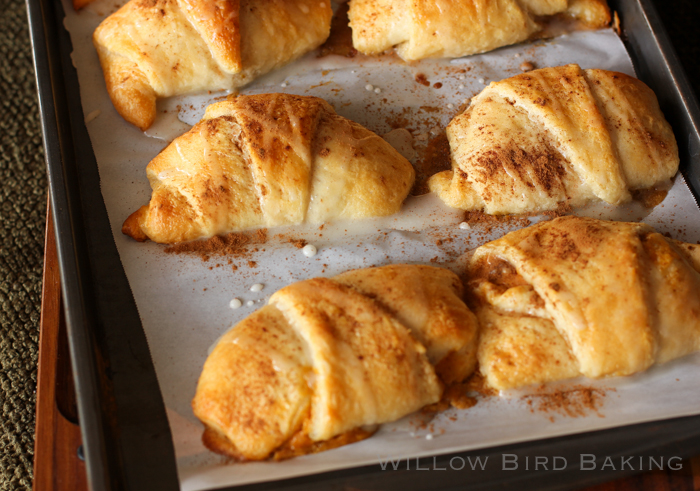 How do you feel about wine? Are you one of those people who can taste the leather from the boot of a random dude in Australia who visited the vineyard once on a holiday? Or are you more of the "tastes like grapes and rubbing alcohol" sort?

One year ago: Toasted Pecan Shortbread with Spiked Toffee Sauce
Two years ago: Pimiento Cheese Cookies
Three years ago: Pumpkin Streusel Swirled Cream Cheese Pound Cake
Four years ago: Easy Apple Puff Pastry Tarts with Almond Whipped Cream
Five years ago: Creamy Chicken and Green Chile Enchiladas
Lazy Pumpkin and Pecan Pie Pockets

---


Recipe by: Willow Bird Baking
Yield: about 28 crescents

What's a lazy gal to do when she wants a Pumpkin and Pecan Pie Pastry Braid without the work? Make this easy version using canned crescent rolls, of course! This recipe yields around 28 filled crescents, leaving you with about 4 unfilled crescents to bake off plain.

Pumpkin Pie Filling Ingredients:
4 ounces cream cheese, softened
3 tablespoons sugar
1/2 cup pumpkin puree
1 tablespoon melted butter
2 tablespoons heavy whipping cream
1 egg
1/4 teaspoon vanilla extract
1 teaspoon cinnamon
1/8 teaspoon ginger
pinch salt

Pecan Pie Filling Ingredients:
1/4 cup pure maple syrup
3 tablespoons packed brown sugar
1 egg
1 tablespoon sugar
1 tablespoon butter, melted
1 teaspoon all-purpose flour
1/4 teaspoon vanilla extract
1 heaping cup coarsely chopped pecans

Other Ingredients:
4 cans big crescent rolls
1 cup powdered sugar
2 tablespoons milk
1 1/2 teaspoons maple flavoring (to taste)
sprinkling of cinnamon (optional)

Directions:
Make the pumpkin pie filling: Beat the cream cheese in a large bowl until fluffy. Add the pumpkin, melted butter, and heavy cream and mix to combine. Add the sugar and beat to combine. Add the egg, vanilla, cinnamon, and ginger and beat to combine. Set this in the fridge to firm up a bit.

Make the pecan pie filling: Whisk together maple syrup, brown sugar, egg, sugar, melted butter, flour, and vanilla extract. Fold in nuts. Set this in the fridge.

Assemble: Preheat the oven to 350 degrees F (or whatever your crescent roll package advises.) Line four baking sheets with parchment paper and open a roll of crescents onto each sheet. Carefully pull apart the crescents and push them to widen/flatten them before scooping a heaping tablespoon of pumpkin filling and then another of pecan filling onto the middle. Roll the crescent up, pinching the seams tightly as you go, and line the filled crescents up on the prepared baking sheets. Don't worry if the first few leak a little — you'll get the hang of it! Confused? See the video tutorial below for a demo.

Bake and glaze: Bake the crescents for 12-15 minutes (or however long your crescent roll package advises) until they're very golden (if you take them out when they're just barely colored, they might be doughy inside) before removing them to cool. If you bake all 4 pans at once, make sure to rotate the pans and switch racks in the middle of baking — I just baked 2 pans at a time. Whisk all the glaze ingredients together and drizzle over the warm crescents. Serve immediately.