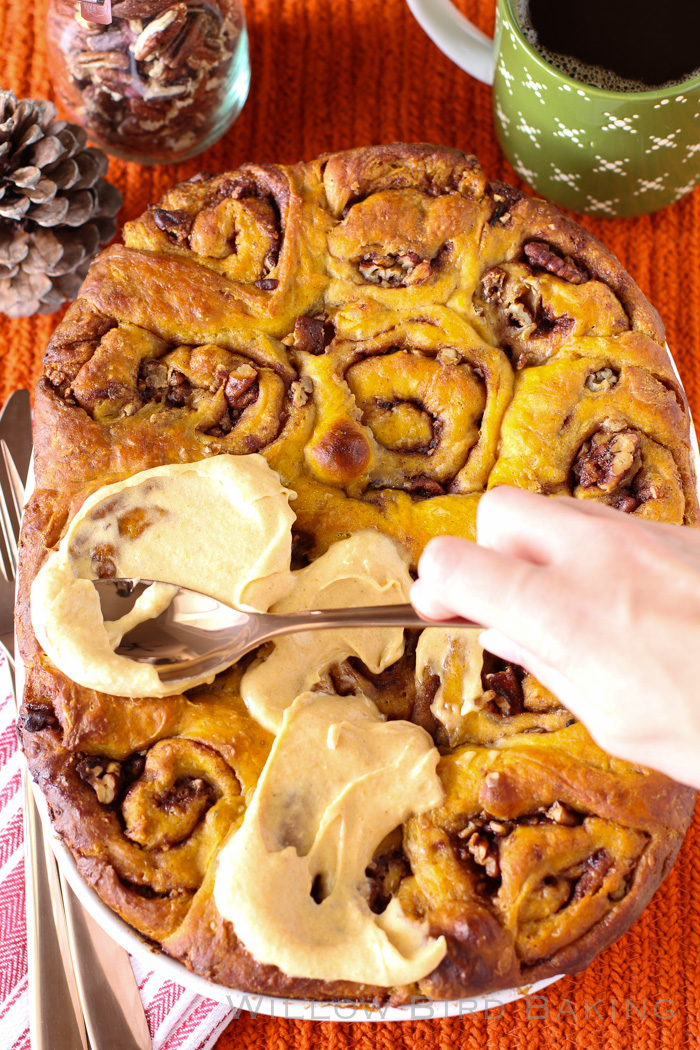 Pumpkin Maple Pecan Rolls (with Pumpkin Cream Cheese Icing!)
Technology is amazing, and if you can get it into kids' hands, it can be a tremendous democratizing educational tool. It can also monopolize kids' attention and suck their brains out through their eyeballs. That's just my observation as a layperson, but I'm pretty sure it's scientifically accurate.
The other day we were reading aloud in class, not really using our computers at all. Kid after kid was mumbling through the reading, so I decided to ask them to project their voices a little better. "Can we turn up the volume, please?" I asked. Not one, but like seven different kids reached over and actually tick-tick-tick-tick turned up the volume on their computers. Once they realized what I'd meant versus what they'd done, we all died laughing. It occurred to me at that moment that our computers have almost become natural extensions of ourselves.
And actually, I don't think that's such a bad thing in general.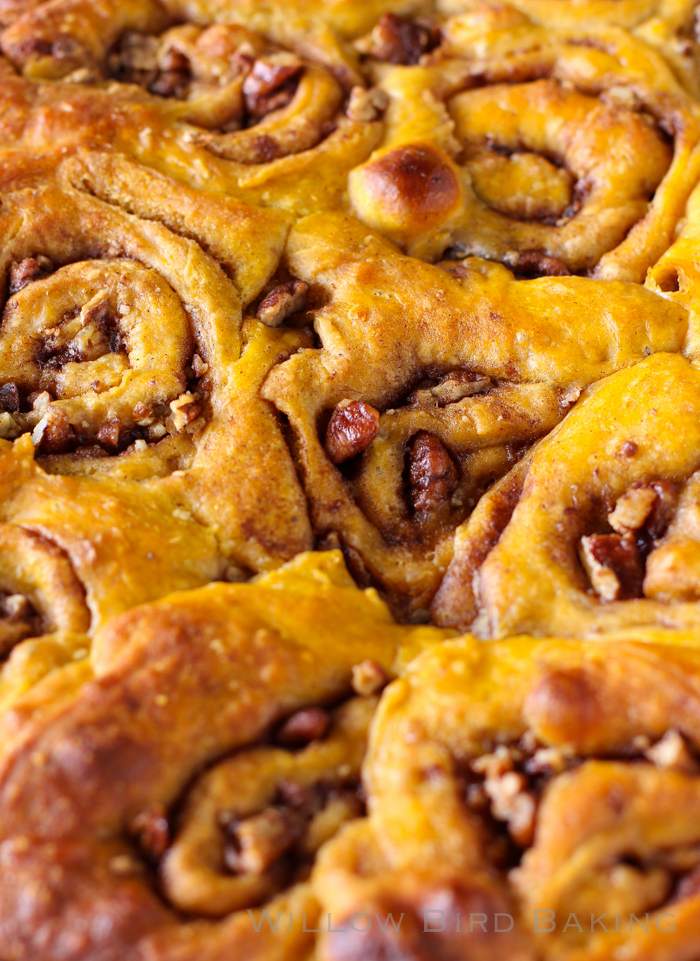 As a fervent introvert with a side of social anxiety, the internet opened doors for me as a kid that would've most likely never been opened IRL ("in real life," remember that abbreviation?) I met my best friends in AOL chat rooms before we knew how scary that was supposed to be. I found a voice through publishing poetry online. I coded my own emo-poet-girl website and developed a following I was proud of. I would be terrified for kids to navigate that same internet now, but without it, I wouldn't have become me.
Today's internet — sanitized in some ways and more scandalous in others — offers free information from TED Talks and Wikipedia, Google Docs for incredibly efficient writing conferences, Skype for an artisan from Rwanda and a hip hop scholar from Lehigh University to join our class for a day. Not to mention the social opportunities: instead of getting personally excited about a new book series, my students share their glee and fan-fiction over an entire ocean of like minds.
Even as an adult, I derive satisfaction from managing my online or otherwise digital body of work: my blog, my Google Drive stuffed with teaching materials, my social networks. I'm on my computer throughout the day not because I'm addicted or don't enjoy "real life." It's because this is an integral part of my real life, and I love it! And because I still kinda miss my emo-poet-girl website. And webrings. Remember webrings?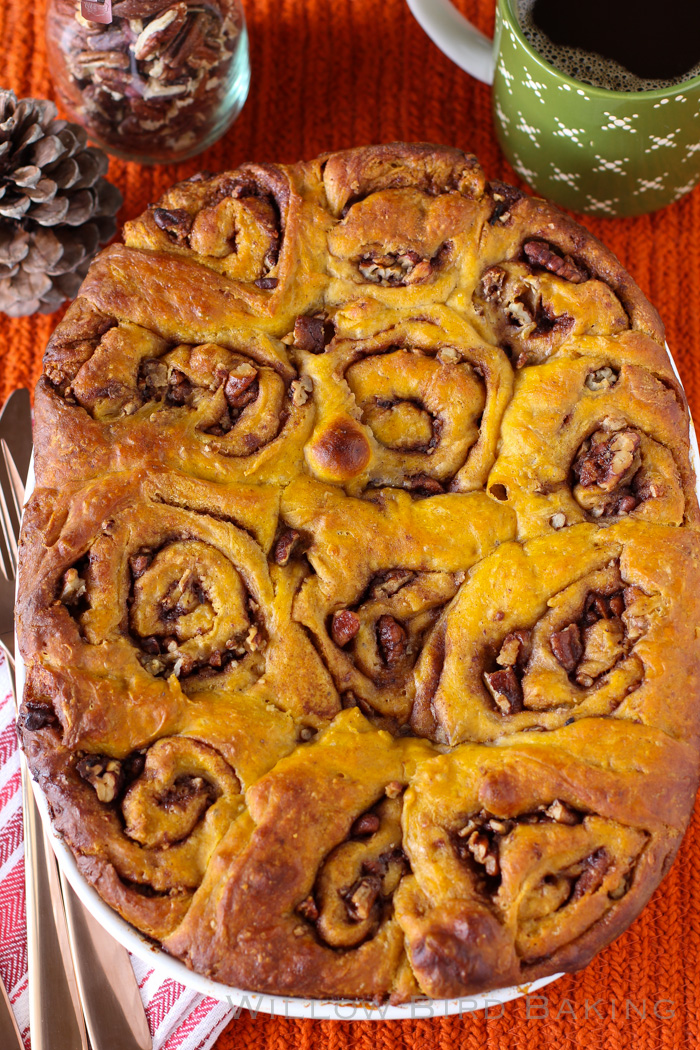 The interweb isn't all rainbows and roses (and webrings!), of course. The constant connection poses risks for students beyond even the basic safety concerns of being online. For instance, tech devours downtime. I can make myself take a break to read, but kids aren't typically masters of self-discipline. They don't know about the benefits of unstructured time and being allowed to be bored and can't make that happen on their own.
Sadly, some of my students have also become targets of bullying on social media. Kids take time to develop their personal code of ethics, and being tuned into technology without one is like being dropped off in the wilderness without a compass. Kids can get very hurt.
There's also something to be said for working on a project with your hands. My students and I made candles at camp a few weeks ago and gushed the whole time about the experience: breaking up hunks of wax, organizing it by color, putting in the wick. The simplest creative labor produces a satisfaction in your spirit that's hard to replicate. Yet many kids find the instant gratification of technology hard to resist.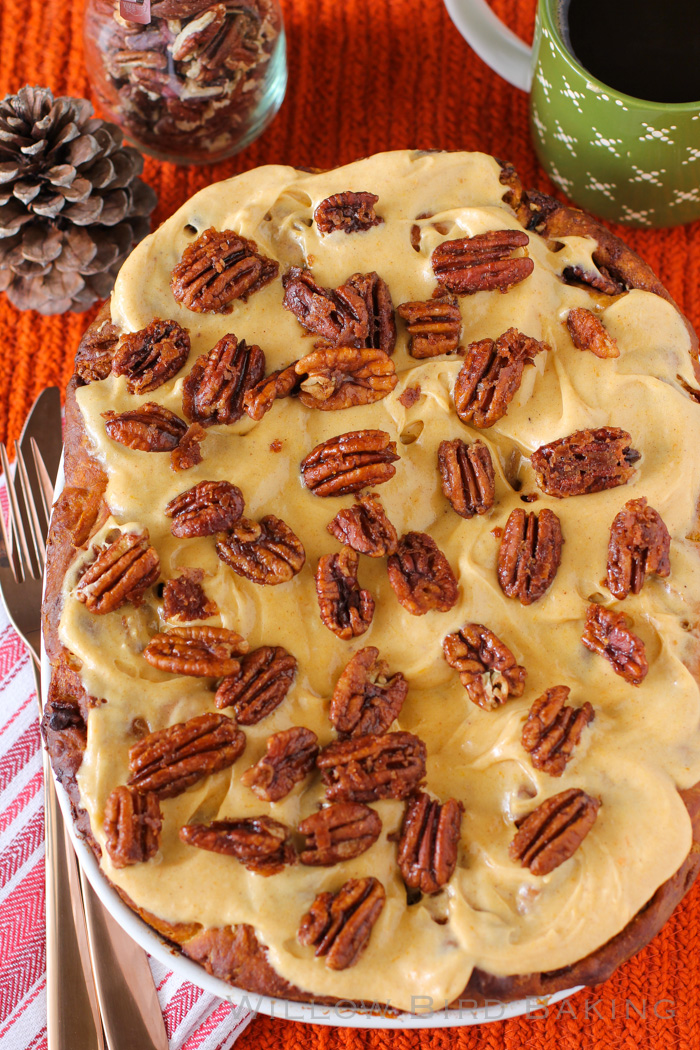 What's the right answer? Well, I'm certainly not ready to burn our computers. As a parent, a few things you can do are intuitive: set tech time limits for your kids, help them evaluate whether technology is the most effective tool for their task, keep passwords for all devices and accounts transparent, do regular email and social media account checks, provide unstructured time and cool materials for play.
To create balance for yourself? I'd say plan breaks and activities that aren't tech-related, stop "screen-time" by a certain time each night to unwind, and evaluate technology's efficacy for your tasks. And join webrings. Lots of webrings.
Are there other ways you've found (for your kids or yourself) to balance the values and drawbacks of technology?
* * *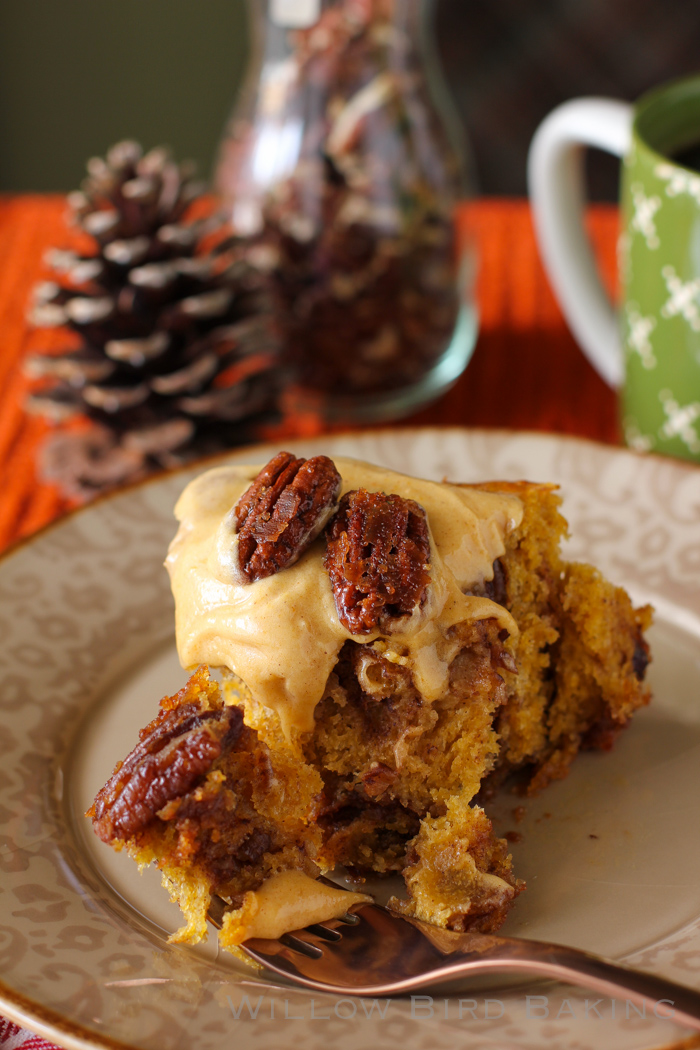 I'm probably not helping you step away from your computer by publishing a recipe for these Pumpkin Maple Pecan Rolls. I took my pumpkin yeast dough and filled it with an insane mixture of butter, cinnamon, sugar, maple candied pecans, and magical unicorn dust. Well, that's what it tastes like, anyway. Then I topped the rolls with this delectable pumpkin spice cream cheese icing. The result is a special fall dessert that would be perfect on a holiday table. Thanksgiving planning, anyone?
P.S.: Enjoy this cute video of Ellen showing kids "old-timey technology"!
P.S. 2: Come share what technology you have and what you use it for on Willow Bird Baking's Facebook page.
One year ago: Sausage & Corn Chile Con Queso Taco Ring
Two years ago: Vanilla Custard Soaked Pumpkin Poke Cake
Three years ago: Pumpkin Spice Pull-Apart Bread with Butter Rum Glaze
Four years ago: Chocolate Peanut Butter Bliss Cheesecake
Five years ago: Mini-Pies: Pumpkin, Peach Crisp, and Sour Cream Apple
Pumpkin Maple Pecan Rolls with Pumpkin Cream Cheese Icing!

---


Recipe by: Willow Bird Baking
Yield: about 24 rolls

Oh, you know. Just one of the best desserts I've ever tasted. NO BIG DEAL. These are so worth the time and energy to get them on your table. I highly recommend these for any special occasion, including Wednesday.

Roll Ingredients:
1 package (2 1/4 teaspoons) active dry yeast
1/4 cup warm water (100-110 degrees F)
2 tablespoons white vinegar
2 cups milk minus 2 tablespoons, room temperature
2/3 cup cold shortening
3 tablespoons sugar
1 teaspoon salt
1 teaspoon baking soda
1 teaspoon baking powder
1 tablespoon ground cinnamon
1 teaspoon fresh ground nutmeg
1/4 teaspoon allspice
1/8 teaspoon ground cloves
1 (15-ounce) can pumpkin puree
6 cups flour
2 tablespoons butter, melted, for after baking

Filling Ingredients:
2 sticks salted butter (or 2 sticks unsalted butter and 1/4 teaspoon salt), melted
3/4 cup sugar
2 tablespoons cinnamon
2 batches Maple Candied Pecans

Icing Ingredients:
3 cups powdered sugar
1 teaspoon ground cinnamon
1/4 teaspoon freshly ground nutmeg
8 ounces cream cheese, at room temperature
4 tablespoons unsalted butter (1/2 stick), at room temperature
1/3 cup pumpkin purée (not pie filling)
2 tablespoons maple syrup

Directions:
Note on proofing: This yeast dough proofs for a couple of hours after you mix it up, and then the assembled rolls proof in the fridge overnight, so allow for this when planning to make this recipe.

Note on yield: I don't recommend halving yeast recipes; instead, if you don't want 24 rolls at once, consider freezing some for later.

Note on freezing: To freeze some of the unbaked rolls, just wrap them well before the second rise and freeze them. Once frozen, pop them out of the pan all together and store in the freezer, wrapped in plastic wrap and in a zip top bag or wrapped in foil. When you want to bake them, stick them back in a greased pan, thaw them in the fridge overnight, proof for the instructed amount of time, and bake like usual.

Make dough and do first proof: Mix the warm water and yeast in a medium bowl and let the yeast foam for about 10 minutes. Put 2 tablespoons white vinegar in a measuring cup and then add milk up to the 2 cup line. Set this aside. In a separate large bowl (or the bowl of a mixer fitted with a dough hook), whisk together flour, sugar, salt, baking soda, baking powder, cinnamon, nutmeg, allspice, and cloves and cut the shortening into the mixture with two knives or a pastry cutter until the shortening looks like small peas. Stir yeast mixture, milk mixture, and can of pumpkin into the dry ingredients and mix well, kneading just a few turns. Transfer the dough to a bowl lightly sprayed with cooking spray, cover tightly with plastic wrap, and proof in a warm, draft-free place (such as a closed, turned-off oven), for around 2 hours or until doubled in size.

Roll and assemble: After proofing the dough, lightly spray a 9 x 13-inch baking dish (glass works best) with cooking spray. Turn the dough out onto a floured surface and roll it into a large rectangle about 1/8-inch thick (I carefully cut the dough in half and worked with half at a time to make it more manageable; if you do this, just spread on half of the filling ingredients for each half you roll). Mix the sugar and cinnamon together in a small bowl. Spread the melted butter over the surface of the rolled dough and then sprinkle the sugar mixture (all of it!) onto the butter. Crush some of your cooled candied nuts (about 1 batch of them, reserving the rest for topping) by putting them in a ziplock bag and tapping them with a meat tenderizer and sprinkle over the surface. Gently roll the dough up into a spiral (I find using a bench scraper to encourage the dough to roll up during this process incredibly helpful) and cut it into 2-inch rolls, placing them close together in your prepared baking dish (at this point, you could wrap and freeze the rolls for later if you wanted).

Proof and bake: Cover the rolls let them rise in the fridge overnight (they will have nearly doubled.) When you're ready to bake, preheat the oven to 400 degrees F, letting the rolls rise on top of the preheating oven covered by a clean dish towel for around 30 minutes or until doubled in size. Bake them for about 25 minutes or until lightly browned on top (don't underbake or they'll still be doughy in the center, but be ready to cover them with a sheet of foil in case they start to get too brown.) Brush with 2 tablespoons melted butter and return to the oven for 1 more minute.

To make the glaze, whisk together powdered sugar, cinnamon, and nutmeg in a medium bowl and set aside. Beat the cream cheese and butter together in a large bowl until light, fluffy, and smooth. Add the powdered sugar mixture and beat on low until combined, scraping down the bowl as needed. Add the pumpkin and maple syrup and mix until smooth. Schmear over the tops of warm cinnamon rolls. Top with the rest of the Maple Candied Pecans.