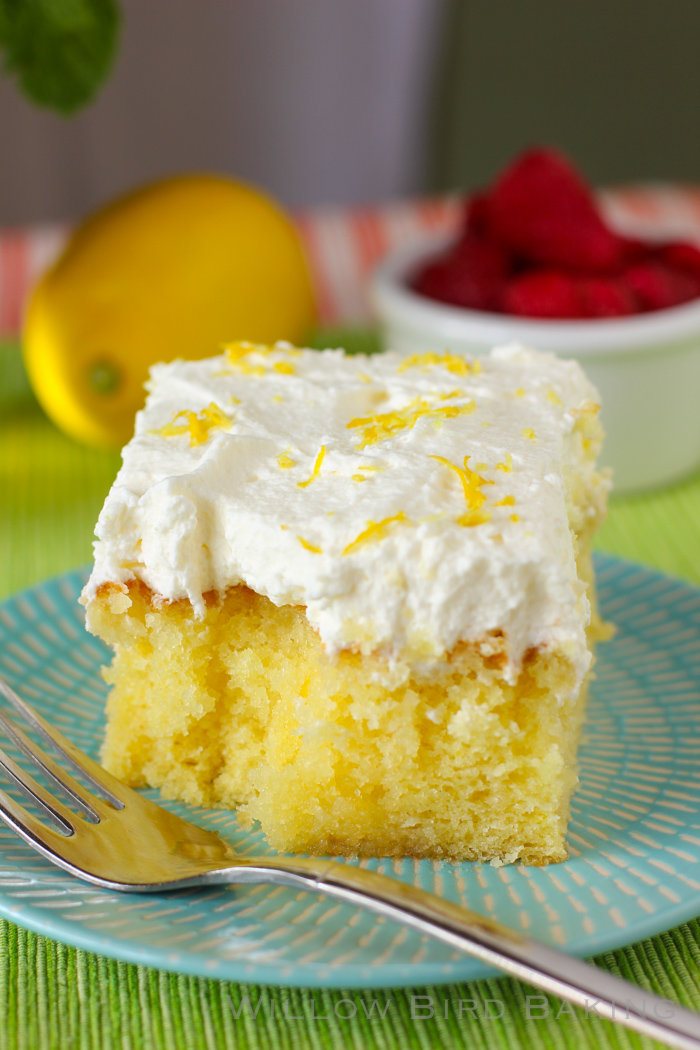 Drenched Lemon Cream Cake
Y'all, let's get real. There's nothing wrong with taking nude photos. Nothing.
I'm a middle school teacher, so let me qualify that: there may be moral and practical implications with sending those photos to people, posting them online, or Snapchatting them to someone (good grief, DON'T DO IT). In any of those scenarios, you're voluntarily giving the photos to someone else you may or may not be able to trust. In the case of Snapchat, you guys know nothing is ever really deleted for good on the internet, right? So trust me, some of those things are not wise.
But acting like Jennifer Lawrence and other violated celebrities somehow "should've known better" than to take nude photos in the first place is so odd to me. Why? What's wrong with that?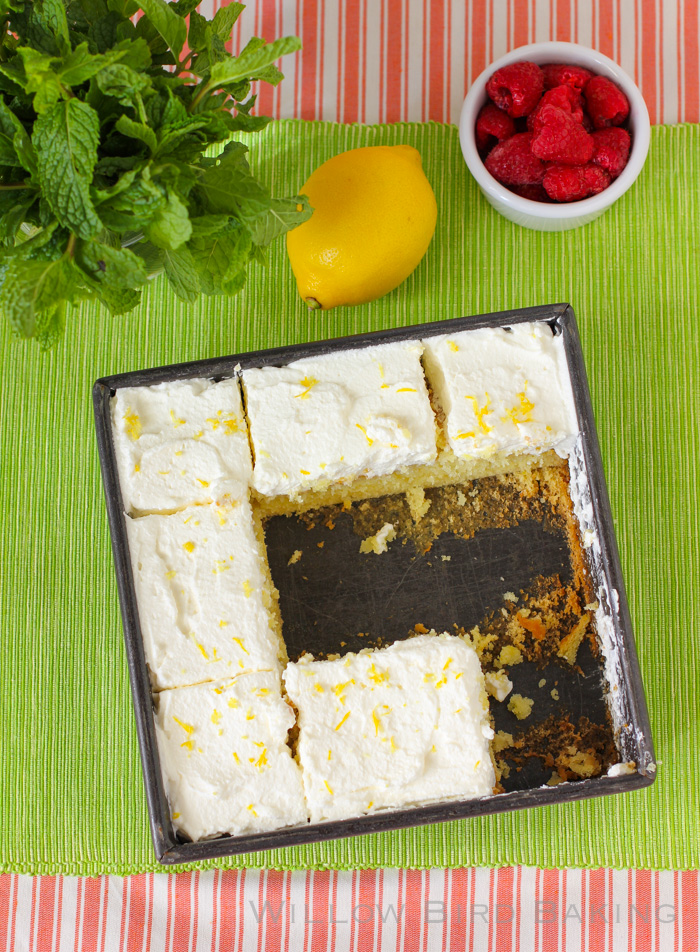 In my day, I've taken private photos for all sorts of reasons: to have body benchmarks when I'm working out and would like to see progress, to compare my booty to Beyoncé's because I can't see it in the mirror (spoiler alert: she won), because I wanted to document a cool bruise. Whatever. It's nobody's business. I've seen so many folks say things like, "We all know we shouldn't take nude photos," or, trying to be sympathetic, "Everyone makes mistakes." Huh? What mistake? There's nothing wrong or bad about documenting your own body. That is not a real thing. It's getting dangerously close to saying, "We all know we shouldn't wear short skirts," when discussing rape. Stop that.
I don't care what photos I take or why. Nobody gets to steal them and nobody gets to distribute them without my permission. That's the law. And when photos that are stolen and distributed involve someone's body, that's more than a "scandal," it's a sex crime. If we're viewing them, we're complicit. That's why, even though I was curious, I didn't look up the photos — and I would hope anyone would have the same respect for me.
By the way, how crazy is it that the person who released those photos is getting donations from supporters? I hate that as a society, we're still not past welcoming and even rewarding the violation of women's bodies and privacy. Not okay.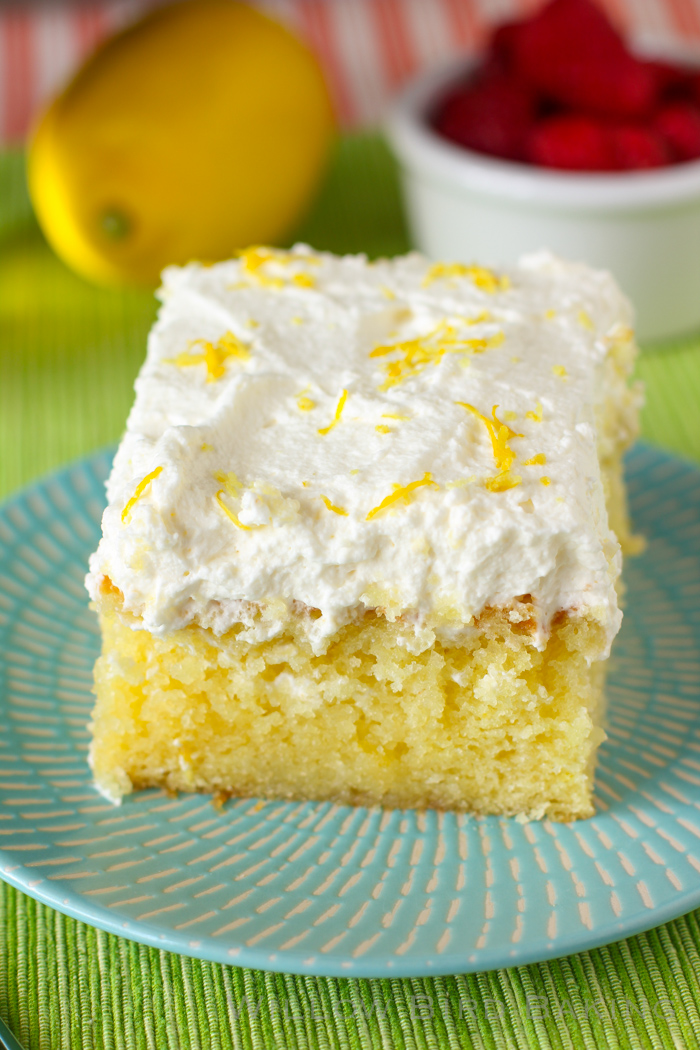 Time for lemon cake to calm the outrage. This lemon cake is a super simple mini sheet cake (no waiting for butter to soften — it's in and out of the oven in 20 minutes flat) drenched in lemon syrup and topped with fluffy whipped cream. It's the perfect lemon cream cake to say farewell to summer.
Come on, we've all taken private photos, RIGHT?!
One year ago: Lemon Raspberry Gooey Butter Cake
Two years ago: German Chocolate Cheesecake
Three years ago: Gooey S'mores Bars
Four years ago: Ina Garten's Lemon Loaf Cake
Five years ago: Plum and Cream Mini Tortes
Drenched Lemon Cream Cake

---


Recipe by: Willow Bird Baking
Yield: 9 servings

Relish the end of summer with this recipe for Drenched Lemon Cream Cake: an easy lemon cake drenched in lemon syrup and topped with real whipped cream!

Cake Ingredients:
1/2 cup butter
1/2 cup water
1 1/8 cups cake flour
1 cup white sugar
1 egg, lightly beaten
1/4 cup sour cream
1/8 teaspoon vanilla extract
1/2 teaspoon lemon extract
a few drops yellow food coloring (optional)
zest of 1/2 a lemon
1/2 teaspoon baking soda
1/2 teaspoon salt

Lemon Simple Syrup Ingredients:
1/3 cup sugar
1/3 cup water
2 tablespoons lemon juice

Whipped Cream Ingredients:
2 cups heavy whipping cream
5 tablespoons powdered sugar
1/2 teaspoon vanilla extract

Directions:
Make the cake: Preheat the oven to 375 degrees and spray a 8-inch square baking sheet with cooking spray. In a medium saucepan over medium heat, bring the butter and water to a boil. In the meantime, in a separate large bowl, whisk together the cake flour and sugar before adding the egg, sour cream, vanilla extract, lemon extract, food coloring, lemon zest, baking soda, and salt. Mix to combine. While mixing, slowly pour in the boiling butter and water mixture. Mix to combine completely. Your batter will be very runny. Pour the batter into the prepared baking sheet.

Bake at 375 degrees for 15-17 minutes or until a toothpick inserted in several places comes out with a few moist crumbs. While the cake cools, mix the lemon juice, sugar, and water for the lemon syrup together in a medium saucepan over high heat. Heat until the mixture boils, stirring regularly, before removing from the heat and letting it cool slightly. After the cake and lemon syrup have been cooling around 10 minutes, poke holes throughout the cake with a fork. Gently pour the lemon syrup all over the cake (it'll seem like a lot, but use it all.) Cover and chill it in the fridge until totally cool.

Make the frosting: Beat together the heavy cream, powdered sugar, and vanilla extract in a chilled bowl with chilled beaters until the cream reaches stiff peaks. Frost your completely cooled cake with a thick layer.