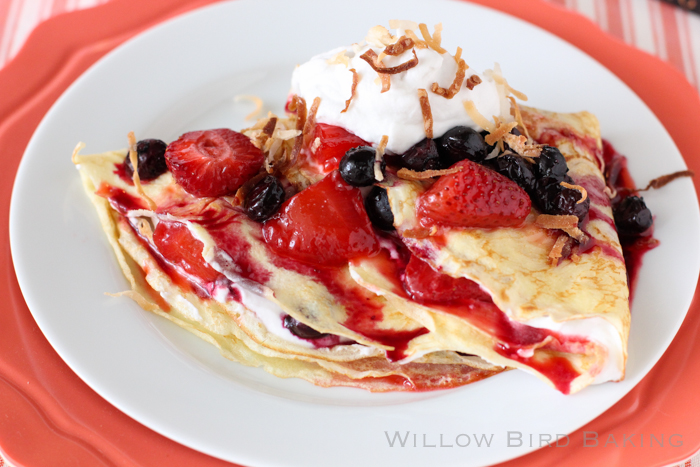 Crêpes with Roasted Berries and Coconut Whipped Cream
Thanks, PAM, for sponsoring this post!
What's your "healthy"? For some people, "healthy" is about eating low-carb or low-calorie. For others, it's about eating whole, unprocessed foods. For others, it's about moderation in all things while maintaining an active lifestyle. For others, it's about rejecting any personal tracking at all, since that tracking (of weight, calories, or wholesomeness) may have fed into unhealthy compulsions.
Some people take vitamins. Some swear by fish oil. Some folks eat a raw food diet. Some people eschew trans fats. No healthy is the right healthy and no healthy is the wrong healthy — as long as it works for you. So what's your healthy?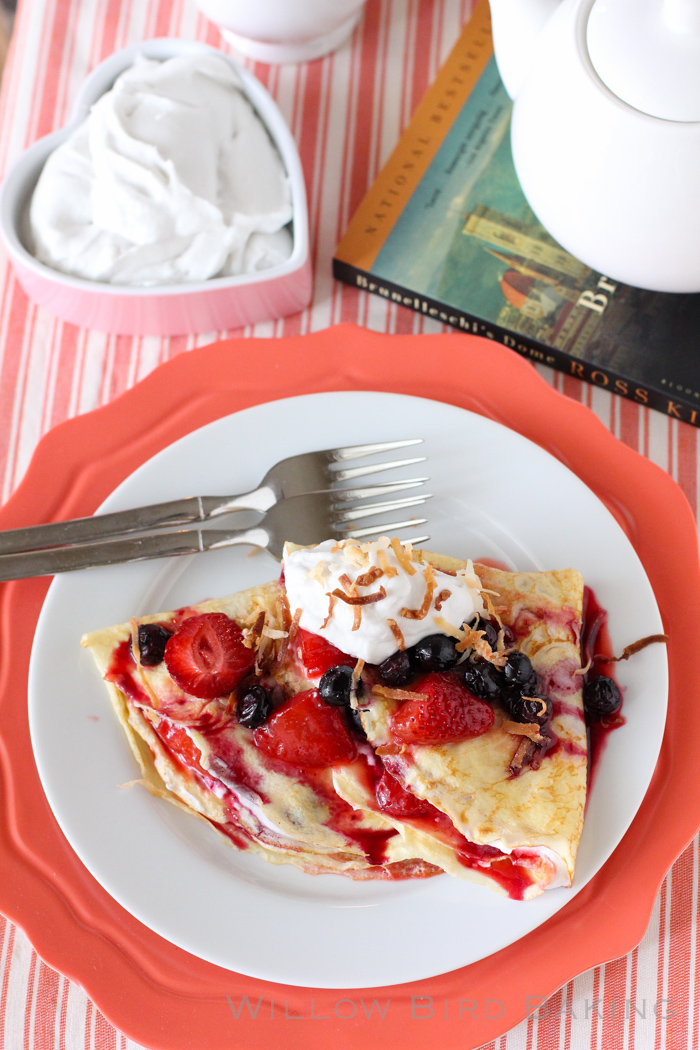 I'm a total pinball. I bounce from low-carb to low-calorie to trying not to track (I have a history of eating disorders, so every now and then I need to step away from counting anything.) I try to stay active. I feel like my definition of healthy changes from week to week, though. And to be honest, I can't imagine ever being too obsessed with finding health perfection, since I nurse a few vices here and there (soda, I'm looking at you!) that I don't want to let go of.
Considering my obsessive past, that tinge of apathy might actually be pretty healthy!
This week my healthy included making a lighter, bright dessert with fresh, seasonal ingredients. After eating crêpes hot off the griddle on the streets of Paris (swoon), I knew I wanted to make them at home. The wonderful thing about crêpes is that they're low on flour and sugar and form this amazing flavor base for fresh summer BERRIES.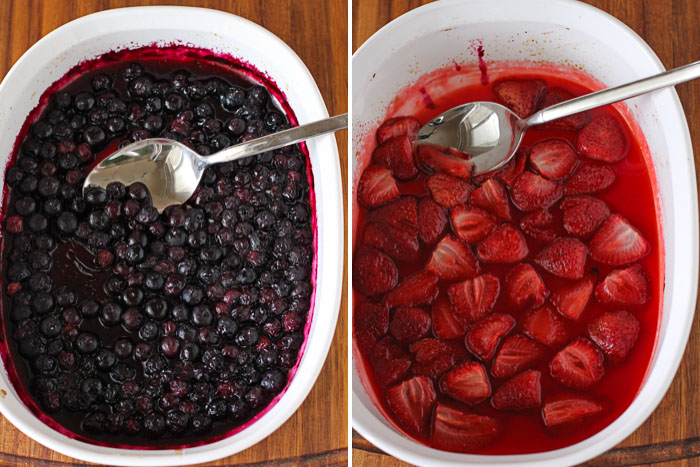 But not just any berries. JUICY, CONCENTRATED, INCREDIBLE ROASTED BERRIES. Strawberries and Blueberries, when roasted, yield up rich syrups and slouch into the perfect splushy texture. And instead of a dense mound of dairy whipped cream, I paired the berries with heavenly coconut whipped cream made from the solids of coconut milk. A little coconut cream and a few berries went a long way toward making this relatively healthy dessert taste completely indulgent.
If you've never made crêpes before, don't worry. The recipe below uses tried and true America's Test Kitchen techniques. The most important points are heating your pan appropriately, testing your pan before starting, timing the cooking process so you'll know when to flip, and keeping your pan sprayed between crêpes.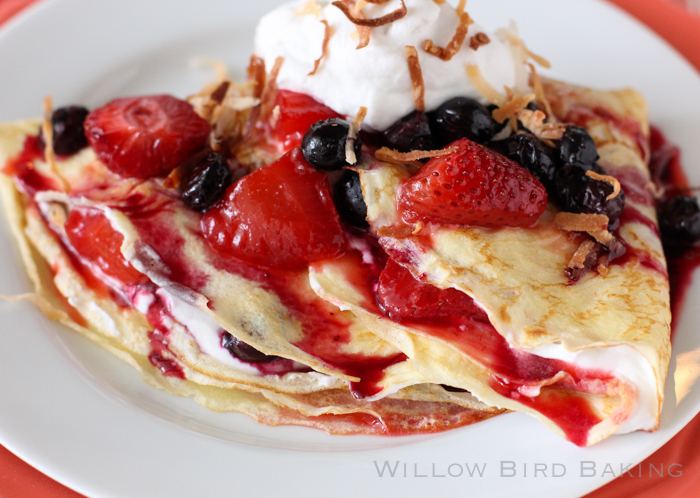 Lovely golden splotches.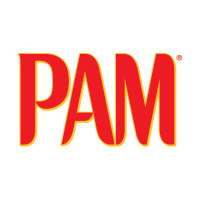 I used PAM Cooking Spray to keep my skillet ready and also to coat my berry-roasting dishes. I've been PAMming it up since I was a wee lass! Leaving up to 99% less residue, PAM is your ally in the kitchen and allows you to save time during prep and clean up. It's perfect for making crêpes, where nonstick needs to really mean nonstick!
Share in the comments: What's your healthy?
One year ago: Easy Taco Grilled Mini Pizzas
Two years ago: Elvis Presley Bars (Peanut Butter Banana Bacon Bars)
Three years ago: Pretty Italian Pressed Sandwiches
Four years ago: Buttermilk Cranberry Scones
Five years ago: Mexican Lasagna (plus freezing instructions)
Crêpes with Roasted Berries and Coconut Whipped Cream

---


Recipe by: Willow Bird Baking using crêpe recipe adapted from America's Test Kitchen
Yield: 10 servings of 1 crêpe each

Thin crêpes with clouds of coconut whipped cream and rich roasted berries! Before you begin, take a quick peek at the excellent post on Oh She Glows! about making coconut whipped cream. You want to use a brand of coconut milk that separates into liquid and solids (I used Geisha brand) and chill the cans, mixing bowl, and whisk overnight.

Crêpes Ingredients:
PAM Cooking Spray
1 cup all-purpose flour
1 teaspoon sugar
1/4 teaspoon table salt
1 1/2 cups whole milk
3 eggs
2 tablespoons butter, melted and cooled

Topping Ingredients:
1 pound strawberries, quartered
1 pint blueberries
6 tablespoons sugar, divided
lemon juice
3 cans coconut milk
7 tablespoons powdered sugar
3/4 teaspoon vanilla extract
toasted coconut (optional)*

*To toast coconut, spread shredded coconut on a baking sheet and bake at 350 degrees for 6-8 minutes, tossing frequently.

Directions:
Make crêpe batter: Whisk together flour, sugar, and table salt in a large bowl. In a separate small bowl, lightly whisk together eggs and milk. Whisk half of the egg mixture into the flour mixture. Whisk in the melted butter. Finally, whisk in the rest of the egg mixture. Allow this batter to rest for at least 30 minutes while completing the rest of the recipe.

Roast your berries: Preheat the oven to 400 degrees F. Spray two baking dishes (big enough so the berries can sit in a single layer) with PAM cooking spray. Toss blueberries in one and strawberries in the other. Sprinkle each baking dish with 3 tablespoons sugar and toss the berries to coat. Bake the blueberries for 13-15 minutes and strawberries for around 30 minutes (you're looking for the berries to be slouchy and releasing syrup but not entirely broken down) before removing them from the oven, spritzing them with lemon juice, gently tossing, and setting aside to cool.

Make coconut whipped cream: While berries are in the oven, turn the cans of coconut milk upside down gently and open them. Pour off coconut liquid and reserve for another use. Place coconut solids into the chilled bowl of a stand mixer. Add powdered sugar and vanilla extract and beat on high until your coconut cream reaches the consistency of whipped cream. Cover this and set it in the fridge.

Make your crêpes!: Heat a 10-inch nonstick skillet over low heat for 10 minutes. Turn the heat up to medium and heat the pan for 1 more minute. Spray your skillet with PAM Cooking spray. Test your skillet's heat: put a teaspoon of batter in the center of the pan and time it for 20 seconds before flipping. If it's nice and golden, you're ready to cook! Otherwise, you may need to adjust your heat up or down, let your skillet heat for another minute, and re-test. Take the time to get the heat right at the beginning!

Now you're ready! Scoop a scant 1/3 cup of the batter into your pan, swirling immediately to thin it out into a wide circle. Time your cooking for 20 seconds before using a spatula and your fingers to flip the crêpe. Cook for 20 more seconds before transferring to a wire rack to cool. Between each crêpe, re-spray your skillet and let it heat for 10 seconds. Keep crêping until you finish your batter. You can then reheat the crêpes you made by placing them on a plate, inverting another plate over them, and microwaving them for 30 seconds. Slather coconut cream, roasted berries, and toasted coconut on your crêpes, fold them into quarters, and enjoy!
Disclosure: Compensation was provided by ConAgra via Mode Media. All opinions are mine and are not indicative of the opinions or positions of ConAgra.