Mexican Lasagna is the first recipe in my "baking to freeze" series (see the introduction post here, if you missed it!)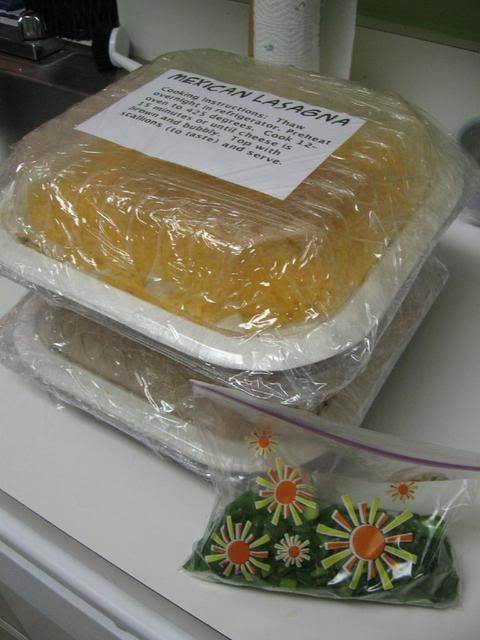 Two dishes of Mexican Lasagna with thawing/baking instructions and green onions on the side
Baking to Freeze Recipe #1: Mexican Lasagna
---
Recipe by: Adapted from
Rachael Ray
Yields: About 6-8 servings
2 pounds ground beef
1 packet taco seasoning, such as McCormick's
Cheesy Taco Seasoning
1 tablespoon chili powder
1 teaspoon ground cumin
1/2 red onion, chopped
1 15-ounce can black beans, drained
1 14-oz can fire roasted tomatoes
1 cup frozen corn kernels
Salt
8 8-inch flour tortillas
2 1/2 cups shredded cheddar
2 scallions, chopped
Directions:
Preheat the oven to 425 degrees F. Preheat a large skillet over medium high heat. Brown ground beef and drain the fat. Return beef to pan and add taco seasoning (and water, if the seasoning packet calls for such) chili powder, cumin, and red onion. Mix and cook for 2-3 minutes. Add fire roasted tomatoes, black beans, and corn. Heat the mixture through, 2 to 3 minutes, then season with salt to your taste.
Spray a shallow baking dish (disposable oven-proof baking dishes are wonderful for freezing in) with nonstick spray. Cut the tortillas in half or quarters to make them easy to layer with. Build lasagna in layers of meat and beans, then tortillas, then cheese. Repeat: meat, tortilla, cheese again. If freezing, wrap tightly and freeze, keeping bag of scallions and side of salsa in the fridge ready to serve on the side. Lasagna will keep for up to 3 months. If not freezing, simply bake lasagna 12 to 15 minutes until cheese is brown and bubbly. Top with the scallions and serve.
NOTE: if you're freezing the lasagna but don't have a disposable baking dish, you can also line a glass baking dish with foil and leave the ends hanging over the dish. Assemble your lasagna in the dish and bake only about 10 minutes. Then, after it's cooled, you can freeze the casserole, pull it out using the ends of the foil, and store it in a large ziplock bag. When you're ready to thaw and bake, you can use the original dish.
Thawing Instructions: Thaw overnight in refrigerator. Preheat oven to 425 degrees. Cook 30 minutes or until casserole is heated through and cheese is brown and bubbly. Top with scallions (to taste) and serve.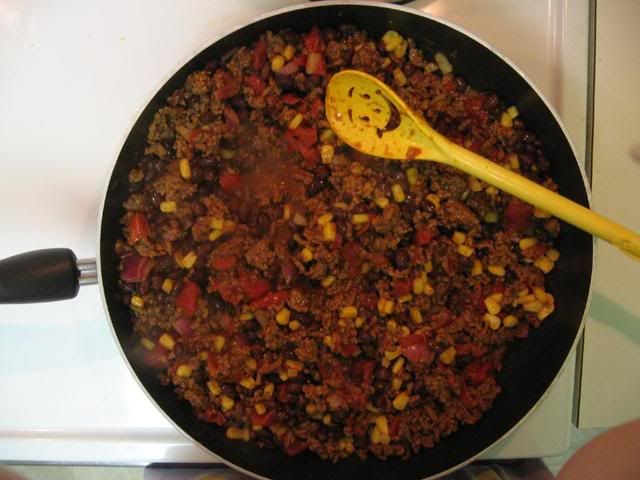 Mexican Lasagna filling: browned ground beef, red onions, taco seasoning, extra chili powder and cumin, corn, black beans, and fire-roasted tomatoes.
Click here to download thawing/baking instruction labels and recipe card to include with this dish.
Preview: