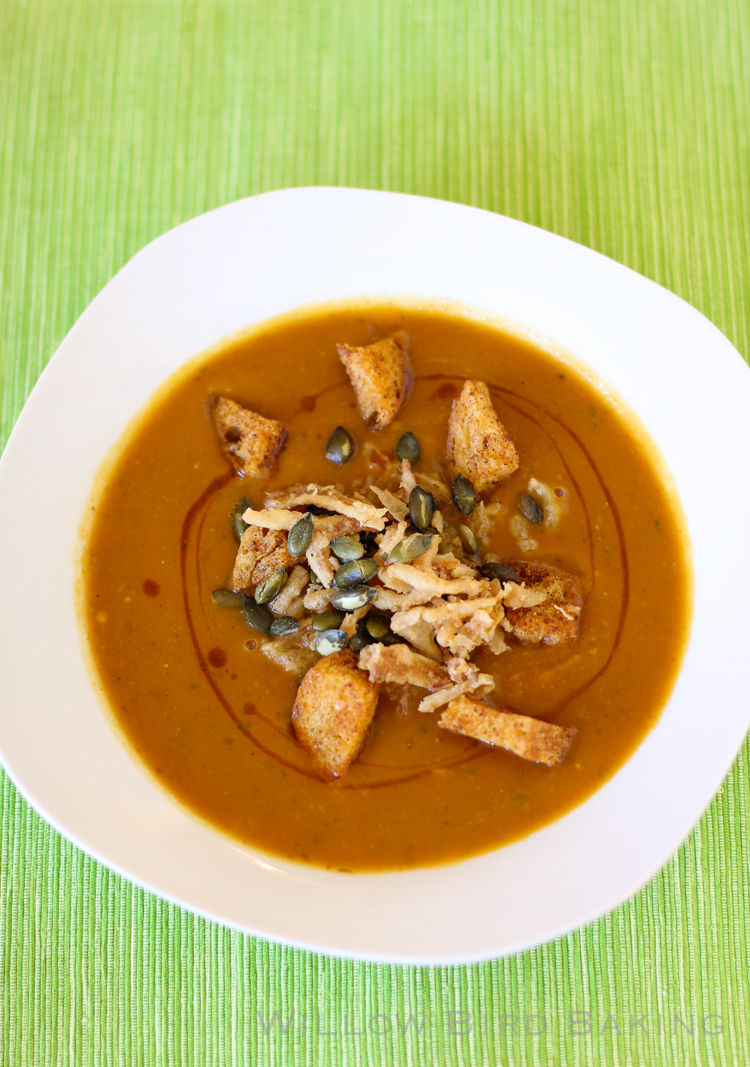 Spicy Pumpkin Soup with Croutons and Crispy Fried Onions
I feel like around half my posts these days are about ridiculous things I've done. Apparently getting married, switching jobs, and moving to a new city in the space a few months turns everything a bit sideways. And then autumn had to come, and daylight savings time had to end. Who knows which end is up anymore?
If my experience making this soup — which is actually a super (souper?) simple and quick recipe — is any indication, not me. I call it the Pumpkin Soup Incident.
It all started on a cold day last week. I'd seen Sommer's pumpkin soup recipe circulating around Facebook and decided to make it for dinner. As I always advise, I'd prepared my mise-en-place. I had ramekins of onion, jalapeño, and spices arranged on my counter. I had a brand new bottle of chile oil standing by. I had my brand new immersion blender ready. As I've also mentioned, my kitchen right now is not easy to work in. There's not much storage or counter space, and what there is, is currently consumed with food and appliances that don't fit anywhere else: a crock pot, a wayward stockpot, my old microwave, roughly 8 boxes of cereal. You get the picture.
So my neat, organized mise-en-place was actually not so neat and organized. My prep bowls were stuffed into crevices, stacked on other objects, and generally in the way. My immersion blender, in particular, was in an awkward position — right in the middle of everything else — and you know how wobbly immersion blenders can be.
I bet you're starting to get a feel for what transpired.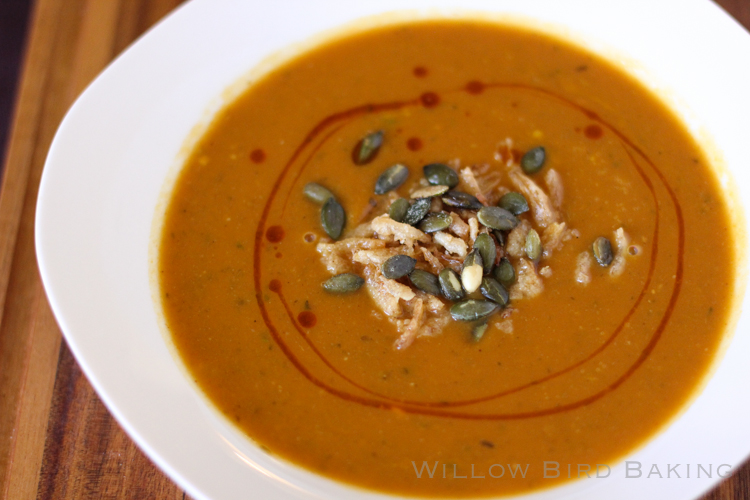 About 5 minutes into the recipe, I noticed my onions and spices starting to burn. I was using an old stock pot wherein everything burns immediately, so I half-knew this was going to happen. I was ready, though! All I needed to do was grab my chicken stock and dump it into the pot —
— except that when I went to grab it, I knocked the immersion blender and sent it crashing to the floor. And the immersion blender, being right in the center of everything, took the glass bottle of chile oil and a huge can of pumpkin down with it. Shattered glass exploded clear across the kitchen, carrying a payload of bright red chile oil and bright orange pumpkin.
At this point, my onions still burning in my pot on the stove, it was time for triage. Could the soup be saved? If it had just been me in the kitchen, the answer would certainly have been no. Thankfully, Mike rushed to the rescue, cleaning up debris as I dumped stock in the soup pot and opened a new can of pumpkin. I decided to try and salvage supper as best I could.
That makes me sound like a trooper, doesn't it? Super (souper?) calm and composed, right? So maybe I should add that I had finally stopped screaming but was still a crying mess, stepping in glass and oil, and generally wallowing in a why-me style kitchen rant.
By the time the soup was almost finished, I was almost calm. Then I opened the fridge to grab the salads and, in doing so, dumped an entire container of blue cheese across the floor. THAT'S RIGHT. THE BRIGHT RED-ORANGE STAINED GLASS SUNRISE PAINTED ACROSS MY KITCHEN FLOOR WAS NOT ENOUGH. I HAD TO DUMP BLUE CHEESE ALL OVER IT.
I'm sure you won't blame me for what I did next. I fled the scene. I hid in my bed for the next 15 minutes or so with the covers over my head while, again, superhero husband cleaned up the mess. I'm sure he secretly wished I'd given up on dinner.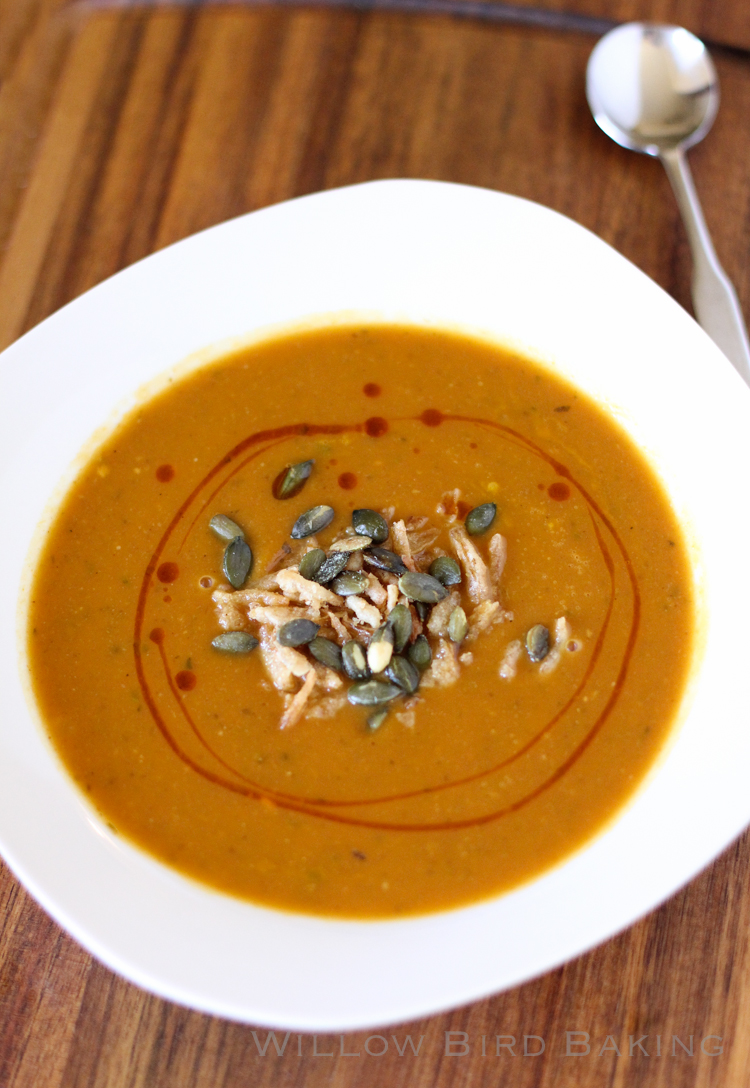 Happily, though, that was our last mishap and dinner itself was amazing. The soup was worth the disastrous process: rich, hearty, and topped with lots of crunchy, spicy toppings. We liked it so much that we bought a nice new Dutch oven and repeated the recipe — with a carefully cleared out kitchen — and found that, as I suspected, it was actually quite simple. If you avoided a klutzy meltdown, that is. To help with this, I've included instructions in the recipe for how to prepare your mise-en-place ("putting in place," or your setup of ingredients) before you begin.
One year ago: Broiled Southern Pimiento Cheese
Two years ago: Fresh Open-Faced California Sandwich
Three years ago: Deconstructed Margherita Pizza Bites
Four years ago: Gâteau aux Noix
Spicy Pumpkin Soup with Croutons and Crispy Fried Onions

---


Recipe by: Adapted from A Spicy Perspective
Yield: 6-8 servings

This quick, easy weeknight dinner will warm and fill you right up! The toppings make the soup so satisfying and delicious. The croutons, especially, will be your new favorite little recipe. I've included a simple mise-en-place setup to make this recipe a cinch for you!

Crouton Ingredients:
12 slices of a small (~3 inch diameter, ~1/2-inch slices) sourdough baguette, cubed
1/2 cup (1 stick) melted butter
2 teaspoons garlic powder
1 teaspoon chili powder
1/4 teaspoon cayenne pepper
1/2 teaspoon paprika
1/4 teaspoon salt

Soup Ingredients:
1 tablespoon olive oil
1 medium onion, peeled and chopped
5 cloves garlic, peeled and chopped
1 jalapeño, seeded and chopped
2 tablespoons ground cumin
1 1/2 tablespoons dried oregano
1/2 teaspoon cinnamon
1 1/2 teaspoons salt
8 cups chicken stock
1 (29-ounce) can pure pumpkin purée
2 tablespoons butter, softened
2 tablespoons flour
2 tablespoons red wine vinegar
3 tablespoons honey

1/2 cup toasted pepitas (pumpkin seeds; for topping)
1 cup french fried onions (like French's; for topping)
Hot chile oil (for topping)

Directions:
Prepare your mise-en-place:

Preheat the oven to 300 degrees F and cover 2 baking sheets with foil.
Prepare a paper towel lined plate for draining the croutons when they're done.
Melt the butter for croutons and mix in garlic powder, chili powder, cayenne pepper, paprika, and salt.
Put olive oil into a Dutch oven or heavy stockpot on the stove.
Put chopped onion, garlic, and jalapeño into medium prep bowl.
Put cumin, oregano, cinnamon, and salt into small prep bowl.
Open cans/packages of stock and pumpkin.
In a small prep bowl, mash together softened butter and flour (this is called a beurre manié and is used to thicken soups)
Put red wine vinegar and honey into two small prep bowls
Prepare a dish with pepitas and fried onions and set this with the bottle of chile oil on the dinner table.

Once mise-en-place is prepared, this soup is super (souper?) easy to prepare. First, make the croutons. Pour the butter and garlic powder mixture over the bread cubes and toss them to coat. Spread the bread cubes out on the baking sheets in a single layer, making sure they don't touch. Bake for around 20 minutes, flipping occasionally. Allow the croutons to cool on a paper-towel lined plate.

Make the soup. Heat olive oil over medium-high heat until it starts to shimmer. Add onion, garlic, and jalapeño into the pot and cook for 3-5 minutes or until softened. Add cumin spice mixture and cook for another 1 minute or so. Add stock, pumpkin, and beurre manié to the pot and stir to mix. Heat this to boiling before turning it down to a simmer. Simmer for around 20 minutes. Add red wine vinegar and honey and simmer for 3-5 more minutes. Use an immersion blender (or a regular blender covered with a dish towel — if you do this, blend in small batches, opening the blender vent and being careful of the hot liquid) to purée the soup.

Serve the soup topped with crunchy fried onions, pumpkin seeds, croutons, and a drizzle of chile oil.