Hands down, my favorite food experience in the universe (so far — who knows, maybe something really awesome is goin' down on Mars) is going to yum cha, or eating at a dim sum restaurant. Dim sum is a Chinese tea-like meal where a variety of amazing dishes are served as small plates. At a typical dim sum restaurant, carts full of steamed dumplings, fried eggplant, roasted pork buns, custard cakes, Chinese broccoli, sesame balls, and other treats traverse the dining room, replenishing each table.
It sounds pretty heavenly, right? If you haven't tried it, you really should. That being said, my first dim sum experience was, um, terrifying.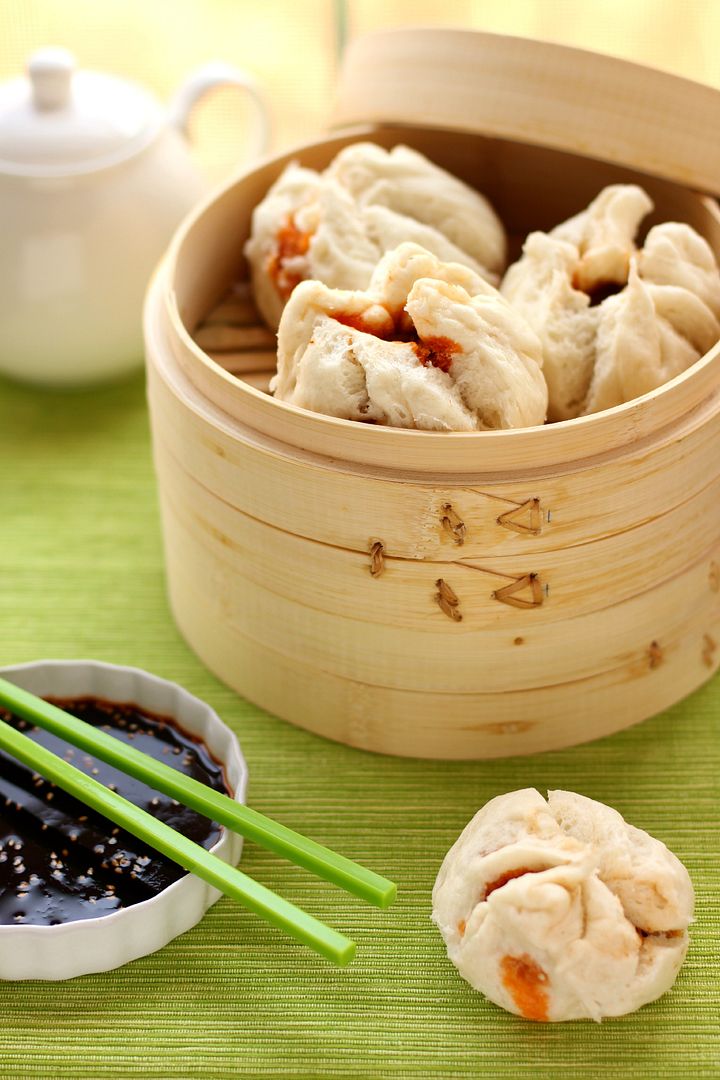 I think the restaurant atmosphere contributed more than a little bit to my anxiety. The interior walls were all painted stark black, and the blinds were mostly drawn. Where sunlight did find a breach, it sliced into the space as bright and sharp as a flashing knife. Grotesque white statues towered in the center of the restaurant and carts crawled down narrow aisles, preventing any retreat. The restaurant owners were apparently going for "horror movie chic."
My real trepidation, though, came from having no idea how dim sum worked. I saw the carts full of food, but were you supposed to flag them over? Would they just come to you? Were you supposed to write your order on your tab or did the servers write it for you? Was it annoying to ask what each dish was? As the cart rolled towards our table, so did a wave of panic. I didn't know what I was doing! I turned a frantic face to Mike and literally started plotting an escape: "We've already ordered our drinks, but can't we just pay for them and run out?!"
Mike, thankfully, was calm. He talked me down, helping me to temper my fear by focusing on the food. And oh, the food! I stuffed myself silly with every manner of new and delicious Chinese food, but my favorite dish by far was the char siu bao, or steamed pork buns.
These buns aren't your average heavy, dense bread. They're light, cakelike, and inexplicably fluffy. They're clouds! They're sheep! They're cotton! They're every other fluffy metaphor you've ever heard. The sweet pork filling inside the mildly sweet steamed buns was worth every bit of dim sum panic I'd felt. I vowed to make them in my own kitchen someday.
Y'all, that day has come — except, inspired by the McCormick 2012 Flavor Forecast, a report that highlights up-and-coming flavor trends around the world, I decided to mix it up. Two trends the Flavor Forecast describes are Honoring Roots and No Boundaries. These trends — one that showcases regional flavors around the world and another that encourages the blurring of the boundary lines between them — seemed to complement one another in a delicate balance. They were yin and yang, if you will. I chose to encapsulate both by creating a traditional recipe — Chinese steamed pork buns — with an unexpected ingredient. Instead of filling the buns with char siu, the typical Chinese barbecued pork, I opted to fill them with salty, sweet, spicy Korean barbecue, or bulgogi.
Bulgogi combines the spice of Korean Pepper Paste with sultry sesame, fruity Korean pear, and garlic. It's delicious over rice, but it really shone when it was coated in this delicious sauce and stuffed into these gorgeous buns (ha ha ha, gorgeous buns!) It took me three tries to make the perfect bāozi, but this version really is the tops. I can honestly say that pulling my Fluffy McFluffypants buns out of my new bamboo steamer was one of my proudest kitchen moments to date. Even better, these buns were one of my most delicious kitchen moments to date!
It may require an initial investment to begin cooking and enjoying Asian food if you aren't used to doing so (I had to buy soy sauce, rice wine, rice vinegar, Korean pepper paste, sesame oil, sesame seeds, and potato starch to stock my pantry). But these ingredients can be used over and over again, and meals like this are so worth the investment!
In fact, I was so excited about this recipe that I made you a video tutorial on how to shape the bāozi. Sophomoric jokes are included at no extra charge:
Have you ever eaten at a dim sum restaurant or cooked a new-to-you cuisine at home?
Pork Bulgogi Bāozi (Steamed Korean BBQ Buns)

---


Recipe by: Willow Bird Baking with bun recipe adapted from Rasa Malaysia and bulgogi recipe adapted from Food.com
Yield: 12 pork bulgogi buns

Korean BBQ, or bulgogi, is a delicious combination of salty, sweet, and spicy. It's amazing served over rice, but even better stuffed inside these slightly sweet, light-as-a-feather steamed buns. I did all the legwork for you in this one, trying multiple bun recipes and tweaking quantities until they were just right. So trust me: invest in the ingredients (you'll use them over and over again) and make these buns! If you don't have a steamer, here's an easy way to make one.

Bun Ingredients:
8 grams active dry yeast
160 milliliters lukewarm water (100-110 degrees F; I use a candy thermometer to do a quick check)
½ teaspoon white vinegar
280 grams low-protein flour (Hong Kong Flour or Cake Flour)
100 grams wheat or potato starch (I used potato)
100 grams icing sugar
30 grams shortening
10 grams baking powder
10 milliliters cold water

Pork Bulgogi Ingredients:
1 pound pork loin (cut into thin, wide slices)
5 tablespoons soy sauce
2 cloves garlic, minced
2 sprigs green onions, chopped
1/2 yellow onion, sliced
2 tablespoons McCormick toasted sesame seeds
black pepper
1 tablespoon and 1 1/2 teaspoons honey
2 1/2 – 4 tablespoons Korean red pepper paste (gochujang)
1 tablespoon McCormick red pepper flakes
1 1/2 teaspoons sesame oil
1 teaspoon vegetable oil for cooking
1/2 cup chopped Korean pear

Sauce Ingredients:
1 tablespoon + 1/4 teaspoon soy sauce
1 1/2 teaspoons honey
1 1/2 teaspoons sweet soy sauce
1 1/4 teaspoons sesame oil
1 teaspoon Korean red pepper paste (gochujang)
3/4 teaspoon rice vinegar
1/4 teaspoon packed brown sugar
1/4 teaspoon McCormick toasted sesame seeds
chopped green onions

Directions:
NOTES: I measured the bun ingredients by weight for accuracy. You can convert them to imperial measures using an online calculator, but I'd use weights if you can.

Some of the ingredients for this recipe (Korean red pepper paste, rice wine, sweet soy) are easiest to find at an Asian supermarket. I bought my steamer there as well, for around $13 — a great investment considering how many times I've already used it! Finally, you can usually find pork ready-sliced for bulgogi at an Asian supermarket; if not, freeze the loin for a bit before slicing with a serrated knife, which will make it easier to cut through.

Make pork bulgogi: Whisk together marinade ingredients (soy sauce, garlic, green onions, onion, sesame seeds, sesame oil, pepper, honey, pepper paste, and pepper flakes) and toss pork in marinade. Cover and let the pork marinate overnight in the refrigerator (for at least 8 hours).

Heat a skillet over medium heat and add vegetable oil. When oil is shimmery, add some of the pork mixture (don't crowd the pan — I cooked about 4 slices at a time) and cook, turning occasionally, for about 5 minutes or until brown and done. Remove this pork to a cutting board. Cut all pork into small bite-sized pieces and place it in a bowl. Toss in chopped Korean pear.

Make sauce: Whisk all sauce ingredients together except green onions. Pour about half of the sauce over your pork bulgogi (you want it lightly coated, not swimming in the sauce) and reserve the other half (with green onions sprinkled in) for dipping.

Make bāozi: Sift together the flour, wheat or potato starch, and powdered sugar into a mixing bowl. Make a well in the center and gently combine the yeast, vinegar, and warm water in the well. Let this sit and proof for around 10 minutes before slowly mixing in the surrounding flour mixture bit by bit, forming a dough. Add in the shortening and then knead (on a KitchenAid mixer at about speed 4-6, knead for about 4 minutes; by hand, knead for about 10 minutes) until the dough is smooth and elastic. It shouldn't be sticky to the touch.

Transfer the dough to a bowl lightly coated with vegetable oil. Cover it with a damp cloth and place it somewhere warm to rise (I always put mine into an oven that has been warmed for a few minutes and then left open to drop to just above room temperature) for 30 minutes. I never noticed too much rise, so don't worry if it doesn't seem like a huge difference.

After 30 minutes, dissolve the baking powder completely in the water and sprinkle this mixture over the bao dough. Knead it in to fully combine it (I used the dough to mop up any of the mixture that was still on the bowl and kneaded it in well — an uneven distribution of baking powder can cause discoloration of your buns). Recover the dough and let it rest for 10 more minutes.

Fill and shape your buns: Turn the dough out onto wax paper and pat it into an even width. Use a dough cutter or sharp knife to divide it into 12 roughly equal sections. Take one section and gently roll it out to about 1/4 inch thick with a rolling pin (I keep the sections I'm not working with covered with a damp cloth so they don't dry out.) Holding the dough in your non-dominant hand, place the pork bulgogi filling in the center and carefully pleat the edges of the dough together at the top, turning the bun as you work, until it is fully closed (see the video below for a demonstration of to shape the buns — and jokes about the word 'buns,' of course). Place each bun on a square of wax or parchment paper.

Steam your buns: Preheat your steamer by boiling water and a teaspoon of vinegar over medium-high heat in a saucepan with your steamer on top (here's a photo of how your steamer setup should look). Preheating the steamer ensures your buns will fully rise. Once it's steaming, place buns in each tier (being careful not to crowd them), spray them with a bit of water (this help ensure a smooth surface), and close the steamer. Cook for 12 minutes without opening the lid. Remove the buns to a cooling rack to let them cool. Serve warm with reserved dipping sauce.
You don't see many product reviews on Willow Bird Baking, because I'm choosy with how I share this space. My choosiness reflects my own ideals for Willow Bird in addition to my respect for the community we have here. When I get the opportunity to work with a company I genuinely love and use in my own kitchen, though, I'm always thrilled to share. McCormick is just such a company, and I'm excited to share their forecast of upcoming flavor trends.
Disclosure: McCormick sent me a Flavor Forecast Immersion Kit of ingredients, and compensated me for other ingredients and for my time and creative energy. I value my readers such that all opinions expressed on Willow Bird are always my own.
If you liked this post, please:
–Subscribe to Willow Bird Baking
–Follow Willow Bird Baking on Twitter
–Follow Willow Bird Baking on Facebook
–Give this post a thumbs up on StumbleUpon
–Pin It
other ways to share this post with friends