I'm getting really good at u-turns. You can't make a left turn out of my apartment complex, so a few times a week I'll find myself sitting at a traffic light, tapping my steering wheel in a bored rhythm, waiting to make my u-turn. If the turn lane light turns red just as I get there, I'm crafty enough to stay in the straight lane for a bit and make a u-turn just up the street. If I time it right, it's a tad bit faster than waiting for another green arrow. Because that 30 seconds really matters, y'all.
I'm also apparently the queen of the culinary u-turns lately. You remember last week's shenanigans, right? I wasn't overwhelmed enough with my two-day Valentine's dessert recipe, and needed to add, oh, handmade pasta to the mix. Ridiculous.
This week there was another switch, although thankfully not as intense: I was shuffling along, planning to make some personal ice cream cakes when a post showed up in my Google Reader that I could not ignore. Whaaat — a gorgeous citrus cake appears JUST when I'm about to toss out my leftover clementines, which are getting a little squishy? Just like that, my weekend plans slammed on their brakes, put on their turn signal (because unlike the drivers around here, my plans always use their turn signal), and changed direction entirely! Clementine Cake was born!
Mike liked this sweet dessert — but I loved it. It was a beautifully simple, dense, bright citrus cake with that lovely crackling glaze to break your fork into. No fussy frosting, so I found myself cutting slabs of it here and there to eat with my fingers!
I will say the cake itself was a bit dry (I overbaked, which could be the issue), but I had a few tricks up my sleeve to fix that. I poked holes in the cake as it cooled so the glaze would seep into the it when poured. We also served hunks of the cake with a smear of gorgeous clementine curd and a pluff of barely sweetened fresh whipped cream. I can't recommend this serving suggestion enough — in fact, I'm going to make it a serving command (can I do that?), because the cake and fixins tasted just like a homey creamsicle!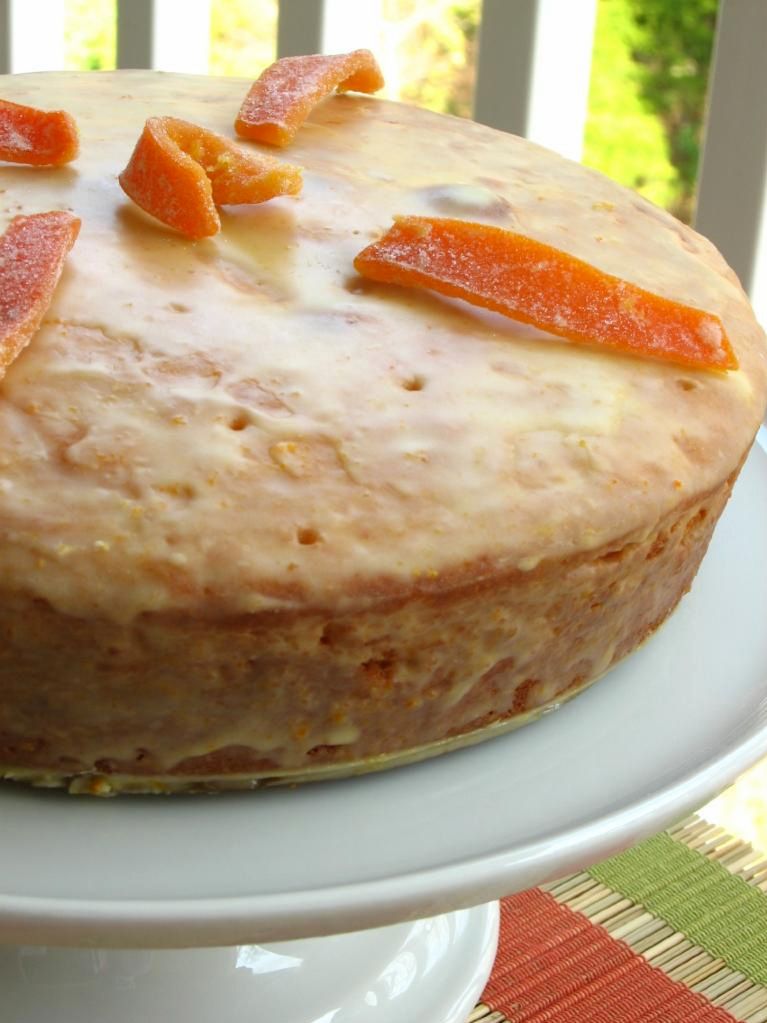 My poor dad has been on a diet for weeks now and this is his "break" weekend. He's not technically supposed to have cake, but I fixed him up a small slice (I promise I'm not a diet saboteur). He and my little brother both enjoyed it, so I left them a hunk for later. I may also have hidden away a bit in my own fridge! Something about refrigerating fruity baked goods always enhances the flavor, and this cake was no exception.
Clementine Cake


---


Recipe by: Adapted by Willow Bird Baking, Lick the Bowl Good, and Technicolor Kitchen from Jill Dupleix
Yields: one 9-inch cake

Cake Ingredients:
1 cup (2 sticks) unsalted butter, room temperature
1 cup granulated sugar
4 eggs, room temperature
1 1/2 teaspoon grated clementine zest
2 cups all purpose flour
1 tablespoon baking powder
1 teaspoon salt
7 tablespoons fresh squeezed clementine juice (I needed about 7 clementines total to make the cake and glaze)

Glaze Ingredients:
1 1/2 – 2 cups powdered sugar
4 tablespoons fresh squeezed orange juice
grated clementine zest

Fresh Whipped Cream Ingredients:
2 cups heavy whipping cream
2 tablespoons icing sugar

Directions:
Heat the oven to 350 degrees F. Butter a 9-inch cake pan and line the bottom with parchment paper. Butter the paper and set aside (I use Wilton's Cake Release).

Cream the butter and sugar well for several minutes, until it is very pale and thick.

Add the eggs one by one, beating well after each addition, then add the zest. Add the flour, baking powder and salt all at once, and beat well, then slowly add the clementine juice until it is incorporated.

Pour the batter into the prepared cake tin, and bake for 35-40 minutes – or until an inserted skewer comes out clean (If it starts to brown too much on the top, cover loosely with a sheet of foil.) I baked mine for 40 or 45 minutes, which proved to be too long.

Allow cake to cool in pan for 15-20 minutes on a wire rack. Then invert onto a plate, remove the parchment paper and allow to cool completely before glazing.

To make the icing, stir the clementine juice into the icing sugar until you have the right spreading consistency. Using a skewer, dowel, or toothpick, poke holes through entire cake to allow glaze to seep down into it. Pour the icing onto the cake and spread with a spatula or butter knife, allowing the icing to drip down the sides of the cake.

To make fresh whipped cream, whip cream and icing sugar together until the mixture forms soft peaks. Store in an airtight container in the refrigerator.

Leave the icing to set before cutting the cake into wedges or storing in an airtight container. Serve with a smear of clementine curd, and a dollop of fresh whipped cream (and optional candied clementine peel).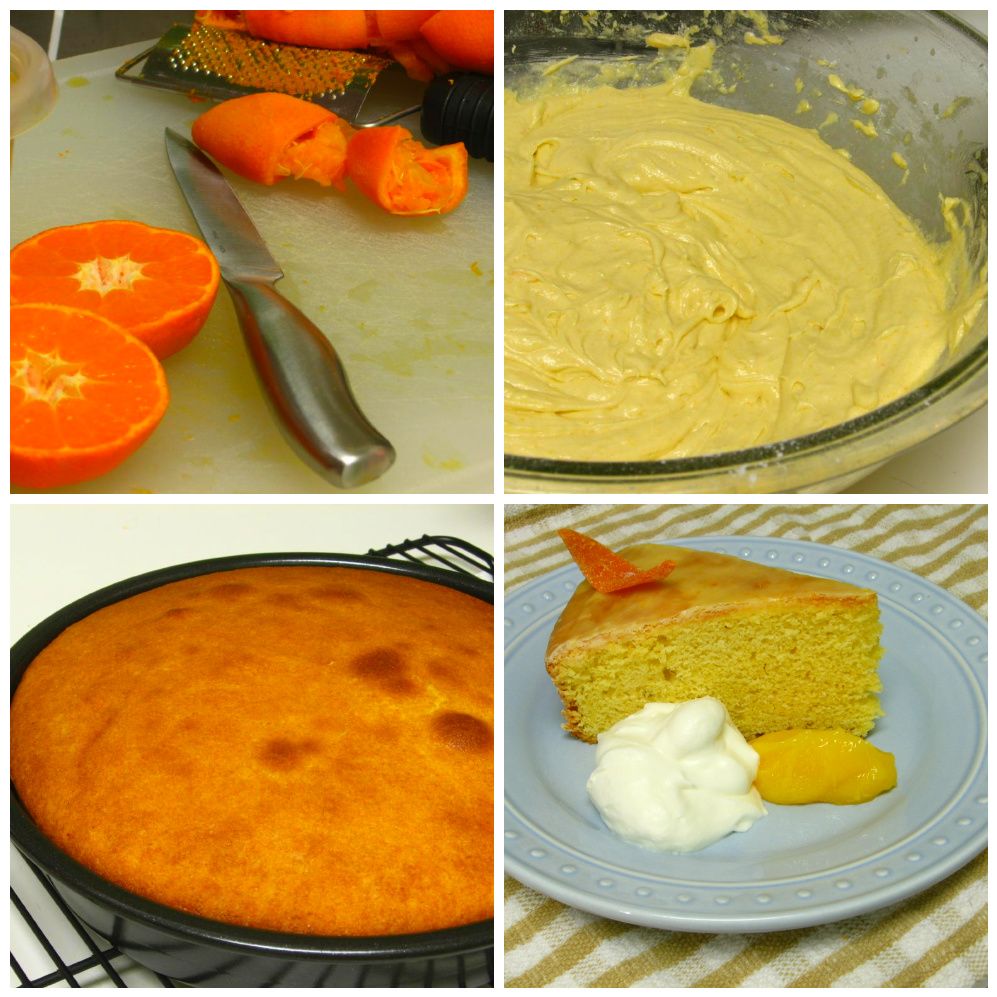 Enjoy your citrus squeezin'!
Share this post with friends!