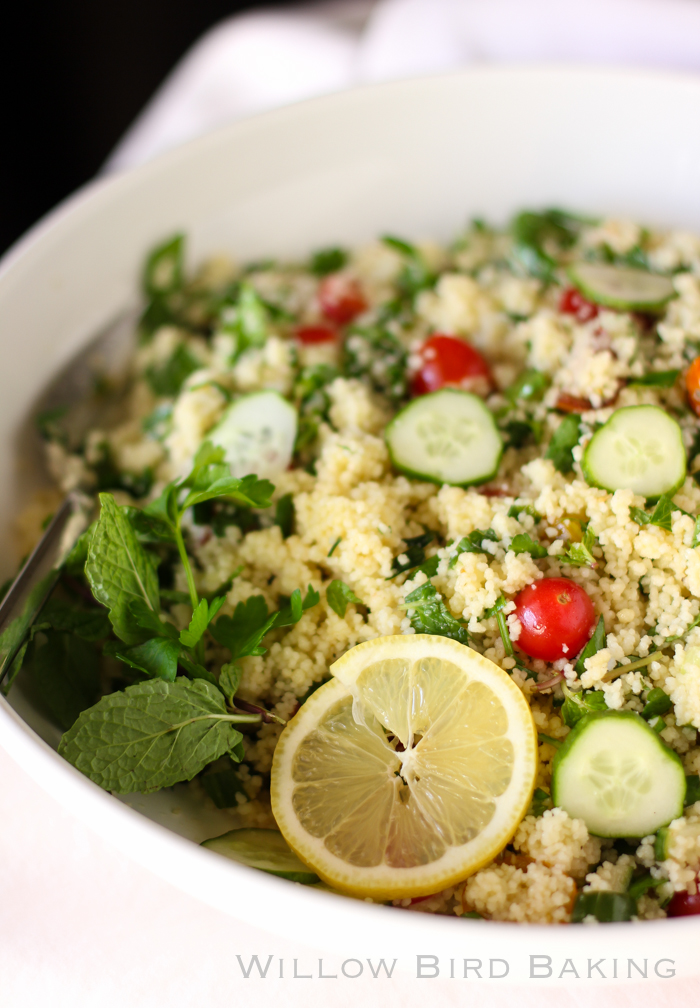 Easy, Healthy Couscous Tabbouleh
Thanks, Foodie, for sponsoring this post.
My green cutting board rapped against the countertop, followed by the metallic thud of the knife. Leaving these two faithful friends for a moment, I held each vegetable under the open faucet — the cold skinned cucumber, each plump tomato, the clingy herbs — and wrapped them in a paper towels. Back at the board, the rhythmic slooce slooce slooce of the knife through each vegetable became a steady companion for the next dozen minutes or so, and I let myself breathe with the beat.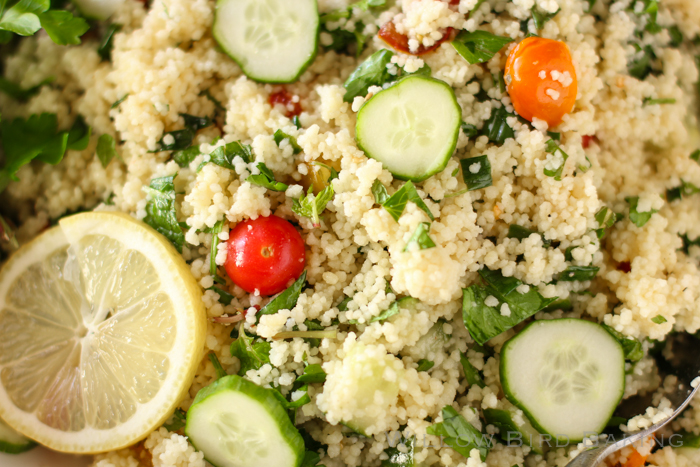 Eventually, the broth on the stovetop boiled, bubbles rolling over bubbles, olive oil separating and rejoining around the edges of the saucepan. The dry couscous hit the mixture with a hiss and I silenced it with a whisk. Lemony steam billowed up around my face before I eclipsed the pan with the lid, settled it on the back burner, and turned my attentions to the dressing. A quick squeeze of lemon juice, a sprinkle of salt, a grind of pepper. Whisking through the slow drizzle of green-tinted oil. I tossed the cold vegetable dice into the resulting olivey emulsion, letting them marinate until the moist couscous was ready to be tossed in. Cold herbs met warm couscous. The whole bowl was shoved onto a cold refrigerator shelf, but not until after I savored a forkful or two.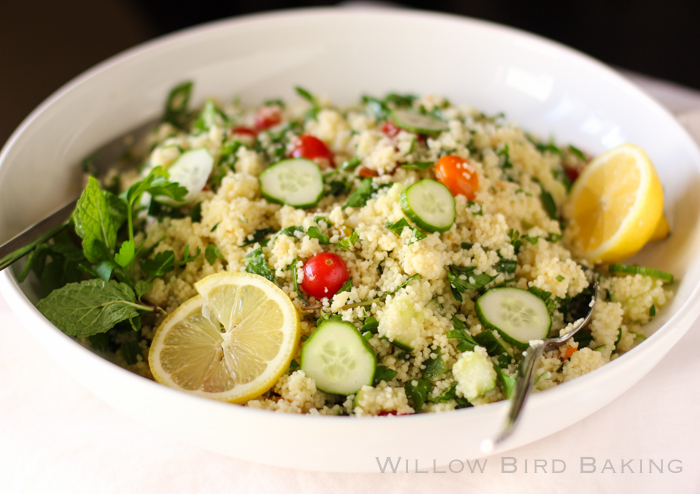 Paying attention to my five senses as I worked produced so much satisfaction and reminded me all over again how small choices affect my daily mood. It's that very idea that inspired me to create the new Willow Bird Baking #happymoments2014 Challenge. In the past, our challenges have all focused on food. This one will involve food as well, but it's much broader than that. This challenge is about finding tiny pockets of joy in your everyday life.

How to Join In: Happy Moments 2014 is a fun, low-pressure weekly challenge. Each week's task aims to help you find joy! There will be lots of options so that people of many income levels, activity levels, and locations can participate. Sign up for the #happymoments2014 challenge weekly email below to receive the challenge each week! The challenge will last for 12 weeks, and by the end of those 3 months, I hope these tiny moments of appreciation will have become a habit.
Challenge #1: To get you started and give you a taste (literally) of what the challenges will be like, here's the first one:
This week, prepare and eat a healthy meal or snack in a mindful way.
COOK: Prepare a recipe of your choice and enjoy it as a culinary meditation, gleaning satisfaction from the process and product. Choose a manageable recipe that fits your skill level, cost level, taste, and lifestyle. The goal in this challenge is not to make something fancy, but to be present in the process, giving your attention to all of your five senses. (See the slideshow at the bottom of this post for recipe ideas!)
SNAP: Find a creative way to photograph your experience that showcases it without interrupting it. Maybe you want to snap a photo of the finished product, of you enjoying it, or of an empty plate! Part of the fun is being creative about your photo.
SHARE: Share your photo on Facebook or Twitter with the hashtag #happymoments2014, email it to me at julie 'at' willowbirdbaking 'dot' com, or blog it on your own blog.
STAY TUNED: Don't forget to sign up above so you get future challenges in the mail, since they won't be posted on the blog! Signing up includes other special perks I have planned for you, too. One reader who signs up will win a journal to start recording #happymoments2014 in!
I can't wait for you to join me as we try to capture the happiness that's waiting there for us.
One year ago: Boozy Icebox Cake
Two years ago: Healthy Roasted Tomato and Onion Bread Soup
Three years ago: Two Exquisite Tea Sandwiches
Four years ago: Pumpkin Cheesecake Bread Pudding
Easy, Healthy Couscous Tabbouleh

---


Recipe by: Slightly adapted from Epicurious
Yield: 6-8 servings

This easy, flavorful salad is a healthy meal to help you with your New Year's resolutions! I love making a big batch of it and eating it for a quick lunch throughout the week.

Ingredients:
1 cup chicken broth
1 cup water
1/2 cup fresh lemon juice, divided
1/3 cup plus 2 tablespoons olive oil, divided
1 1/2 cups couscous
1 seedless cucumber, cut into 1/4-inch pieces, plus cucumber slices for garnish
9 ounces cherry tomatoes, sliced in halves
3/4 cup finely chopped scallion
1 teaspoon kosher salt
a few grinds pepper
2 cups loosely packed fresh parsley leaves, minced
1 cup loosely packed fresh mint leaves, minced, plus mint sprigs for garnish

Directions:
Prep all your materials first: chop the veggies and herbs, measure out the ingredients, etc. Bring chicken broth, water, 1/4 cup of the lemon juice, and 2 tablespoons olive oil to a boil in a medium saucepan. Whisk in the couscous and cover the pan, removing it from the heat. Let it sit and steam for 5 minutes before fluffing it with a fork and setting it aside to cool. In a large bowl, whisk together the remaining 1/4 cup lemon juice, 1/3 cup olive oil, salt, and pepper. Toss the cucumber, tomatoes, and scallions in the dressing and allow this to sit for 15 minutes. Add in the couscous and herbs and toss the salad well. Cover it and chill it for at least an hour to allow the flavors to meld. Garnish with extra cucumber slices and herb sprigs.

Need some inspiration finding a healthy recipe? Try these from some bloggers I love: