OH MY GOODNESS, am I one proud blogger! One month ago, I issued a Cheesecake Challenge in which I encouraged you to choose a WBB cheesecake recipe and tackle it in the kitchen. Was I ever impressed at the splendid results! Y'all are courageous, inspiring, and sweeter than fresh-picked strawberries. I kinda like ya.
Know what else I like? Even though you were all making some of the same recipes, your kitchen experiences were diverse: Some of you baked at the last minute. Some of you baked your cheesecake before the challenge even officially began. Some of you are experienced bakers. Some of you baked your first cheesecake ever for this challenge.
My students even jumped in to participate. Alexander in the 7th grade made two different cheesecakes, and Ava in 6th grade chose to make a red velvet cheesecake. Speaking of young'uns, there may have even been a toddler involved in the production of one of these cheesecakes.
Despite your very different circumstances and skill levels, you all succeeded. There were obstacles and "creative" presentations (Nathan's brownies didn't set up in the circular pan, so they ate them as pudding). There were hours of work. But you made it — and accomplished something lovely for your family and friends. Congratulations on gorgeous work, and thank you for making this such a rewarding experience for me.
---
Priscilla the Powerful
Priscilla Made: Coffee Cookie Dough Fudge Cheesecake
Comments:"This is only the second homemade cheesecake that I have ever done! It was fun and exciting to be doing something like this with so many different layers of yummy goodness!"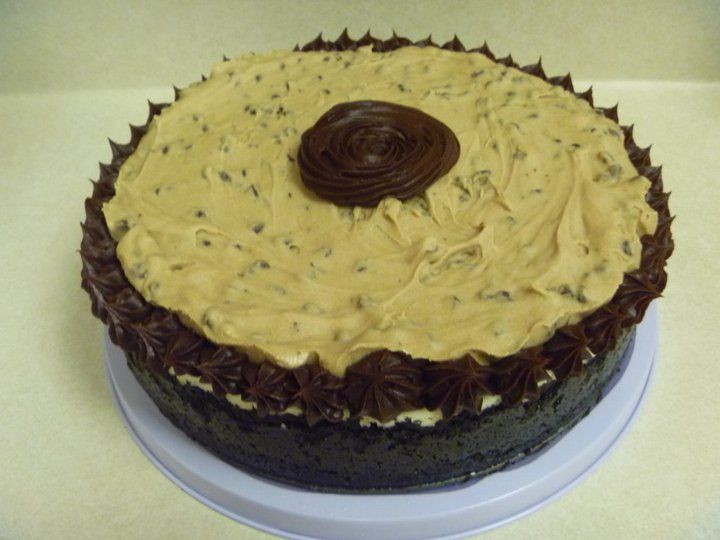 ---
Mollie the Magnificent
Mollie Made: Coffee Cookie Dough Fudge Cheesecake (go see her blog post)
Comments: "Oh man. Seriously. Best thing ever. There are a lot of components, but it really doesn't seem like too much when you're eating it. The cheesecake itself is the best cheesecake I've made (I think thanks to the water-bath cooking process). And the ganache and cookie dough. I mean, yes."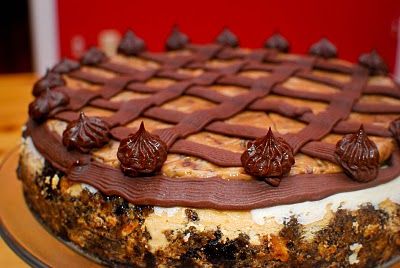 ---
Janet the Jumpstarter
Janet Made: Coffee Cookie Dough Fudge Cheesecake (without cookie dough layer)
Comments: "This cake was the most delicious dessert I ever made! It was so yummy, and pretty too. I made it for a dinner and everyone thought I had bought the cake somewhere."

---
Gio the Genius
Gio Made: A cross between Chocolate Cheesecake-Stuffed Cupcakes and Red Velvet Cheesecake! (go see his blog post)
Comments: "The cake was soft, moist and the hint of chocolate was there. The slightly tart cream cheese topping really set well and complemented the cake. The streusel was just as I imagined it to be – sweet, slightly crunchy and not overpowering at all. It was, all in all, the perfect topping. I was glad I joined the Cheesecake Challenge since I think I really kicked —" (I'll leave that to your imagination – ha!)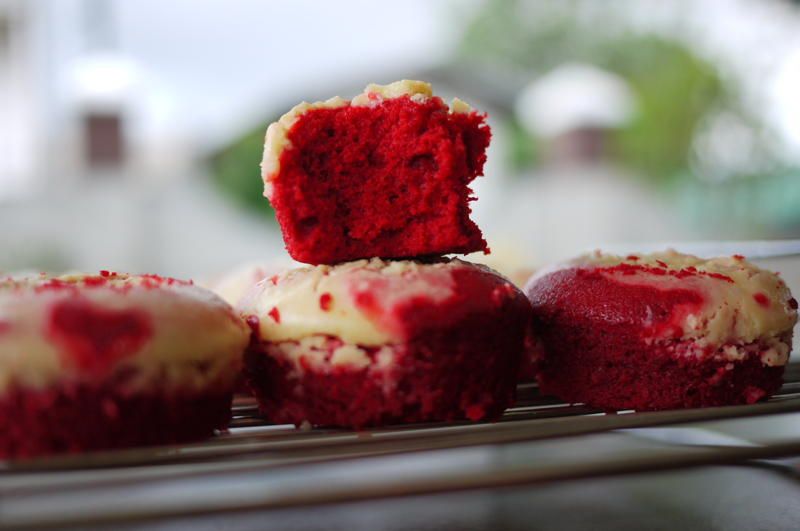 ---
Allyson the Awesome
Allyson Made: Chocolate Cheesecake-Stuffed Cupcakes (go see her blog post)
Comments: Allyson added coconut oil to her batch of Chocolate Cheesecake Stuffed Cupcakes, and a layer of strawberry jam for good measure!

---
Lauren the Laudable
Lauren Made: Lemon Blackberry Cheesecake Squares (go see her blog post)
Comments: "I made your lemon blueberry cheesecake bars and they turned out delicious! […] My husband is a happy man:-)"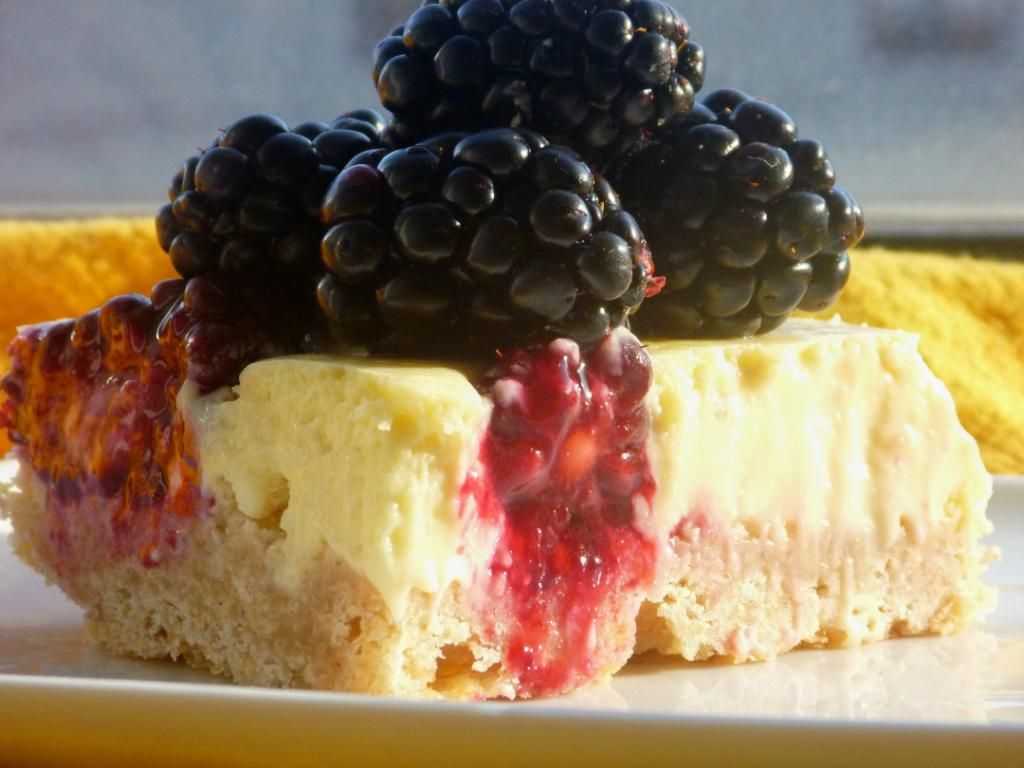 ---
Ava the Adventurous
Ava Made: Red Velvet Cheesecake
Comments: "Dear Miss Ruble, The cheesecake was amazing! I'm really glad I tried your recipe."

---
Alexander the Able
Alexander Made: Coffee Cookie Dough Fudge Cheesecake and Chocolate Peanut Butter Bliss Cheesecake
Comments: "Imagine! A 7th grade boy, with little to no help, executing a gorgeous cheesecake. No one ever informed him that this was a daunting task, and after watching your video, he was confident that he could pull it off–and wanted to!" — Alexander's Mom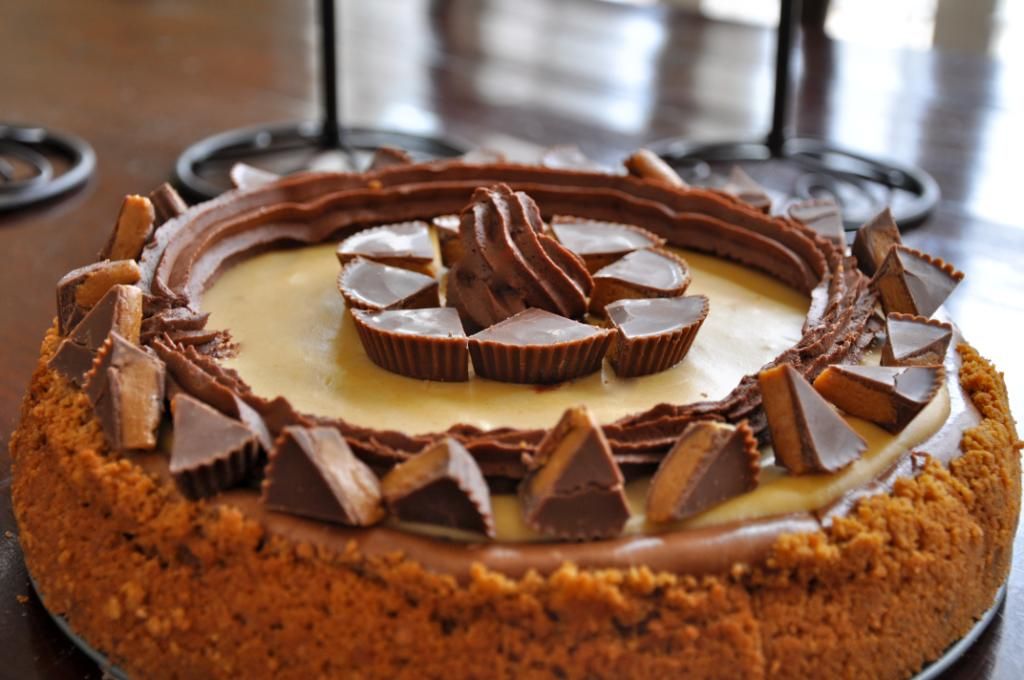 ---
Muppy the Magical
Muppy Made: Pumpkin Cheesecake Bread Pudding (go see her blog post)
Comments: "It was amazing, I cannot believe how good it tasted, I thought the spices and the pumpkin went so well with the cream cheese. The brioche perfectly matched the cheesecake custard. I thought it tasted its best straight out of the fridge the day after making it." Muppy made her own homemade brioche for this recipe!

---
Dee the Delightful
Dee Made: Red Velvet Cheesecake (go see her website)
Comments: "It was so much fun being part of your cheesecake challenge. The red velvet tasted divine and my husband and all our friends just loved it. The fresh smell out of the oven was so incredible. Our puppy, Monty, kept whiffing the air; it was hilarious. I used plain graham cracker crust instead of oreo just so that the chocolate ganache layer could be seen underneath. […] Thank you from the heart for a wonderful time and opportunity." Dee chose to have a "Cheesecake Sunday" party and made several more cheesecakes to serve alongside this one!

---
Cassie the Conqueror
Cassie Made: Chocolate Peanut Butter Bliss Cheesecake (go see her blog)
Comments: "First off, let me just say what a delicious recipe this was. I'm a cheesecake freak, and I'm always in search of great cheesecake recipes with rich thickness. This was exactly it. It took me a couple of days to prepare because of my hectic schedule, but i'm glad I did it. My friends and family are too!"
---
Jade the Joyful
Jade Made: Chocolate Peanut Butter Bliss Cheesecake (go see her blog post)
Comments: "In my daughter's words: 'Mmm, tasty!'" Jade made this dessert vegetarian and provides a list of tasks her toddler was able to perform!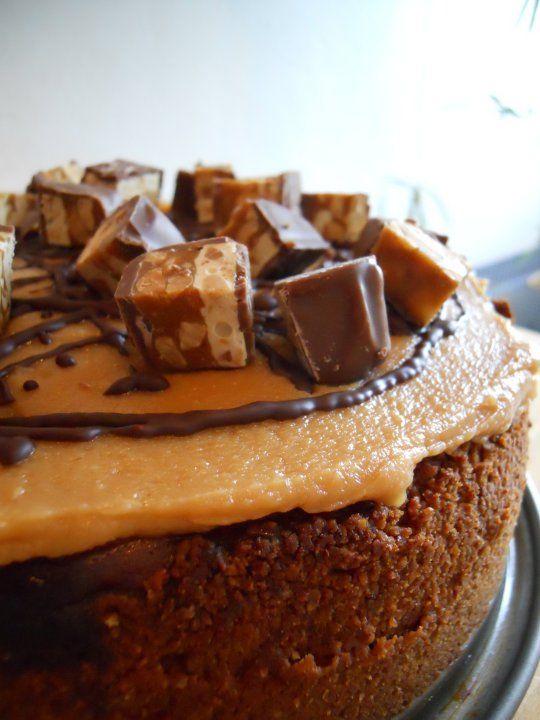 ---
Nathan the Nimble
Nathan Made: Marbled Chocolate Cheesecake Brownies
Comments: "We celebrated a friend's birthday yesterday, and he really liked them. Since they did not set up properly, and given my online nickname (GooeyChewie – actually a double reference to Star Wars and Star Trek), we called them 'gooey chewie brownies.' Later we played a few rounds of that Tribbles game in the background, and I think part of the reason I won was because two of my opponents had eaten gobs of the brownies and could probably have fallen to a sugar-induced coma at any moment."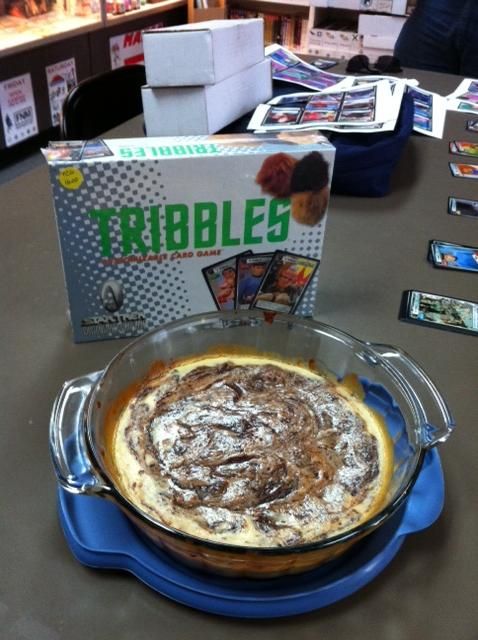 ---
Pam the Perfect
Pam Made: Red Velvet Cheesecake
Comments: Pam overcame lots of obstacles to make her cheesecake — I love her story: "I decided to make this for my dad's birthday this year, because it looked delicious and challenging. It wasn't until I put all the ingredients out in front of me and realized: Crap. I've never made a cake from scratch. I've never made a cheesecake. I've never made ganache. I ended up grabbing the wrong measuring cup for the flour for the cake, and had to use my amateur baking instincts to add the right amount of buttermilk to make it work. Oh, and I didn't have nearly enough red food dye to make it red, so I guess it was more of a mauve velvet cake! I also realized I misread the ingredient list when I picked up cream cheese, because I was short an entire 8 oz. Once again, I fixed some things with the cheesecake, and it came out a little dark, but still wonderful. The ganache was easy, and I had a hard time not eating spoonfuls of it as I was decorating. My final hurdle was the frosting, which came out terribly, so I ended up throwing it out and covering the cake in ganache and white chocolate. I did not hear anyone complaining about that little detail 😉
I got a call from my Dad and his girlfriend after they had taken it home to tell me it was one of the best cakes they'd had in their life! They said it was rich and sweet, and could only handle a little bit at a time, but found themselves coming back for more even when they didn't think they could handle it.
I'm sure you hear these stories all the time, but this challenge has inspired me to take more risks in the kitchen, which is something I've never done. I've never made cheesecake before because I was always overwhelmed by the idea of it, and now I can't wait to start experimenting with all kinds of cheesecake. Thank you so much for your blog and your creations, I look forward to taking on more of your challenges, testing more of your recipes, and being inspired to make my own. I already have a plan for a cake like this one…but cookies and cream."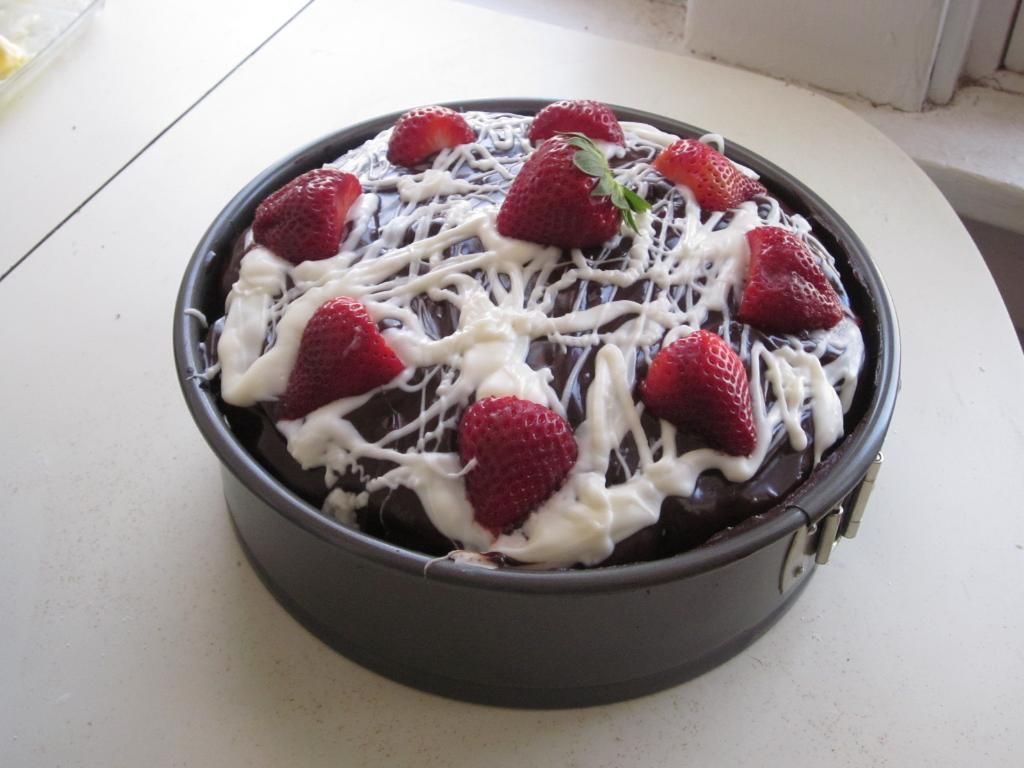 ---
Becca the Bold
Becca Made: Red Velvet Cheesecake (go see her blog post)
Comments: "Even though I was slightly overwhelmed and maybe a little frustrated with the process (since I had NO IDEA), I am really glad I did this! I actually got a little surge of triumph thinking about it reminiscent to my days in AP classes when I aced a test. Thanks Julie for the challenge! I may actually try to challenge myself a little more in the kitchen. (Just a little)"

---
Maranda the Masterful
Maranda Made: Coffee Cookie Dough Fudge Cheesecake (go see her blog post)
Comments: "I chose to make her most famous cheesecake of all. Coffee Cookie Dough Cheesecake. Doesn't that sound utterly delicious?? Well I'm here to tell you…it is! […] Now, I'm not a cheesecake person. The only other cheesecake I've ever loved and continued to fantasize about is this goat cheese cheesecake with pineapple vanilla compote. Believe me when I tell you that this cheesecake is well worth the effort and time to make!" Maranda also weighed this cheesecake and found it weighed a whopping 7 pounds!

---
Katie the Courageous
Katie Made: Chocolate Cheesecake-Stuffed Cupcakes
Comments: "I […] wanted to tell you how much you've inspired me in the kitchen. I really enjoy baking, but until reading your blog I was pretty nervous about making things 'from scratch' out of fear of ruining someone's birthday/wedding shower/happy occasion (…or my midnight craving for chocolate), especially without my Mom on hand to help me fix my mistakes. Your writing and encouragement makes me think 'YES! I CAN make cupcakes myself that are from scratch, taste delicious, and don't look like they were made by a three year old with poor motor skills!' Ok I'm still working on the 'not-embarrassing-looking' part, but…there's progress :)" I don't think they're embarrassing looking at all, Katie!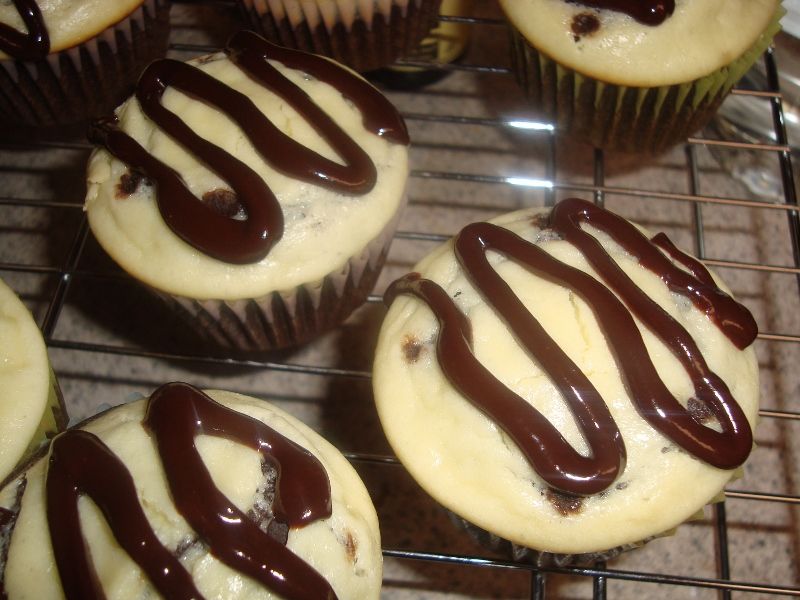 ---
Andrea the Amazing
Andrea Made: Coffee Cookie Dough Fudge Cheesecake (go see her blog post)
Comments:"It was an awesome challenge to make this cake today, as I have never made a cheesecake using the water bath to keep the cake from cracking. Never had to create a ganache to for a cake and decorate with it before. (Just used ganache for truffles.) And never have made an egg-less cookie dough crust before! YUM! So, if you have an event that calls for a high end cake or you just want to indulge, like me, I encourage you to try it!"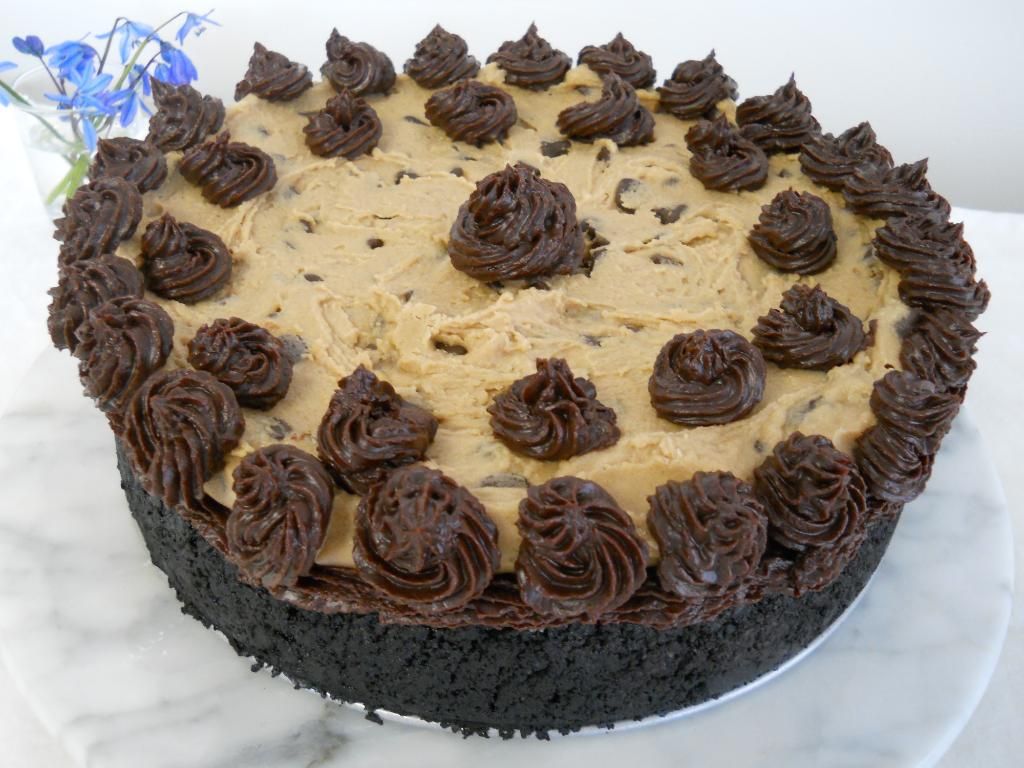 ---
Erin the Energetic
Erin Made: Coffee Cookie Dough Fudge Cheesecake (go see her blog)
Comments: "It's amazing! A VERY big hit! Thanks so much for the recipe!"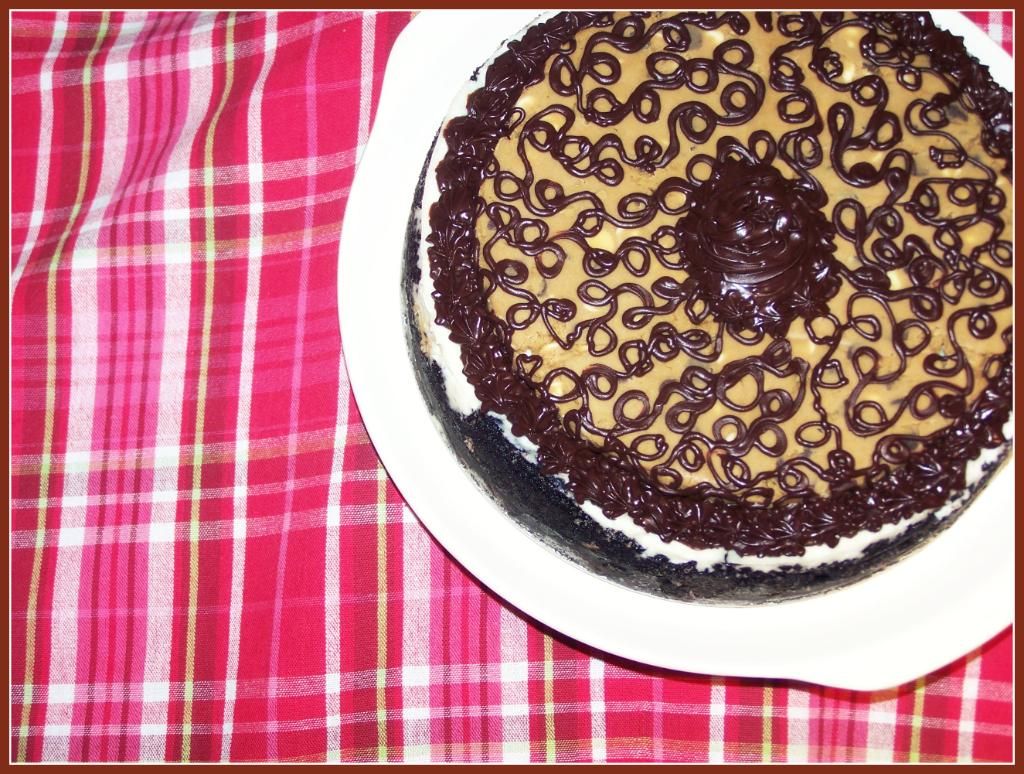 If you liked this post, please:
–Subscribe to Willow Bird Baking
–Follow Willow Bird Baking on Twitter
–Follow Willow Bird Baking on Facebook
–Give this post a thumbs up on StumbleUpon
Other ways to share this post with friends!