Cake Batter Cookie Dough is like a birthday party. A sweet, colorful, happy birthday party with balloons and trick candles.
Cake Batter Cookie Dough Truffles are like a birthday party that, in addition to those things, has a bouncy house and pony rides from a pony named Whinny.
That's nice and all.
But Deep Fried Cake Batter Cookie Dough is like a birthday party with all of those things — held on a flippin' yacht in the French Riviera, with David Beckham serving you lemonade while Posh Spice feeds Whinny sugar cubes.
Oh, and with Prince performing "Raspberry Beret" in one of his funky outfits.
And with Nigella Lawson in the galley whipping up cupcakes.
And with one of those little bendy straws in the lemonade.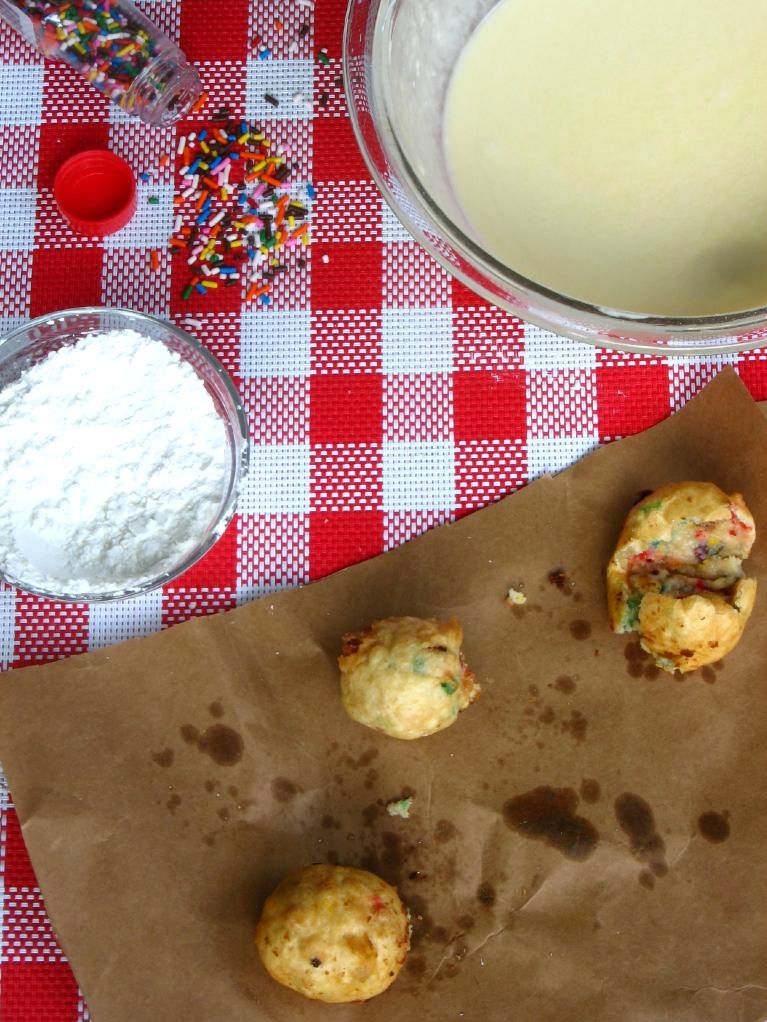 What I'm trying to say is that Deep Fried Cake Batter Cookie Dough is one of the best things I've ever had the pleasure of devouring. I mean, it was so good — an absolutely magical bite. I think it tasted a little like Heaven would taste.
And now that I've accidentally equated Heaven to a nautical birthday party with assorted celebrities (and Whinny!), I'm going to stop with that train of thought.
Back to deep fried dough. The buttery, cake batter-flavored dough encased in a thin, crispy shell was surprisingly light and pop-able. Despite being indulgent, it didn't feel heavy or overwhelming.
Of course, I stuck several of them in a paper tray with chocolate sauce, whipped cream, and sprinkles to really round out the experience.
I know some of you are going to say, "Well, I'm not really a fan of frying things." Me neither! Frying things is scary business. Hot oil splatters can result in burnt fingers and forearms, and the whole process kind of smells weird. And maybe you're health conscious and frying is a dirty word in your house.
Listen, these fried dough balls are beyond worth it! I suited up in goggles, put my hair up, plugged in my GranPappy, got down to business — and came out unscathed. And maybe, in terms of health, we shouldn't eat deep fried dough balls every day; but then again, we shouldn't have tricked out birthday parties every day either. It would spoil the fun of the occasional indulgence.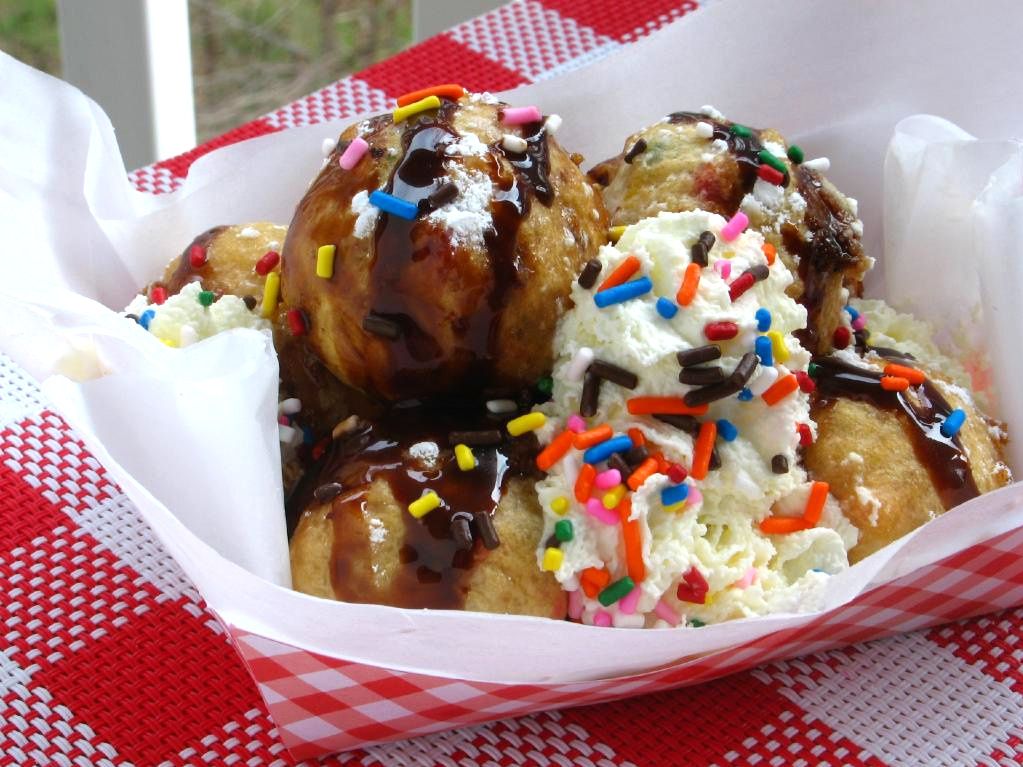 I want to leave you with a parting plea. Turn on your inner state-fair-attending, carnival-loving, birthday-party-throwing child and deep fry some cookie dough.
Time to get a little crazy: What's your ideal birthday party?
Deep Fried Cake Batter Cookie Dough


---


Recipe by: Willow Bird Baking (cake batter cookie dough) and Taylor Takes a Taste (deep frying)
Yields: about 12 fried dough balls, depending on size

Dough Ingredients:
1 1/2 cups all-purpose flour
2/3 cup yellow cake mix
1/4 teaspoon salt
1/2 cup unsalted butter, room temperature
1/2 cup granulated white sugar
1 teaspoon pure vanilla extract
2 tablespoons sprinkles
4-8 tablespoons water

Batter Ingredients:
1 egg
1 cup ice cold water
1 cup self-rising flour
2 tbsp confectioners' sugar

Other Ingredients:
small bowl of cornstarch for rolling dough balls in
oil or shortening for frying
confectioners' sugar for sprinkling (optional)
chocolate sauce (optional)
whipped cream (optional)
sprinkles (optional)

Directions:
To make dough, in a medium bowl, cream together butter and sugar for 2-3 minutes until light, fluffy, and pale yellow. Mix in salt, flour, cake mix, sprinkles, and vanilla. Add water one tablespoon at a time, mixing after each, until you reach cookie dough consistency. Roll your dough into balls and chill until your batter and oil are ready.

Heat your oil to 375 degrees. To make batter, mix together egg and water. Add flour and sugar and mix. Roll each dough ball in cornstarch, shaking off the excess, and then dip into the batter, making sure the ball is entirely coated. Use a slotted spoon to place 3 or 4 balls at a time into the hot oil. Fry for 1-3 minutes or until golden brown. Drain on paper towels and serve with confectioners' sugar, chocolate sauce, whipped cream, and sprinkles.
P.S. Love that cute little checkered paper tray? Download the template here, print it on cardstock, cut around the outside borders, fold the tabs over and glue them.
P.S. 2 Only 1 week left in my Cheesecake Challenge! Choose any one of 9 cheesecake recipes to prepare within the next month. Email a photo to me by 4/5/2011 to be featured on Willow Bird Baking! Get more details about the challenge here.
If you liked this post, please:
–Subscribe to Willow Bird Baking
–Follow Willow Bird Baking on Twitter
–Follow Willow Bird Baking on Facebook
–Give this post a thumbs up on StumbleUpon
Other ways to share this post with friends!