What a mess of a weekend. While I was blowing my nose repeatedly and hacking unattractively on Saturday night, I noticed that Byrd was lethargic. After a little investigating (read: walking around the apartment), I found that she had eaten about a metric ton of kleenex from the trash can. Her tissue escapades must have been her attempt at staying occupied while I tried to sleep off my cold; alas, it was a bad life decision. She was one unhappy puppy.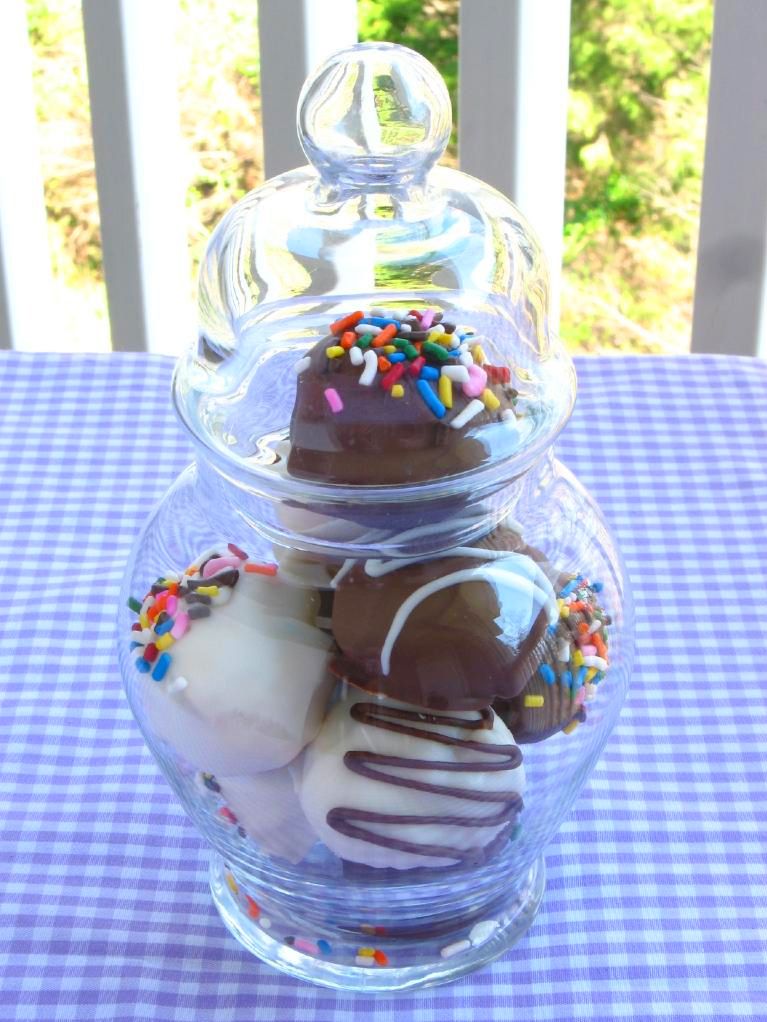 She curled up next to me and tried to look as pitiful as possible while I massaged her sick little body. Every now and then she'd look up at me as if to say, "Why aren't you fixing it, Mommy?" Then I'd cry a little and she'd lick my face a little and we'd continue spooning.
Finally the tissues worked their way out of her system, but not until the entire weekend had been spent fretting and giving her sips of olive oil. I'm ready for everyone in the apartment to be healthy now! At least my turtle hasn't contracted any plagues as of yet.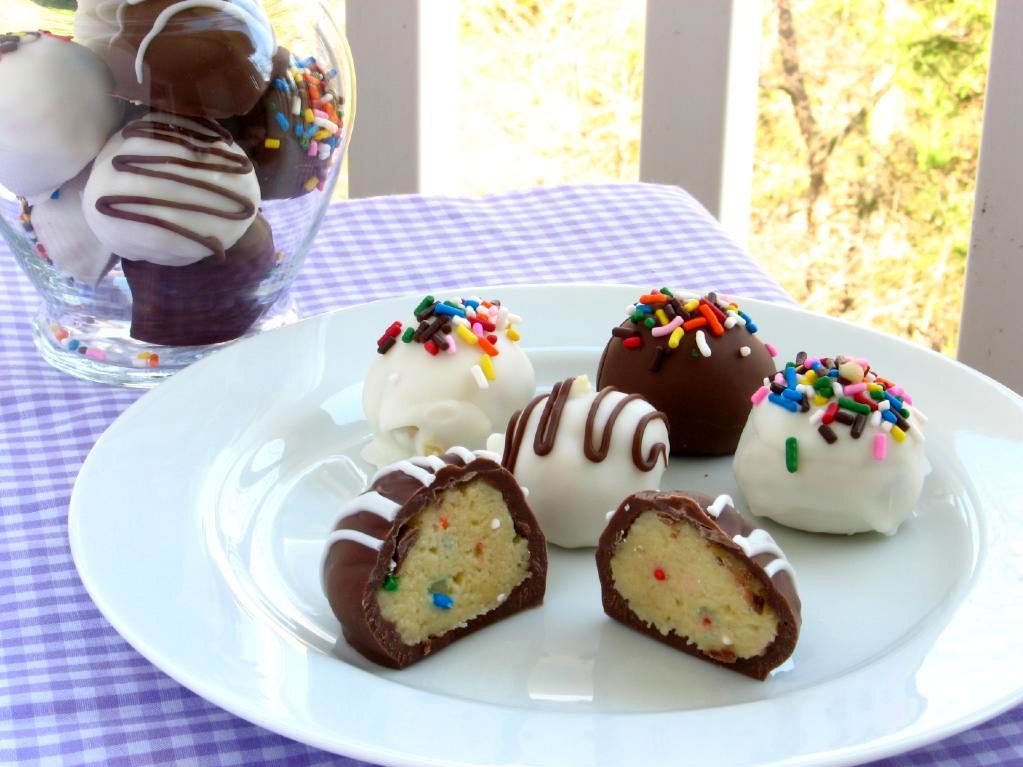 Needless to say, the safe-to-eat cookie dough I posted on Sunday has been a welcome ray of sunshine in an otherwise germy, sickly sort of week. In fact, I found two recipes in which to use said cookie dough that almost made everything feel downright cheery. And here's one of them now: cookie dough truffles.
I usually use the eggless chocolate chip cookie dough in my Coffee Cookie Dough Fudge Cheesecake — a noble purpose, for sure. But if you're not feeling making an entire cheesecake, you can whip up a batch of these simple truffles. I made them with each type of cookie dough and unsurprisingly, the cake batter cookie dough truffles were my absolute favorite. The cake batter cookie dough was the perfect buttery and festive filling inside of the rich chocolate shell. I'm just sorry poor Byrd couldn't join in for a bite!
Cake Batter Cookie Dough Truffles


---


Recipe by: Willow Bird Baking
Yields:about 12 truffles, depending on size

Ingredients:
one recipe cake batter cookie dough (or other flavor)
chocolate candy melts (I use Candiquik)
sprinkles!

Directions: Roll your cookie dough into 1 inch balls and refrigerate for a few hours or overnight.

Melt candy melts according to package instructions. I place the bowl of melted candy melts into a bigger bowl with hot water in it. This keeps the candy melts warm and viscous as you work. Just be careful not to get any water in the chocolate, which will cause it to seize and be unusable. Prepare a sheet of wax paper to let your truffles dry on.

Take only a few dough balls out of the fridge at a time. Spear one with a toothpick and dip it, using a spoon to help you coat the outside and wiggling it a little over the bowl to let the excess drip off. Now wiggle it off onto your wax paper and top with sprinkles, chocolate chips, crushed oreos, or other cute toppings. Let them harden. Serve immediately or keep in an airtight container in the fridge.
If you liked this post, please:
–Subscribe to Willow Bird Baking
–Follow Willow Bird Baking on Twitter
–Follow Willow Bird Baking on Facebook
–Give this post a thumbs up on StumbleUpon
Other ways to share this post with friends!