Know what makes me happy? Croissants. Know what makes me happier? Homemade croissants. Know what makes me happiest?! HOMEMADE CROISSANTS YOU MADE!
These amazing home cooks have battled the butter, lassoed the lamination, dominated the dough, wrestled the rolling pin, and flung the flour. They committed to croissant in the Willow Bird Baking Croissant Challenge — and arose victorious (pun intended)!
Seriously, all puns aside (how long can this possibly last?), I am flooded with pride and joy every time I open my email to a new batch of readers' freshly made croissants. If you don't think you can make these golden pastries, think again. Below are four home cooks just like you, and they've all conquered the process. Will you commit to croissant? Go get the recipe for yourself! You can also see the first or second round of Croissant Masters.
Time to show off the latest Croissant Rockstars!
---
Clair
: "They turned out really great. Buttery and flaky, a bit crisp on the outside but still soft on the inside . . . All in all, a good amount of work, something you really have to commit your day (or morning) to, but totally worth the effort."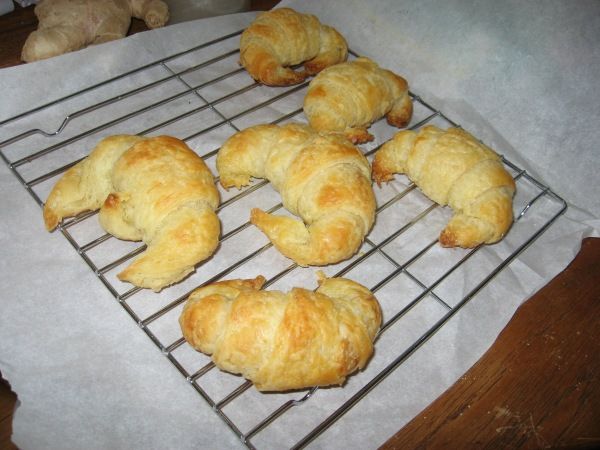 [see more of Clair's croissants here.]
---
Amanda R.
: "I never liked croissants until I tried homemade ones from your recipe, and I LOVED them. My mom kept saying that they tasted like rolls my great grandmother used to make, so it was especially meaningful to have her share that memory, all thanks to your encouragement and amazingly clear instructions for croissant making."
---
Joanna
: "I made some croissants today (it's my first try) and they are delicious! Plus the video you provided was very helpful . . . my family loved them."
---
Abbey C.
: "I went into making these not considering that it involved two of the things I am worst at — using a rolling pin and cutting straight lines. But they were truly delicious, and I was even getting a bit better at shaping them by the end. Thanks so much for this challenge . . . I probably would never have considered making them otherwise."
---
If you liked this post, please:
–Subscribe to Willow Bird Baking
–Follow Willow Bird Baking on Twitter
–Follow Willow Bird Baking on Facebook
–Give this post a thumbs up on StumbleUpon
Other ways to share this post with friends!