I have a love-hate relationship with Twitter. Twitter is related to this big ol' Strawberry Sour Cream Pie, I promise.
On one hand, I hate Twitter. Twitter moves at the speed of light during prime tweeting hours. My OCD urge to not "miss out" on what's going on slams head-on into a wall built with millions of 140-character bricks. Suddenly, I realize I've been watching my twitter feed for the better part of an hour. My eyes glaze over, my back hurts, and my brain starts translating each thought into its shortest possible expression. At this point, I need to tweet myself:
@julieruble Time 2 get off twitter immediately #beforeyoureyeballsfallout
That hashtag's gonna catch on, just you wait and see.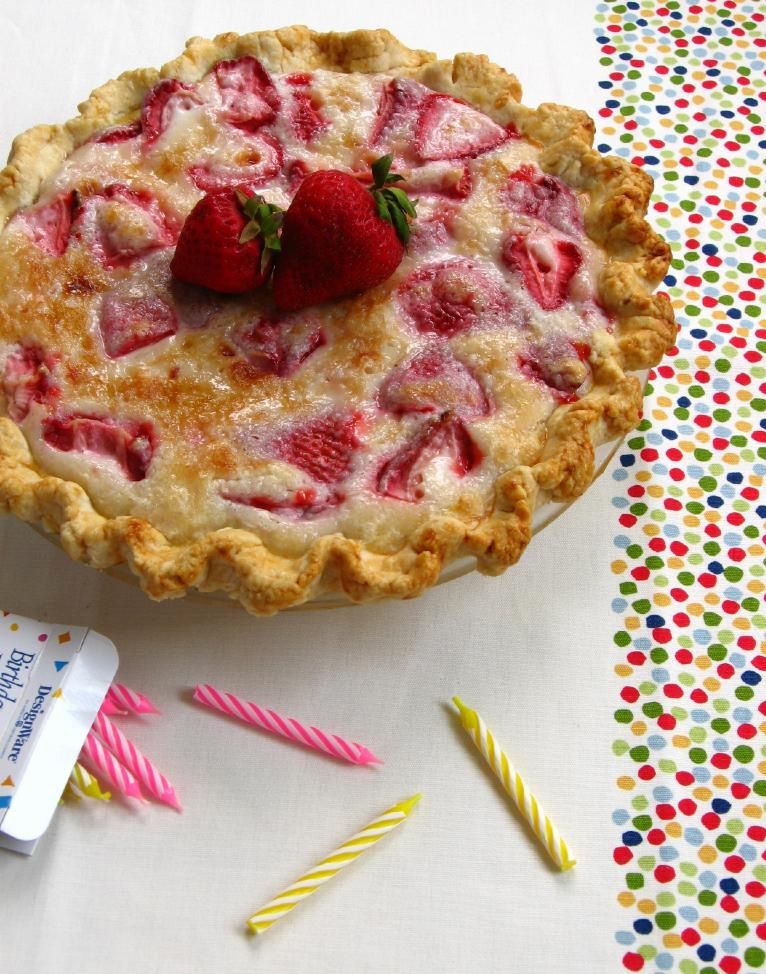 But I love Twitter. I'm connected to hundreds of great people — other bloggers, Willow Bird Baking readers, the occasional celebrity chef. I keep in touch with an extended web of lovely folks that I might not have time to call or write a lengthy email to. There's a level of casual interaction that brooks folks jumping into a conversation that pertains to their interests. You can easily meet fabulous new people, keep up with the dynamic blogosphere, and support fellow writers. Cool.
Even more cool? Sometimes twitter magic happens, and someone amazing (cough cough Jaden Hair of wonderful Steamy Kitchen) finds your blog and drools over some S'mores Cereal. Now that's cool.
Like most things, there's a twitter balance — for me, it involves checking in a few times a day, and that's it. Thankfully, during one of my forays into the land of tweets, I found a gem. Lovely Patti at Worth the Whisk posted that one of her pies had been chosen as Pie of the Day by KCRW Radio's Good Food Blog: Strawberry Sour Cream Pie.
Listen, you don't scroll past an award-winning Strawberry Sour Cream Pie. You just don't.
You stop, you ogle, you marvel, you salivate a little (in a classy way, of course), and then you go pick up some sour cream.
I knew while baking that this pie, along with the heavier Chocolate Mousse Pie, would be the perfect treats to take in for my dear Sunday school leader Joyce's birthday.
I love the combination of fruit and sour cream, and it really sings in this gorgeous, lazy-day treat. The strawberries stay juicy, and the tangy-sweet fruit is delicious against the buttery crust. And pies like this are the reason people started saying things were "easy as pie." You don't need to blind bake the crust, pre-cook the filling, or any other fussy stuff. You roll out your dough, fill it, bake it, cool it, eat it . . . lick the plate.
If you've never made a pie before, this is a lovely place to start. It's a single crust pie and simple as can be. Tell me: what's your favorite pie to eat during sweltering summertime?
Summer Strawberry Sour Cream Pie


---


Recipe by: Worth the Whisk
Yields: one 9-inch pie, serves 6-8

Pie Crust Ingredients: (or you can use an unbaked, prepared crust)
2 cups flour
1 teaspoons salt
1/4 cup cold lard (non-hydrogenated if available)*
1/2 cup cold butter, chopped
3-4 tablespoons ice cold water
1 egg and 1 teaspoon heavy cream for egg wash
*you can substitute vegetable shortening here if you wish, but I highly recommend the lard!

Filling Ingredients:
1 quart fresh strawberries
1 cup flour
1 1/4 cup sugar, reserve 1 tablespoon
Dash salt
1 cup sour cream (not fat-free)

Directions:
Preheat oven to 450 degrees F. To make the crust, pulse flour and salt together to combine. Add scoops of lard and pulse into the mixture has the texture of coarse sand, about 10 seconds. Add in chunks of butter and pulse until butter pieces are no larger than small peas, about 10 pulses. Add minimum amount of water and pulse on low. If dough remains crumbly and doesn't come together, add another tablespoon of water. Add as little as is required to enable the dough to be rolled into a ball. Form the dough into a disk, wrap in plastic, and refrigerate for 20-30.

Roll disk of dough out to around 2 inches larger than your pie plate and transfer it, situating it in the plate. Fold the excess dough around the edges and crimp, trimming where necessary.

Hull and wash the strawberries and slice them in half. Set aside. Sift flour, sugar, and salt into a large mixing bowl. Add sour cream, blending until creamy. Gently fold in the berries without overmixing. Pour fruit into pie shell and spread to edges without packing down — there should be spaces throughout the filling. Sprinkle the top with the last 1 tablespoon sugar.

Bake the pie for 10 minutes, then reduce the heat to 350 degrees F (I leave the oven door open a minute during this period to let the temperature drop a little) and bake an additional 30 minutes or until crust is golden brown.

Broil the pie for 2-3 minutes to brown up the top. Allow to cool completely (4-5 hours in the fridge, I'd say) before cutting, and serve with fresh whipped cream or ice cream.
If you liked this post, please:
–Subscribe to Willow Bird Baking
–Follow Willow Bird Baking on Twitter
–Follow Willow Bird Baking on Facebook
–Give this post a thumbs up on StumbleUpon
Other ways to share this post with friends!