I've got to tell you about a special guy. He was shorter than me for most of his life, but suddenly, a couple of years ago, I came home to visit and he was looking down at me. He's got bright blue eyes and a head full of curls, a dry wit, and really fat rabbit he calls Pilfer. I am not brave enough to wear skinny jeans, but he is. He is my little brother, Joel-called-Alex, and that little chubby cheeked guy you see in the photo next to my Caramel Fudge Brownie Cheesecake . . . that would be him about a decade ago. (Speaking of Caramel Fudge Brownie Cheesecake, it may be the best thing I've ever eaten — which is probably not surprising considering it's a Caramel Fudge Brownie Cheesecake).
It's hard to decide which is cuter . . . ganache rosettes or little boy smiles. Look below for a closer view to help you decide. Cakes are nice, but I think he wins!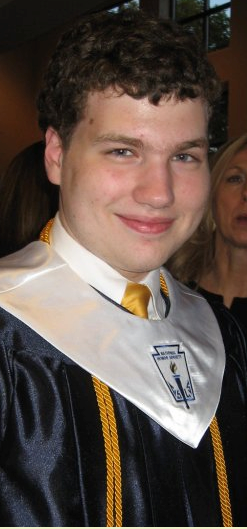 Alex at 8 years old and now!
Something pretty exciting happened in his life on Thursday night: he graduated high school as part of the Hickory Grove Christian School Class of 2010. My family gathered for the occasion, although honestly, I don't think I really believed that my little brother was actually graduating until this moment:
[youtube=http://www.youtube.com/watch?v=uGLvtJkwDtw&hl=en_US&fs=1&]
And just like that, little Alex — who I remember driving around in his red PowerWheels jeep and running through sprinklers with me as a kid — was a graduate. In the fall, he'll begin his undergraduate education at N.C. State, the same school Mike is attending for grad school — now I have two reasons to be a Wolfpack fan! I can already tell you that plenty of school nights will find them playing video games together and acting like goofballs.
To fully express my feelings about this momentous occasion, I wrote the following letter and gave it to Alex this week. I thought you might like to read it, too.
DEAR ALEX,
What is this I hear about you graduating high school? I could have sworn that someone told me you were a senior in high school and were graduating this week. But that's silly. There must be some mistake.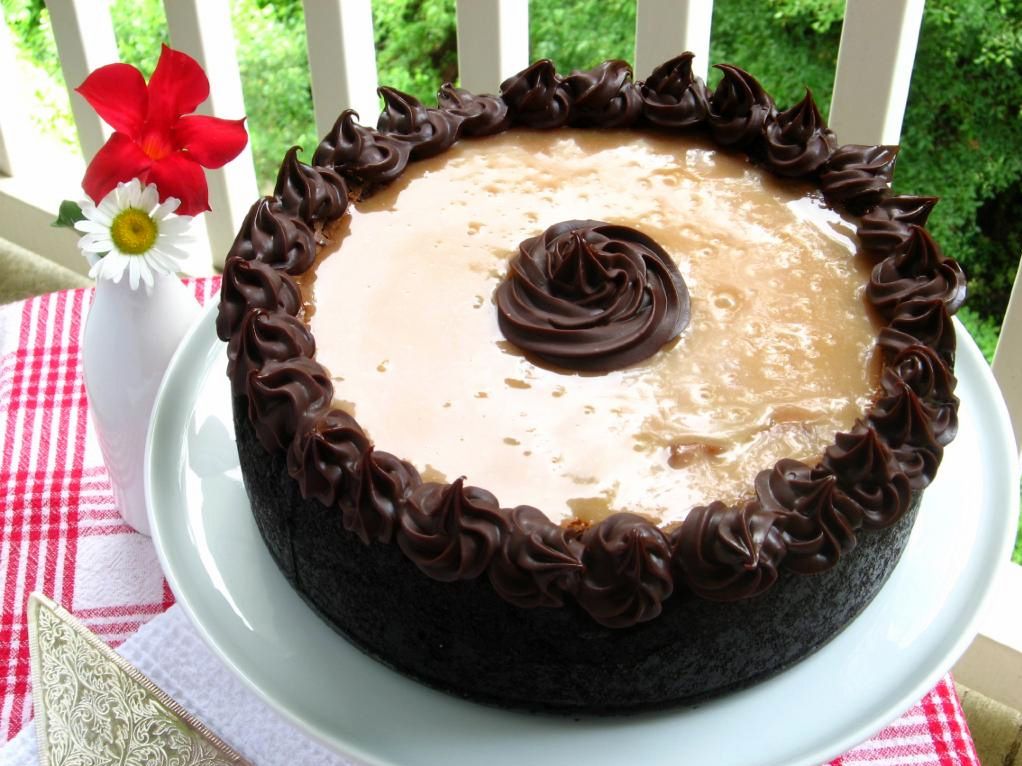 See, you are just a baby. You love your swing, Ernie from Sesame Street, and your older sister, Julie (duh). Soon you will develop a few motor skills and begin arranging your toys: gummy bears and matchbox cars sorted by color (your favorite being "lellow"). You will start using words like "definitely" way before you're old enough to know four-syllable words. I will be proud to be the sister of such a smart kid. You're still just a baby!
Or maybe you are still 6 years old. You're a stout, silly little guy with bright blond curls. Just last week I dressed you up in high heels, a green nightie, a poofy hair bow, and took pictures for future blackmail. You love Barney and Friends, and will soon start watching the Power Rangers movie more times than any human being really ought to.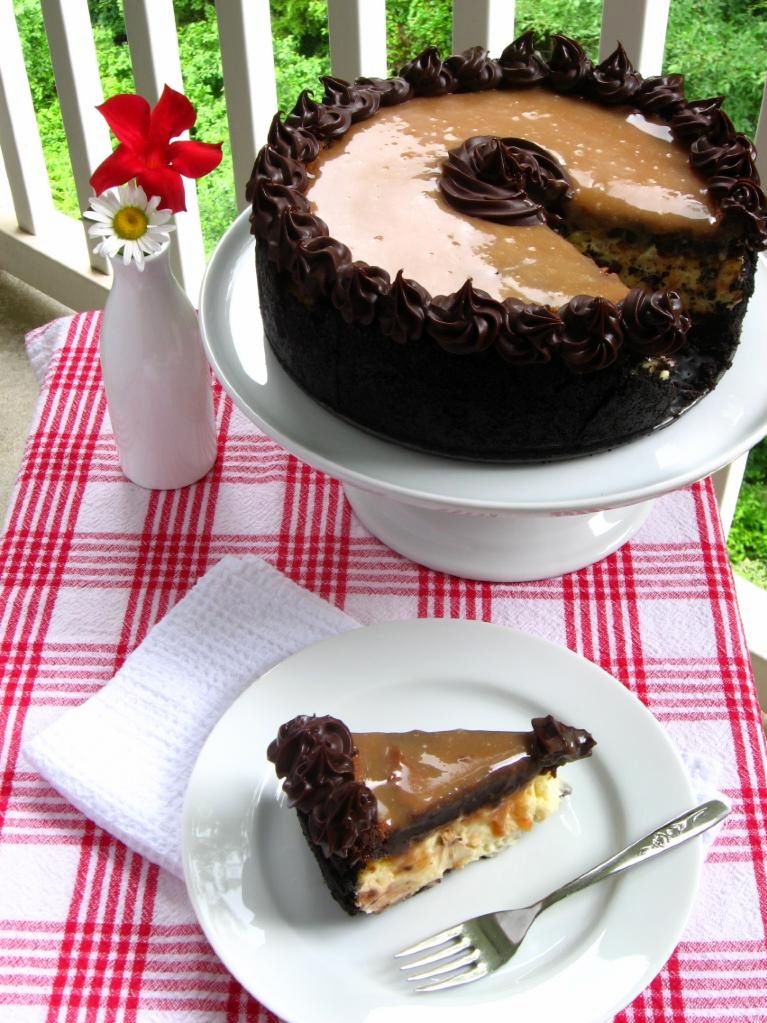 Or, okay, maybe you're a little older than that. Maybe you're a tween. You are obsessed with Pokemon – movies, drawings, you name it. Yu-Gi-Oh is all right too. In a little while, you'll be admitted into Hickory Grove Christian School for high school. You'll start staying up late on the internet, playing lots of video games, and hanging out with friends. You'll become an amazing writer, an excited reader, and an all-around brilliant guy. You'll be a 9th grader. Suddenly a 10th grader. Maybe even an 11th grader. Maybe you'll even go to your senior prom.
But graduating? You cannot be graduating. Except . . . you are. In just two days time, you'll walk across the stage and get your high school diploma. I never thought this day would come (and no, not because I thought you'd flunk out of high school).
Nevertheless, since this day is undeniably upon us, there are a couple of things I want to say. First off, I'm so proud of what a smart kid you are; I hope you'll continue being an amazing writer and reader. Second, and more importantly, you're a compassionate kid. Third, you have an amazing personality and amazing character. I expect you to do incredible things at N.C. State next year (GO WOLFPACK!) and beyond. Fourth, and most importantly, I love you and always will.
Oh, and fifth, sorry about that poofy hair bow.
Love, your big sister,
Julie
In addition to a boring ol' letter, Alex will get a nice slab of this Caramel Fudge Brownie Cheesecake on Sunday. This was inspired by my Coffee Cookie Dough Cheesecake, and I love it just as much! While making this cheesecake certainly does require time and energy, it's a relatively straightforward recipe and is perfect for a special occasion. The multistep procedure produces a thick layer of rich brownie drowning in gooey, buttery-tasting caramel sauce, all on top of creamy cheesecake. It also boasts an oreo crust and decadent ganache.
I think Alex will approve.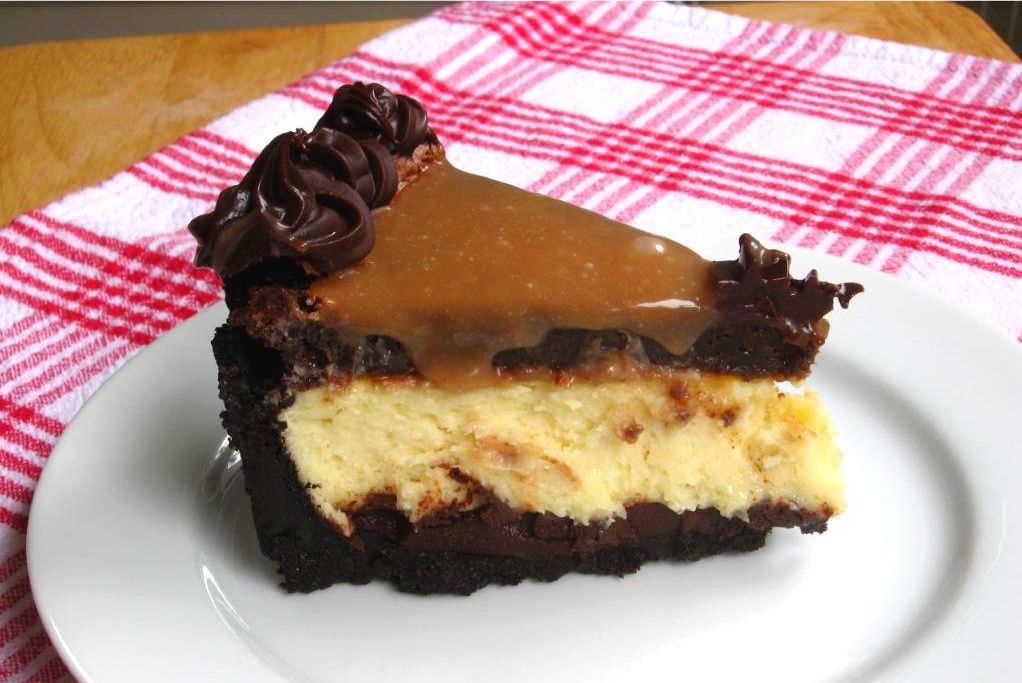 Tell me about your graduates! Anyone have a loved one in the Class of 2010?
Caramel Fudge Brownie Cheesecake


---


Recipe by: Willow Bird Baking, using cheesecake adapted from Bon Appétit, caramel adapted from Martha Stewart, and brownies adapted from a post on Simply Recipes
Yields: one 9-inch cheesecake

Crust Ingredients:
32 chocolate sandwich cookies, finely processed into crumbs
5 1/3 tablespoons unsalted butter, melted and cooled
Small pinch of salt

Ganache Ingredients*:
1½ cups heavy cream
20 oz. bittersweet or semisweet chocolate, finely chopped (I used 3/4 semisweet and 1/4 bittersweet)

Filling Ingredients:
3 (8 oz.) packages cream cheese, at room temperature
1 cup sugar
1½ tablespoons all-purpose flour
2 teaspoons vanilla extract
3 large eggs

Caramel Ingredients:
3/4 cup sugar
1/8 cup water
1/2 cup heavy cream
1/8 cup creme fraiche or sour cream
1/4 teaspoon pure vanilla extract
Pinch of coarse salt

Brownie Ingredients:
10 tablespoons (1 1/4 sticks) unsalted butter
1 1/4 cups sugar
3/4 cup plus 2 tablespoons unsweetened cocoa powder (natural or Dutch-process)
½ teaspoon coffee granules (I added this small amount to impart a richness without a pronounced coffee flavor)
1/4 teaspoon salt
2 teaspoons vanilla extract
2 cold large eggs
1/2 cup all-purpose flour

Directions:
Make the caramel: Prepare an ice-water bath. Heat sugar and water in a medium saucepan over medium-high heat until mixture boils and sugar dissolves, washing down sides of pan often with a wet pastry brush to prevent crystals from forming. Reduce heat to medium, and cook until sugar turns dark amber (about 345 degrees on a candy thermometer), 5 to 7 minutes more. Immediately remove from heat, and carefully whisk in 1/2 cup cream. Return to medium heat, and cook until sugar melts completely and mixture boils. Remove from heat, and pour into a bowl set in ice-water bath. Let caramel cool, stirring often, for 10 minutes. Stir in creme fraiche, vanilla, and salt. Cover and refrigerate at least 2 hours or up to 5 days.

Make the brownie layer: Preheat oven to 325°F with rack positioned in the lower third of the oven. Line the bottom and the sides of an 9-inch round cake pan with parchment paper, leaving an overhang on two opposite sides to make it easier to lift the brownies out of the pan when they are done.

Combine the butter, cocoa, sugar, coffee granules, and salt in a medium heatproof bowl. Set the bowl in a wide skillet of barely simmering water. Stir the butter cocoa mixture from time to time until the butter is melted and the mixture is smooth and hot enough that you want to remove your finger quickly after dipping it in to test. Remove the bowl from the skillet and set aside briefly until the mixture is only warm, not hot.

Using a wooden spoon, stir in the vanilla extract. Add the eggs one at a time, stirring quickly after each one. When the batter looks shiny, thick, and well mixed, add the flour and stir until you cannot see it any longer, then beat for 40 strokes with the wooden spoon. Spread the batter evenly in the lined pan (I used most of the batter, but poured a bit in a separate dish to bake, since I wanted to make my brownie layer a certain thickness – just use your judgment).

Bake until a tester inserted into the center comes out just slightly moist with batter, about 25 minutes. Let the brownies cool completely on a rack and then freeze. When ready to use, lift up the ends of the foil or parchment paper liner, and peel foil away.

Make the cheesecake: To make the crust, preheat the oven to 350˚ F. Position a rack in the middle of the oven. Butter a 9-inch springform pan and place it on a baking sheet. Combine the chocolate cookie crumbs, melted butter and salt in a small bowl. Toss with a fork to moisten all of the crumbs. Press into a thin layer covering the bottom and sides of the springform pan (at least 3 inches up the sides).

Bring the cream to a simmer in a medium saucepan. Place the chocolate in a medium bowl. Once the cream reaches a simmer, pour the cream over the chocolate and let stand 1-2 minutes. Whisk in small circles until a smooth ganache has formed. Pour 1 – 1.5 cups of the ganache over the bottom of the crust. Freeze until the ganache layer is firm, about 30 minutes. Reserve the remaining ganache; cover and let stand at room temperature for later decorating.

In the bowl of an electric mixer fitted with the paddle attachment, beat the cream cheese and sugar on medium-high speed until well blended. Beat in the flour. Add in the vanilla and beat until well incorporated, scraping down the sides of the bowl as needed. Beat in the eggs one at a time, scraping down the bowl between each addition.

Pour the filling over the cold ganache in the crust. Place the springform pan on a rimmed baking sheet. Bake until the top is lightly browned, puffed and cracked at the edges, and the center moves only very slightly when the pan is lightly shaken, about 1 hour. Transfer to a wire cooling rack. Cool at room temperature for at least 30 minutes. Transfer to the refrigerator and let cool at least 3 hours, until completely chilled and set.

Assemble the cheesecake: Wrap a warm towel around the outside of the springform pan to help loosen the crust from the sides. Carefully remove the springform. Transfer the cake to a serving platter. Spread a thin layer of caramel over cheesecake to adhere the brownie layer. Place brownie layer on top of cheesecake (right side up). My brownie layer was almost cup-shaped since the middle didn't rise as much as the sides, so I poured the rest of my caramel into the concave area and spread it gently (to avoid disturbing the delicate top of the brownies). Place the reserved ganache in a pastry bag fitted with a decorative tip and use to garnish the top of the cake as desired. Chill until the ganache is completely firm, at least 6 hours.

*NOTE: This recipe makes extra ganache. I usually just make it and save the rest for truffles, but feel free to make about 3/4 of this recipe if you'd rather not have leftovers.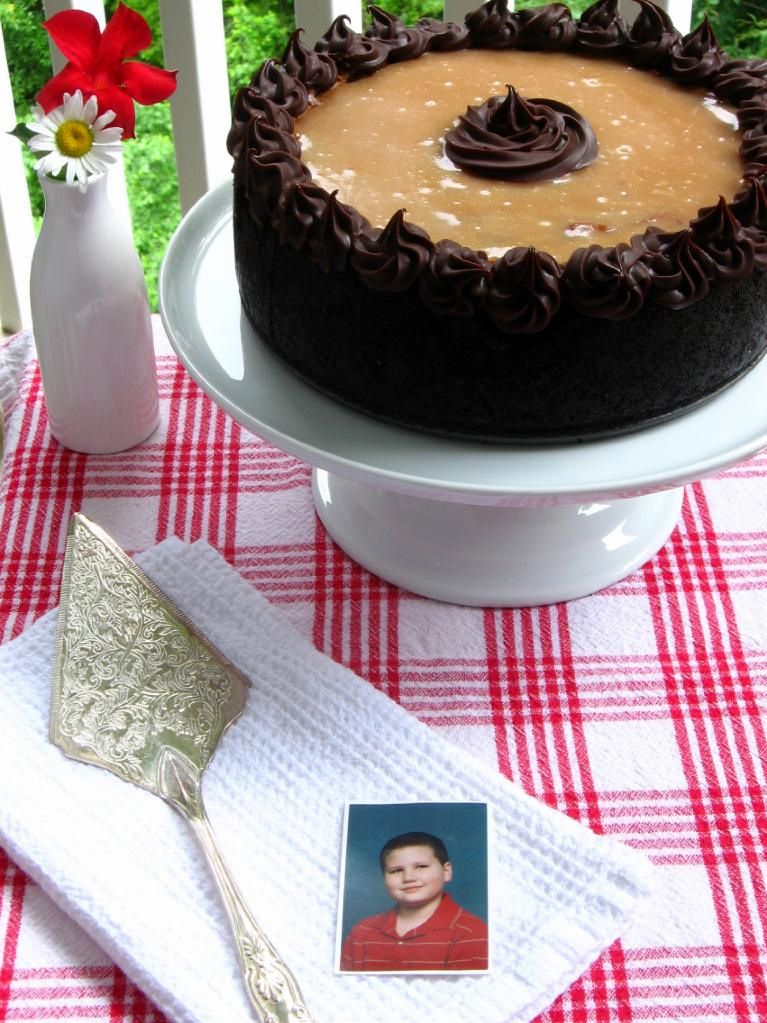 P.S. — Sorry for picking your flowers, Mom, but aren't they pretty?
P.S. 2 — A serving suggestion for those that want to make this dessert extra-ridiculous: instead of serving with regular whipped cream, whip up some caramel cream.
P.S. 3 — (Am I starting to sound like the evolution of a gaming console?) My talented sister, Laura, wrote a song for Alex's graduation. It's called "Alarm of the Freshman," it's sung to the tune of "Eye of the Tiger," and the video I shot of her singing it would be perfect blackmail material, if she had any shame. Love you, Laura! Enjoy, y'all:
[youtube=http://www.youtube.com/watch?v=9tXOCUFGjGo&hl=en_US&fs=1&]
Share this post with friends!