I could have easily become a picky eater. I am compulsive in so many ways . . . the way my glass has to be completely clean or I won't drink from it, the way I hate to get my hands dirty, the way I have to brush my teeth before my shower, not after. I can't tell you how glad I am that I like all foods. There's not much I won't try, and once I've tried it, not much I don't like! Except beets . . . ew, beets.
I wasn't always so open to food. I was never picky, per se, but I had my list — like many kids — of things I didn't like. Tomatoes, onions, lima beans, olives, bananas, and coconut. I hated coconut! What was wrong with me? Looking back, I think my aversions were almost always related to texture. Lima beans and bananas are oddly smushy. Shredded coconut just feels weird . . . too many paper-like pieces in your mouth, I guess!
Anyway, I've heard people say that their tastes "gradually" changed as they got older . . . well, mine usually change instantaneously. It's an odd and wonderful phenomenon. For instance, last year I was driving home from school and realized I wanted sushi, something that until that moment, I was relatively sure I hated. I picked some up, enjoyed every bite, and have enjoyed it ever since. The same thing recently happened with olives and lima beans . . . and coconut! All of a sudden it hit me that light, sweet, wonderful COCONUT, when combined with milky or creamy flavors, was one of the best tastes in the world. I'm hooked.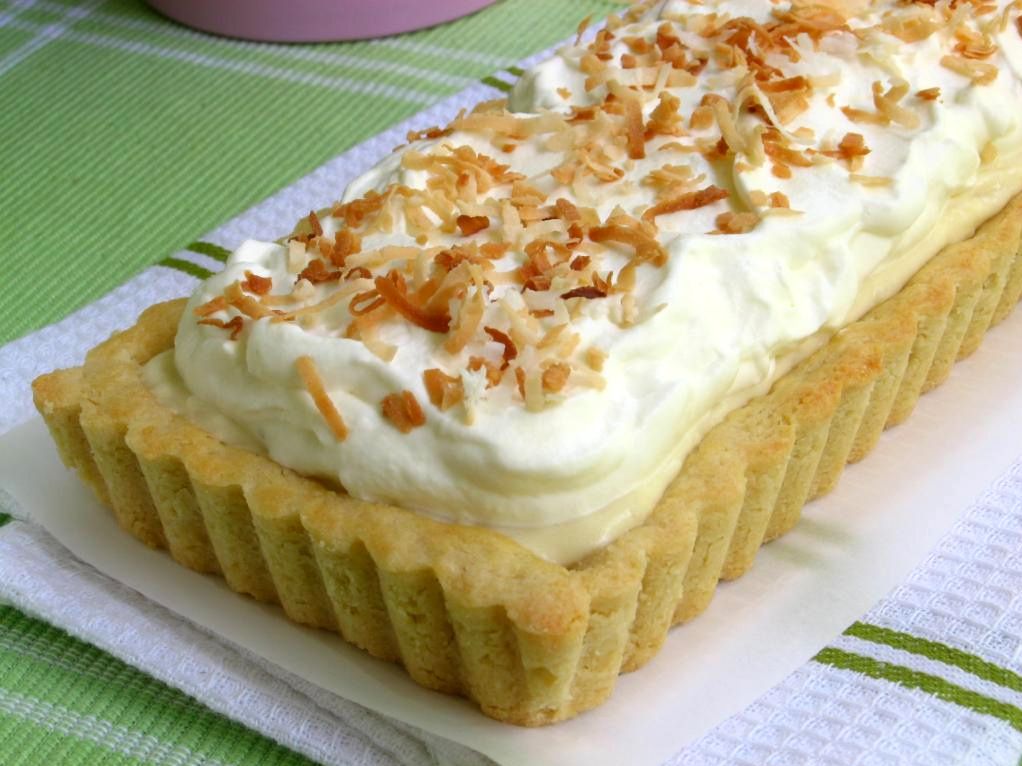 Mike loves coconut too, thank God! After making him two birthday dishes that included ingredients he wasn't too keen on (smart choice), I needed to hedge my bets.
This gorgeous tart was a sure thing. It has all the appeal of a coconut cream pie with an even better texture. The coconut pastry cream is thick, rich, buttery, and altogether one of the best tasting things I've ever put in my mouth. I filled my favorite buttery, flaky tart shell with it and topped it with lightly sweetened whipped cream and toasted coconut. Mike actually liked the Chocolate Tart better, but I'm voting for this one all the way!
Coconut fans (and even those who don't think they're coconut fans) have to whip up one of these tarts. It'll work just the same in a round tart pan, but this rectangular tart pan was only $18 at my Williams-Sonoma if you're into corners. Even though the recipe below makes enough pastry cream to fill two tarts, feel free to just make one tart shell — I have another amazing recipe coming up shortly to use the extra pastry cream!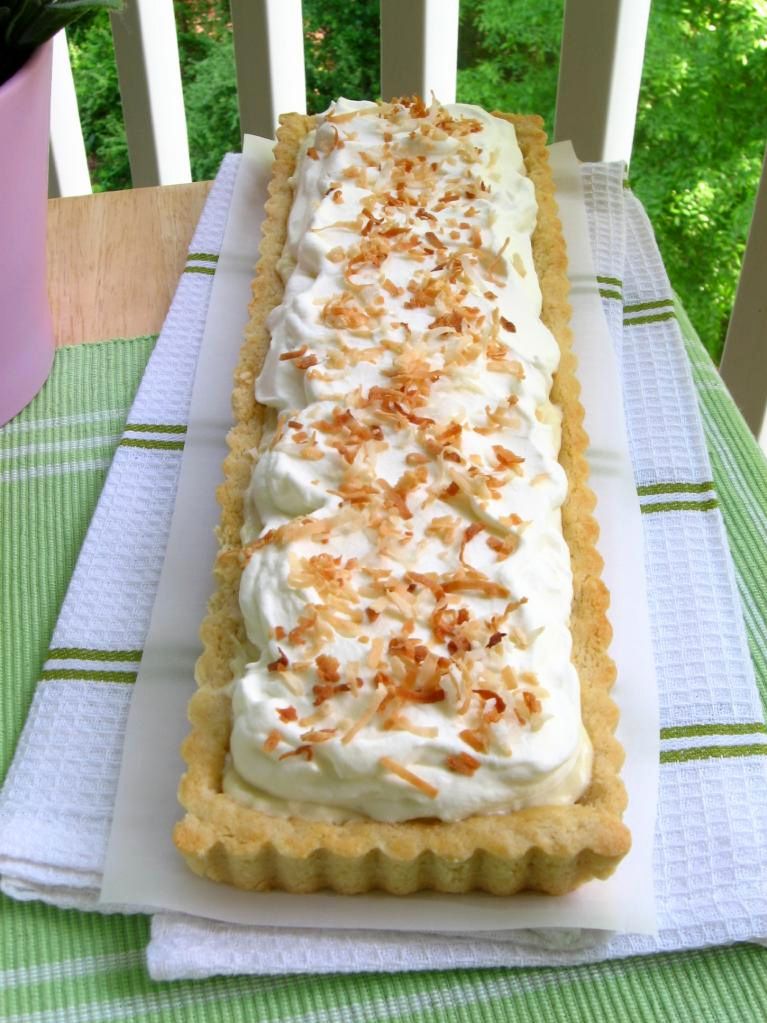 Coconut Cream Tart


---


Recipe by: Compiled by Willow Bird Baking from Zoe Bakes (coconut pastry cream) and Tyler Florence (tart shell)
Yields: makes one tart (but enough pastry cream for two, if you want to double the tart shell recipe — otherwise use leftover pastry cream for something fun!)

Tart Shell Ingredients:
2 cups all-purpose flour, plus more for dusting
3 tablespoons sugar
1/4 teaspoon salt
3/4 cup (1 1/2 sticks) unsalted butter, cold and chopped
1 large egg, separated
2 tablespoons ice water, plus more if needed

Coconut Pastry Cream Ingredients*: (makes enough to fill two of the tart shells above)
1 can (14 fluid ounces) unsweetened coconut milk
3/4 cup sugar
1 vanilla bean
pinch kosher salt
3 large egg yolks
2 tablespoons corn starch
2 tablespoons unsalted butter
1 cup sweetened coconut flakes
1/2 cup whipping cream

Whipped Cream Ingredients:
1 cup heavy whipping cream
3 tablespoons powdered sugar (or more to taste)

Directions:
To make the pastry: combine the flour, sugar, and salt in a large mixing bowl (or food processor). Add the butter and mix with a processor or hands until the mixture resembles coarse crumbs. Make a well in the middle of the pastry. Combine the egg yolk with the ice water in a small bowl, whisking to blend; pour it into the well and work it in to bind the dough until it holds together without being too wet or sticky. Squeeze a small amount together, if it is crumbly, add more ice water, 1 tablespoon at a time. When the dough is coming together but still in crumbs, pour the crumbs into your tart pan and press them out to fill the pan. Press them up the sides evenly and trim off any excess. Dock the dough (prick it slightly) with a fork all over. Put the tart shell in the refrigerator for at least 15 minutes to relax.

Preheat the oven to 350 degrees F. Place the tart pan on a sturdy cookie sheet so it will be easy to move in and out of the oven. Line the tart with aluminum foil and add pie weights or dried beans to keep the sides of the tart from buckling. Bake for 30 minutes, then remove the foil and weights. Using a pastry brush, lightly coat the crust with a beaten egg white. Return to the oven and continue to bake for another 8 minutes until the tart is golden brown. Let cool completely before filling.

To make filling: Heat the coconut milk, sugar, salt and vanilla bean in a medium saucepan over medium heat. In a bowl, whisk together the egg yolks and corn starch. Once the cream is hot, remove the vanilla bean, scraping out any remaining seeds and returning them to the cream. Add 1/2 cup of the hot cream slowly to the yolks, whisking as you add. Then pour the yolk mixture into the pot of hot cream and whisk. Continue to whisk with heat on medium-high for 3 more minutes. The mixture will turn thick and bubble. You need to continue to whisk for the full 3 minutes or the pastry cream will separate once it is cool. After the 3 minutes, whisk in the butter. Add the coconut flakes. Pour into a shallow dish to cool.

Cover with plastic wrap pressed right against the pastry cream. This will prevent a thick skin from forming on the surface. Refrigerate for at least an hour or freeze for 30 minutes. Once it is cold, stir the pastry cream to loosen. Whip the 1/2 cup cream to medium peaks. Stir in 1/3 to the pastry cream to lighten. Fold in the remaining cream until the pastry cream is nice and light. When tart shell is cool, fill it with pastry cream.

To make whipped cream, beat all ingredients together until whipped cream reaches medium peaks. Pile onto coconut pastry cream filling and top with toasted coconut.

*NOTE: This recipe makes enough pastry cream for two tarts, so you can double the tart shell recipe if you want to make both. If you only want one tart, leave the tart shell recipe as-is and use your leftover pastry cream for something fun!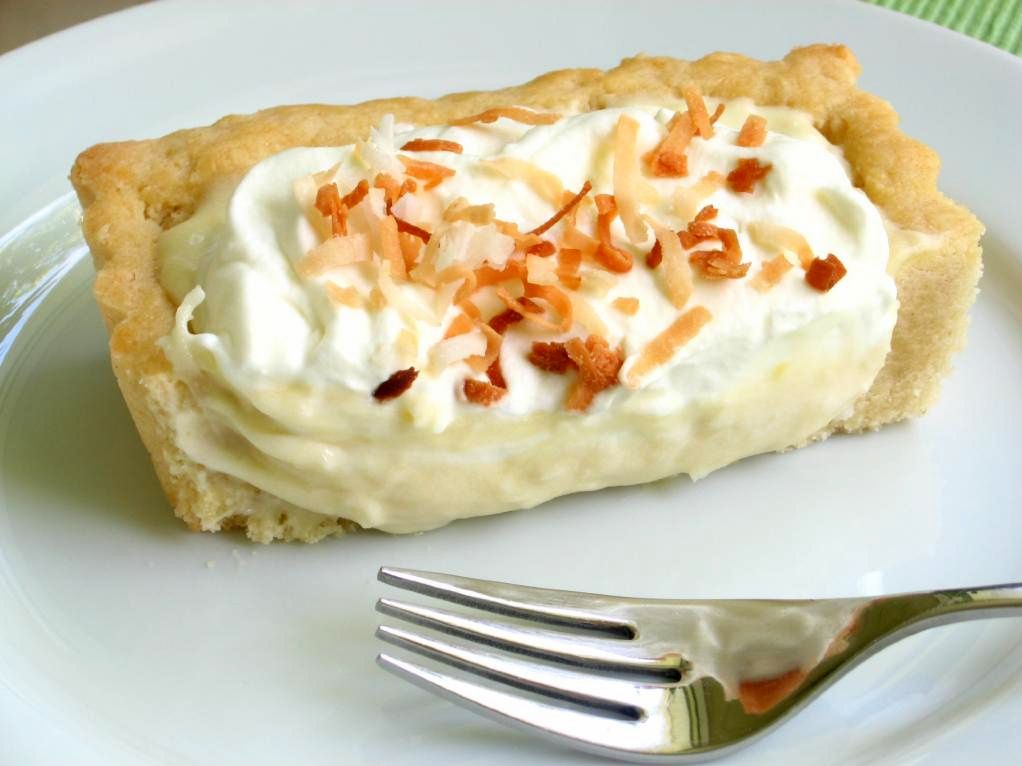 P.S. Not to oversell this weekend's upcoming recipe, but um . . . it's the best dessert I've ever eaten. Yeah.
Share this post with friends!