Cream cheese can make anything amazing, in my opinion.  Bagels, frosting, a root canal… I'm betting that cream cheese could even fix the economy.  So when Mike and I were at the grocery store awhile back and saw blueberry cream cheese muffins, we had to try them.  They were good, but not as delicious as they should've been — not homemade delicious, and not cupcake delicious.  I thought I'd try my hand at my own version — blueberry cream cheese cupcakes, with some lemon added in for good measure.
These cupcakes are fresh, creamy, and sweet.  They are especially delightful straight from the icebox — that's right, the icebox, because their cool and refreshing taste reminds me of the William Carlos Williams poem:
This Is Just To Say
by William Carlos Williams
I have eaten
the plums
that were in
the icebox
and which
you were probably
saving
for breakfast
Forgive me
they were delicious
so sweet
and so cold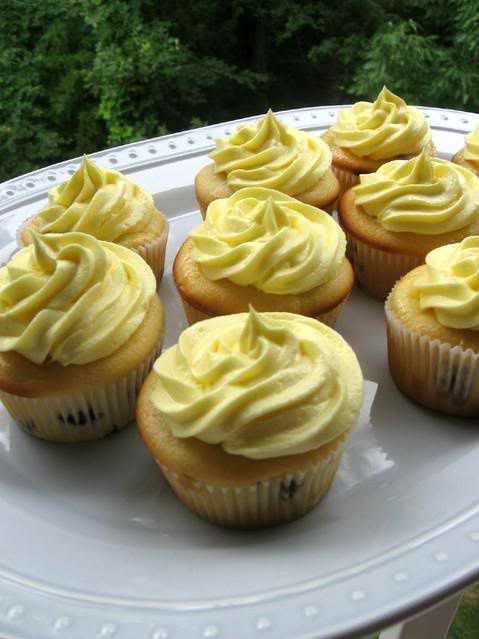 Blueberry Lemon Cheesecake Cupcakes
---
Recipe By: Compiled and adapted by me, from:
–Gloria Bradley (cupcakes, adapted)
–Joy of Baking (cheesecake filling)
-Mom (buttercream, slightly adapted)
Yields: 12-15 cupcakes
Cupcake Ingredients:
1.5 cups (about 6 3/4 ounces) plus 2 tablespoons all-purpose flour, divided
3/4 cup granulated sugar
1.5 teaspoons baking powder
1/4 teaspoon salt
1/8 teaspoon baking soda
1/4 cup butter, melted
1 large egg
1/2 cup buttermilk
1/2 cup milk
1/2 teaspoon vanilla
2 teaspoons lemon juice
3/4 cup fresh or frozen blueberries, thawed
Cheesecake Filling Ingredients:
8 ounces (227 grams) cream cheese, room temperature
1/3 cup (65 grams) granulated white sugar
1 large egg
1/2 teaspoon pure vanilla extract
Lemon Buttercream Frosting Ingredients:
1/2 cup crisco (white) shortening
1/2 cup butter, softened
4 cups confectioner's sugar
1/2 teaspoon pure vanilla extract (can use clear if you want the frosting to be snow white)
1/2 teaspoon imitation almond flavoring
1/2 teaspoon imitation butter flavoring
1 tablespoon lemon juice
lemon zest, if desired
2-4 tablespoons sweet milk for thinning
4-5 drops yellow food coloring
Directions:
Cream Cheese Filling: In your electric mixer, or with a hand mixer, beat the cream cheese until smooth. Add the sugar, egg, and vanilla extract and beat until creamy and smooth. Set aside while you make the cupcake batter.
Blueberry Lemon Cupcakes: Preheat oven to 350°. Place 12 decorative paper muffin cup liners into muffin cups. To prepare cupcakes, lightly spoon 1.5 cups flour into dry measuring cups; level with a knife. Measure 1 tablespoon flour; level with a knife. Sift together 1.5 cups flour plus 1 tablespoon flour, granulated sugar, baking powder, 1/4 teaspoon salt, and baking soda in a large bowl. Combine melted butter and egg in another large bowl; stir with a whisk. Add buttermilk, milk, vanilla, and lemon juice to butter mixture; stir with a whisk. Add buttermilk mixture to flour mixture, stirring just until moist. Toss blueberries with remaining 1 tablespoon flour. Fold blueberries into batter. Spoon batter into prepared muffin cups. Spoon a couple tablespoons of the cream cheese filling in the center of each cupcake. Bake at 350° for 25 minutes or until a wooden pick inserted in center of the cupcake part comes out clean. Cool in pan 5 minutes on a wire rack; remove from pan. Cool completely on wire rack.

Fresh out of the oven!
Lemon Buttercream frosting: Finally, make the buttercream frosting. Cream all ingredients except food coloring together. Can add more sweet milk if needed. Add food coloring and mix. Frost completely cool cupcakes, using a pastry bag if available. I used star tip 1M.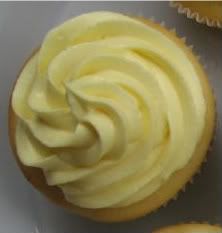 All frosted!
NOTE: I wanted to make both these and the strawberry cupcakes in the above post together out of the same basic recipe. If you'd like to do this, double the recipe shown here. Make the batter as described, except omit the lemon juice. Before folding in the berries, separate the batter into two bowls. Add the lemon juice and floured blueberries to one bowl, and fold floured strawberries into the other. Bake as described. I didn't use the cream cheese filling with the strawberry cupcakes because I wanted to fill them with jam, but you could if you wanted.
These cupcakes were so yummy — and as I mentioned above, even better after being refrigerated overnight in an airtight container. They are a little sweet in places — you might want to cut down the sugar in the cupcakes a bit if you're not big on lots of sweetness. If you wanted the cheesecake filling to be a more pronounced part of the cupcake, you could use the filling and top with some streusel instead of frosting. Another nice thing to try would be simply piping sweetened cream cheese into the middle of the cupcakes post-baking.
Enjoy! Hope these cupcakes inspire poetry in you!