Thanks to PAM Cooking Spray for sponsoring this post.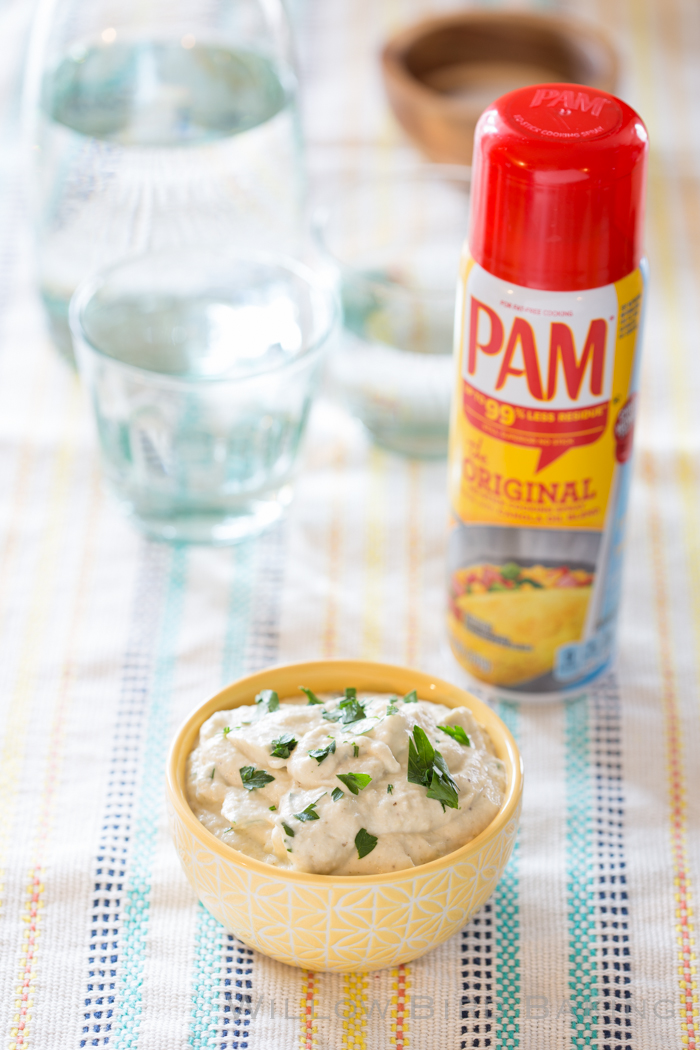 Baba Ghanoush
I know, I know. You guys have probably made baba ghanoush a million times and I'm the ONLY one sitting over here in my corner being a fussy-pants about roasting an eggplant. I honestly don't know that I've touched an eggplant before this, which is ridiculous considering how much I love Mediterranean food. And roasting things always leaves tons of caramelized goodness stuck to the baking sheet to try and scrub off. But hey, isn't working with PAM Cooking Spray the perfect time to give that a try?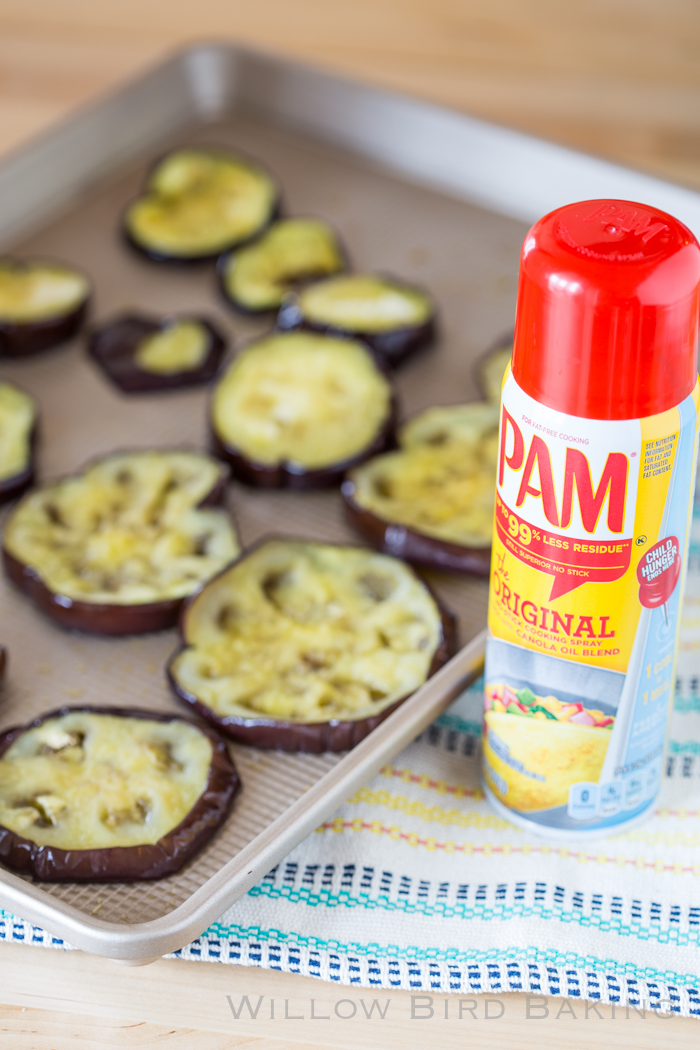 Annnnd I now realize what a ninny I was. Apparently, baba ghanoush is super easy to whip up, and you won't sacrifice any of family dinner time to make a batch alongside some hummus, tahini sauce, and other goodies for a Mediterranean feast! I usually reuse my food processor for each recipe without worrying about cleaning in between, because the flavors overlap so wonderfully.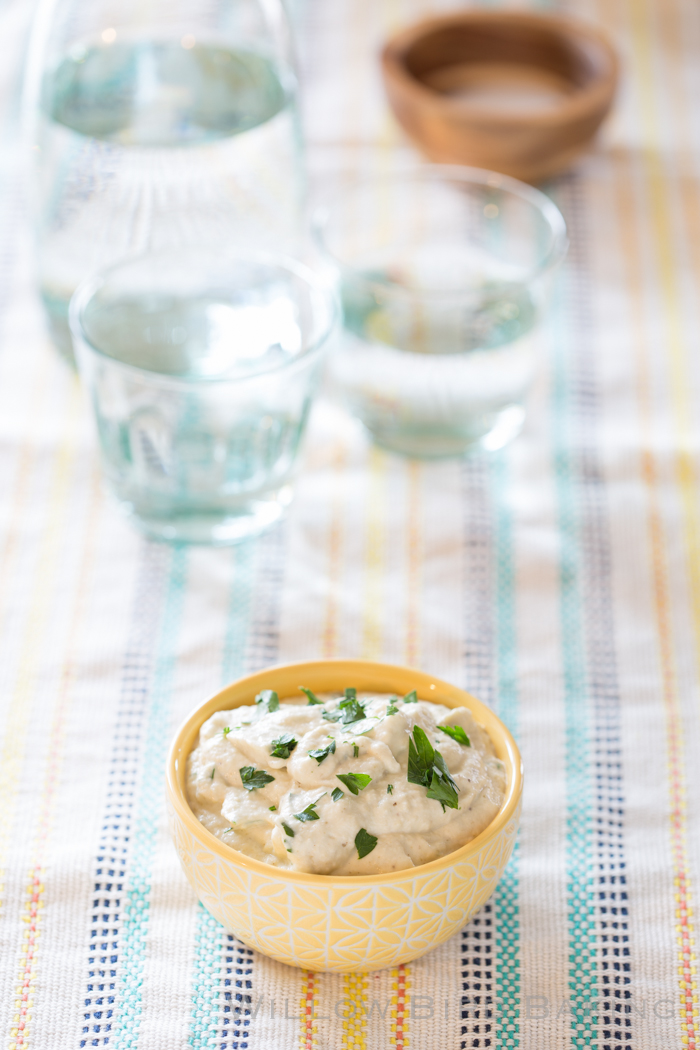 Bonus? I just bought new baking sheets (that's one in the middle photo up there; aren't they pretty?) and PAM Cooking Spray left them residue-free and easy to clean. I didn't even have to waste any foil or parchment covering them. Less time spent cleaning and more time dipping into baba ghanoush out on my balcony in the springtime sunshine! I hope you won't wait as long as I did to try this iconic dip!
One year ago: Giant Skillet Lemon Sugar Cookie
Two years ago: Lemon Cream Pie Bars
Three years ago: Bailey's Hazelnut Chocolate Tiramisu (and Photographing FOOD)
Four years ago: Hasselback Sweet Potatoes with Orange Rosemary Butter & Goat Cheese
Five years ago: Mini Apple Pies with Cheddar Crusts
Six years ago: Chocolate Sheet Cake

Baba Ghanoush
When I heard baba ghanoush involved roasting an eggplant, I was hesitant to bother. Honestly, though, it was a quick and easy task, particularly with the eggplant sliced into rounds! I sprayed PAM Cooking Spray on the baking sheets, and it's a quick and easy cleanup too!
Ingredients
1 large eggplant (about 1 pound)
2 cloves garlic, minced
1/4 cup lemon juice
1/4 cup tahini
Pinch red pepper flakes
Salt
3 tablespoons chopped fresh parsley
Sesame oil
PAM Cooking Spray
Instructions
Slice the eggplant into 1/4-inch slices and salt both sides of each slice. Set the slices in a colander in the sink to drain for 20 minutes while you prepare everything else. Spray two baking sheets with PAM Cooking Spray and preheat your oven's broiler.
When the eggplant has drained, rinse the salt off of both sides and pat dry with paper towels. Place the slices on the prepared baking sheet and brush with olive oil. Sprinkle salt over the slices. Roast under the broiler for 5-10 minutes, turning every few minutes, or until soft and browned. Stack the slices onto a sheet of foil and close it up around them, allowing them to rest for 5 minutes. Then gently peel away the skin from each slice and put the flesh into the bowl of a food processor. Add the garlic, lemon juice, tahini, pepper flakes, and more salt. Process until smooth, and taste. Add more lemon juice, salt, or tahini as needed for your taste — don't be shy about tweaking, mixing, tasting, and tweaking again, which is the secret to getting any dip just perfect for your preference. Transfer to a bowl and stir in chopped parsley. Serve with a drizzle of sesame oil and pita for dipping.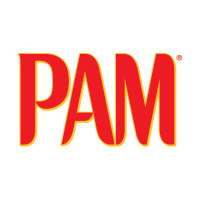 With all the planning that goes into putting together the perfect dish, using PAM Cooking Spray is a sensible way to save time in the kitchen. When you use PAM, you spend less time cleaning up in the kitchen, allowing for more time to be spent with the ones you love. Bonus? PAM Cooking Spray leaves 99% less residue* than leading brands of margarine or bargain-brand sprays, so your dishes will turn out great and you'll spend less time cleaning up.
*vs. leading cooking sprays (except olive oil), after spraying on glass bakeware, baking at 400°F for 30 minutes, cooling, and then washing in a standard home dishwasher with detergent and repeating four times.