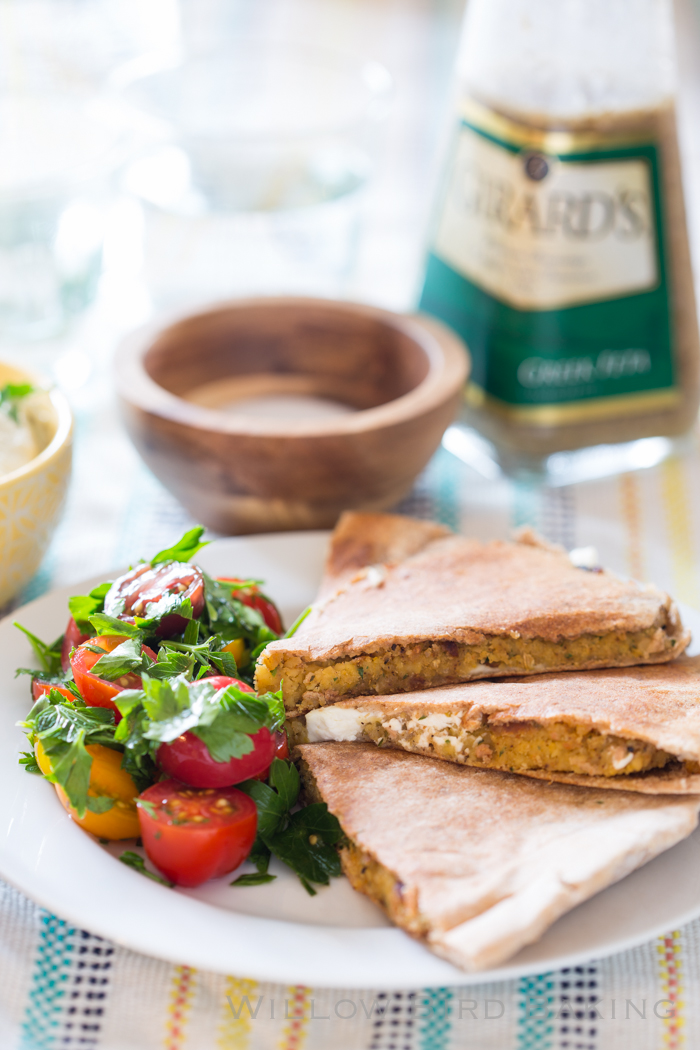 Melty Falafel Quesadilla
Thanks to Girard's Salad Dressing for sponsoring this post!
I've been in a salad dressing rut, so I was so excited to work with new-to-me Girard's Salad Dressings to develop a recipe. It seems like so many options on the store shelves taste like straight-up vinegar, and I'm super bored with balsamic vinaigrette or blue cheese. Sometimes you just need a change, know what I mean? Girard's had so many flavors that spoke to me right off the bat: Champagne, Caesar, Chinese Chicken Salad, Greek Feta Vinaigrette, Olde Venice Italian, Original French, Spinach Salad, Raspberry, Vin Rouge, White French and White Balsamic Vinaigrette.
I was especially up for trying the Greek Feta Vinaigrette because I figured it'd be the perfect base to create a new Mediterranean-inspired recipe, and I was so right! The tangy pepperoncini peppers and feta flavor notes in the dressing had me dreaming of pairing it with crispy falafel to create a fabulous side dish.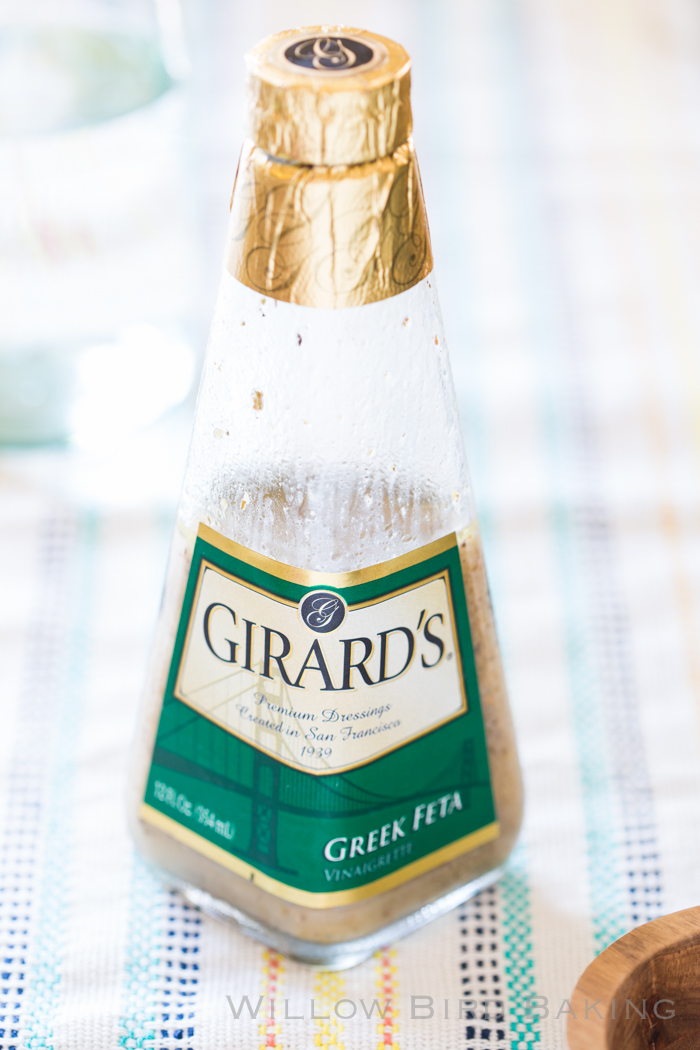 These Melty Falafel Quesadillas start with easy pan-fried falafel patties. Pan frying gives them a nice crispy exterior without the mess of deep frying. You can also bake the patties if you'd rather decrease your oil intake.
You build the quesadillas with a generous drizzle of Girard's Greek Feta Vinaigrette, crumbled feta cheese, the pan-fried falafel patties, and more feta! I used a big cast iron skillet to toast my quesadilla with my heavy cast iron panini press on top, but if you don't have a panini press, you could also just use a second heavy skillet or pot on top.
I love condiments and dips, so I whipped up a quick tahini sauce and tomato-parsley salad (from this post) and some baba ghanoush (recipe coming soon!) to serve with the quesadillas. Some garlic hummus and/or some extra Girard's Greek Feta Vinaigrette would also be a great dipping option! This recipe would certainly make a delicious light lunch, but I envision it as the perfect side dish for some chicken shawarma!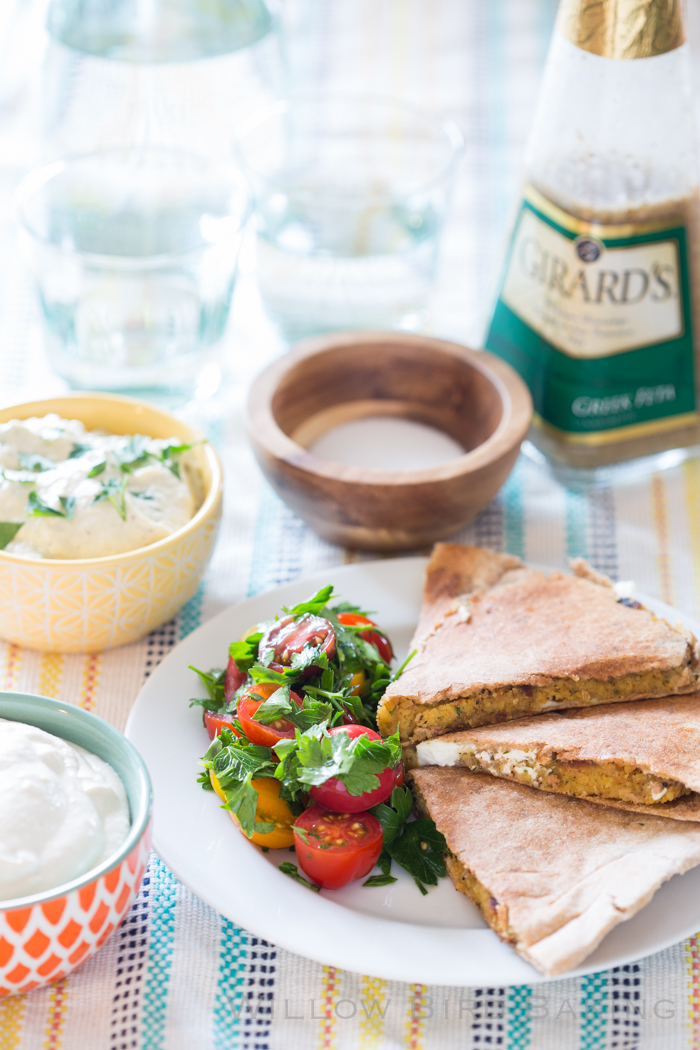 The dressing worked just like I hoped it would: adding a tangy zing with Greek notes to the crispy savory falafel patties and melty feta. I can't wait to try the other flavors now that I know I enjoy the brand — maybe in other quesadilla flavors!
One year ago: Giant Skillet Lemon Sugar Cookie
Two years ago: Lemon Cream Pie Bars
Three years ago: Bailey's Hazelnut Chocolate Tiramisu (and Photographing FOOD)
Four years ago: Hasselback Sweet Potatoes with Orange Rosemary Butter & Goat Cheese
Five years ago: Mini Apple Pies with Cheddar Crusts
Six years ago: Chocolate Sheet Cake

Melty Falafel Quesadilla
Take falafel to the next level by grilling it into a melty, delicious pita "quesadilla" with tangy Girard's Greek Feta Vinaigrette! I serve this with lots of goodies like tahini sauce, baba ghanoush, and hummus for dipping.
Author:
Willow Bird Baking
Ingredients
2 (15-ounce) cans chickpeas, rinsed and drained
3 tablespoons flour
3 tablespoons fresh parsley
4 cloves garlic, minced
2 teaspoons ground cumin
2 teaspoons ground coriander
1 teaspoon chili powder
1/2 teaspoon salt
1 dash freshly ground black pepper
up to 1/4 cup olive oil for pan frying
3 pitas, split in half
3/4 cup Girard's Greek Feta Vinaigrette
4 ounces feta cheese, crumbled
Instructions
Make the falafel: Place all the ingredients in the food processor and pulse until well combined, scraping the sides every now and then. Form the mixture into firm patties that are about 1/2-inch thick and 3 inches in diameter (you want to end up with 9-12 patties).
Heat 2 tablespoons of olive oil in a skillet over medium-high heat. When it shimmers, pan-fry half of the patties for around 2-3 minutes on each side, or until they're browned. Remove them to a paper towel-lined plate to drain. Add more olive oil as needed to fry the second batch.
Assemble the quesadillas: Heat a large skillet over medium heat and place one half of a pita into it. Drizzle about 1/4 cup of Girard's Greek Feta Vinaigrette salad dressing over the pita. Crumble some feta over top. Arrange 3-4 falafel patties on the pita. Sprinkle on a bit more feta, especially on each patty. Top with the top half of the pita and then a heavy panini press or another skillet. Press down to flatten. Grill the quesadilla for 2-4 minutes per side (I have cast iron, so I started out with about 5 minutes as my skillet warmed up and then switched over to 2 minutes when it started retaining lots of heat) or until the quesadilla is toasty and the cheese is melty. Cut into four slices and serve with tomato-parsley salad, tahini sauce, baba ghanoush, hummus, Girard's Greek Feta Vinaigrette, or whatever you like!

First created by Chef Pierre Girard in 1939, all of Girard's Salad Dressings are made with the care and unique flavor found in a chef's touch that inspires delicious meals.