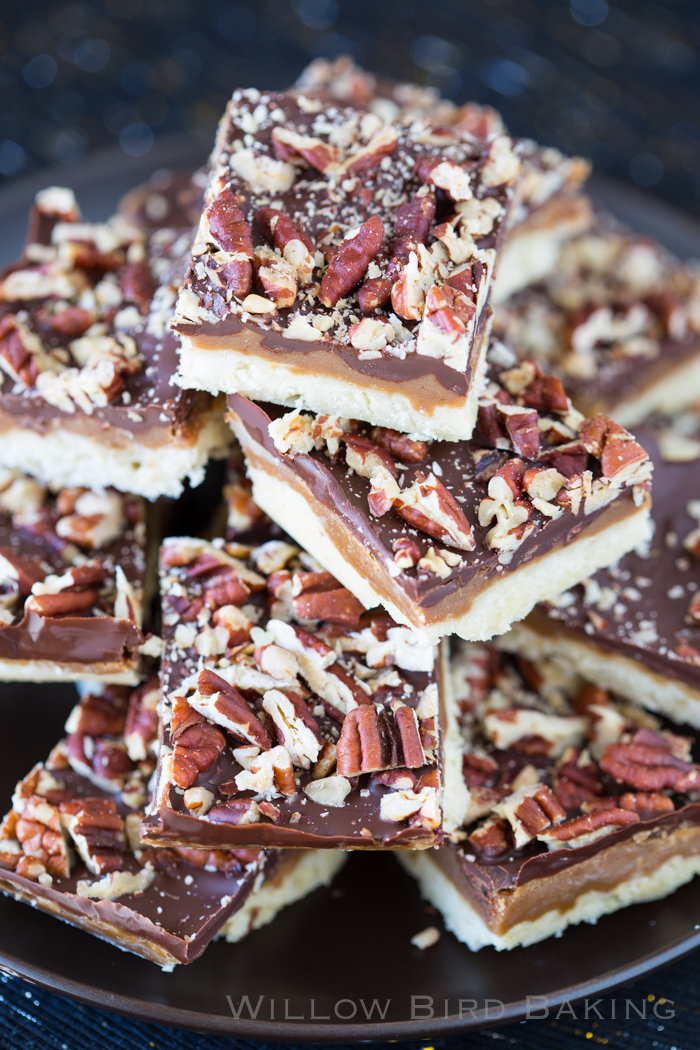 Shortbread Toffee Bars
Dogggggs are the best. All they want is a sofa, a tennis ball, a squeaker (not an entire toy with a squeaker inside: they want to demolish that and get the actual squeaker itself, please.) Everyone should own a dog, and there are so many wonderful dogs waiting to be owned! So many, in fact, that shelters in the U.S. are forced to euthanize around 46,154 healthy, adoptable pets every week.
Every week.
Listen, I'm not here to make you sad. I'm not that Sarah McLachlan commercial from hell where dogs in cages will break your heart into a million pieces. Look at those toffee bars! I'm obviously all about happiness right now. So instead of focusing on that horrific number, I'm going to tell you how to fix it: ADOPT A RESCUE DOG (or kitty).
You may have purchased a puppy from a breeder — even from a "responsible breeder" if there can be such a thing considering the aforementioned fact — and I would never judge you or want you to feel bad about things in the past. But in case you're one of the many people out there who still has room in their home for a friend, here are the reasons you should adopt your next pet from a shelter instead of buying from a breeder: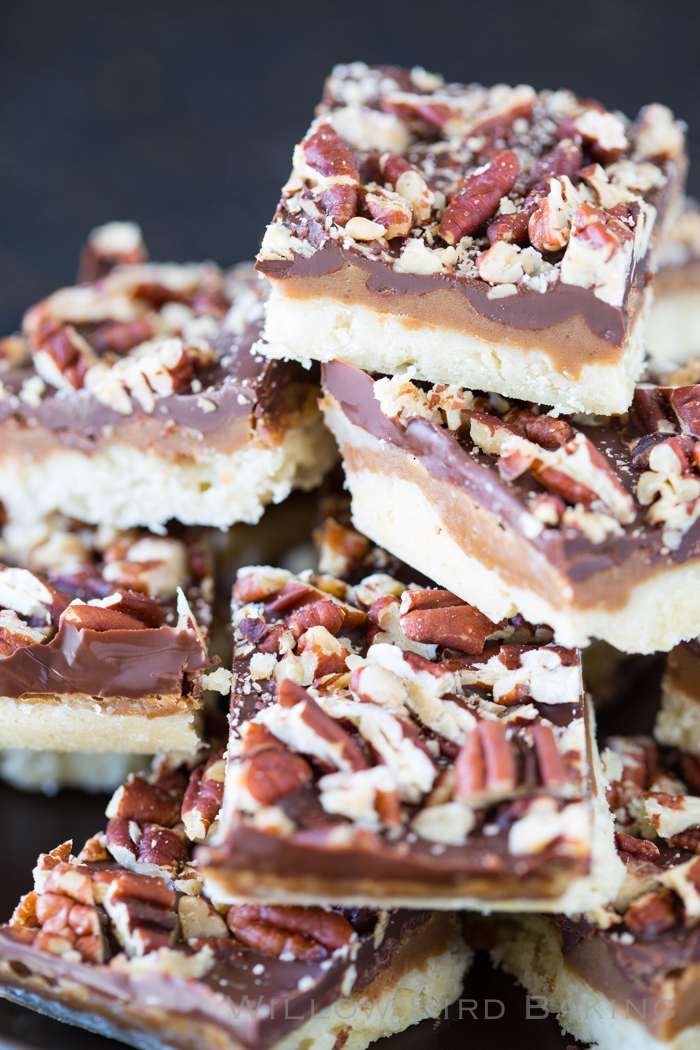 You can get a pet of any AGE at the shelter. Plenty of people want A PUPPY. They're drunk on this idea of bonding from the get-go. Fine, although I'll tell you there's nothing so sweet as a dog who knows they've been saved. But you don't need to go to a breeder to get a puppy: shelters and rescues get pregnant mamas all the time. If you're willing to be flexible with the timing of adopting your new pet, put in an application with a rescue and sit tight; a puppy is sure to fall in your lap before long. Also, though, consider that puppies are less romantic than they sound: they cry, pee, and chew. A young pup that's out of the puppy stage or even a grateful, mellow senior may fit your lifestyle more.
You can get a pet of any BREED at the shelter. I knew I wanted a poodle, so when I was ready to adopt Byrd, a quick Google search led me to Carolina Poodle Rescue. People express shock all the time that there's a POODLE rescue or they think they need to buy from a breeder to get a "hypoallergenic" dog, but there are tons of breed-specific rescues. Even rescues that aren't breed-specific sometimes trend toward a favorite breed; for instance, I volunteer with a rescue that loves dachshunds and poodles. I follow pug rescues, hound rescues, a pit bull rescue, and a Great Pyrenees rescue on Facebook. If you're willing to do some poking about, you can find the pup you want without supporting the breeding industry. If the rescue is far away, often transport can be arranged that still won't cost what a dog from a "responsible" breeder would — and you're saving a dog's life!
You can get a pet of any SIZE and TEMPERAMENT and TYPE at the shelter, period. Want a tiny fluffy lap dog? Shelter's got 'em. Want a silly, sweet-hearted, block-headed pibble? Shelter's got 'em. Want a smart dog? Shelter. Dopey dog? Shelter. Playful dog? Shelter. Cuddly dog? Shelter. Below (left) is Byrd, my fun, beautiful, precious, loyal, sweet toy poodle. And beside her is Moon Pie, an adorable, sweetheart terrier mix who was rescued from a hoarding situation and adopted by my friend Jess. Can you believe these two gorgeous girls are rescue dogs? I can — because I've seen tons of others just like them waiting to go home!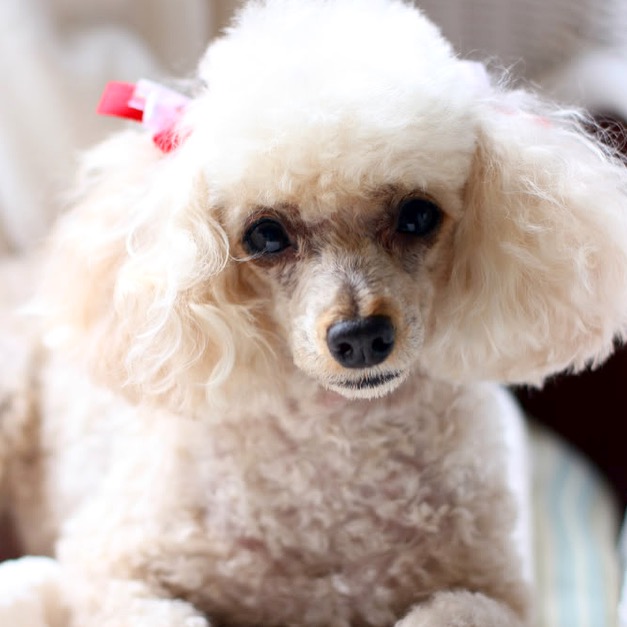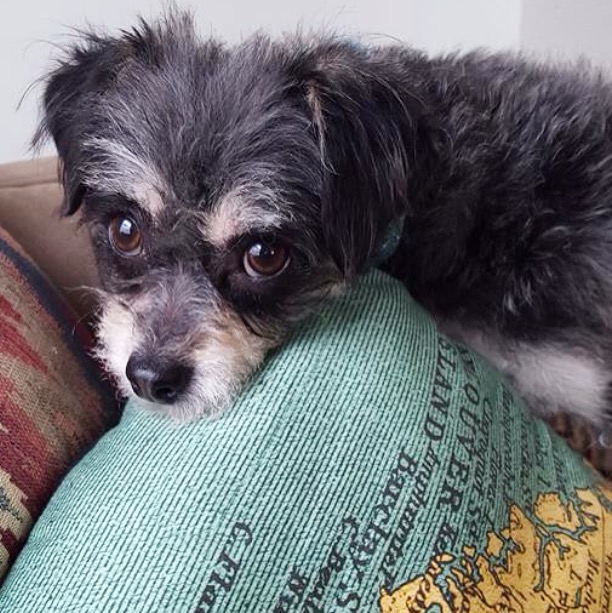 There ARE a few things you need to do to find the right rescue dog for you! Here are some tips:
Don't judge a dog in a cage. Shelters can be scary, hectic places and sometimes when dogs are there, they aren't able to show off their best selves. Byrd barks when she's around other dogs even though she's incredibly sweet and pretty quiet at home. Ask your shelter if there's a quiet meet-and-greet spot where you can interact with a few dogs before you make your decision.
Do get your name out there. Contact a few shelters and let them know what sort of dog you're looking for. Especially if they're smaller rescues, they can try and keep you posted if a dog comes their way who is right for you.
Don't balk at adoption fees. They're typically MUCH lower than buying a dog from a responsible breeder (if they're not, you're probably at a backyard breeder) and they cover tons of important vet care and ensure that the rescue can continue operating.
Do evaluate a new adoptee with your current pet. Many shelters will let you bring your current animal(s) to see how they get along with a new friend. Read up on introducing new pets and prepare well in advance to make sure things go smoothly.
Don't be inflexible. Even though I LOVE poodles, fostering rescue dogs has made me realize that the right dog could be any breed. Even though I wanted to maximize my time with my pet by adopting a young dog, there is an inexplicable air of gratitude, love, and relief that exudes from an older rescue pup. Even though I adore lap dogs, there's nothing like romping with a big, goofy dog who mercifully doesn't know he's been saved from euthanasia. Open your heart to the "right dog" being someone other than what you expected. It's true what they say: the right dog rescues you.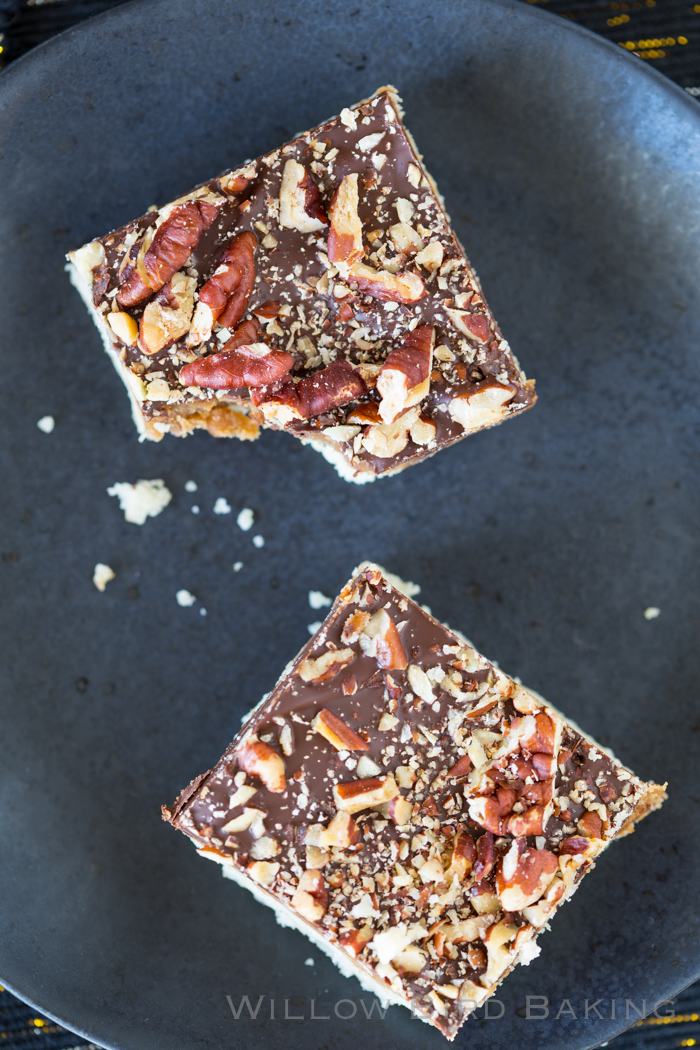 Have any questions? Want help finding a dog in your area? Looking for a breed-specific rescue? I'd love to help!
In the meantime, here are some delicious toffee bars to enjoy while you scan the rescue pages. I based them on one of my favorite quick recipes, Saltine Toffee, where you spread toffee over a layer of saltine crackers, top with chocolate and pecans, and devour. These bars kick it up a notch with a buttery, salty shortbread base. Tie them up with ribbon in a cellophane bag and you have the perfect little gift! Enjoy!
Tell me about your rescue pets in the comments!
One year ago: Peach Cobbler Pastry Braid
Two years ago: Easy, Healthy Couscous Tabbouleh
Three years ago: Quick & Easy Sides: Roasted Carrots and Asparagus with Garlic-Lemon Aioli
Four years ago: Milnot Cheesecake Cheesecake
Five years ago: Lemon Berry Crumble Breakup Bars
Six years ago: Valentine Truffle Heart

Shortbread Toffee Bars
If you love easy saltine toffee, you'll love this adaptation! Buttery, caramelized toffee is sandwiched between a delicious shortbread base and dark chocolate. The bars are topped off with toasted pecans! These are perfect to give as a gift in a pretty cellophane bag.
Author:
Willow Bird Baking
Ingredients
Shortbread Crust Ingredients:
1 cup all-purpose flour
2 tablespoons powdered sugar
3/4 teaspoon salt
1/2 cup butter
Chocolate-Covered Toffee Ingredients:
1/2 cup butter
1/2 cup dark brown sugar
1 cup dark chocolate chips
3/4 cup pecan halves, toasted and chopped while hot
Instructions
Make the shortbread. Preheat your oven to 350 degrees F. Line an 8-inch square baking pan with a foil sling. Process the flour, powdered sugar, and salt together for a few seconds before adding in the chunks of cold butter. Cut the butter into the flour mixture with about 6-8 pulses or until it looks like small peas. Press the mixture into the baking dish with the flat bottom of a glass or small dish. Bake for 15 minutes or until very lightly browning.
Make the Chocolate-Covered Toffee: Heat the butter and dark brown sugar over medium-high heat in a heavy saucepan. Once it boils, cook for 3 minutes, whisking gently and constantly. Pour it over the shortbread base and spread it evenly. Stick the bars back in the oven for 3 minutes. Pull them out and sprinkle the chocolate chips evenly over the toffee. After 5 minutes, spread the melted chocolate chips over the top of the toffee and sprinkle on the chopped pecans. Let cool completely. Chop into bars and serve.