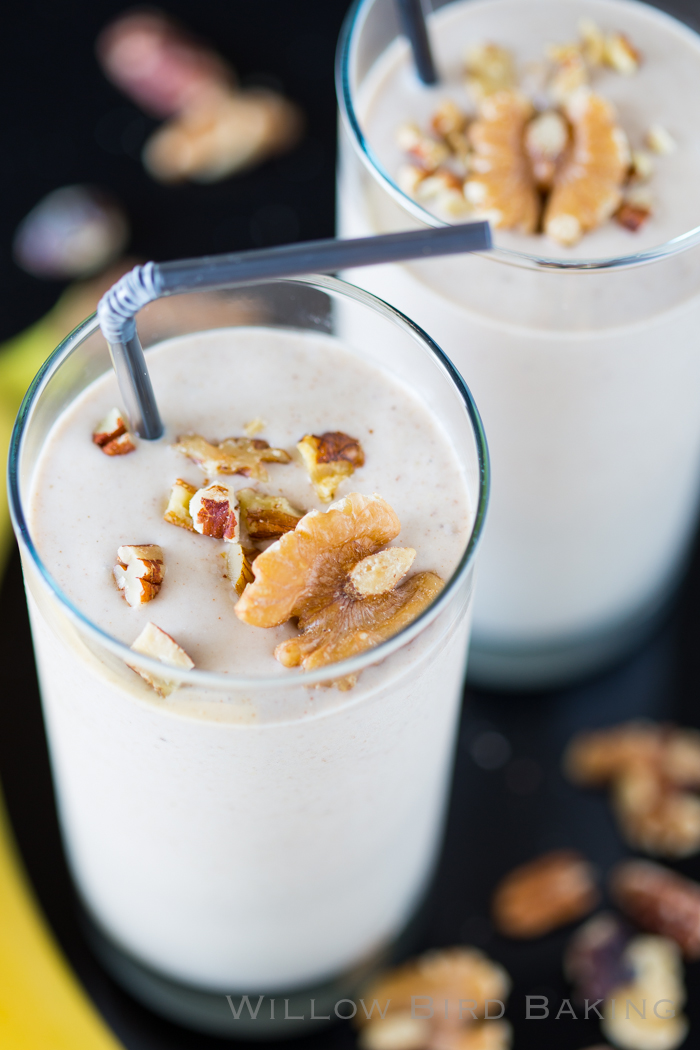 Banana Nut Crunch Smoothie Recipe
Thanks so much to Blendtec for providing me with the BlendTec Designer 725 Blender and Twister Jar — and for providing one for a lucky reader to win! All thoughts and opinions are my own, as always.
I've been drinking this banana nut smoothie from a little restaurant here in Raleigh like it's going out of style, but I think I like the idea of it more than I like the taste. Honestly, my reaction when I took my first sip was, "Eh. I could do better." It tasted like banana, but when I think of "banana nut," I think of the deep, rich flavor of banana nut bread — not the sweet, raw flavor of fresh bananas.
Fast forward to me lying in bed with a fiery porcupine of a tonsil in my throat, unable to swallow, much less speak. I've battled my ornery tonsils (especially the left one, that jerk) for decades. Whenever my left tonsil swells up to the size of a small vehicle, I know I'm in for a solid week of unsolid foods.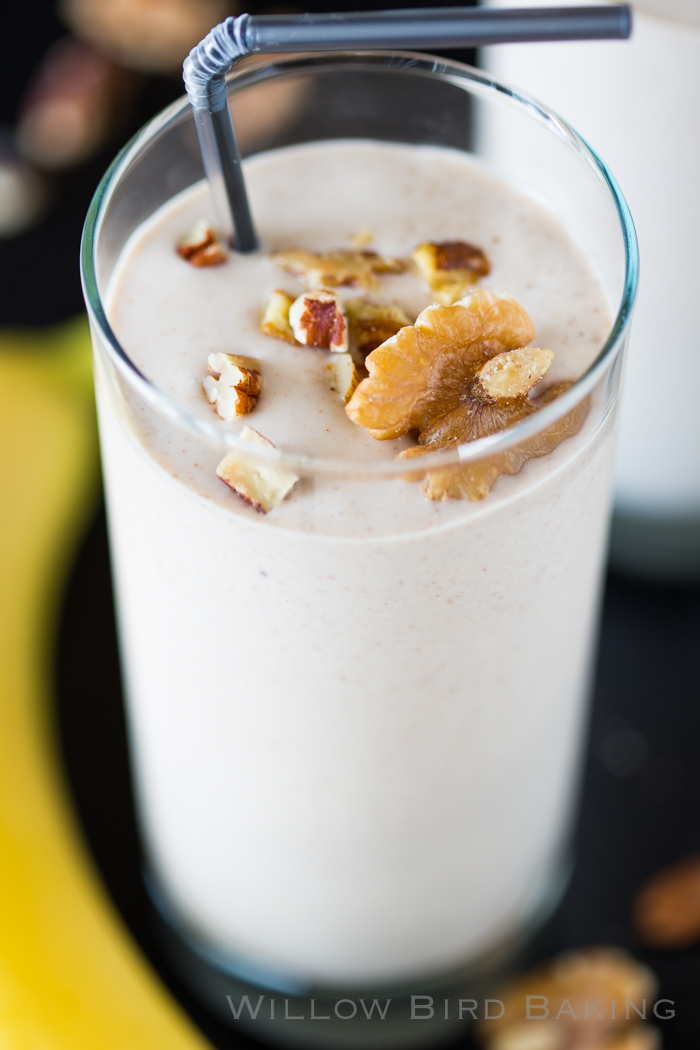 In a stroke of brilliance (this is no time for modesty), I got in touch with Blendtec hoping they'd partner with me for some smoothie experimentation. They were my first choice because Mike and I have long been amused/amazed/freaked out by their Will It Blend? series (what, you don't binge watch YouTube videos of folks blending rakes and pennies?)
I'm so glad they were into the idea, because almost immediately after I contacted them, I found out that my doctor wants to take my tonsils completely out. No arguments from me. But that does mean I'm going to need plenty of tried and true smoothies. Time for a SMOOTHIE-PALOOZA.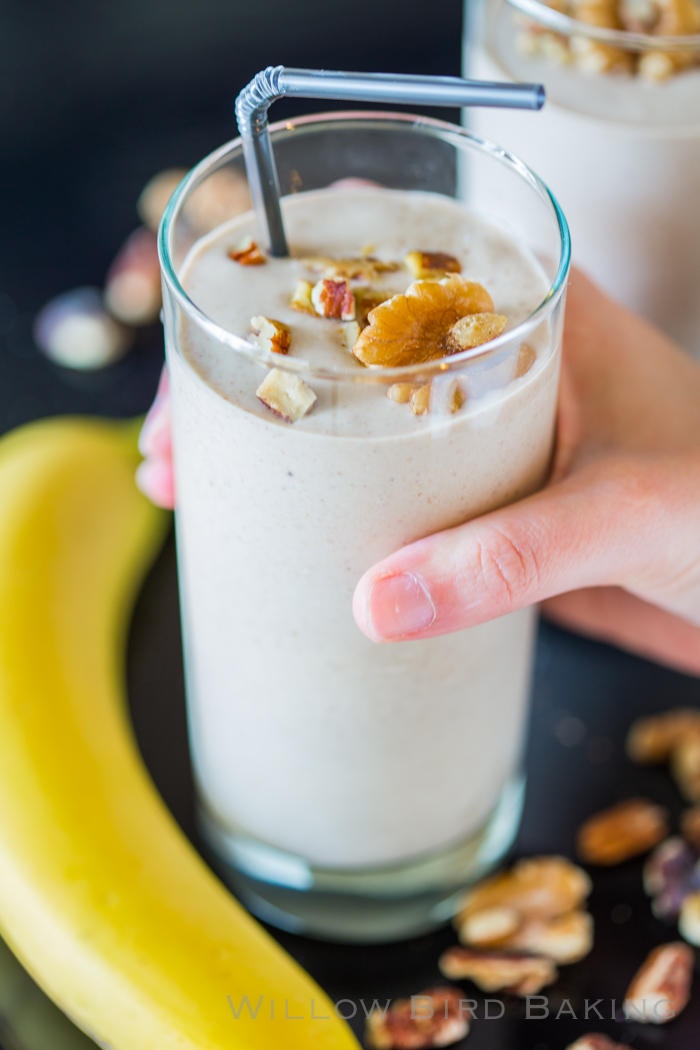 This first smoothie is my recreation of that disappointing banana nut concoction, and while it's vegan, healthy, full of protein, and free of refined sugar, the focus is all on the FLAVOR. I roasted bananas with date paste to mimic the rich flavor of banana bread. I also added cinnamon and hearty oats for spice and body. It takes a few more steps than your quick morning smoothie (don't worry, I'm going to share some of those, too!), but the result is way worth it.
Want to join me for the smoothie-palooza? Enter to win your very own BlendTec Designer 725 Blender and Twister Jar!
One year ago: No-Bake Coconut Icebox Cake
Two years ago: Brûléed Twinkie Ice Cream Sundae
Three years ago: German Chocolate Cheesecake
Four years ago: Fauxstess Cupcakes
Five years ago: Sparkling Raspberry Lemonade
Six years ago: Dobos Torte

Banana Nut Crunch Smoothie (vegan, refined sugar free, protein-packed)
This thick, healthy Banana Nut Crunch Smoothie is vegan, refined sugar free, and filled with protein! Best of all, it layers the flavors of roasted bananas, date paste, and toasted nuts to create a rich, delicious taste.
Author:
Willow Bird Baking
Ingredients
2 medium, ripe bananas, sliced in thirds lengthwise
2 pitted medjool dates
1 teaspoon coconut oil
3 tablespoons pecans, plus more for garnish
3 tablespoons walnuts, plus more for garnish
1 cup almond milk
1/4 teaspoon vanilla extract
1/2 cup quick oats
4 tablespoons vegan vanilla protein powder (optional)
1/4 teaspoon ground cinnamon
6-8 ice cubes
Instructions
Preheat the oven to 350 degrees F and line a baking sheet with parchment. Arrange the banana slices on the baking sheet. Soak the dates in 2 tablespoons of water for about 20 minutes before pureeing them with the water into a paste. I used the Blendtec Twister Jar for this because it's designed for thicker pastes. Spread the paste evenly on the banana slices and top each slice with a few dabs of the coconut oil. Bake the bananas for 15-20 minutes until fragrant. Transfer to the fridge to cool completely.
Spread the walnuts and pecans out on another baking sheet and toast them in the same oven while the bananas roast. Toast them for 6-7 minutes, tossing frequently, until fragrant. Transfer to the fridge to cool completely.
Assemble the smoothie by adding the liquids (almond milk and vanilla extract) to your blender jar first, followed by the solids (date roasted bananas, toasted nuts, oats, protein powder, cinnamon), and followed finally by the ice. Blend well using the Blendtec smoothie preset. Serve immediately with extra nuts for garnish.
Nutrition Information
Calories:
391
Fat:
11
Carbohydrates:
65.3
Sugar:
34.7
Sodium:
142
Fiber:
8
Protein:
14.5