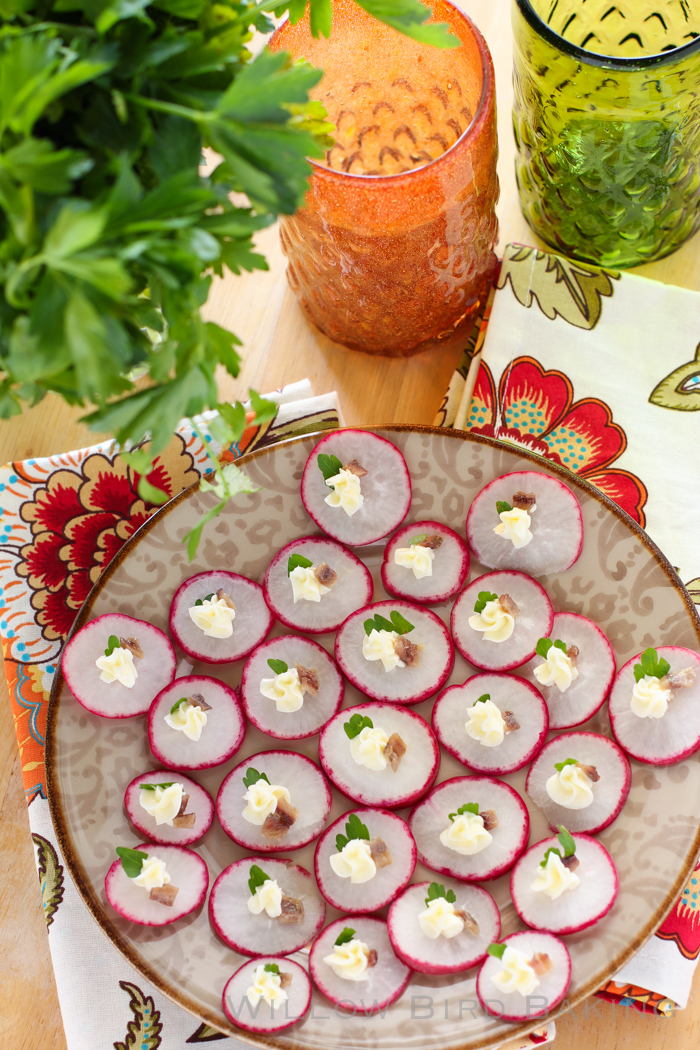 Radishes with Whipped Butter, Anchovy, and Parsley
I wrote this post as part of the Plugrá Butter Brigade. Thanks, Plugrá, for sponsoring this post and for making my favorite butter!
The Official List of Summery Things That Have Happened So Far This Year:
1. In addition to my carefully planned summer party, I threw together an impromptu balcony get-together with friends. Okay, it wasn't supposed to be impromptu. Really, I had scheduled it about a month ago and forgotten all about it! When my friends showed up, it became impromptu, all right. Thankfully, I had a lot of odds and ends in the fridge and it was a better night than I could've planned. Great friends = great times.
2. I tried a summery makeup palette: peach glow blush, shiny gloss, and my favorite mascara.
3. I watched my first-ever 7th graders graduate from high school. What?! THEY WERE 12 WHEN I STARTED TEACHING THEM. 12!
4. A ladybug flew up my nose. Okay, this wasn't the most pleasant summery experience. But it still counts. Incidentally, in case you ever need to know, ladybugs smell like peanut butter.
5. We finally saw birds at our new bird feeder! And we also realized that birds are extremely messy eaters. Whoa.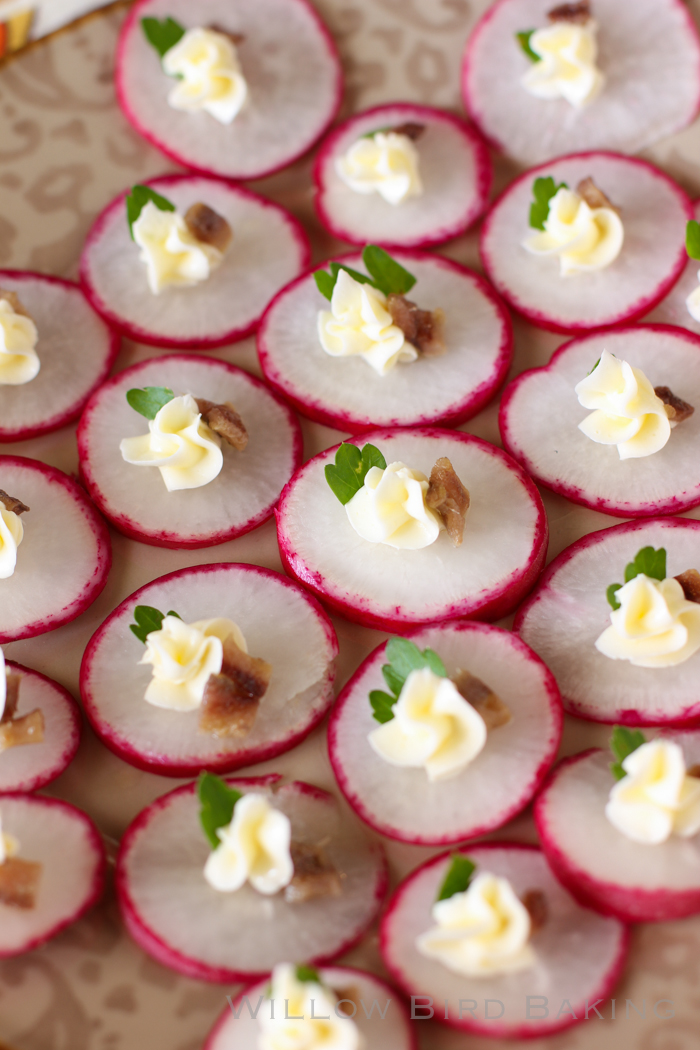 6. Mike and I went downtown for a sushi date at Sono, which was incredible. I wore my summery strapless dress for the first time this year.
7. I roadtripped down to Charlotte to visit my very best friends, all the teachers I used to work with!
8. We've been keeping the doors thrown open to let in the amazing weather.
9. WATERMELONS OCCURRED.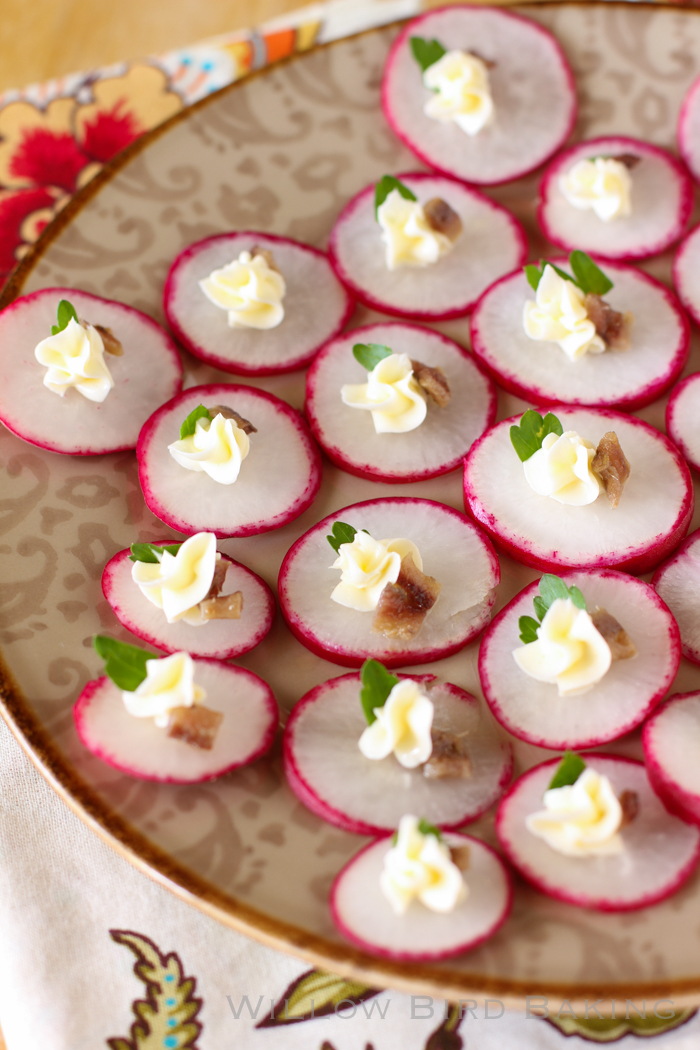 10. I made my first-ever cheese plate and ate it on (you guessed it) the balcony.
11. I downloaded a new app called Sky Guide and can't wait for a clear night to go stargazing! Mike and I have already been using it to preview the constellations that we will see when the clouds go away.
12. I made sangria (and sangria ice cubes to keep it cold without watering it down!) Can't wait to share this recipe with you.
13. I found out I'm the worlds lightest-weight lightweight, because I drank approximately a tablespoon of said sangria before I was feeling a little cross-eyed. No fair.
14. I put some butter in a piping bag to store in the fridge. Now I can pull it out anytime, let it soften, and make these little radish appetizers! The creamy butter mellows out the peppery bite of the radish. Just add either anchovy or salt (if you prefer) and a teensy bit of parsley.
Let's dive into summer together! What summery things have you done so far this year?

One year ago: Spiked Biscoff Cookie Icebox Cake (only 5 ingredients!)
Two years ago: Krispy Kreme Doughnut Croque Madame
Three years ago: World's Best Grilled Cheese (Sharp Cheddar & Caramelized Onions on Beer Bread)
Four years ago: Baked Eggs with Salsa and Toast Points
Radishes with Whipped Butter, Anchovy, and Parsley

---


Recipe by: Adapted slightly from Chef Kidd
Yield: 4 servings

A fresh, crisp summer appetizer to enjoy outdoors! Apparently these tasty little bites are very French. If you don't love anchovies, feel free to skip the fishies and use kosher salt instead. Enjoy!

Ingredients:
1/4 pound Plugrá® European-Style Butter, unsalted, room temperature
2 organic watermelon radishes (I couldn't find these and subbed 5 big regular radishes)
2 anchovy fillets, drained, sliced into very thin strips
2 sprigs Italian parsley, fresh, minced

Directions:
Whip the Plugrá Butter with an electric mixer until light and airy. Transfer to a small pastry bag and reserve at room temperature. Scrub the radishes thoroughly to remove dirt and trim ends. Using a mandolin or sharp kitchen knife, thin-slice the radishes. Arrange the radish slices evenly on a serving plate. Pipe whipped butter in the center of each radish slice and garnish to taste with a slide of anchovy and parsley. Make sure to taste a few to get the right proportions — you don't want the anchovy to be overpowering. I'd put more butter if I made these again — it's so creamy and delicious with the peppery radishes.