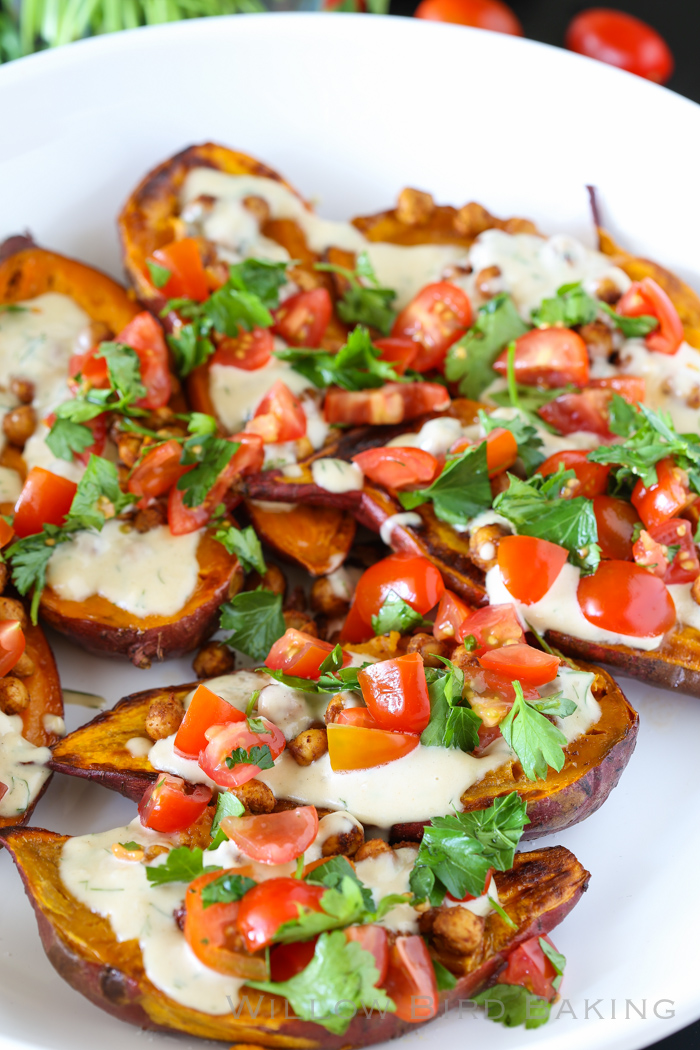 Mediterranean Baked Sweet Potatoes
Burning campfire air and cricket forest song as we picked our way over the gravel road with bare feet. Hopscotch hopscotch hot coals until we were on solid ground in front of the campground's swing set, abandoned in the dusk. The trees, heavy with pollen, were outlined in the fading light all around us.
Tamara claimed one swing and I jumped on the other. On the way up to Cane Creek in the back of her parents' car, we had pointed out every Ford on the road with glee. Each car was a vehicular homage to the object of our 6th grade affection, Brandon Ford, a short blonde kid with freckles. Screaming, "FORD!" and dissolving into giggles was the closest either of us would ever come to being Brandon's girlfriend (sad, I know), so we relished it.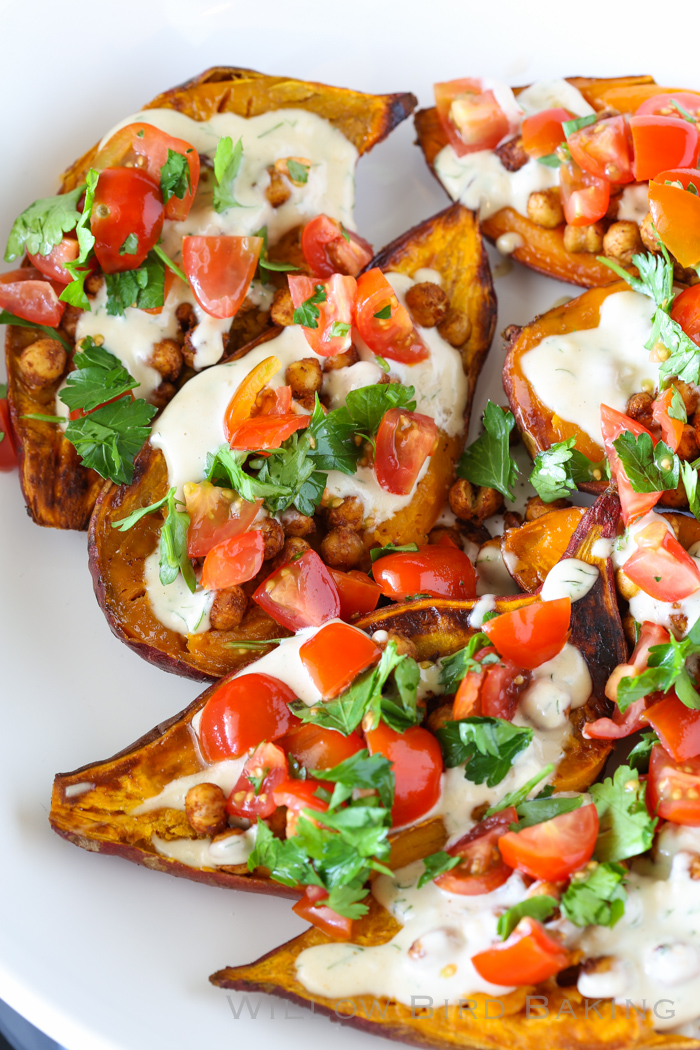 Now we practiced swinging with all our might on the solid swing set, kicking higher and higher, calling out one of the nick names we'd made up for Brandon or our secondary crush, Chris — always have a backup, just in case — with each forward arc.
"BRANDON!"
"FORD!"
"SNAPPING TURTLE!"
"FRECKLES!"
"MR. PIGGY!"
Swishing next to my best friend in the spring darkness, my lungs filled with satisfaction etched in longing: her company fed me even while I wished for Brandon's (or Chris's, I wasn't picky) and that tinge of possibility when they were around. Would one of them look at me? Would one of them talk to me? Would one of them ever say something that tipped our balance away from friendship, away from just classmates and toward a held hand, toward even a kiss? These thoughts swirled in my head as the woods rushed past — to and fro, to and fro. We kicked our muddy feet, singing each name.
When we had swung ourselves dizzy, we ran back through the woods to Tamara's parents, who had been smoking cigarettes and talking with friends into the evening. We piled into the car to drive the hour back to Tamara's house, where we ate Cheetos and timed who could lie on a bag of frozen peas the longest.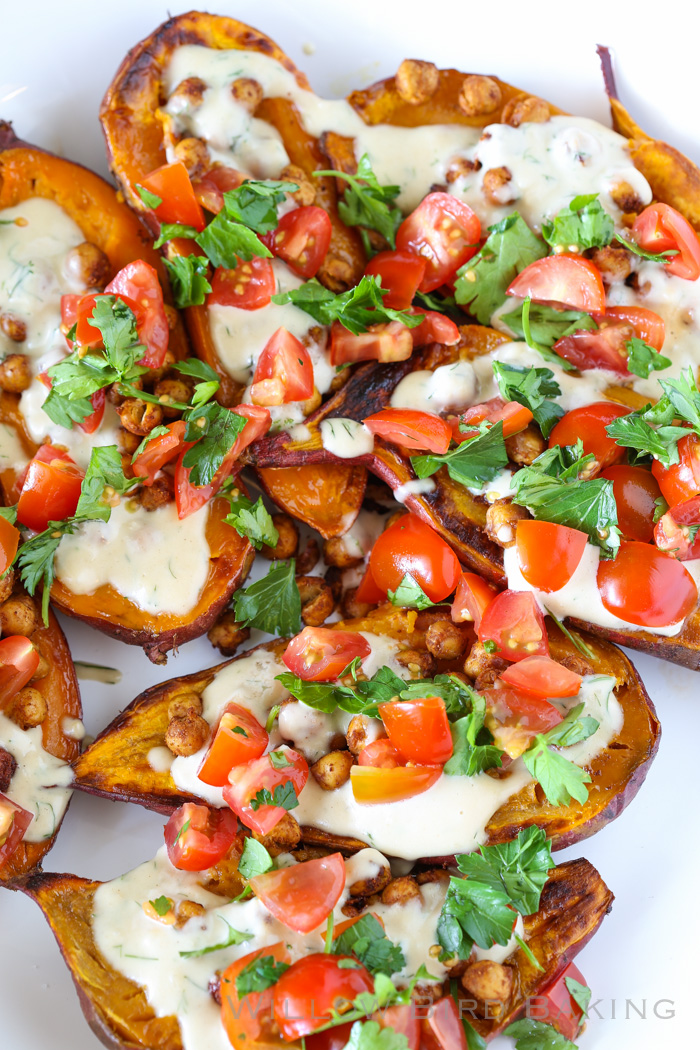 Tonight, Raleigh smells like Cane Creek: people have started up their grills and filled the pollen-tinged air with the scent of charcoal and fire. Mike and I have agreed that we need to clean off the balcony furniture soon so we can join everyone in flinging open the doors and eating outside. The first thing I want to bring out to our balcony table is a platter of these fresh, zippy, sweet-and-tangy sweet potatoes. Breathe in deeply (unless you have allergies, in which case, wait until after it rains a few more times) and enjoy the first bits of spring!
One year ago: Easter Sides: The Best Macaroni Salad Ever & Sundried Tomato Pasta Salad
Two years ago: Samoa Monkey Bread with Ganache Dipping Sauce
Three years ago: Pumpkin Oat Snack Cake with Broiled Coconut Icing
Four years ago: Rich Ice Cream and Coffee Cheesecake
Five years ago: Banana Nut Bread Waffles

Mediterranean Baked Sweet Potatoes
I had to share this incredible, fresh vegan meal with you! Mike and I ate this two nights in a row because it was so delicious! You won't miss meat with a meal this hearty.
Ingredients
Potatoes Ingredients:
1 (15-ounce) can chickpeas, rinsed and drained
1 1/2 teaspoons olive oil, plus more for coating potatoes
1/2 teaspoon each cumin, coriander, cinnamon, and paprika
1/4 teaspoon salt
4 medium sweet potatoes, scrubbed clean (but not peeled) and halved lengthwise
Tomato Salad Ingredients:
1/2 cup cherry tomatoes, diced
1/2 cup chopped parsley, minced
3 tablespoons lemon juice
Dill Tahini Sauce Ingredients:
1/4 cup tahini
2 tablespoons lemon juice
4 teaspoons finely chopped fresh dill
4 teaspoons minced garlic (about 4 cloves)
1/4 teaspoon salt
water to thin to drizzling consistency
Instructions
Preheat the oven to 400 degrees F and line two baking sheets with foil. In a medium bowl, toss the chickpeas with olive oil, spices, and salt until coated. Spread them in a single layer on one of the baking sheets. Rub each potato half with olive oil and place them face down on the other baking sheet. Put both pans in the oven and cook (tossing the chickpeas periodically) for 20-30 minutes. Remove the chickpeas when they're roasted and just crunchy (be careful not to overcook; this was about 20-25 minutes for me) and the potatoes when a knife will easily poke through a fat potato with no resistance.
While the chickpeas and potatoes are roasting, toss parsley, tomatoes, and lemon juice together in a medium bowl. Set this in the fridge to marinate.
In another medium bowl, whisk together all of your tahini sauce ingredients. Add water, whisking after each addition, until it is easily drizzled. My tahini was thick and this took quite a lot of water! Maybe 1/2 cup or even more! But start with a small amount and add a little at a time to find what works. Taste the sauce and adjust as needed to make sure it's tangy, herby, and savory. Stick it in the fridge until dinner is ready.
When the potatoes and chickpeas are ready, remove them from the oven. Place the potatoes on a serving platter and smoosh the insides down a bit with a spoon. Top with chickpeas, tahini sauce, and tomato salad. Serve immediately.