Thanks to Kellogg's for sponsoring this post.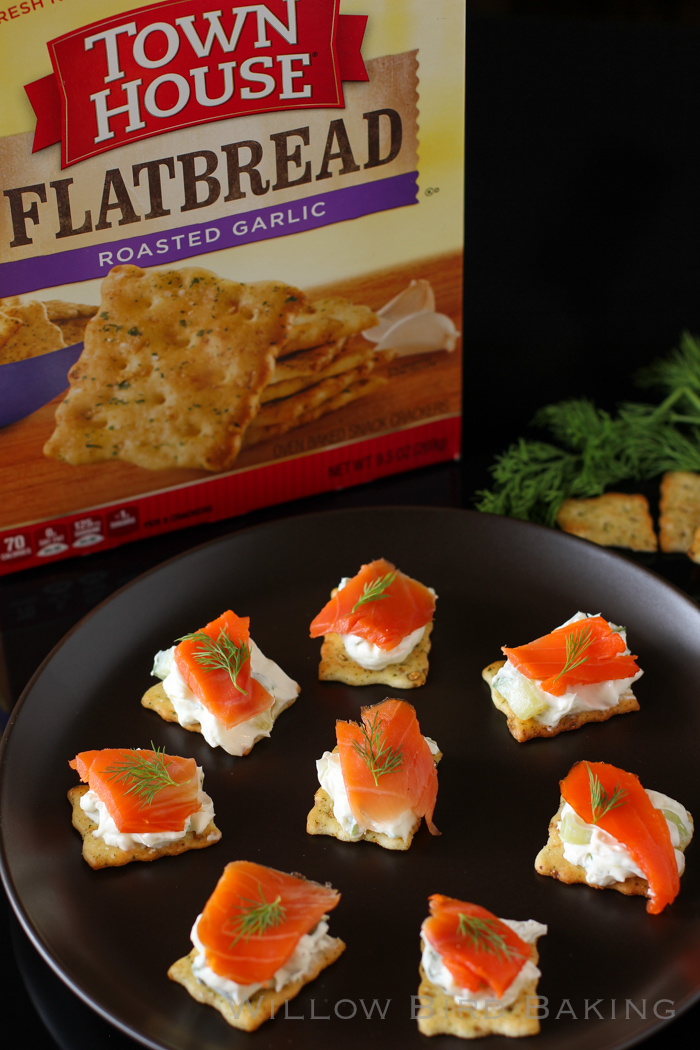 Salmon Tzatziki Canapés
Remember that time I was Ina Garten's BFF? Well, the time I was invited to her house for a cookie swap, anyway. It was basically the coolest thing that's ever happened to me. And the one thing I wanted to ask her was how she manages to host a million dinners and cocktail parties and breakfasts without breaking a sweat, all in a gorgeous white blouse without so much as a hair out of place. Right?! She's magical.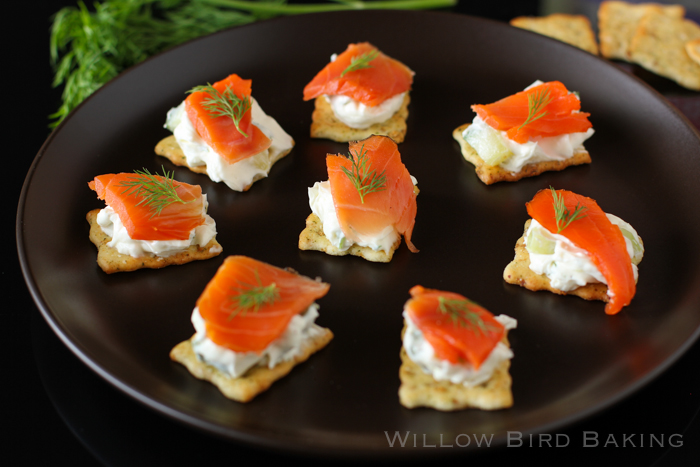 One thing she said on a show once stuck with me. She was hosting a gathering and making an awesome dinner as usual, but she stopped by the store to grab olives ("good olives!" of course) and other odds and ends for her guests to munch on before the meal. I loved the idea that Ina, queen of entertaining, could let the store take care of her apps without needing to fuss over them herself. When I took on this sponsored post for Town House crackers (my favorite crackers! I don't do sponsored posts for brands I don't already love, just in case you don't know me by now — cue Harold Melvin & The Blue Notes), I wanted to channel Ina. I don't own a white blouse (good thing, because I'm sloppy when I cook), but I wanted to create the perfect party finger foods with minimal fuss.
After chatting with you all for inspiration, I've been busy tasting, dipping, spreading, and pairing away. Town House crackers basically exploded when I wasn't looking — there are approximately 840,583 varieties now, oh my gosh — so there are tons of possibilities. I'm planning on hosting a little gathering to showcase everything I come up with, but in the meantime I wanted to share a sneak peek of the varieties with a little "mood board" and a recipe.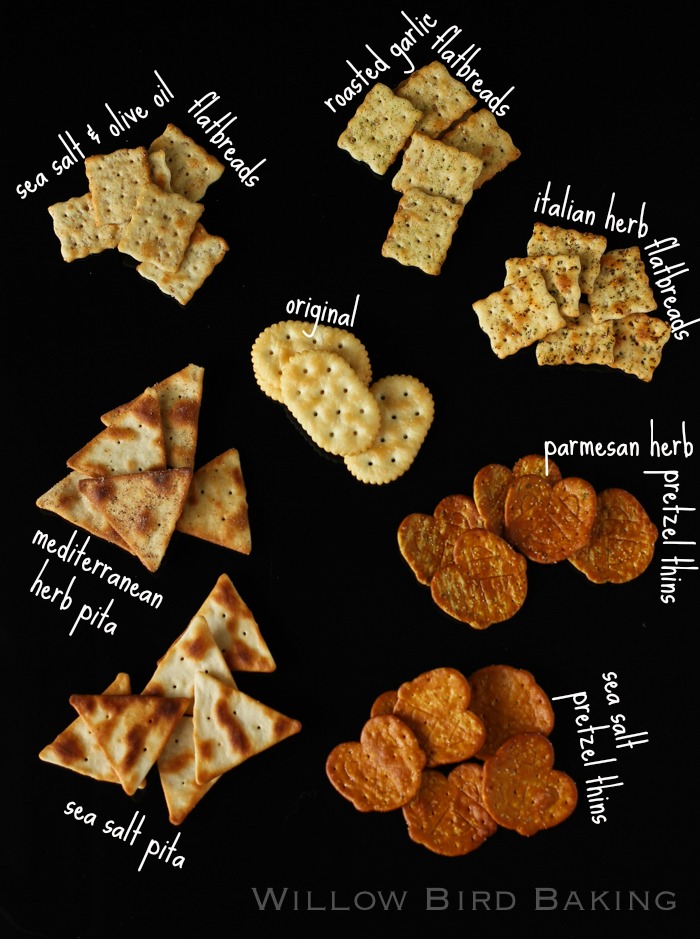 The Flatbreads and Pretzel Thins are both perfect just to pour in a bowl and serve. The original crackers can be dipped, used for spreads, or inhaled straight from the sleeve (maybe you shouldn't do this at a party, though. Embarrassing.) The pitas are probably my favorite new variety and are perfect for dipping. I picked up some of my favorite roast chicken salad from a local Mediterranean deli and shoveled it up with the Mediterranean Herb Pitas.

For this Salmon Tzatziki Canapé recipe, I used the Roasted Garlic flatbreads. These cute little canapés are topped with thick tzatziki cream cheese (which I'm going to make a billion gallons of and smear on everything — it's so good!), a fatty hunk of smoked salmon (I buy the fattiest smoked salmon I can find at my local grocery store, where they sell their trimmings in little deli tubs), and a wisp of dill to make it cute. They were simple to put together but look so fancy, right?! I hope my BFF would approve.
One year ago: Coconut Cloud Fruit Dip
Two years ago: Key Lime Pie Cheesecake with Sky-High Meringue
Three years ago: Brie En Croute with Figs & Rosemary
Four years ago: Quick Rosemary, Fig, and Goat Cheese Tarts
Five years ago: Clementine Cake

Salmon Tzatziki Canapés
The perfect finger food! I topped Town House Roasted Garlic Flatbreads with a thick, creamy tzatziki spread and a sliver of smoked salmon. These canapés are addictive. I'm also going to slather this tzatziki cream cheese on everything I eat from now on -- it's like tzatziki sauce but thicker and more luscious. I made it the day before and the flavors melded beautifully without it getting watery like most tzatziki sauces I've tried.
Ingredients
1 large English cucumber, diced (the long, skinny ones)
1 teaspoon salt (for salting cucumbers)
2 (8-ounce) packages cream cheese
2 tablespoons lemon juice
1 teaspoon minced garlic
1 heaping tablespoon chopped fresh dill, plus more for topping
salt & freshly ground black pepper to taste
smoked salmon (I buy the fattiest trimmings from my local grocery store, yum)
Town House Roasted Garlic Flatbreads
Instructions
Place your diced cucumber in a colander and sprinkle with the teaspoon of salt, tossing a bit. Cover with a paper towel and a heavy bowl and let them drain for 30 minutes. In a large bowl, beat the cream cheese with an electric mixer until fluffy. Add the lemon juice, garlic, dill, and a grind or two of black pepper. Beat until combined and then fold in drained cucumbers and taste for salt and pepper, adding any as needed. Chill for at least two hours so the flavors can meld.
When ready to serve, spread the cream cheese mixture on your Town House Roasted Garlic Flatbreads. Top with a hunk of smoked salmon and a wisp of dill.
"From presentably munch-able options, to dipping inspiration, to versatile possibilities, we have the variety that will help her stylishly host any type of gathering — from planned to impromptu."
Thanks, Kellogg's Town House!