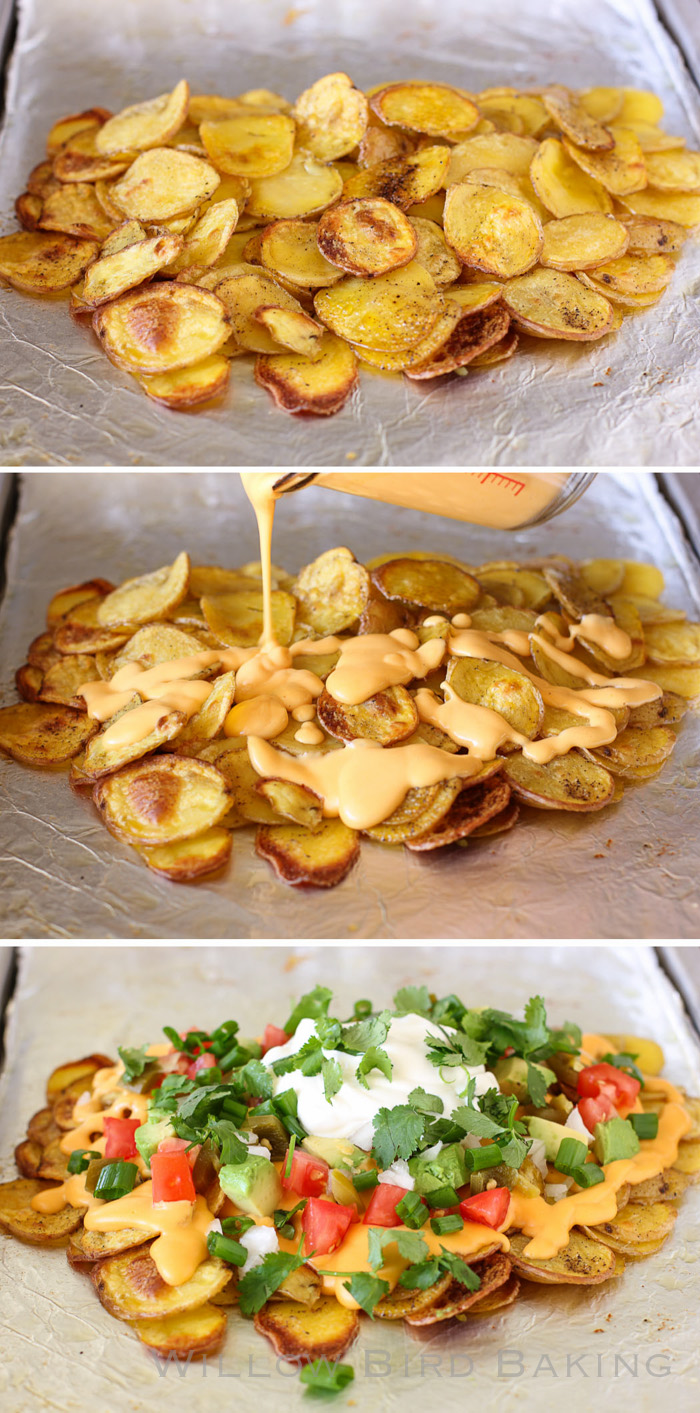 Over-the-Top Loaded Potato Nachos
Thanks to Tasteful Selections for sponsoring this recipe! Through January, profits from their Ruby Sensation and Honey Gold potatoes support the non-profit Katie's Krops, which empowers youth across the country to end hunger in their communities one vegetable garden at a time.
When I'm comfortable with people, I'm chatty and silly and loud. But I'm rarely comfortable with people. I'm naturally introverted with a dose of social anxiety on top of that. The older I get, the shyer I become. This might be hard to imagine since I'm so very vocal here, but in person, I'm quiet, aloof, and awkward until I really get to know someone. And the thing is, it's hard to ever get to know someone if you're like that.
On a recent trip with other food bloggers, I was having my typical experience. I was hanging out on the fringe of the group. Other bloggers connected as naturally as breathing. They intuitively knew when it was time to go eat so they'd all be together. They seemed to instantly have everything in common. I exhausted my small talk early and then tried to look busy on my phone. I tried to disappear, and they assisted by mostly forgetting I was there. No fault of theirs; after all, I was the one detaching. It's a bad habit.

A couple of people didn't go along with the plan, though. Alice, who writes Hip Foodie Mom and raises some of the cutest kids alive, went out of her way to let me know that the other bloggers were planning on hanging out. She texted me the hotel room number once she found out where. I made myself go to push myself out of my comfort zone. (You know, that "comfort zone" where I'm alone and sad in my hotel room because my social coping technique is isolating myself. Very comforting!) When I got there, she saw that I wasn't sure where to sit and called me over to sit next to her. It was so fun to chat with everyone that night, something I would've missed if not for her kindness. Later we would become friends on Facebook and she would send me the sweetest message when my grandmother died, calling her by name, because she bothered to know her name.
Emily, who writes Grace and Good Eats and raises some of the other cutest kids alive, was someone else I connected with. We sat together by chance at a wine tasting and she said something about walking to breakfast alone that morning and I realized: this is one of my people. You know when you meet someone so much like you that you know you'll be friends? That's Emily. We snarked and laughed all through the wine tasting and, even though I texted her the room number Alice texted me, Emily decided to take a bubble bath and eat cookies alone that evening in lieu of socializing. Again: one of my people. The next morning we went to breakfast together and I told that girl more about my life than I've told most people ever, much less upon first meeting them. She told me all about her family, too, and we ate an exorbitant amount of amazing food. I wish she didn't live in Texas so that we could do that every week.
You guys. Let's be people like this. Let's be people who make others feel welcome and safe. Let's make people feel special and cared for. Let's know the name of their grandmothers and walk with them to breakfast. Let's notice when someone is struggling and support them, or even struggle with them. Those two ladies meant the world to me on a trip where I would've otherwise felt alone.
Who's been there for you lately? How can you be there for others?
* * *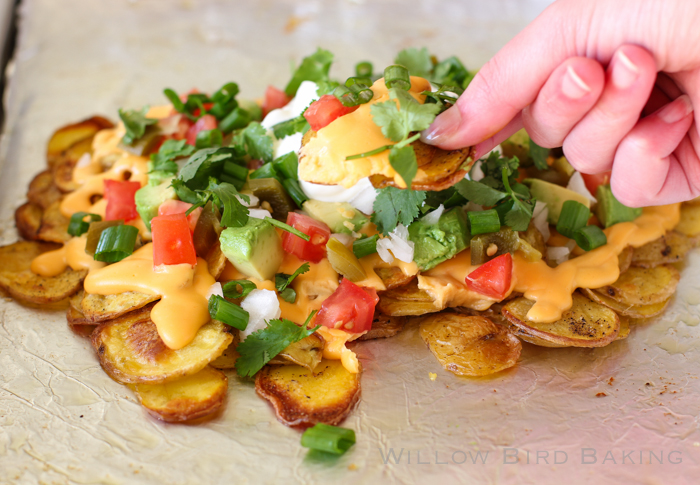 My family always celebrates New Year's Eve by eating a pile of indulgent appetizers and playing board games until the ball drops. While I can't be with them this year, I'd like to continue the tradition in my own home in Raleigh. Want to throw your own little appetizer party (guests optional)? These Over-the-Top Loaded Potato Nachos are a delicious treat, complete with spicy nacho cheese sauce and a ton of toppings. Happy New Year to us! We made it through another year!
One year ago: Raspberry Lemonade Champagne Smash
Two years ago: Spiced Crispies (Chivda, or Indian snack mix)
Three years ago: Brown Butter Cookie Dough Pretzel Bars
Four years ago: Magic Bars
Five years ago: Taco Stuffed Crescent Rolls
Over-the-Top Loaded Potato Nachos
These delicious potatoes are loaded with the perfect nacho cheese, jalapeños, onions, green onions, tomatoes, avocado, sour cream, and cilantro. They're perfect for a New Year's Eve appetizer party!
Ingredients
Nacho Ingredients
10-11 Tasteful Selections Honey Gold Potatoes, sliced into 1/8-inch thick rounds
3 tablespoons olive oil
1/2 teaspoon salt, plus more for topping
1/4 teaspoon pepper
4 ounces sharp cheddar, shredded
1 1/2 teaspoons cornstarch
1 teaspoon hot sauce (plus more for topping)
1/2 cup evaporated milk (plus more if you want thinner sauce)
Nacho Toppings:
chopped pickled jalapeños
chopped green onions
diced tomatoes
diced avocado
diced raw onion
sour cream
chopped cilantro
Instructions
Preheat the oven to 450 degrees F. Cover two baking sheets with aluminum foil and spray the foil with cooking spray. In a medium bowl, toss the potatoes and olive oil together to coat the potatoes. Spread them in a single layer over the prepared baking sheets, being sure not to crowd them so they will brown nicely. Sprinkle salt and pepper evenly over all the potatoes. Bake them for 23-27 minutes or until golden brown, tossing once during baking. Pull the potatoes out of the oven when they're golden and let them cool while you make your cheese sauce.
While the potatoes cool, toss the cheese and cornstarch together in a medium bowl. Transfer this mixture to a saucepan and add the hot sauce and 1/2 cup of the evaporated milk. Turn the heat on to medium and cook, whisking constantly, until the mixture is melted and thickened, about 5-10 minutes. Add more evaporated milk to thin to the consistency you prefer (I didn't need to add any). I actually added a little yellow food coloring, too, because I wanted my cheese to look super cheesy. Feel free to skip this if you don't care.
When your cheese sauce is ready, heap the potatoes into a pile on one of the baking sheets. Drizzle them with the freshly prepared cheese sauce. Top with pickled jalapeños, tomatoes, green onions, diced avocado, onion, sour cream, and chopped cilantro. Serve immediately.