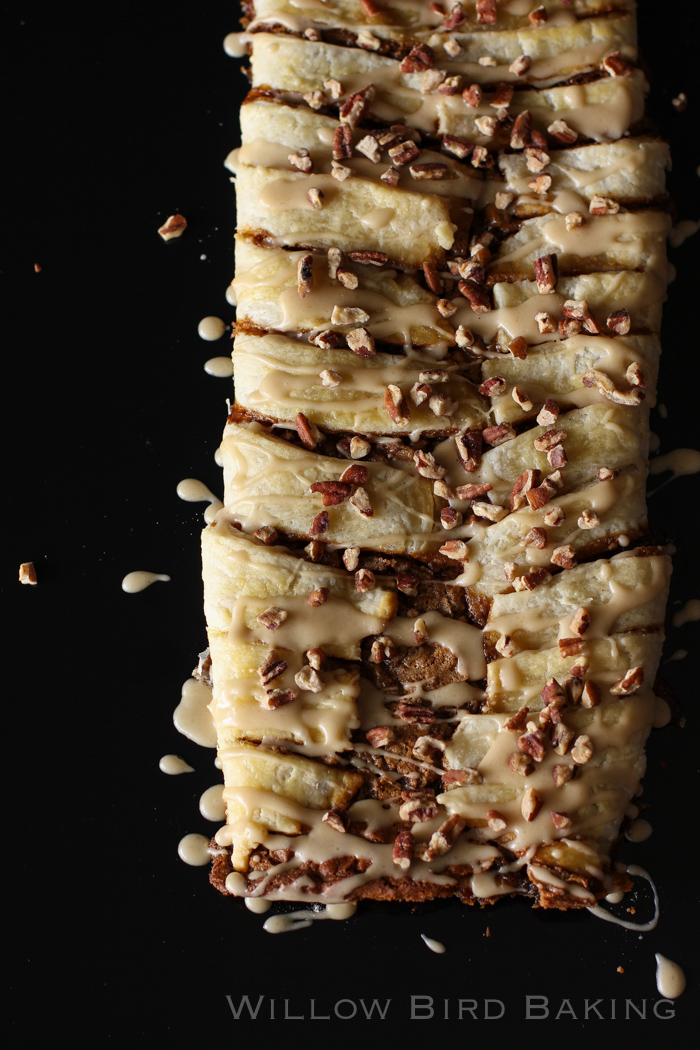 Maple Brown Sugar Pastry Braid
Traveling alone always sparks tons of stories in my heart. I'll be sharing some of them over the next couple of weeks. The following thoughts are from time in a suburb of Chicago.
I'm sitting in a coffee shop where the Wi-Fi password is "pumpkin spice" and the barista recommended a Nutella cappuccino to me when I walked in. There's a dude baking muffins behind me. A few minutes ago, four adorable children wearing cat-patterned knit caps walked in with their Mary Poppinsesque Sunday school teacher. The littlest, who has not yet mastered the art of determining relevance, proclaimed to everyone that he is emphatically not afraid of the witch in The Wizard of Oz. Just when I thought things couldn't get sweeter, a server brought the kids a huge tray of fondue: melted chocolate, strawberries, marshmallows, graham crackers.
What I'm saying is that I'm moving to Chicago. Actually, I'm going to move straight into this coffee shop. And these children can live here, too, and be super adorable all the time.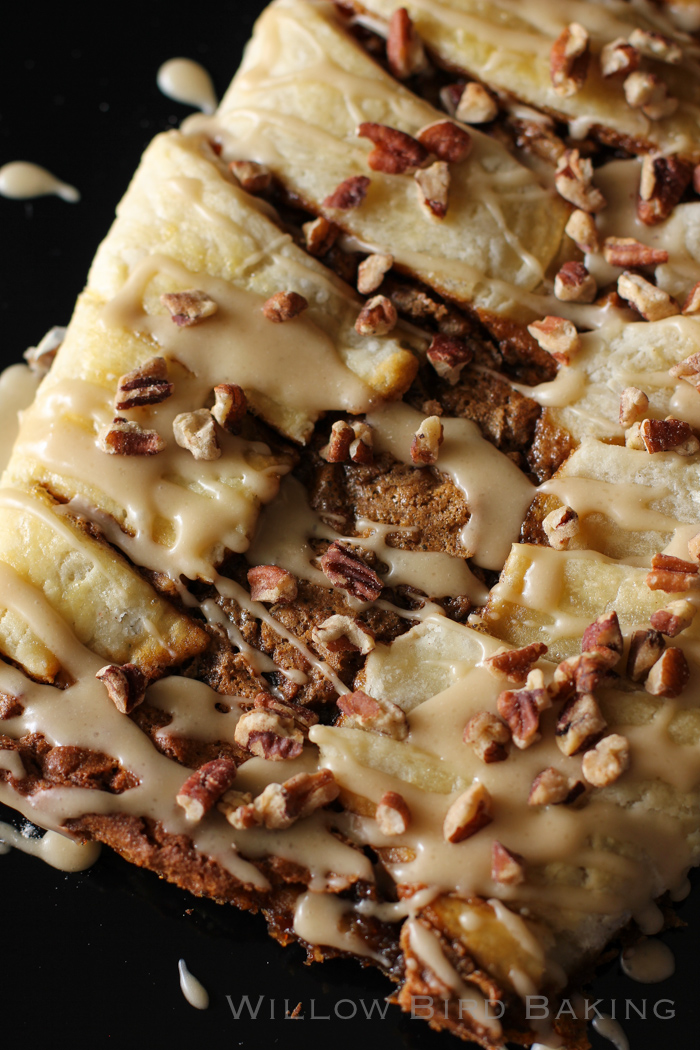 I can't imagine how lovely Christmas must be in Chicago. I might be starting to understand this crisp weather thing. My head literally ached with the cold as I walked the few blocks from my hotel to this coffee shop, but seeing the leaves falling around me in a neighborhood beside the river made up for it somehow. The cold here seems to fit.
Maybe that's what's wrong with the cold in Raleigh: it's wet, misplaced cold. You fight it all winter long, always on the losing side. You don't leave time for the frosty windshield because the cold isn't welcome. You don't tug on a big coat because you should be able to get by in a cardigan. Every day is a goosebumpy, hollow-boned rebellion.
It's supposed to be cold here. It makes sense to snuggle into my coat. I'm part of the postcard, along with the brick crosswalks and the gray skies. So I acquiesced, built my cocoon out of newly purchased coats and scarves and socks, and melted into the landscape. What a relief.
I wonder what else I'm fighting.
* * *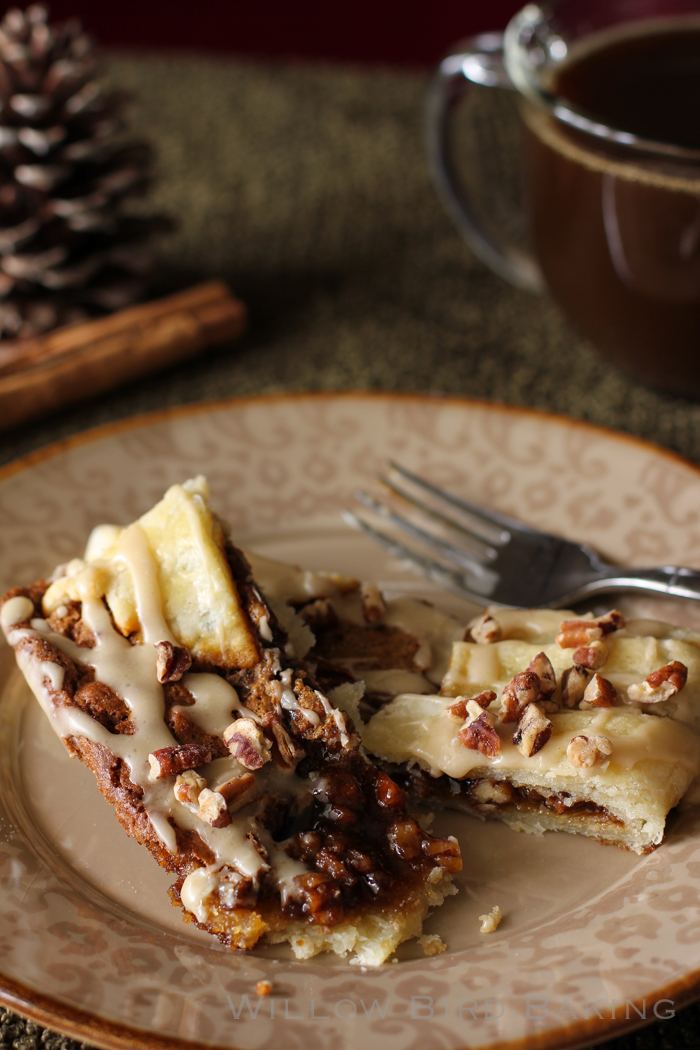 Here's a recipe to help you build your cocoon and snuggle into the season.
This Maple Brown Sugar Pastry Braid starts out as such an ugly thing. The filling inevitably oozes as the prepared braid sits in the fridge overnight. It bakes in an odd shape wherever it oozed. The whole thing really looks quite monstrous, but then like magic, a maple drizzle and tons of toasted pecans make it into a masterpiece. That's one of many reasons I love these little braids: no matter what happens during the process, you always end up with a rustic work of art.
It tastes even better than it looks. The outside of the maple brown sugar filling crusts over while the inside stays molten and gooey. It's like a cross between a pie and a brown sugar pop-tart! I think it deserves a place in our postcard, too — maybe beside a Nutella cappuccino on an old wooden table in front of a big fire.
One year ago: Chocolate Poke Cake with Whipped Coconut Icing
Two years ago: Broiled Southern Pimiento Cheese
Three years ago: One-Skillet Gooey Pumpkin Cookie Cake
Four years ago: How to Make 27+ Cheesecakes and Look Awesome While Doing It
Five years ago: Gâteau aux Noix
Maple Brown Sugar Pastry Braid

---


Recipe by: Willow Bird Baking
Yield: 1 braid, about 9-10 servings

This is an incredible fall dessert or breakfast, with a gooey, nutty brown sugar center and a maple glaze. To prepare this braid in advance, complete all steps and assemble the braid but do not bake. Cover the braid on its parchment lined baking sheet with plastic wrap and refrigerate overnight. Don't worry that some of the filling oozes out. It'll be fine. Set the braid out in the morning as the oven preheats, egg wash it, and then bake as usual. I included some photos below that show the process of marking and assembling a Raspberry Almond Braid to show the process of assembly. It's super easy to do, but a little fiddly to explain in just words.

Braid Ingredients:
2 cups all-purpose flour
1 teaspoon baking powder
1/2 teaspoon salt
1/2 cup unsalted butter, cold and cut into cubes
3 ounces cream cheese, cold and cut into cubes
1/2 cup milk, minus 1/2 teaspoon
1/2 teaspoon almond extract
1 egg whisked with 1 teaspoon of water for egg wash

Filling Ingredients:
1 cup packed dark brown sugar
2 tablespoons plus 1 1/2 teaspoons all-purpose flour
1 1/2 teaspoons ground cinnamon
1 egg
1/2 teaspoon maple extract
3/4 cup toasted pecans, chopped, plus more for topping

Maple Glaze Ingredients:
1 tablespoon butter
2 tablespoons milk
1/4 cup brown sugar
1 tablespoon real maple syrup
pinch salt
1/4 teaspoon maple extract
3/4 – 1 cup powdered sugar
cinnamon for sprinkling

Directions:
Make the filling: Whisk together brown sugar, flour, cinnamon, egg, and maple flavoring to form a paste. Stir in toasted pecans and set aside in the fridge.

Make pastry braid: Preheat the oven to 425 degrees F. In the bowl of a food processor, mix the flour, baking powder, and salt. Add the cream cheese and butter into the flour mixture and pulse to cut the fat into the flour (about 6 pulses). Add the milk and almond extract and blend into a loose dough.

Turn the dough onto a sheet of lightly-floured parchment paper and knead very lightly for just 4-5 strokes (be careful not to overwork the dough or it'll be tough! Don't worry about getting it smooth — just knead for these few strokes and let it stay a little rough.)

Very lightly flour the top of the dough and place another sheet of parchment paper on top. Between two sheets of parchment paper, roll the dough to an 10- by 15-inch rectangle (I lift the paper off every now and then and flip the dough and repeat on the other side, to ensure the dough isn't sticking). Remove the top sheet of parchment and discard. Measure and mark the dough lengthwise into thirds. Spread your brown sugar paste down the middle third of the dough — try to keep your filling about 1/4 inch from the mark on both sides. I piled it up a bit (not so much that it was overflowing, but plenty!)

Continue assembling the braid: (Remember, there are photos below to help visualize this step!) Make diagonal cuts at 1-inch intervals on each the long sides. Do not cut into the center filling area. Fold strips, first one from one side and then one from the other side in an alternating fashion, over the filling. It will now resemble a braid. Don't worry if it doesn't completely hide your filling — it's actually nice when the filling is peeking out. Use the sheet of parchment to carefully transfer your braid to a baking sheet.

Brush the pastry with the egg wash mixture. Bake in the 425 degree oven for 12-15 minutes, until the dough is cooked through, the filling is set, and the top is lightly browned. Let the braid cool slightly while you make your glaze.

Make the Maple Brown Sugar Glaze: Combine the butter and milk in a small saucepan over medium heat. When the butter melts, whisk in the brown sugar, syrup, and salt, stirring until the brown sugar melts. Remove the pan from the heat and whisk in the maple extract and powdered sugar, starting with 3/4 cup and adding more to thicken per your preference (taste as you go to ensure you don't oversweeten). Drizzle the glaze over the top of your braid. Sprinkle the braid with toasted pecans and a dusting of cinnamon. Serve immediately.