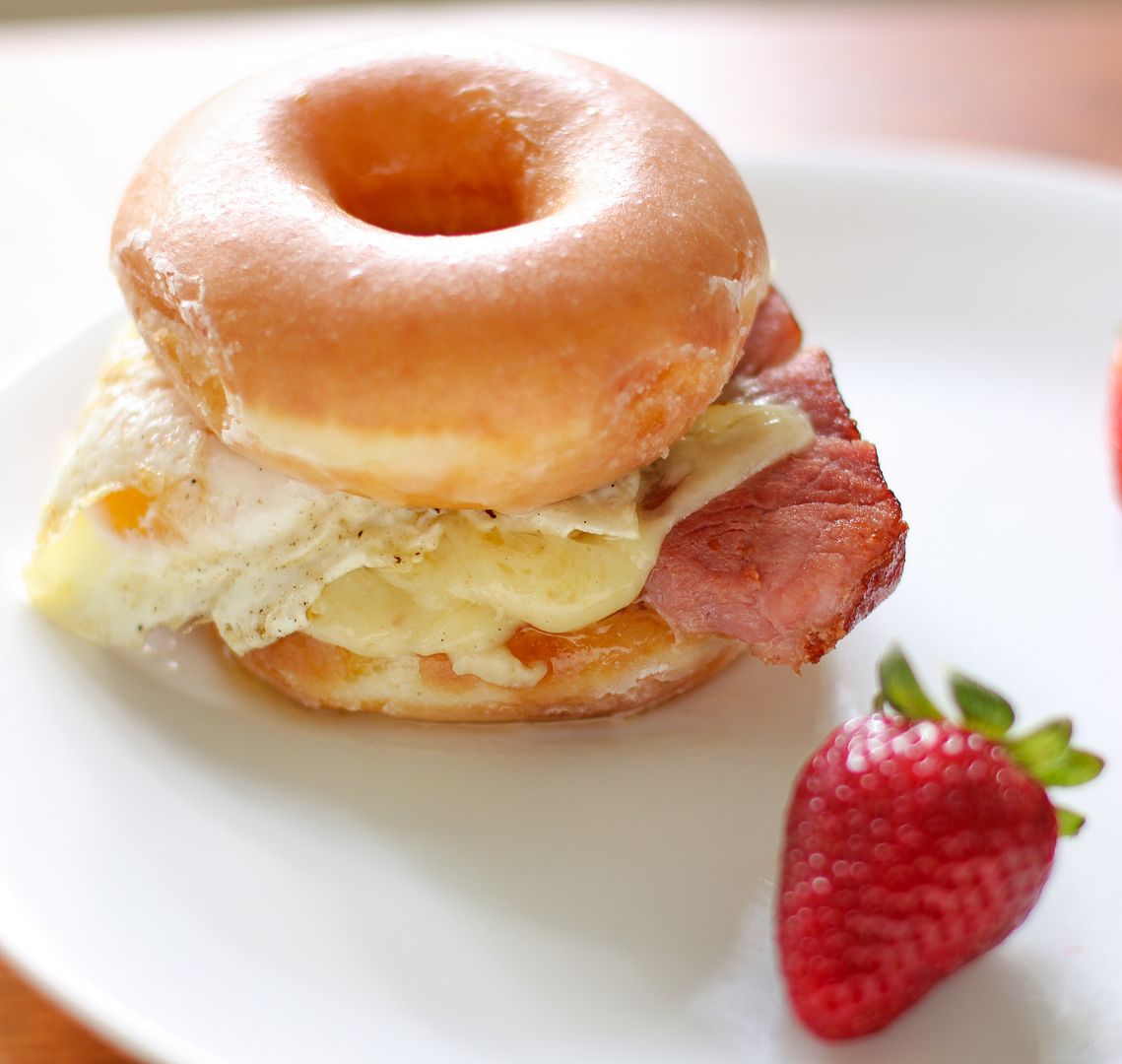 (Will it totally squander any shred of credibility gained from my New York Times mention and our fantastic discussion to post a doughnut sandwich right now? Yes? Oh.)
My 6th grade students and I take a field trip to High Point every year to watch a play produced by the North Carolina Shakespeare Festival. Shakespeare is the main event, but there's another attraction in High Point that inevitably catches the students' attention: the 60-year-old historic Krispy Kreme Doughnut shop on Main Street. It's exciting to see the "Hot Doughnuts Now" sign pop into view each year, but the first year we went, the doughnuts became a major source of dissent.
See, I divide students into small car groups before a field trip so that parent volunteers can drive us. That particular year we had 4 different vehicles carting us to High Point and back. After the play, each vehicle arrived back at school and unloaded a group of tired, contented 6th graders — until the last car arrived.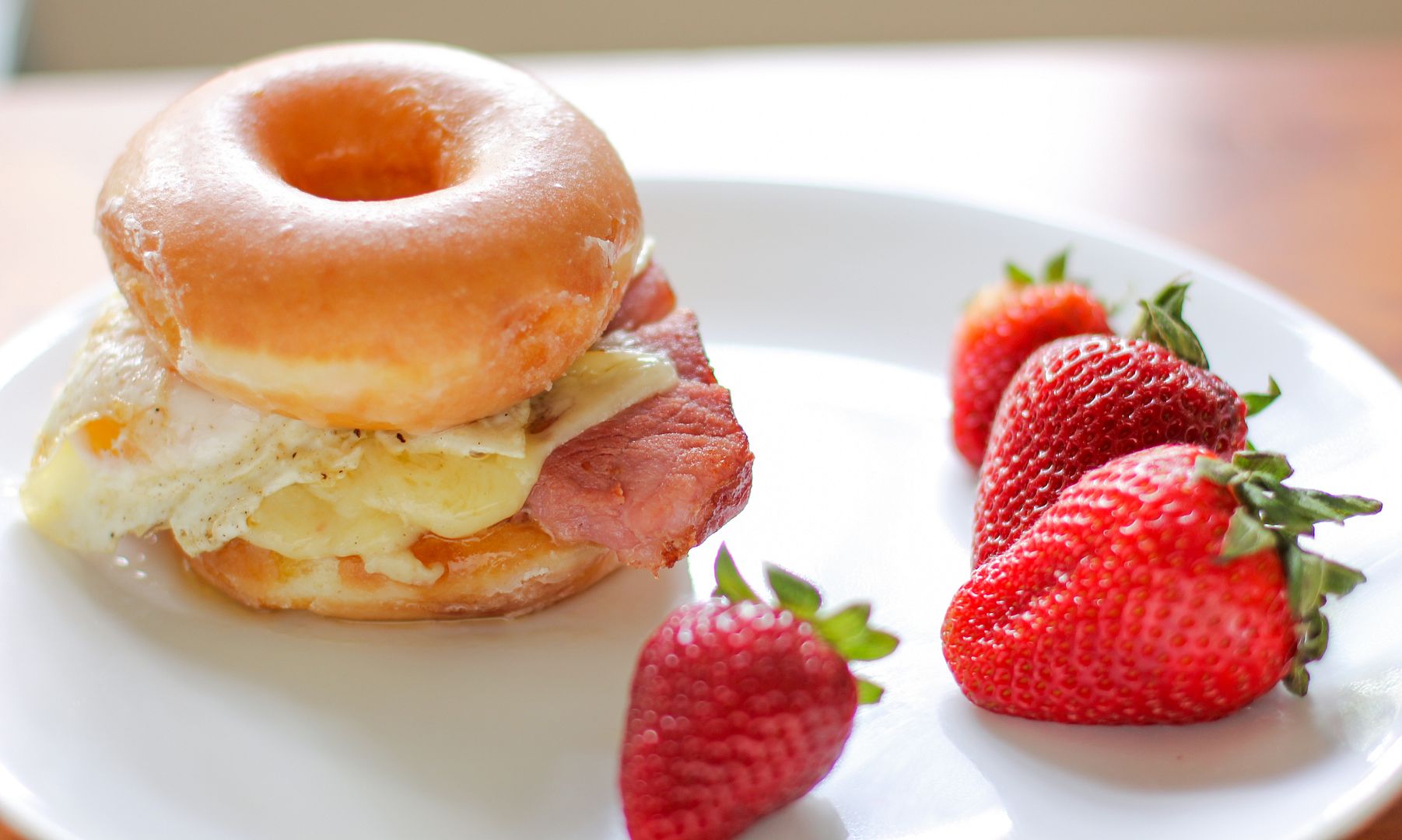 When the door opened on that car, I watched all heck break loose. Each kid stepped out, much to the shock and dismay of their classmates, sporting a paper Krispy Kreme hat. That's right: while every other kid had been driven straight back to school, this car had stopped for doughnuts.
My teacher sense kicked into gear. I recognized this moment! I knew it would come someday. This was the fateful moment when I had to whip out the line. You know the one (because you've either used it on your own kids or had it used on you). I looked around at all their outraged faces and said, feeling much older than I really was, "Guys, life's not fair."
They got over it. But since then, we've always made it a point to put "stop for a quick doughnut" on the field trip agenda. It's lovely to see them all get out of their cars with paper Krispy Kreme hats and fun memories at the end of the day.
Personally, I have trouble "stopping for a quick doughnut." It's easier for me to stop for, say, a dozen doughnuts. In case you don't already know this about me: I am wild for Krispy Kremes. Cake doughnuts are fine (only KK's cake doughnuts, though; I'm not a fan of that other cake doughnut chain), but those yeasty rings of love are my kryptonite.
Last year I created the "Just Trust Me" Fried Bologna Doughnutwich (no really, trust me! It's so good!) and recently I got a hankering for another version.
This sandwich is a take on a croque madame, which is a grilled ham and cheese sandwich topped with a fried egg and sometimes served on French toast. In this version, however, two original glazed Krispy Kreme doughnuts kick that French toast to the curb.
Listen, I know you're skeptical (everyone gets skeptical when they see a doughnutwich, and perhaps that is the most appropriate initial reaction), but the melty Gruyère, salty ham, and creamy "sauce" from the egg yolk are absolutely insane with the sweet glazed doughnut. Maybe I should call this the "Just Trust Me (Again)" Krispy Kreme Doughnut Croque Madame? It's probably a once-a-year sort of treat, but I hope you'll give it a try.
What's the "life's not fair!" moment you remember from your childhood? (here's another one of mine.)
One year ago: World's Best Grilled Cheese (sharp cheddar cheese & caramelized onions on beer bread)
Two years ago: Caramel Fudge Brownie Cheesecake
Krispy Kreme Doughnut Croque Madame

---


Recipe by: Willow Bird Baking
Yield: 2 sandwiches

Proving once and for all that I'm not a food snob, I offer you a sandwich on . . . a doughnut. The first Krispy Kreme breakfast sandwich I made was so amazing that I was ready for more. This time around I combined salty ham, melty Gruyère, and an over-easy fried egg on an original glazed Krispy Kreme doughnut to create a croque madame. The flavors are amazing together — trust me!

Ingredients:
4 Krispy Kreme original glazed doughnuts (or you can cut 2 in half if you're delicate)
2 thick slices of good smoked ham
2 slices Gruyère cheese
Hellmann's mayonnaise
2 eggs
salt and pepper
2-3 tablespoons butter

Directions:
Lay 2 doughnuts out on a plate. Melt a tablespoon of butter in a skillet over medium-high heat and sear the slices of ham on both sides briefly. Remove them to a paper towel to drain for a bit before placing each slice onto a doughnut. Top with a thin slice or two of Gruyère and microwave for a a few seconds to get the cheese melty. Smear with some mayonnaise.

Melt the last tablespoon of butter in your skillet. Break one egg at a time into the pan, salt and pepper it, and fry it to your desired doneness (I'd like to make a pitch for over-easy or -medium, since the gooey yolk is delicious in this sandwich!) Place the fried egg briefly on the paper-towel lined plate to drain off the excess butter, and then place one on top of each stack of ham and Gruyère. Top both sandwiches with another doughnut as the "top bun." Serve immediately.

P.S. In case you're wondering, this is not a sponsored post. I just really love Krispy Kremes.
If you liked this post, please:
–Subscribe to Willow Bird Baking
–Follow Willow Bird Baking on Twitter
–Follow Willow Bird Baking on Facebook