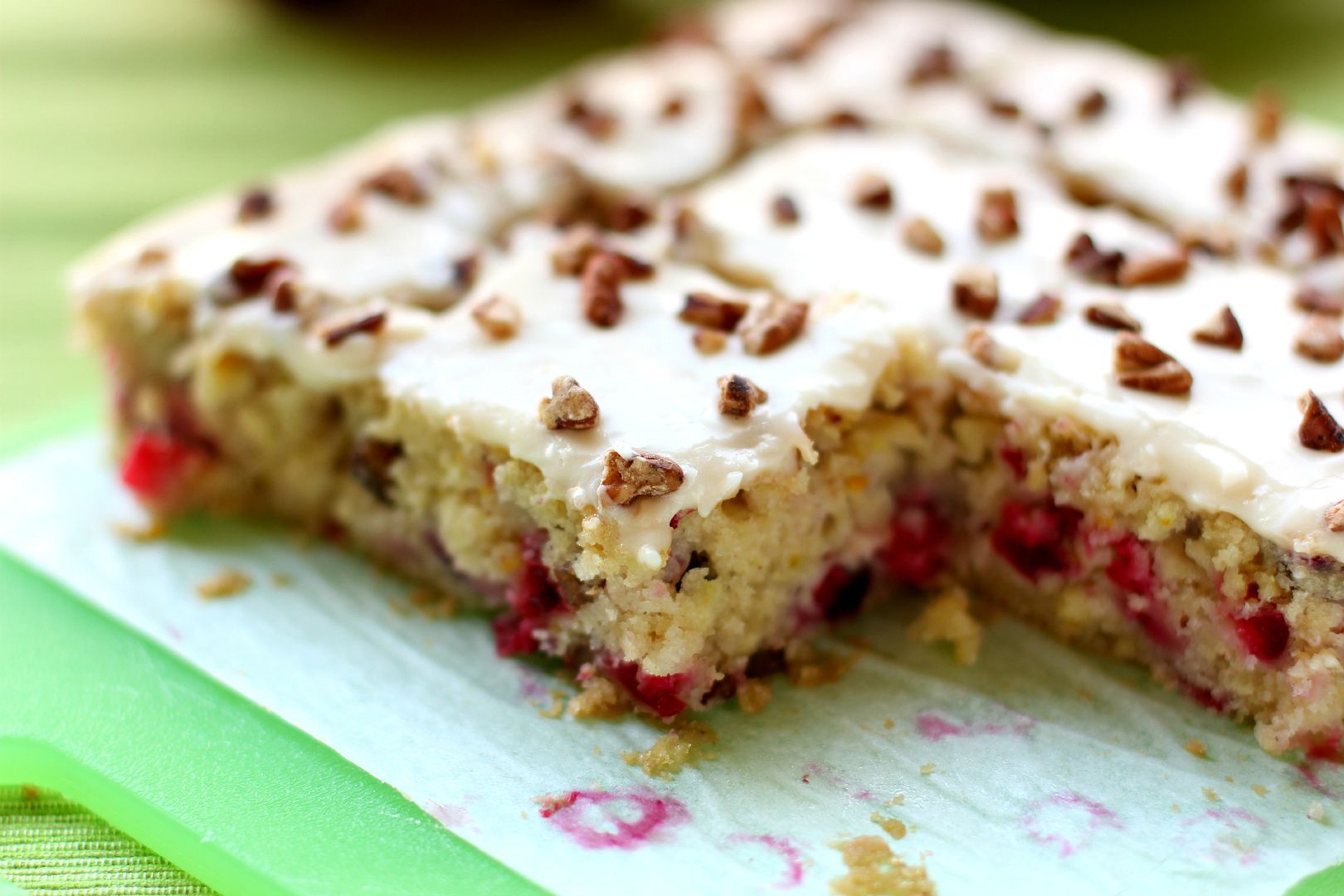 I'm sitting in my living room like a lump, listening to a Brazilian rock band and watching Mike exercise (I'm pretty sure I'm getting healthier by proxy). Byrd is snuggled beside me, a tiny fellow lump. I'm about to grade papers (I promise), but the sum total of my work today has been coining a new nickname for Byrd: Sweet Potato. It's a cross between sweetheart and couch potato. Get it?
So it's been a lazy day. I ate oatmeal on toast and then some sausages, caramelized onions, and sauerkraut for dinner. Mike and I discussed Jean Luc Picard. We finished watching Miracle on 34th Street. Byrd chewed on her toy for awhile. That's about the sum total of our productivity.
It's about time for some relaxation, though. I like to say that teachers don't really get a "weekend" for 10 months out of the year; we're hard at work or on call 24/7. Work and home start to blend together — you lesson plan at school and grade papers at home or vice versa, answering student and parent queries all the while. You squeeze in the other bits and pieces of your life wherever they fit (and sometimes leave them by the wayside altogether — I won't mention how long my carpet sometimes goes unvacuumed).
Also, I work at a project based school, which means students learn through authentic application projects. I'm wholeheartedly invested in this model, but it does mean that I'm always knee-deep in projects to grade.
I would never complain — I have the best job in the world (did I tell you about the lamb that was at school last week? Did I mention the Winter Wonderland where students caroled and drank hot chocolate? Did I tell you about how my students are actually excited to receive new projects?) But I definitely appreciate a break now and then.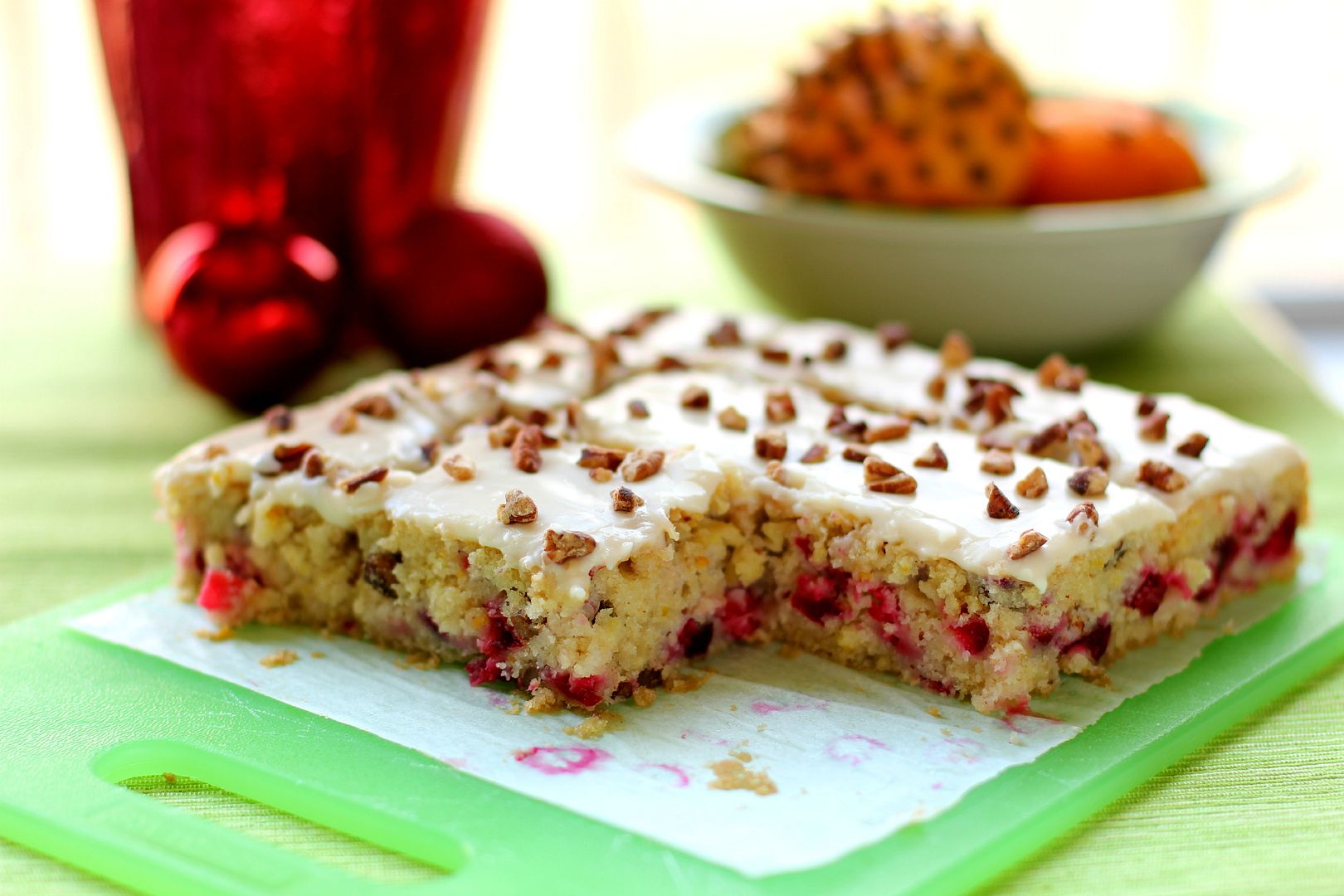 This break has been appreciated to the fullest. Honestly, this is my first day of lounging around in an otherwise caffeinated week. I've been getting housework done and prepping for the holidays. And Monday, I attended a baked goods swap (my first ever, if you can believe it) with the Charlotte Food Bloggers.
The Charlotte Food Bloggers are an incredibly varied group of people. We have mommy bloggers, vegan bloggers, healthy living bloggers, restaurant reviewers, and straight up food bloggers. I decided I wanted to make a dessert everyone could enjoy and that meant (gulp) baking vegan.
Vegan baking may conjure up ideas of dry or oily frankendesserts, but it really shouldn't. This cake, for instance, was as delicious as any non-vegan cake I've ever tasted. It was, if I do say so myself (and I did already, on Willow Bird Baking's Facebook page), pretty slammin'! It even passed the Mike test, and he's quite the carnivore.
The festive combination of orange zest and cranberries brightened up the moist cake, which was generously slathered with some dairy-free "cream cheese" frosting. Whether you're vegan or not, give this one a try.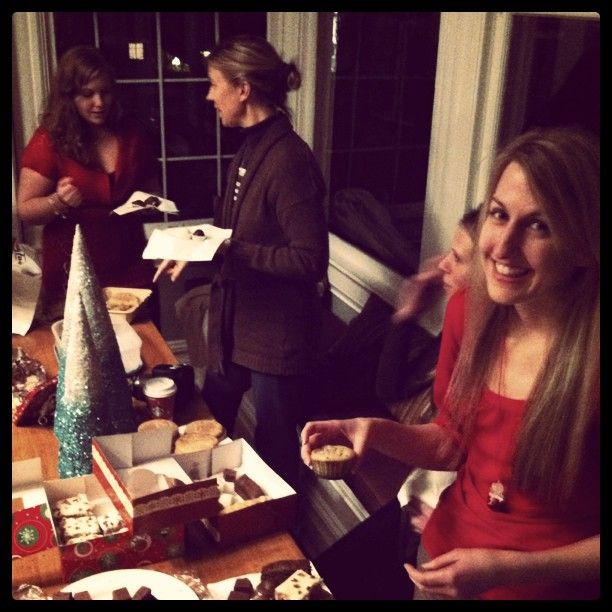 fun with the charlotte food bloggers (instagram courtesy of taylor mathis)
Vegan Cranberry Orange Pecan Cake

---


Recipe by: Adapted from the veganized version by The Tolerant Vegan, originally from Midwest Living
Yield: 9 servings

This cake is fantastic! It's a moist, delicious "butter" cake full of festive cranberries, orange zest, and toasted pecans. The whole thing is slathered with dairy-free cream cheese frosting that, unlike some other vegan frostings I've tried, is a great consistency for spreading. Whether you're a vegan or not, you'll love every bite of this cake.

Cake Ingredients:
3/8 cup Earth Balance Natural Buttery Spread
3/4 cups sugar
1/4 cup unsweetened applesauce
5/8 cup vanilla almond milk
1 teaspoon vanilla extract
1 1/4 teaspoon baking powder
1/2 teaspoon baking soda
1/8 teaspoon sea salt
1 1/4 cups all-purpose flour
1 1/2 teaspoons distilled white vinegar
1 cup cranberries, fresh or frozen, chopped
1/4 cup toasted pecans, chopped (plus more for sprinkling)
1 tablespoon orange zest

Frosting Ingredients:
1 cup confectioners' sugar
2 tablespoons plus 2 teaspoons dairy-free cream cheese, softened (I used Trader Joe's This is Not a Tub of Cream Cheese)
2 tablespoons plus 2 teaspoons Earth Balance Natural Buttery Spread, softened
1/4 teaspoon vanilla extract

Directions:
Preheat your oven to 375 degrees Fahrenheit. Prepare an 8-inch square baking pan by greasing it with Earth Balance and flouring it. Place a parchment paper square in the bottom, and grease and flour the paper as well. (Note: You can double this recipe and make it in a 9 x 13-inch pan).

In a large bowl, cream together the Earth Balance and sugar for 2-3 minutes until fluffy. Mix in the applesauce, almond milk, and vanilla extract. In a separate bowl, whisk together the baking powder, baking soda, sea salt and flour. Add the dry ingredients to the wet ingredients and mix until fully combined.

Mix in the vinegar. Fold in the cranberries, pecans, and orange zest. Pour the batter into your prepared pan and bake for 25-30 minutes, or until a toothpick inserted in the center of the cake comes out with just a few moist crumbs. Allow the cake to cool completely before you frost it.

To make the frosting, place confectioners' sugar, dairy-free cream cheese, Earth Balance, and vanilla extract in a bowl and mix until combined and fluffy. Spread the frosting on the cake, sprinkle with toasted pecans, and serve.
P.S. I just learned about orange pomanders this year and have enjoyed making them. Just poke some whole cloves into a few oranges. You can make any design you like. They smell lovely and are a fun little Christmas craft.
P.S. 2 – See Taylor's visual recap of the CFB baked goods swap here. Lots of pretty food!
If you liked this post, please:
–Subscribe to Willow Bird Baking
–Follow Willow Bird Baking on Twitter
–Follow Willow Bird Baking on Facebook
–Give this post a thumbs up on StumbleUpon
–Pin It
other ways to share this post with friends