Hot Buttered Rum Cake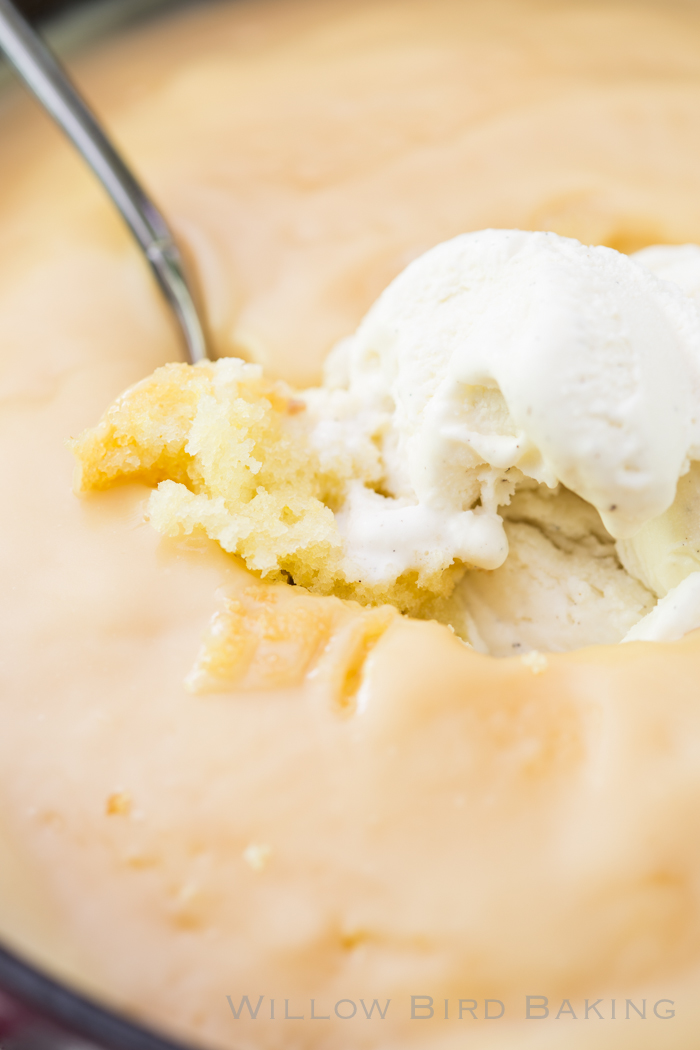 Author:
Willow Bird Baking
1/2 cup butter
1/2 cup water
1 1/8 cups cake flour
1 cup white sugar
1/2 teaspoon baking soda
1/2 teaspoon salt
1 egg, lightly beaten
1/4 cup sour cream
1/4 teaspoon almond extract
1/4 teaspoon vanilla extract
1/4 cup butter
1/8 cup water
1/2 cup sugar
1/4 cup spiced rum
1/2 cup sugar
1/4 cup butter, cut into chunks
1/3 cup evaporated milk
pinch of salt
1/2 teaspoon vanilla extract
vanilla bean ice cream (optional, for serving)
To make the cake: Preheat the oven to 375 degrees and prepare a 10-inch oven-safe skillet sprayed with cooking spray. In a medium saucepan over medium heat, bring the butter and water to a boil. In the meantime, in a separate large bowl, whisk together the cake flour, sugar, baking soda, and salt before whisking in the egg, sour cream, almond extract, vanilla extract. Mix to combine. While mixing, slowly pour in the boiling butter and water mixture. Mix to combine completely. Your batter will be very runny. Pour the batter into the prepared baking pan. Bake at 375 degrees for 17-22 minutes or until a toothpick inserted in several places comes out with a few moist crumbs. Gently poke holes all across the top of the cake with a fork or wooden skewer.
Make the rum glaze: While the cake cooks, combine butter, water, and sugar in a saucepan and bring to a boil over medium heat and continue to boil for 5 minutes, stirring constantly. Remove from heat and stir in spiced rum. Pour over the top of the warm cake and set aside to soak in.
Make the icing: Bring the sugar, butter, evaporated milk, and salt to a boil over medium-high heat. Reduce the heat and simmer, whisking constantly, for 10 minutes. The frosting will bubble like caramel most of the time and you'll notice it start to pull away from the sides of the pan as it nears the 10-minute mark. Remove the icing from the heat and whisk in the vanilla extract. Pour the icing over the hot cake and spread quickly, because it begins to set immediately. Serve the cake immediately with vanilla ice cream.