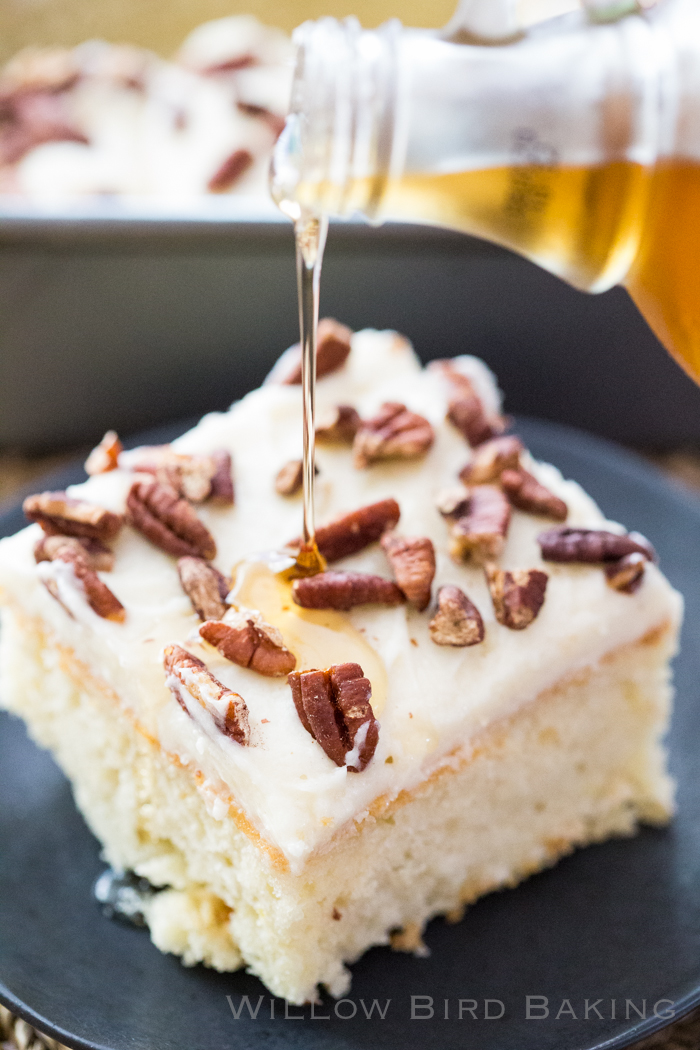 Maple Cake with Whipped Icing
Election day is coming up November 6. Will you take 30 seconds to double check that you're registered to vote? Here's the link to check.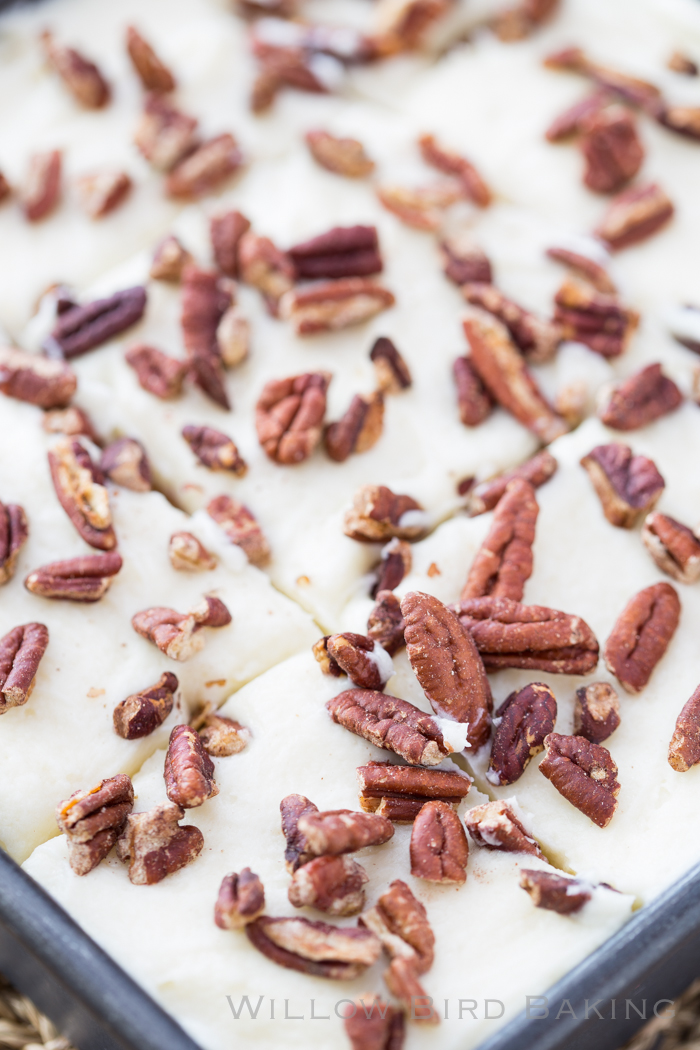 And here's the deadline to register in your state in order to vote in the election.
Here are some other things you can do:
Ask the college kids in your life if they're registered to vote and if they need help getting to the polls on election day.
Ask friends and family if they need help with childcare or help getting to the polls on election day.
Get a group together to phonebank.
Donate to candidates in swing districts.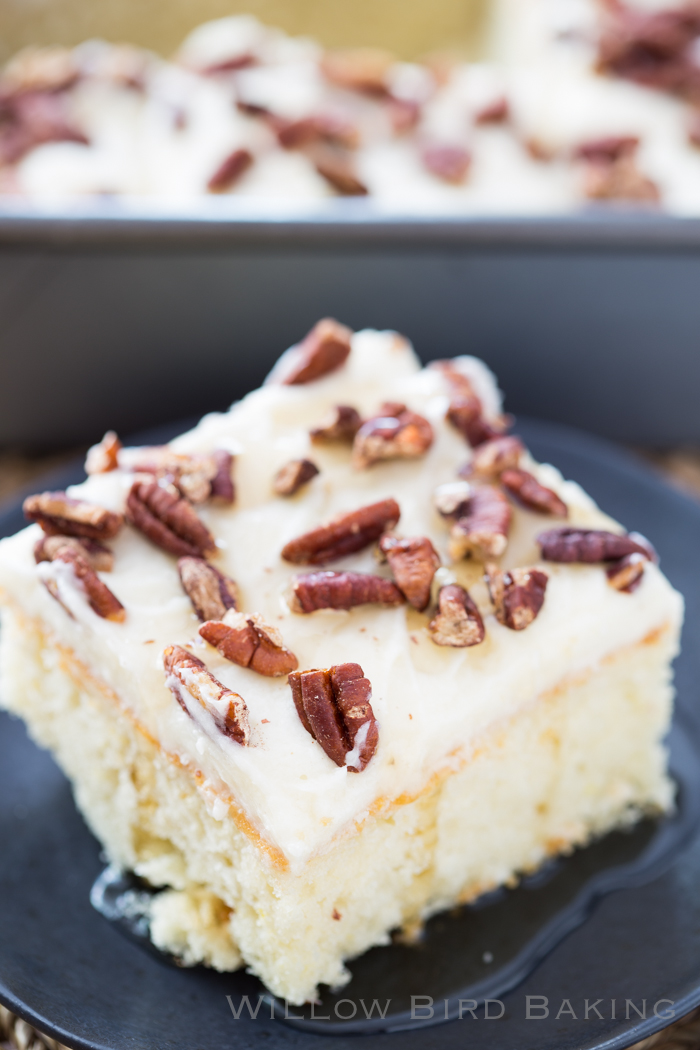 This week was rough. I hope it makes you feel better to do a few concrete things to try to repair some of the harm that has been done. And in the meantime, I hope you eat some cake, too. Sending hugs all around.
One year ago: Pumpkin Cake with Oatmeal Cookie Crust
Two years ago: Apple Streusel Cheesecake Pockets
Three years ago: Pumpkin Skillet Cake with Caramel Crackle Icing
Four years ago: No-Bake Coconut Icebox Cake
Five years ago: Easy Homemade Peach Cobbler
Six years ago: Brown Butter Pumpkin Cake Cheesecake with Salted Caramel
Seven years ago: Easy Sopapilla Pumpkin Cheesecake Bars
Eight years ago: Chili-Lime Roasted Chickpeas
Nine years ago: Miniature Pies: Pumpkin, Sour Cream Apple, and Peach Crisp

Maple Cake with Whipped Icing
This Maple Cake with Whipped Icing is the perfect simple maple snack cake for fall, topped with clouds of my favorite fluffy whipped icing!
Author:
Willow Bird Baking
Ingredients
Cake Ingredients:
1/2 cup butter
1/2 cup water
1 1/8 cups cake flour
1 cup white sugar
1/2 teaspoon baking soda
1/2 teaspoon salt
1 egg, lightly beaten
1/4 cup sour cream
1/8 teaspoon almond extract
1/8 teaspoon vanilla extract
1/2 teaspoon maple extract
Whipped Icing Ingredients:
1 cup milk
5 tablespoons flour
1 1/4 cups granulated sugar (not powdered sugar)
1/2 teaspoons vanilla extract
1/2 teaspoon almond extract
1 teaspoon maple extract
1 cup butter, at room temperature
1/2 cup chopped pecans
maple syrup for drizzling
Instructions
To make the cake: Preheat the oven to 350 degrees F and grease an 8-inch square baking pan (I also place a greased sheet of parchment in the bottom for extra assurance.) Cover a separate baking sheet with aluminum foil and toast the pecans for 5-6 minutes, stirring occasionally, or until toasted and fragrant. Set aside to cool.
In a medium saucepan over medium heat, bring the butter and water to a boil. In the meantime, in a separate large bowl, whisk together the cake flour, sugar, baking soda, and salt before whisking in the egg, sour cream, almond extract, vanilla extract. Mix to combine. While mixing, slowly pour in the boiling butter and water mixture. Mix to combine completely. Your batter will be very runny. Pour the batter into the prepared baking pan. Bake at 375 degrees for 17-22 minutes or until a toothpick inserted in several places comes out with a few moist crumbs. Let the cake cool completely (I even chill mine a bit). While the cake bakes, prepare everything to start your frosting.
While the cake bakes, heat the milk, flour, and granulated sugar together over medium heat, whisking constantly. Once it starts to boil, continue whisking and heating it for around 7 minutes or until it's very thick, like cake batter consistency. Remove the mixture from the heat and add the extracts. Remove the mixture to a shallow pan and let the mixture cool completely (after a bit, I stuck mine in the fridge to hurry it along).
Once the mixture and the cake are both completely cool, beat the butter in the bowl of a stand mixer until soft and fluffy. Add the completely cooled mixture and beat on high until you have fluffy frosting the consistency of stiff whipped cream (this takes several minutes, so be patient). Frost your completely cooled cake with a thick layer. Top with toasted pecans and a drizzle of maple syrup. Serve immediately.