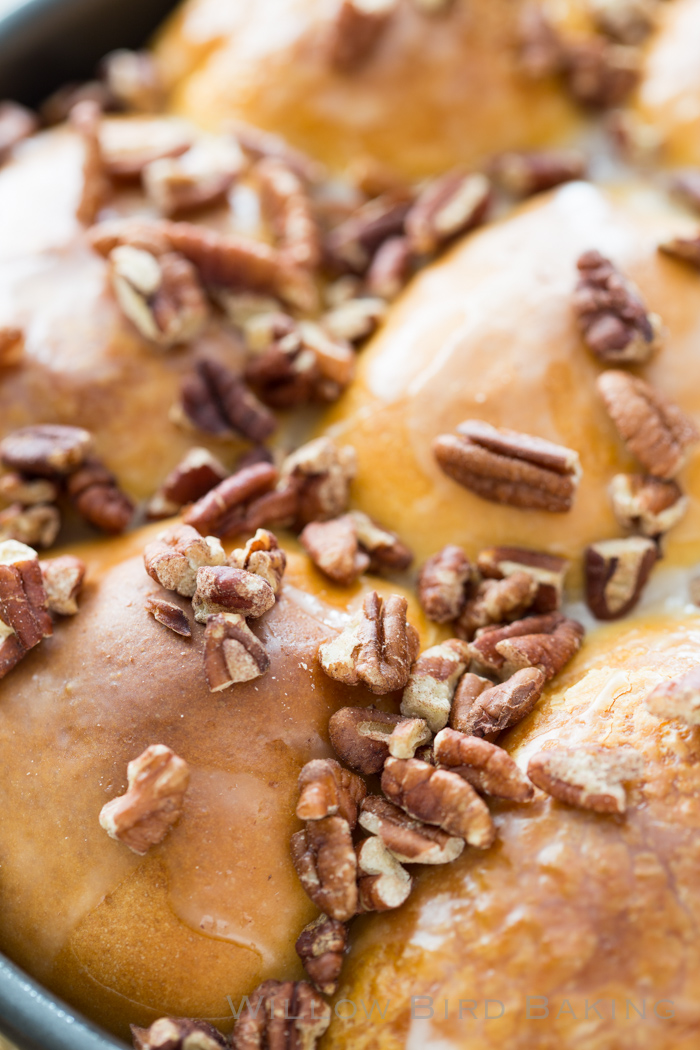 Maple Brown Sugar Biscuit Bombs
What are your donut requirements? I HAVE VERY SPECIFIC DONUT REQUIREMENTS AND CALIFORNIA HASN'T BEEN MEETING THEM.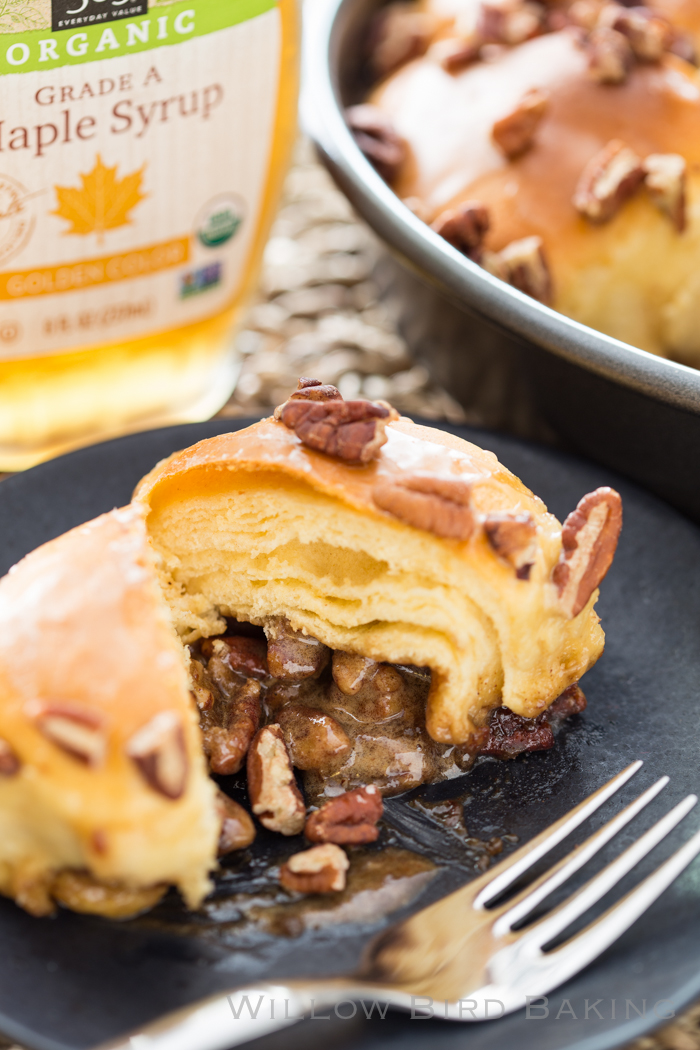 First and foremost, donuts need to be served hot and fresh from the fryer. All the donuts here in San Diego sit out in cases getting progressively colder and harder, like your bitter Aunt Ida's mood and general life outlook. They're okay at the places with fast donut turnover, but still . . . why bother with a cold donut?
So many places in North Carolina served hot donuts, so what gives out here? At least Hawaiian places serve fresh malasadas.
Second, they've gotta be simple, good flavors. I don't want cereal on my doughnut. I don't want 8 kinds of sprinkles. I want a good maple glaze on a HOT DONUT WHY IS THIS SO MUCH TO ASK.
Third, sorry to every food blogger I'm throwing under the bus right now, but: NO BAKED DONUTS. A baked donut is just a muffin with a hole in it. And if I want a muffin, I'll eat a flippin' muffin. (And I never want a muffin.)
PUT IT IN THE FRYER. And it needs to still taste a little like fryer oil when it hits my mouth, please. And stop judging me, SUSAN.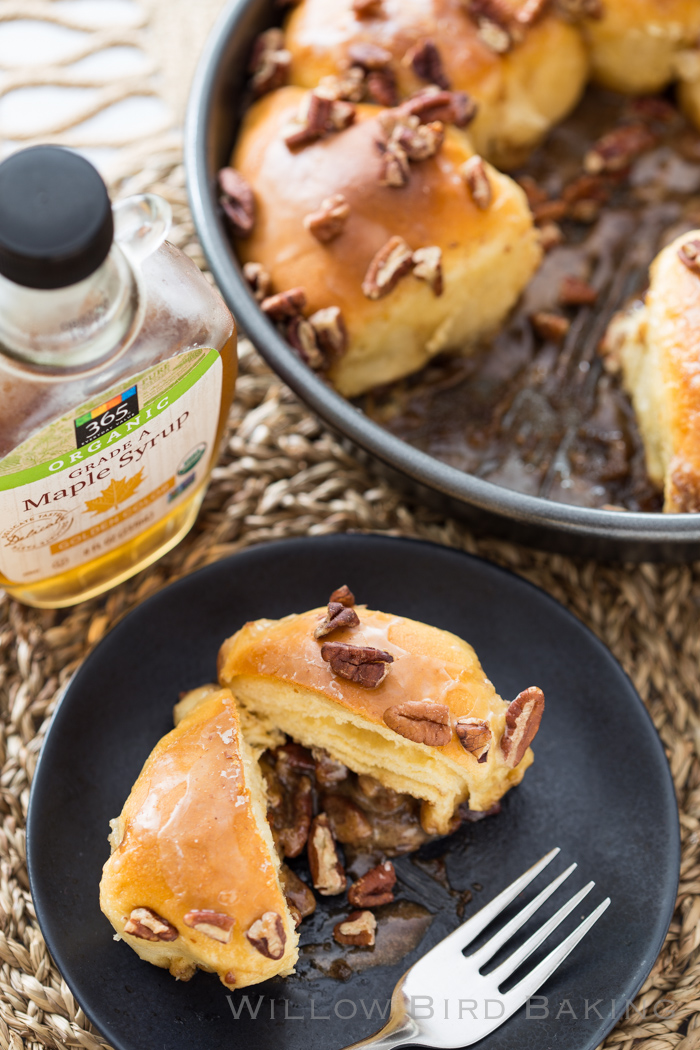 Thank God that my favorite donut shop from North Carolina, Duck Donuts, just opened a shop in Encinitas about 40 minutes north of me, because I was in a donut drought. There are some good places down here, don't get me wrong, but I was more than ready for Duck Donuts' made-to-order vanilla cake donuts (with the seasonal pumpkin icing, please.)
No Duck Donuts where you live? Don't worry: I made you some Maple Brown Sugar Biscuit Bombs to tide you over. Or, let's keep it real . . . and have both! Happy Fall!
One year ago: Hot Smoked Salmon Dip
Two years ago: Pumpkin Pie Monkey Bread
Three years ago: 3-Ingredient Slow-Cooker Pumpkin Cake
Four years ago: Smoked Whitefish Salad Vols-au-Vent
Five years ago: Pumpkin Cheesecake Pillow Popovers
Six years ago: "Magic" Chocolate, Coconut, and Pecan Pastry Braid
Seven years ago: Pumpkin Cheesecake Stuffed Snickerdoodles
Eight years ago: Marbled Chocolate Cheesecake Brownies
Nine years ago: Homemade Puff Pastry and Vol-au-vents

Maple Brown Sugar Biscuit Bombs
These Maple Brown Sugar Biscuit Bombs are the perfect fall dessert! Flaky biscuits are filled with gooey maple brown sugar and topped with a sweet maple glaze and toasted pecans. To toast pecans for this recipe, spread them on a baking sheet and bake at 350 degrees F for 5-6 minutes, stirring regularly, or until toasted and fragrant.
Author:
Willow Bird Baking
Ingredients
1 can (8-count/16.3 ounces) Pillsbury Grands! Biscuits or similar product
1 cup packed brown sugar
2 tablespoons plus 1 1/2 teaspoons all-purpose flour
1 1/2 teaspoons ground cinnamon
1 egg
1/2 teaspoon maple extract
3/4 cup toasted pecans, chopped, plus more for topping
1/2 cup powdered sugar
1/2 teaspoon maple extract
2 tablespoons water or milk
Instructions
Preheat oven to 350°F. Spray a 9-inch round cake pan with nonstick cooking spray.
Whisk together brown sugar, flour, cinnamon, egg, and maple flavoring to form a paste. Stir in toasted pecans and set aside in the fridge.
Unroll and flatten each biscuit. Place about 1 tablespoon of brown sugar mixture in the center, and pinch together the edges of the biscuit to conceal (sometimes this is hard to completely seal and a little messy. Don't worry. Try your best and then plop them opening side down and they'll bake up lovely!). Place in prepared pan with the seam down.
Bake 20-25 minutes, or until deeply golden brown (let them get pretty dark on top to ensure they're cooked all the way through). Cool at least 10 minutes before icing and/or serving.
To make icing: whisk powdered sugar, maple extract, and water or milk together to a pourable consistency. Drizzle over biscuit bombs and top with extra toasted pecans. Serve warm.
Store loosely covered in fridge for up to 2 days.