Maple Cake with Whipped Icing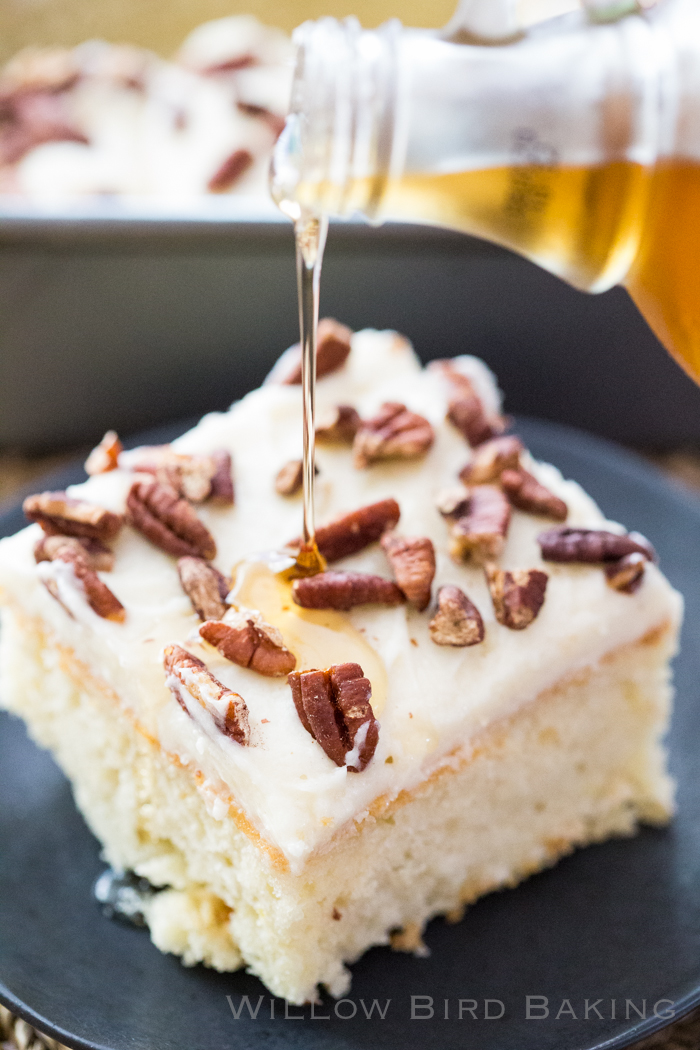 Author:
Willow Bird Baking
1/2 cup butter
1/2 cup water
1 1/8 cups cake flour
1 cup white sugar
1/2 teaspoon baking soda
1/2 teaspoon salt
1 egg, lightly beaten
1/4 cup sour cream
1/8 teaspoon almond extract
1/8 teaspoon vanilla extract
1/2 teaspoon maple extract
1 cup milk
5 tablespoons flour
1 1/4 cups granulated sugar (not powdered sugar)
1/2 teaspoons vanilla extract
1/2 teaspoon almond extract
1 teaspoon maple extract
1 cup butter, at room temperature
1/2 cup chopped pecans
maple syrup for drizzling
To make the cake: Preheat the oven to 350 degrees F and grease an 8-inch square baking pan (I also place a greased sheet of parchment in the bottom for extra assurance.) Cover a separate baking sheet with aluminum foil and toast the pecans for 5-6 minutes, stirring occasionally, or until toasted and fragrant. Set aside to cool.
In a medium saucepan over medium heat, bring the butter and water to a boil. In the meantime, in a separate large bowl, whisk together the cake flour, sugar, baking soda, and salt before whisking in the egg, sour cream, almond extract, vanilla extract. Mix to combine. While mixing, slowly pour in the boiling butter and water mixture. Mix to combine completely. Your batter will be very runny. Pour the batter into the prepared baking pan. Bake at 375 degrees for 17-22 minutes or until a toothpick inserted in several places comes out with a few moist crumbs. Let the cake cool completely (I even chill mine a bit). While the cake bakes, prepare everything to start your frosting.
While the cake bakes, heat the milk, flour, and granulated sugar together over medium heat, whisking constantly. Once it starts to boil, continue whisking and heating it for around 7 minutes or until it's very thick, like cake batter consistency. Remove the mixture from the heat and add the extracts. Remove the mixture to a shallow pan and let the mixture cool completely (after a bit, I stuck mine in the fridge to hurry it along).
Once the mixture and the cake are both completely cool, beat the butter in the bowl of a stand mixer until soft and fluffy. Add the completely cooled mixture and beat on high until you have fluffy frosting the consistency of stiff whipped cream (this takes several minutes, so be patient). Frost your completely cooled cake with a thick layer. Top with toasted pecans and a drizzle of maple syrup. Serve immediately.
Recipe by
Willow Bird Baking
at http://willowbirdbaking.com/2018/10/07/maple-cake-whipped-icing/