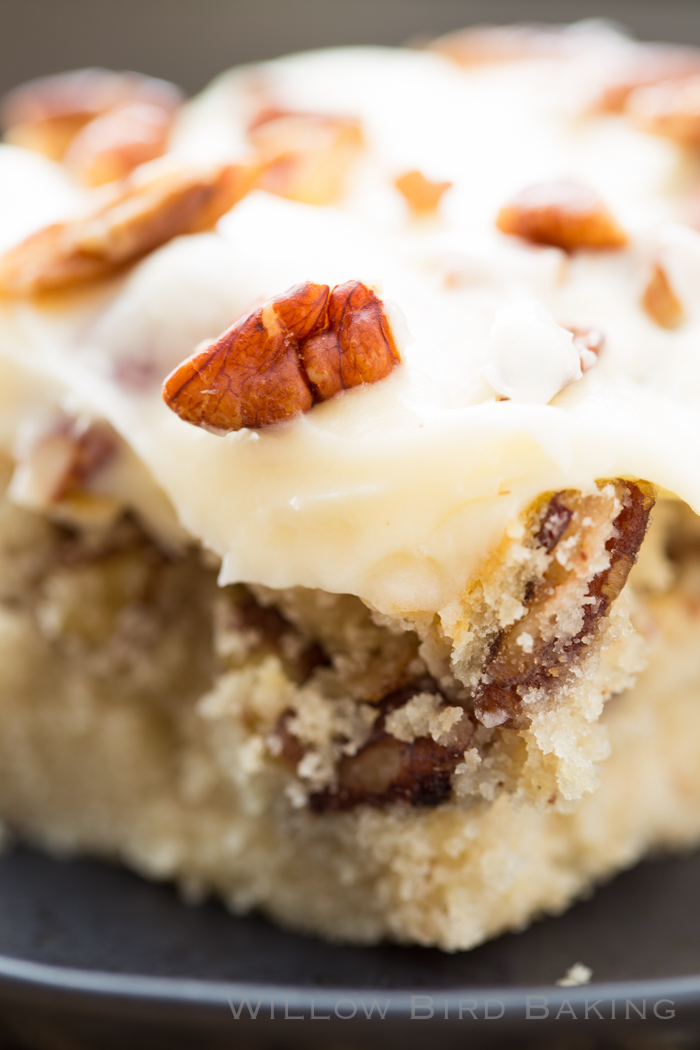 Butter Pecan Cake
When I was little, my favorite ice cream flavor was always cookies & cream. That is, until the early 90s, when cookie dough ice cream hit the shelves. Ice cream with cookie dough MIXED RIGHT IN. Like you literally didn't even have to sneak it out of the fridge anymore. My little life was changed.
While I was busy surveying new flavors and adjusting accordingly, though, my dad always stayed true to his one favorite flavor: butter pecan.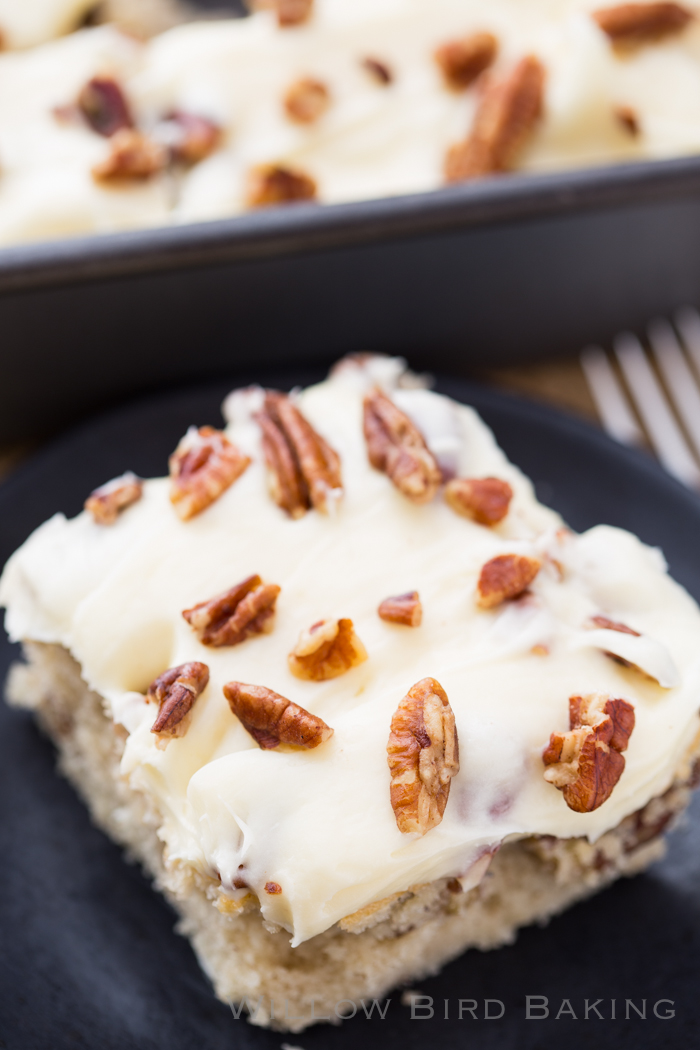 We usually had a tub of it sitting in the fridge and I admit, in between dalliances with cookie dough and oreo and fudge brownie batter and everything else, I really did enjoy a bowl or two of butter pecan.
These days I haven't had it in forever, but I never forget that flavor. I've been missing home and my family lately but probably won't get to see them until Christmas, so I decided to recreate that familiar flavor in cake form!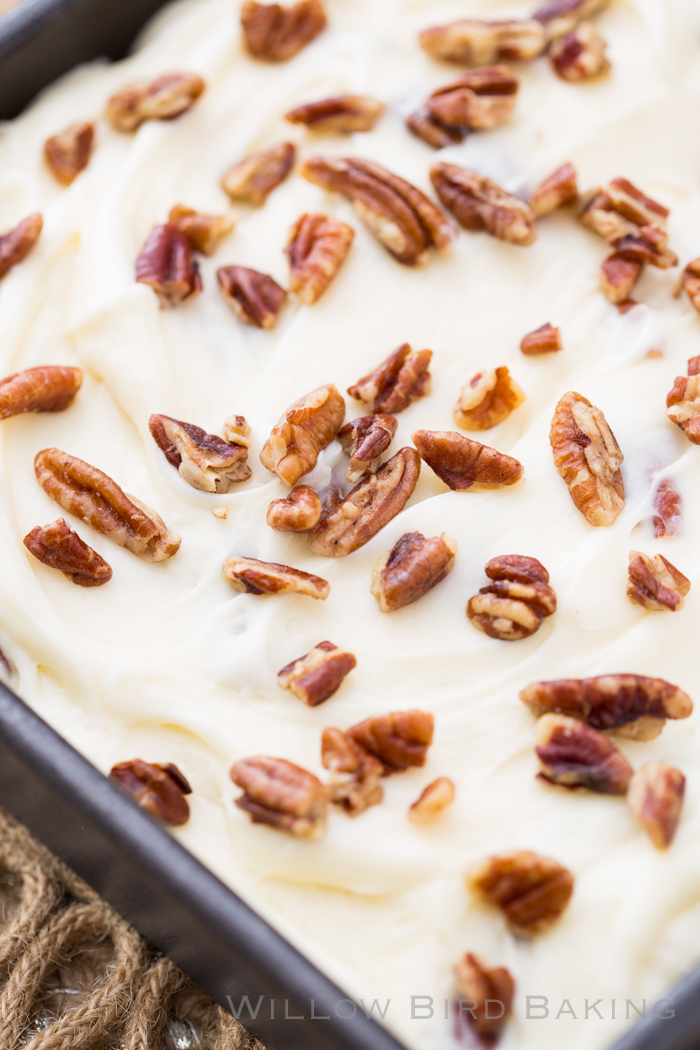 This butter pecan cake combines buttery, moist yellow cake; toasted pecans; and light and fluffy butter pecan frosting. If you're a fan of butter pecan ice cream, it's the perfect snack cake for you! Enjoy!
One year ago: Caramelized Pineapple Parfaits
Two years ago: Blueberry Goat Cheese Pastry Braid
Three years ago: Roasted Peaches and Shortbread Ice Cream Sundae
Four years ago: Red Wine Summer Sangria (and Sangria Slushies)
Five years ago: Limoncello-Spiked Shortbread Icebox Cake with Fresh Raspberries
Six years ago: Lemon Raspberry Squares
Seven years ago: Homemade Butter Croissants or Pains au Chocolat

Butter Pecan Cake
We grew up eating butter pecan ice cream because it was my dad's favorite! If you love butter pecan too, this cake combines a tender butter pecan yellow cake with delicious whipped butter pecan cream cheese frosting!
Author:
Willow Bird Baking
Ingredients
Cake Ingredients:
1 1/2 cups pecans chopped
1/2 cup plus 1/4 cup butter, divided
1/2 cup water
1 cup + 2 tablespoons cake flour
1 cup white sugar
1 egg, lightly beaten
1/4 cup sour cream
1/4 teaspoon almond extract
1/4 teaspoon vanilla extract
1/4 teaspoon butter extract
1/2 teaspoon baking soda
1/2 teaspoon salt
Butter Pecan Frosting Ingredients:
4 cups powdered sugar
1 (8-ounce) package cream cheese, at room temperature
1/2 cup butter, at room temperature
3/4 teaspoon almond extract
3/4 teaspoon vanilla extract
1/2 teaspoon butter extract
Instructions
Make the cake: Preheat the oven to 375 degrees and grease an 8-inch square baking pan (I use spray the pan with cooking spray and then place a sheet of greased parchment in the bottom of the pan). In a skillet over medium-low heat, melt the 1/4 cup of butter. Add the pecans and toss to coat. Toast, stirring often, until the nuts are fragrant and toasted and the butter is lightly browned (adjust the temperature lower or higher if you notice your nuts are toasting too fast for the butter to brown or too slow for the butter not to burn). Set aside.
In a medium saucepan over medium heat, bring the butter and water to a boil. In the meantime, in a separate large bowl, whisk together the cake flour and sugar before adding the egg, sour cream, almond extract, vanilla extract, butter extract, baking soda, and salt. Mix to combine. While mixing, slowly pour in the boiling butter and water mixture. Mix to combine completely. Your batter will be very runny. Stir in 1 cup of the toasted pecans, reserving 1/2 cup for your frosting. Pour the batter into the prepared baking pan. Bake at 375 degrees for 17-22 minutes or until a toothpick inserted in several places comes out with a few moist crumbs. Let cool completely.
Make the butter pecan frosting: In a large bowl, beat the cream cheese and butter together until combined. Gradually add the powdered sugar and beat until light and fluffy. Beat in the almond, vanilla, and butter extracts. Stir in the reserved toasted pecans (or reserve them to sprinkle over the frosted cake). Frost the cake and serve.