Butter Pecan Cake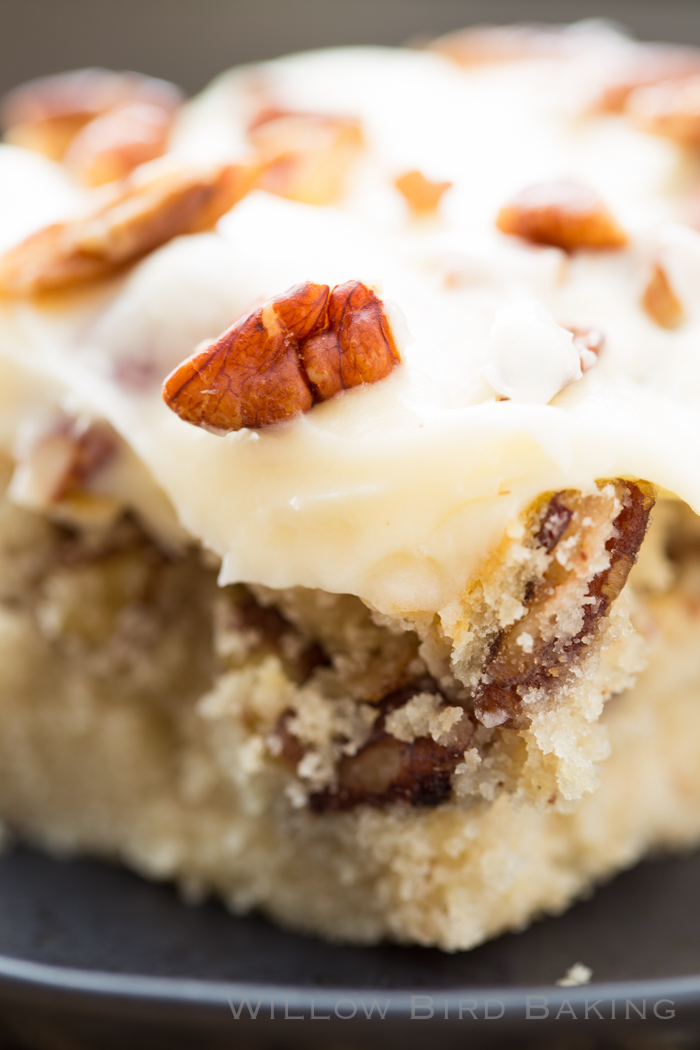 Author:
Willow Bird Baking
1 1/2 cups pecans chopped
1/2 cup plus 1/4 cup butter, divided
1/2 cup water
1 cup + 2 tablespoons cake flour
1 cup white sugar
1 egg, lightly beaten
1/4 cup sour cream
1/4 teaspoon almond extract
1/4 teaspoon vanilla extract
1/4 teaspoon butter extract
1/2 teaspoon baking soda
1/2 teaspoon salt
4 cups powdered sugar
1 (8-ounce) package cream cheese, at room temperature
1/2 cup butter, at room temperature
3/4 teaspoon almond extract
3/4 teaspoon vanilla extract
1/2 teaspoon butter extract
Make the cake: Preheat the oven to 375 degrees and grease an 8-inch square baking pan (I use spray the pan with cooking spray and then place a sheet of greased parchment in the bottom of the pan). In a skillet over medium-low heat, melt the 1/4 cup of butter. Add the pecans and toss to coat. Toast, stirring often, until the nuts are fragrant and toasted and the butter is lightly browned (adjust the temperature lower or higher if you notice your nuts are toasting too fast for the butter to brown or too slow for the butter not to burn). Set aside.
In a medium saucepan over medium heat, bring the butter and water to a boil. In the meantime, in a separate large bowl, whisk together the cake flour and sugar before adding the egg, sour cream, almond extract, vanilla extract, butter extract, baking soda, and salt. Mix to combine. While mixing, slowly pour in the boiling butter and water mixture. Mix to combine completely. Your batter will be very runny. Stir in 1 cup of the toasted pecans, reserving 1/2 cup for your frosting. Pour the batter into the prepared baking pan. Bake at 375 degrees for 17-22 minutes or until a toothpick inserted in several places comes out with a few moist crumbs. Let cool completely.
Make the butter pecan frosting: In a large bowl, beat the cream cheese and butter together until combined. Gradually add the powdered sugar and beat until light and fluffy. Beat in the almond, vanilla, and butter extracts. Stir in the reserved toasted pecans (or reserve them to sprinkle over the frosted cake). Frost the cake and serve.