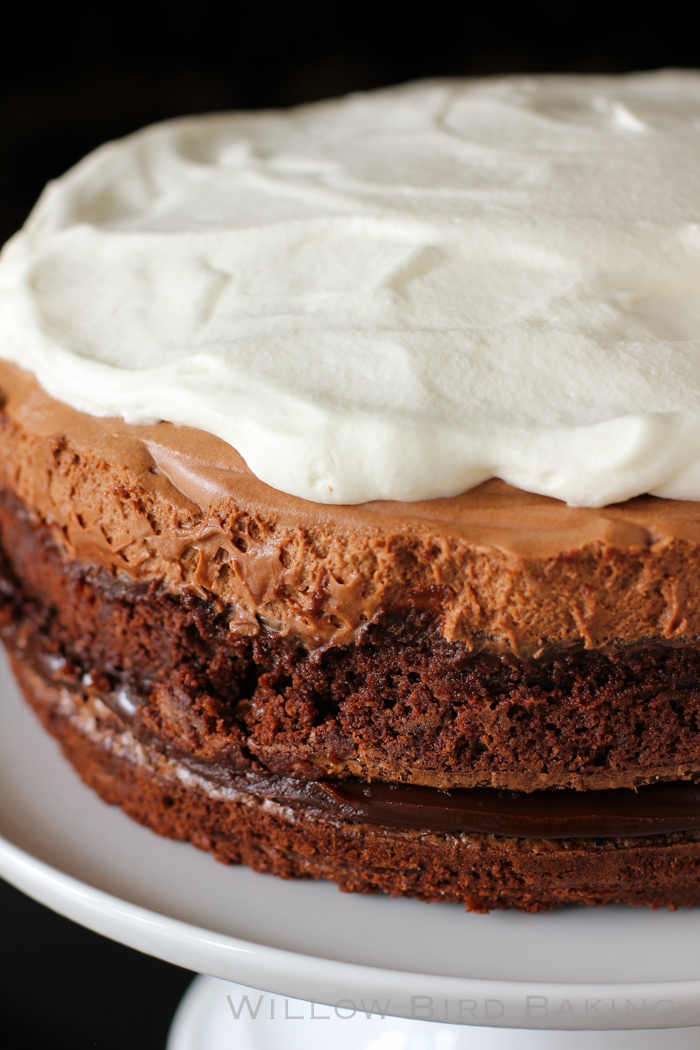 Brownie Blackout Mousse Cake
I wrote this post as part of the Plugrá Butter Brigade. Thanks, Plugrá, for sponsoring this chocolatey amazingness and for making my favorite butter!
Let's talk COFFEE. I need advice.
To preface, I'm new at this whole coffee thing. I started drinking coffee in May because I was in Europe with a group of 9th graders and absolutely exhausted (I know, poor me! Gallivanting around Italy with all expenses paid! Tiny violin.) It also just seemed to be the European thing to do, right? To sip a cup of strong espresso alongside my breakfast of hard boiled eggs and cheese. And I'm nothing if not très European (just ask the waiter who tried his hardest not to laugh at my French-with-a-Southern-accent.)
Anyhow, I'm hooked now. But I'm also clueless.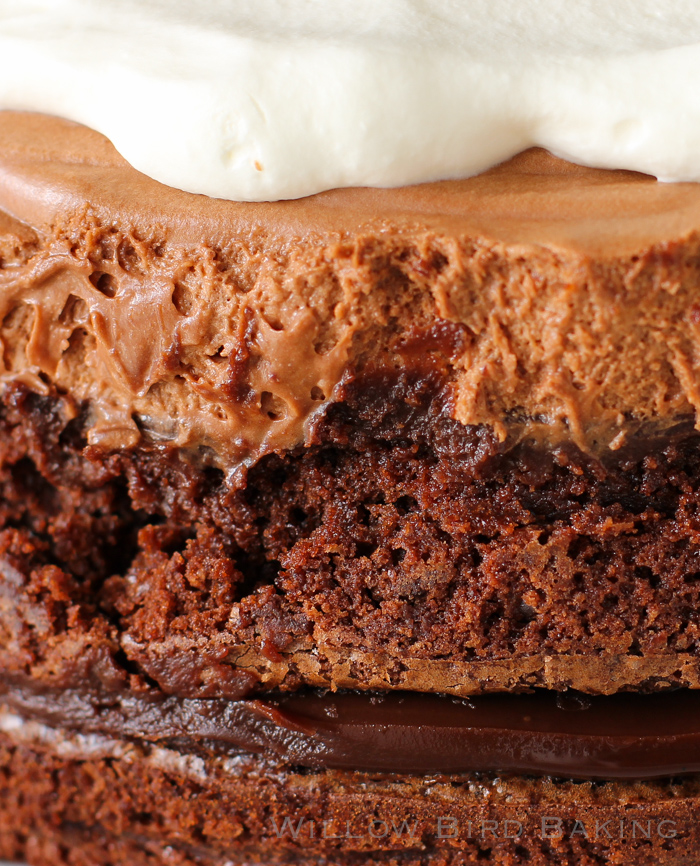 When I got home, I started going to Starbucks like it was going out of style. At one point, I was buying a coffee every single day, which is the equivalent of kicking your wallet in the face repeatedly. Then I found a small local coffee shop whose coffee kicks Starbucks' coffee in the face, but whose prices kicked my wallet in the groin area. My wallet is male, I guess. I went there a few times but couldn't justify it regularly. Then I started just going without coffee a few days a week, which kicks me in the face.
So basically there's a lot of kicking going on.
Recently I decided to try the Keurig at my work, so I bought one of those little eco-friendly K-Cup things. I put some Dunkin' Donuts ground coffee in it, pushed the button, and hoped for the best. Annnd . . . it tasted like dishwater. I dressed it up with creamer to try and fix it, and then it tasted like French vanilla dishwater.
This morning my mother-in-law made me coffee in her Keurig-type-thing with a legit K-Cup and it was great! So was it the coffee I used? My school's well water? The little eco-friendly holder? WHAT DID I DO WRONG, YOU GUYS? What do you use to make coffee at home? And where do you go to buy coffee when you want someone else to do the brewing?
And how do you dress up your coffee? Have you tried bulletproof coffee? Does it live up to the fuss?
Tell me all your coffee tips and tricks, wise readers!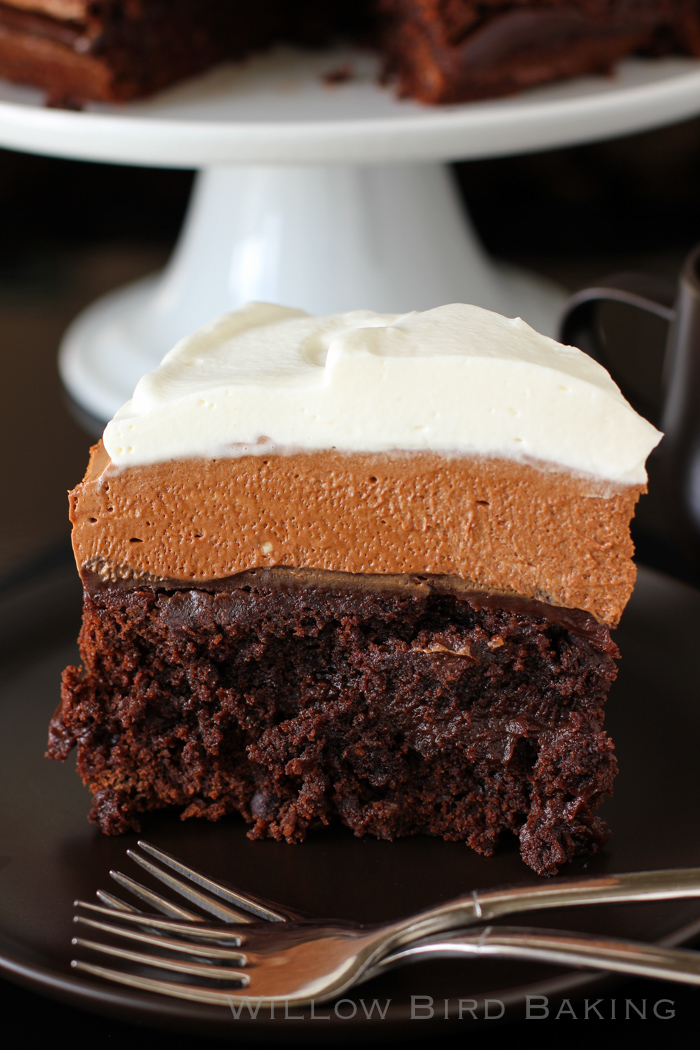 And then let's pour a cup, 'cause you're gonna need one to go with this giant cake. If you remember, I hardly ever make chocolate desserts because they're just not my favorite. But they are Mike's favorite. So what I'm saying is that I'm a bad wife. And also that for Valentine's Day, I decided to make him allllll the chocolate desserts rolled into one.
This cake is a chocolate lover's DREAM and still manages to not be too sweet. It is incredibly rich, however — hence said cup of coffee. Or a tall glass of milk. And a nap afterward.
To make it the very best Valentine ever, I bought the best ingredients: the expensive chocolate, my favorite triple chocolate brownie mix, and the best Plugrá European butter to send it right over the top. It's a brownie cake modeled on the famous Brooklyn Blackout Cake with chocolate pudding between each layer. Then I added a layer of French Silk mousse and topped the whole shebang with barely sweetened whipped cream. It's easy to make (I promise!) and tastes best after sitting for a day in the fridge, so you can whip it up in advance. If you have a chocolate lover in your life, this recipe is your new best friend!
One year ago: Coconut Pudding Spoon Cake
Two years ago: Lemon Cheesecake Morning Buns
Three years ago: Thick Chocolate Cake with a Big Red (Velvet!) Heart
Four years ago: Heart-Shaped Palmiers
Five years ago: Clementine Burst Cupcakes

Brownie Blackout Mousse Cake
This is the ULTIMATE chocolate lover's dream cake. Mike never gets chocolate, so I decided to give him ALL THE CHOCOLATE at once! This cake is the perfect balance of sweetness, and it is super rich as you might expect! It tastes best when made a day in advance and allowed to meld in the fridge overnight. Pour a big ol' glass of milk and dig in.
Ingredients
Brownie Layer Ingredients:
2 boxes brownie mix (plus ingredients needed to prepare it)
Pudding Ingredients:
1 1/4 cups water plus 1/4 cup water, separated
1 1/4 cups granulated sugar
1 1/2 teaspoons honey
1/2 cup unsweetened cocoa powder
a scant 1/3 cup cornstarch
a little less than 3 tablespoons unsalted Plugrá butter, cold and cut into 1-inch cubes
1/4 teaspoon pure vanilla extract
Mousse Ingredients:
1 cup heavy cream
8 ounces bittersweet chocolate, finely chopped
3 eggs
3/4 cup granulated sugar
2 tablespoons water
1 tablespoon vanilla extract
8 tablespoons unsalted Plugrá butter, at room temperature, cut into 1/2-inch pieces
Topping Ingredients:
1 cup heavy whipping cream
1/2 teaspoon gelatin
2 tablespoons cold water
3 tablespoons powdered sugar
Instructions
Prepare the brownie layers: Prepare two 9-inch springform pans with a parchment paper round in the bottom each. Spray the pans with cooking spray. Prepare the brownie batter according to the package directions and bake it in the springform pans for about 30 minutes (brownies look underdone when they're ready, so be careful not to overbake. My package said to bake them 39 minutes but they were ready at 30). Allow to cool completely and then open the springform and lift the layers from the parchment to ensure they will come unstuck easily later. Close the springform again (with layers still sitting inside but loosened now) and set aside.
Make the pudding: Bring the 1 1/4 cups of the water, sugar, honey and cocoa powder to a boil in a large saucepan over medium-high heat, whisking occasionally. In a separate small bowl, whisk the remaining 1/4 cup of water and the cornstarch together until smooth. Whisk the corn starch mixture into the cocoa mixture and bring it to a boil, whisking constantly. Cook, whisking constantly, until very thick, 3 to 4 minutes. Remove the mixture from the heat and stir in the butter and vanilla extract. Pour the pudding into a separate, shallow bowl. Cover with plastic wrap pressed right to the surface (to prevent it from forming a skin) and chill it in the fridge until firm, about 45 minutes.
Begin assembly: Spread half the pudding over one brownie layer inside its springform pan (this is the pan you'll build your whole cake in). Remove the other brownie layer from its springform pan entirely and place it on top of the pudding layer. Top it with the rest of the pudding and smooth it into an even layer. Set this in the fridge to chill.
Make the filling: Melt chocolate by heating on half power for 30 second intervals, stirring after each, until it's smooth. Transfer it to a shallow dish and allow it to cool completely. In a chilled bowl, beat the heavy whipping cream to stiff peaks. Place it in a bowl in the fridge to chill until it's needed. In the heatproof bowl of a stand mixer, beat together eggs, sugar, and water for 5 minutes until pale yellow and slightly thickened. Set the bowl over a saucepan of simmering water to form a sort of double boiler. Heat, whisking occasionally, until a candy thermometer reads 160 degrees F.
Put the bowl onto the stand mixer carefully and beat on medium speed until cooled to room temperature and thickened, about 8 minutes. While beating, add in the chocolate and vanilla. If your chocolate seems to stick to the bowl and get difficult here, just turn the mixer up for a few seconds and all will be well. Beat in the room temperature butter a piece at a time, mixing between each. Fold in the whipped cream until no white streaks remain, and then pour the mixture over your last pudding layer. Cover and chill for at least 3 hours or overnight.
Make the topping: In a small bowl, sprinkle the gelatin over the 2 tablespoons cold water to soften for 2 minutes. Heat for 15 or so seconds in the microwave, whisking to dissolve the gelatin. Whip 1 cup heavy whipping cream to stiff peaks, adding the gelatin and powdered sugar halfway through. Gently spread the whipped cream over your mousse layer and chill in the fridge until set. Slice your cake and serve!