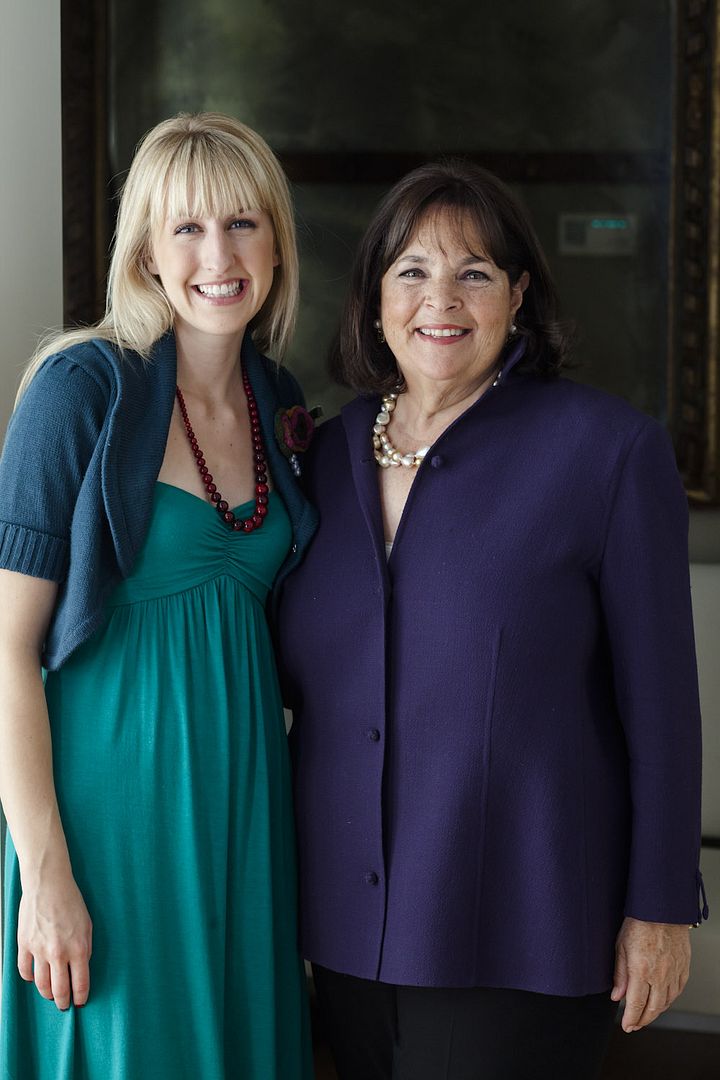 Um. I may or may not have gone to a Cookie Swap at Ina Garten's House.
And photos and recipes from this cookie swap may or may not have just been published in Ladies' Home Journal.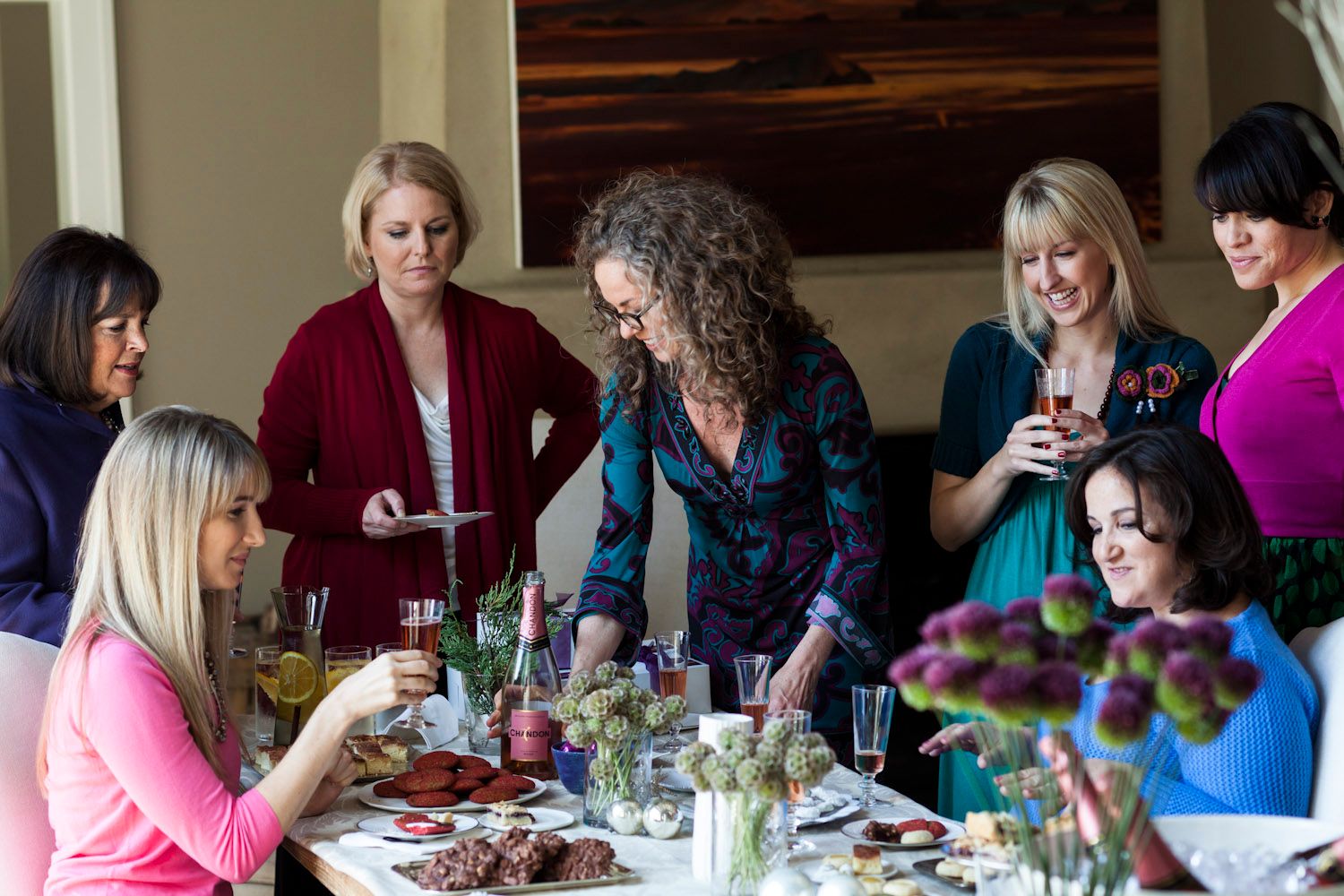 This totally happened.
It may or may not have been one of the coolest things that's ever happened to me (it was.)
Enough fangirling, though. I know what you really want to know — the nitty gritty details! For the gorgeous photos and recipes, you need the magazine itself (look for Ina on the cover — it's on newstands now), but I'll be your go-to source for those gossipy behind-the-scenes details. Such as:
1. No really, Ina Garten is one of the sweetest, most hospitable people on the planet. She wasn't a diva in any sense; rather, she made us all feel very welcome and appreciated. When she took a bite of my cookie, I admitted that I was totally starstruck, saying, "This is a life moment." She laughed and told me about one of her life moments: when Meryl Streep tasted one of her dishes. She's so down-to-earth, y'all.
2. No, we didn't see Jeffrey — I so wanted him to come in and give Ina a big smooch like he does on Barefoot Contessa.
3. Ina's breakfast indulgence? Oatmeal. Seriously! She says people are always disappointed to learn that that's her biggest vice.
4. I found this out while eating breakfast with her before the cookie swap at her favorite restaurant, The 1770 House, which kind of blows my mind. Is this my life? Did that actually happen?!
5. Her yard is just as beautiful as it is on the show — and her garden is a sight to behold! As we were walking through it, the photographer pinched off a plump strawberry and ate it.
6. Speaking of our fancy schmancy photog, Quentin Bacon, we had a great conversation about celebrity chefs and pavlova (he's an Aussie) on the bus to the Hamptons. He got a text message from Curtis Stone en route inviting him to a party. No biggie. I offered to attend in his stead, which for some reason was only met with laughter.
7. His last name's BACON. Of course he gets invited to celebrity parties.
8. Joy the Baker and I caught a pedicab in NYC to a restaurant and couldn't decide if we were having a load of fun or about to die. It was like a roller coaster that twisted in and out of oncoming traffic. Then we were way overcharged. Call it a bonding experience.
9. I took random photos of people kissing in Central Park. I hope they didn't notice.
10. Ina Garten's hair stylist has been doing her hair since before she was the Barefoot Contessa. I asked her if she ever felt starstruck and she shrugged and said, "She's always been Ina to me." How must that feel?!
11. The folks of Ladies' Home Journal are a seriously fun bunch to be around. Our conversations ranged from food blogs to sex to religion and everywhere in between on our ride to the Hamptons.
12. The bus driver became my good buddy and NYC tour guide when I got carsick and moved to sit up front with him. Shout out to Alex!
13. Ina is even more beautiful in person — those freckles! She's also petite — we took off our shoes for pictures with her.
14. Yes, of course I peeked in her pantry. It's just what you'd expect: nice local products, a few items from her own product line, and tons of gorgeous dishes, all neatly arranged. We may or may not have also peeked in the freezer. Yes, she really does keep chicken stock in there! We lusted a bit after her beautiful kitchen.
As an aside, perhaps I don't get invited to more celebrity parties because I peek in people's pantries. Just a thought.
15. Cookie swaps that include Chandon Rosé and festive boxes spread across a gorgeous table dressed for winter are the best sort of cookie swaps.
16. You should buy Ina's latest cookbook, Foolproof, which I was fortunate enough to receive a copy of. While it's full of new recipes (including a mustard flank steak I already promised to make for Mike), it's typical Barefoot Contessa: classic, elegant, and simple. You'll love it. I read it like a novel before bed!
17. While I'm spendin' your money, please pick up a copy of Ladies' Home Journal — I really want them to feel how much we love reading about blogs and bloggers, and companies feel the love through sales! I've already bought several copies myself. LHJ is one of the few magazines really embracing food blogs and pioneering how they can work together with print media. Love that!
18. Want to see more of the article now? Here is the interview with Ina and here are all the fantastic cookie recipes! My cookies are Rosemary Thumbprints with Clementine Curd, and they're seriously delicious.
19. I had the privilege of attending the cookie swap with some other lovely bloggers including Deb from Smitten Kitchen, Lisa from Homesick Texan, Clara from Channeling Contessa, Joy from Joy the Baker, and Zoë from Zoë Bakes. These ladies are amazing and so much fun.
20. Finally, I want you to get a chance to have the same wonderful experience with Ina that I had. LHJ is currently holding a contest called the World's Biggest Cookie Swap. You can get details to enter and hopefully win a chance to have lunch with Ina here.
Thank you to Ina for your hospitality, and to Ladies' Home Journal for the experience!
(Photos by Quentin Bacon. Used with permission.)