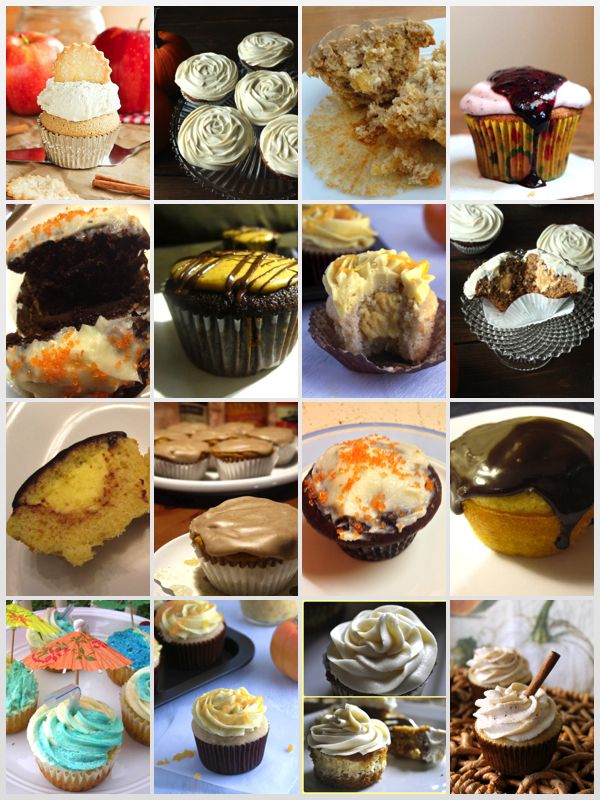 Willow Bird Baking Challenge is a 5-week series wherein I introduce a new challenge each week. The challenges require you to get creative and innovative in the kitchen. You create your dish, bake it, and send me a photo before the following weekend, when I show off the masterpieces on Willow Bird Baking!
Challenge #5 was to innovate filled cupcakes to represent the season you were currently in. See if you can guess which season the folks below are enjoying!
---
Paula
Paula Made: Lemon Curd Cupcakes with Blueberry Cream Cheese Frosting (see more at her blog, Vintage Kitchen Notes)
Comments:"I'm no cupcake baker. I'm all for bundt and layer cakes. So this was a real challenge. Lemon immediately came to mind, but then what? Fresh blueberries, that are popping up plump and dark, with the first sweetness in them. Not a new flavor combination idea, but the fresh berries in the frosting looks so pretty. I mean, cupcakes have to have some sort of prettiness to them. The cake part has some white chocolate, which really makes them moist and deepens tremendously the flavor of vanilla."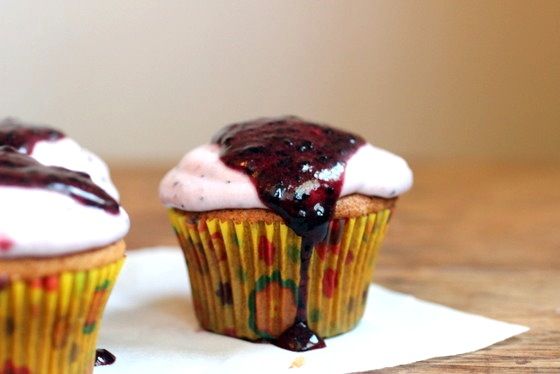 ---
Dianna
Dianna Made: Vanilla Bean Cupcakes with Caramel-Pear Butter Filling (see more on her blog, The Kitchen Prep)
Comments: "A tender Vanilla Bean Cupcake, filled with a gooey Caramel-Pear Butter center topped with a seductive swirl of Brown Sugar & Cinnamon Frosting."
---
Shanna
Shanna Made: Apple Cider Cupcakes filled with Fuyu Persimmon Curd and frosted with Fuyu Persimmon Swiss Meringue Buttercream (see more at her blog, Pineapple and Coconut)
Comments: "Apple Cider. Persmimmons. Yup just add in pumpkin and thats a trifecta of fall flavors. I love the word trifecta. Yes I am a dork. And these don't have pumpkin in them. I took a break from pumpkin. For maybe a day."
---
Nathan
Nathan Made: Chocolate Mint Cupcakes
Comments: "Halloween cupcakes! Chocolate cupcakes with buttercream frosting and orange sugar topping. And for a surprise, green mint jelly for filling!"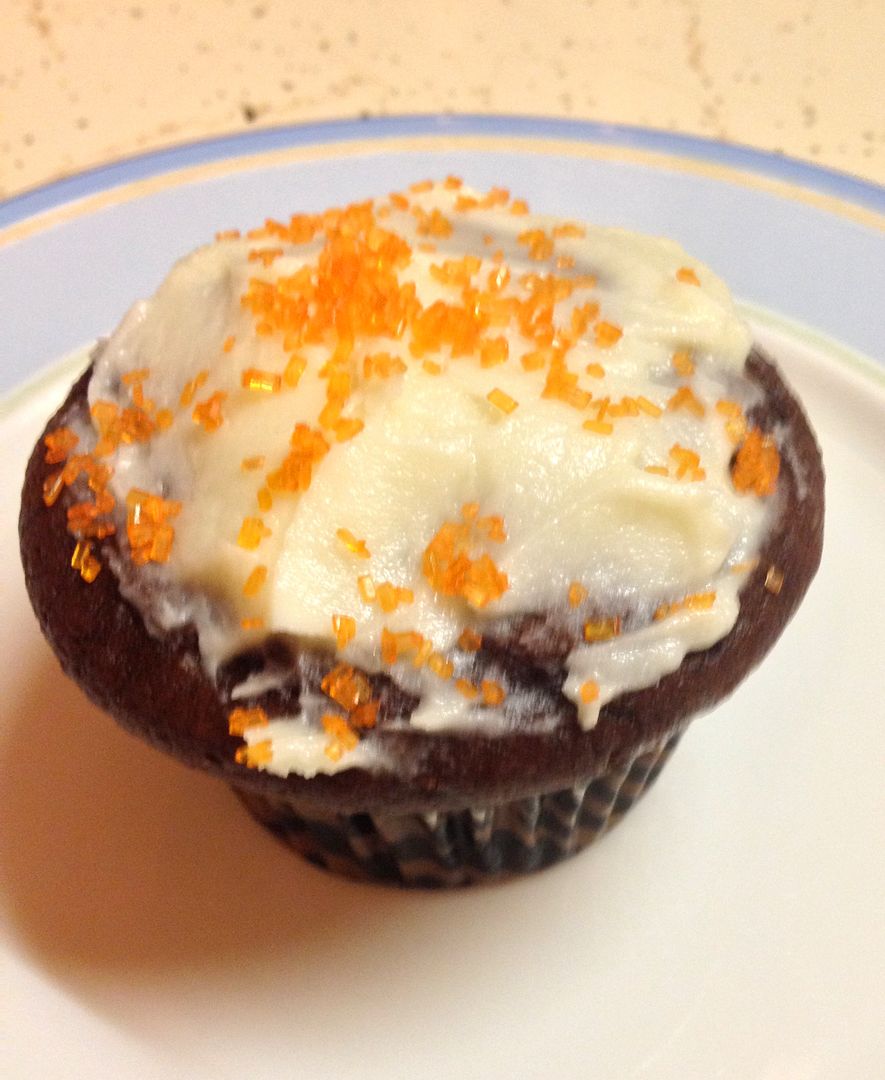 ---
Ala
Ala Made: Cheesecake-Filled Chocolate Cupcakes with Coffee Cinnamon Frosting (see her blog Wallflour Girl)
Comments: "We whipped up a batch of these for one of the guys in our department celebrating his birthday this week. If you like a) the idea of a steaming mug of hot chocolate dipped into your morning wake-up call with a hint of autumnal flair, or b) being awesome, you need to try these cupcakes."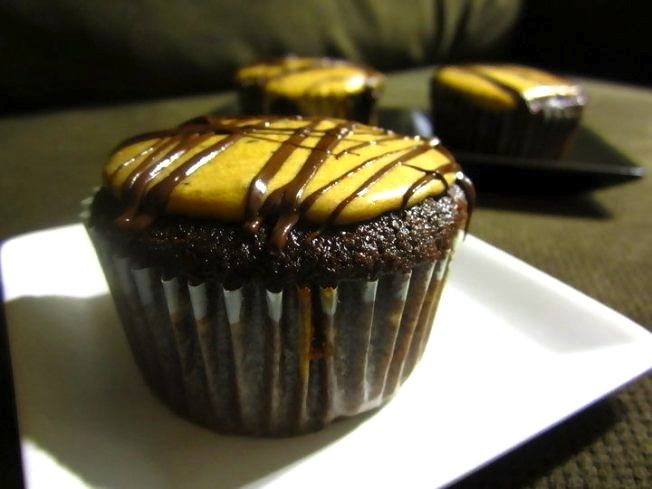 ---
Heather
Heather Made: Boston Creme Pie Cupcakes (see more at her blog Bake Run Live)
Comments: "I made Boston Creme Pie Cupcakes! Sponge cake cupcakes, filled with vanilla pastry cream, then topped with a semi-sweet chocolate glaze! Each cupcake is the perfect portion for a wonderful dessert!"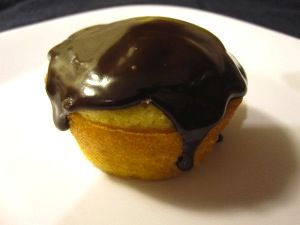 ---
Robyn
Robyn Made: Pumpkin Cupcakes with Cranberry Curd and Brown Butter Glaze (see more at her blog, Almacucina)
Comments: "I do love how the flavors play off each other; spicy pumpkin, sweet-tart curd and smoky glaze. Especially love the cranberry curd filling. All in all, I'd say I did a decent job! And got myself one step closer to jumping on the cupcake bandwagon."
---
LeAndra
LeAndra Made: Pumpkin Spice Cupcakes (see more at her blog, Love & Flour)
Comments: "Yet another challenged cobbled together from previous recipes. I used one of my great-grandmother's spice cake recipes and filled the cupcakes with a pumpkin cream cheese mixture I once called dip. I topped them off with a ginger cream cheese icing since ginger was the one spice not actually found in the cake."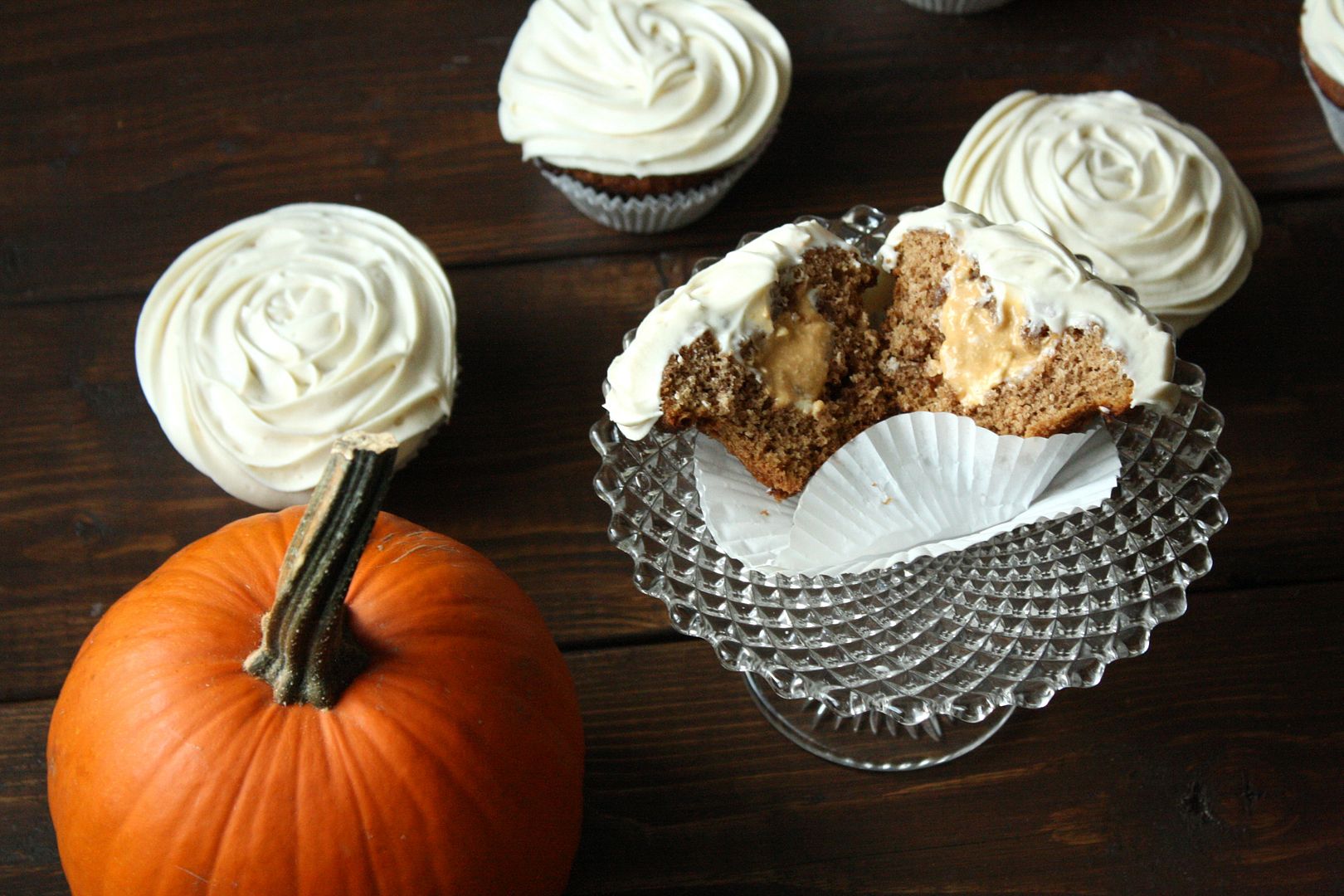 ---
Kelly
Kelly Made: Chocolate cookies stuffed with either: peanut butter and guava jelly, a rum-soaked cherry, strawberry cheesecake, or funfetti cheesecake!
Comments: "While the rest of the country is donning boots and scarves, we are still playing on the beach here in Miami.I tried to combine the two for these cupcakes – lemon cupcakes filled with an apple-ginger curd. I then tried to make them look a little 'beachy.' Bear with me, the piping bag is not my friend (yet)."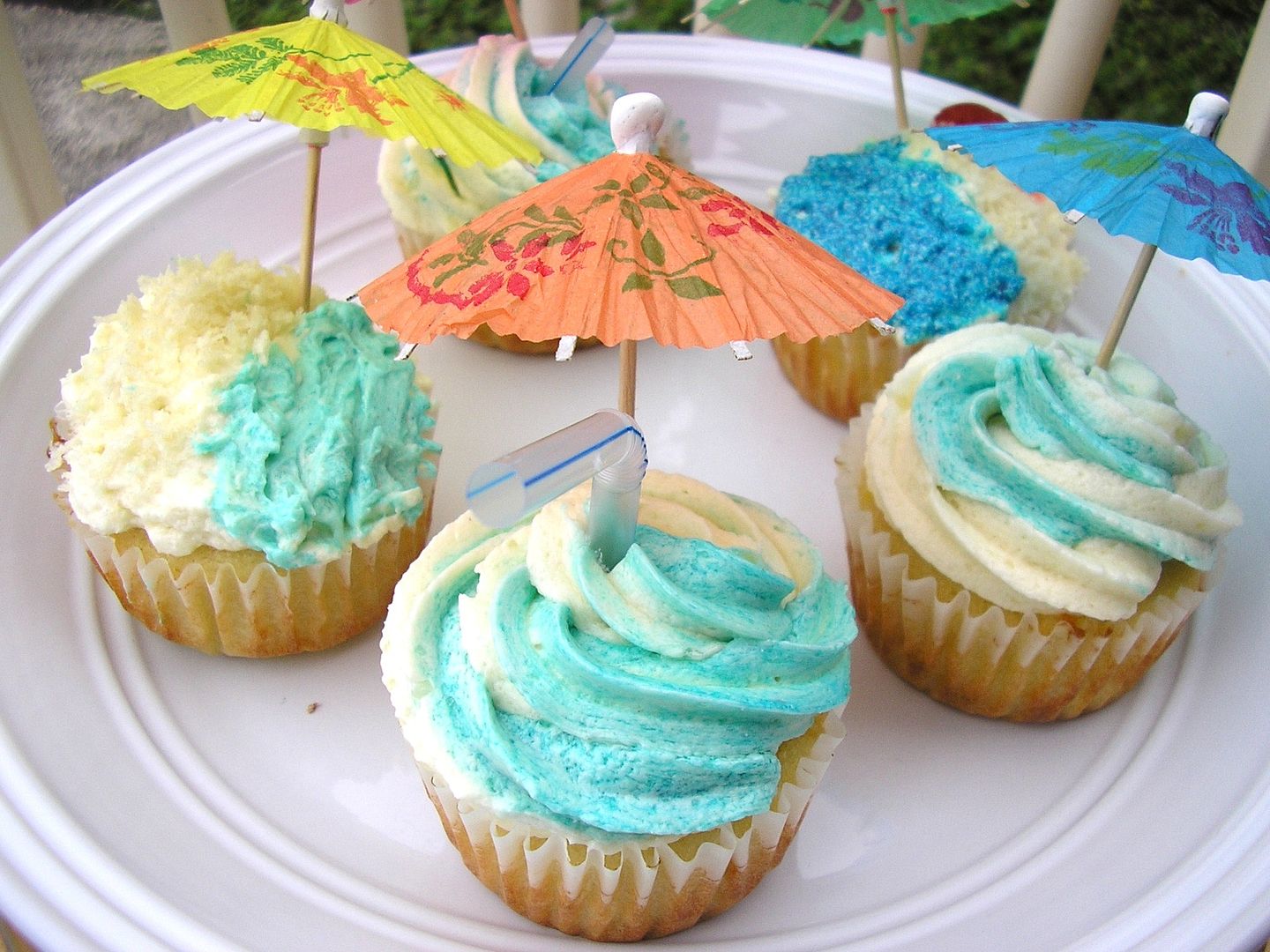 ---
Shelley C.
Shelley Made: Caramel Apple Cupcakes (see more at her blog, C Mom Cook)
Comments: "Once again, choosing a flavor combination was the hardest part of this challenge. There are so many delicious fall flavors, narrowing it down to something that would make a delicious cupcake was tough. Finally, I chose to make caramel apple cupcakes for the cupcake challenge (and, can I just tell you, I had so many thoughts of cupfakes for this one! Turkey meatloaf cooked in a cupcake pan, cranberry sauce 'filling' and mashed potato frosting! Cornbread 'cupcakes' with some kind of chili filling/spicy frosting! SO many possibilities!)"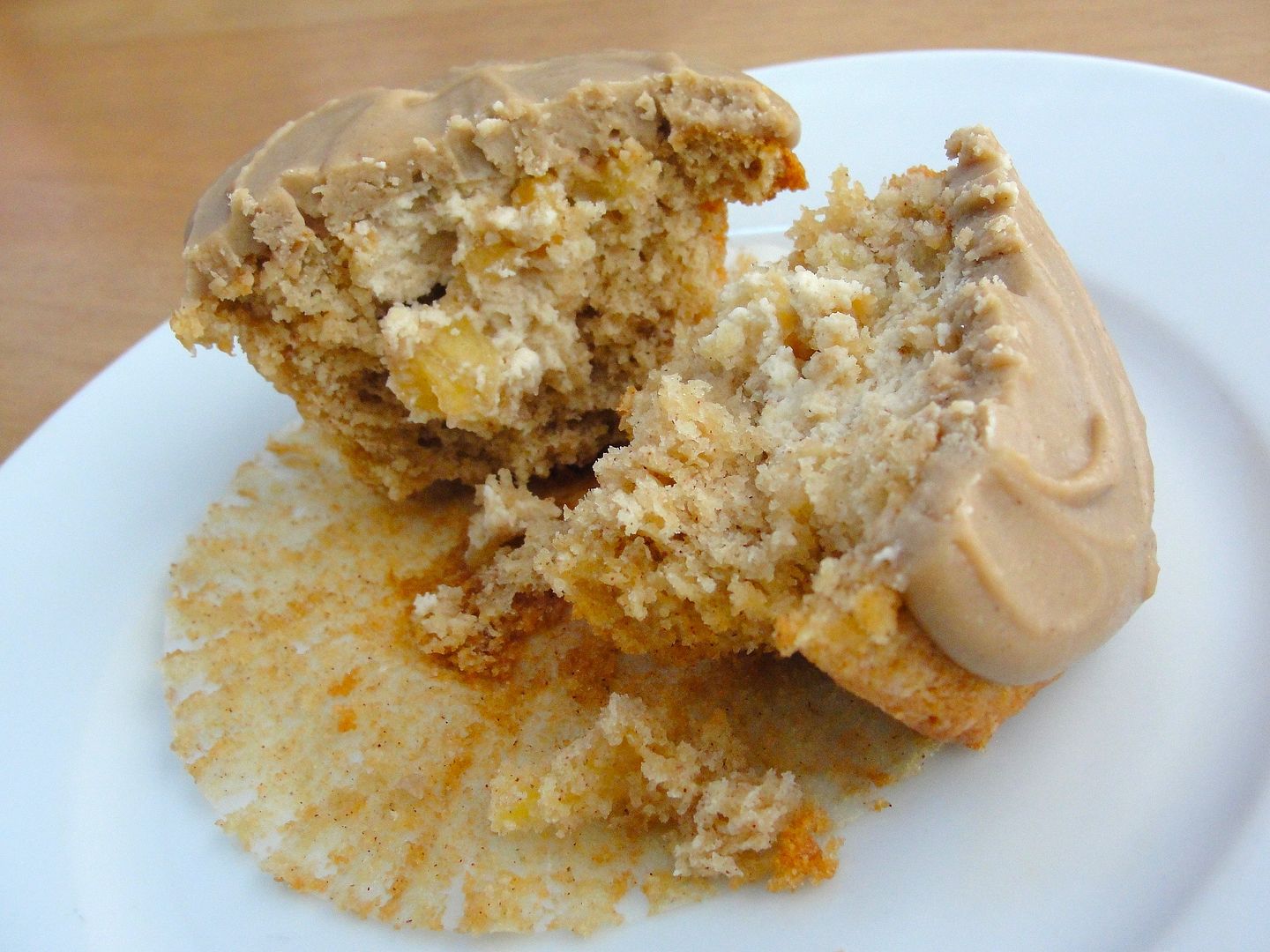 ---
Erin
Erin Made: Maple Cream Cheese stuffed Squash cupcakes with Maple Cream Cheese Frosting (see her blog, Erin's Exquisite Edibles and Excursions)
Comments: "I wanted to do something for the season like the challenge suggested. Up in New York pumpkin and apples are usually in abundance this time of year, however not this year… apples are sparce but somehow we had a HUGE pile of squash growing in our compost! So due to that I decided to make my cupcakes out of squash instead of pumpkin. These cupcakes turned out so moist and not too sweet, which is good because the frosting made up the majority of the sweetness!"
---
Natalie
Natalie Made: Apple Pie Cupcakes (see more at her blog Life Made Simple)
Comments: "Since it's fall and the husband and I both love pie but baking an entire one is just too much for us, I thought I'd make a cupcake version of an apple pie! Perfect, right?! I started off by using a cinnamon spiced cake, filling it with soft apples and topping it with some vanilla ice cream frosting and a crust crisp. These cupcakes are absolutely to die for!"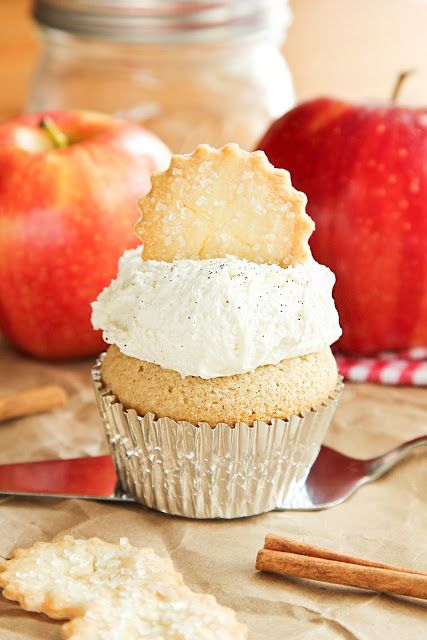 ---
Ready for Challenge #5?
Last night, Erin, Trudy, and Kelly jumped on Google Hangout with me to introduce the final challenge, Challenge #5, and here it is!
You can find some cheesecake recipes here to get you started! And here is my video tutorial on cheesecakes. Send a photo and some comments to me at julie 'at' willowbirdbaking 'dot' com by next weekend. Let's get baking!
Congratulations to all of the participants of Challenge #4 for their fantastic work!
If you liked this post, please:
–Subscribe to Willow Bird Baking
–Follow Willow Bird Baking on Twitter
–Follow Willow Bird Baking on Facebook