Groundhog Day's okay. I mean, Punxsutawney Phil is kind of fat and cute. I like his handlers' top hats. And Phil said winter was going to be shorter this year, so that's cool, I guess. At least
one of my students
is determined to celebrate Groundhog Day (please head over to support his young blog). But honestly, y'all, it's hard to be too enthusiastic. Just three measly days later, it's
World Nutella Day
. Pshhhh. Punxsutawney who? If you're anxious to celebrate today's clearly superior holiday in creamy-chocolatey-hazelnutty style, here are three of Willow Bird Baking's favorite Nutella treats!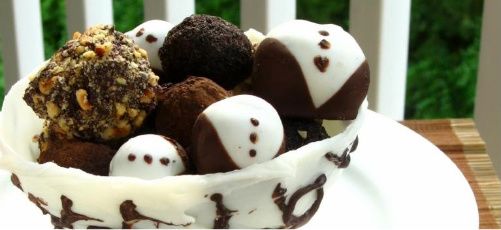 Nutella Truffles in a Chocolate Bowl
Red Velvet Cheesecake
post -- that's because there's been a slight change and I want to wait until things are settled. Can't wait to let you know! If you liked this post, please: -
Subscribe to Willow Bird Baking
-
Follow Willow Bird Baking on Twitter
-
Follow Willow Bird Baking on Facebook
-
Give this post a thumbs up on StumbleUpon
Other ways to share this post with friends!