This post could also be titled, "Lessons on Planning" (please don't confuse that with "lesson planning" — I'm on Spring Break!).
My plans this weekend were exciting. I wanted to create a triple layered dessert with joyful Spring flavors. Doesn't this sound amazing: lemon squares on a shortbread crust with a delicious layer of blueberry cheesecake. Can't you see the gorgeous, pale shortbread layer; the bright yellow layer of lemony bliss; the creamy cheesecake layer studded with purple blue orbs — all topped with a fine sprinkling of powdered sugar? Well, take a good look at your fantasy, because that's the only place you'll be seeing that image.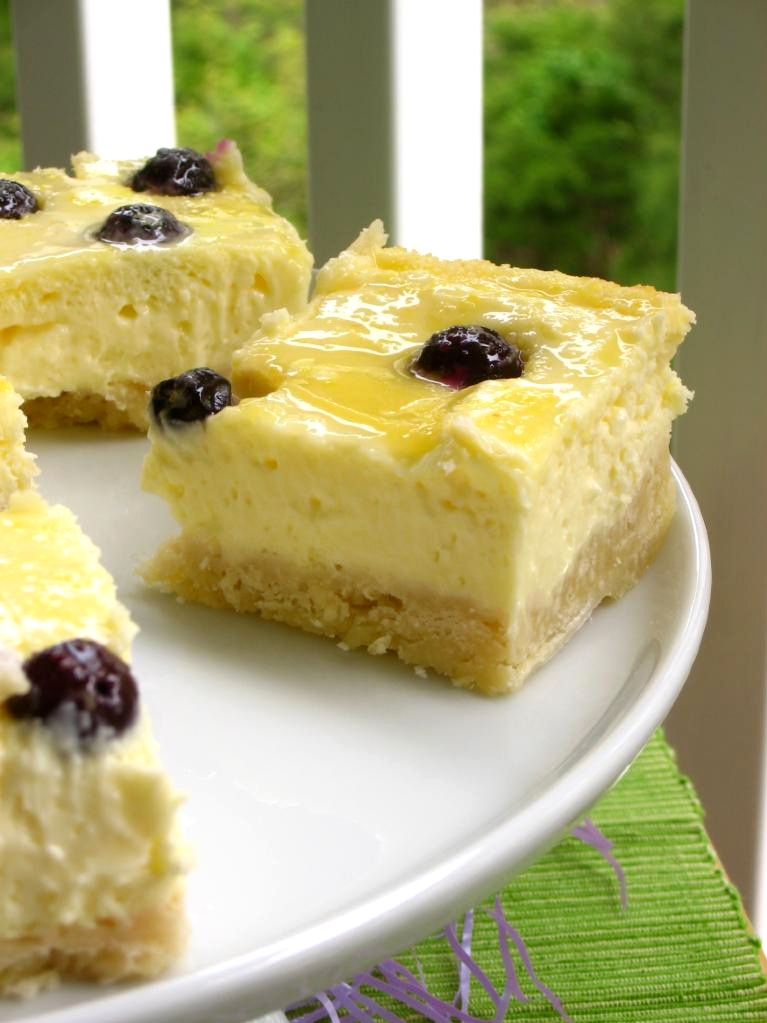 Not exactly as planned, but delicious.
See, it didn't quite go according to plan. My blueprints for this recipe began when I saw these delicious lemon blueberry cheesecake squares on Shared Sugar. I started pining for them, but I've also been pining for lemon squares. Naturally, it dawned on me that I should combine the two.
My process (which you shouldn't repeat) was to bake the shortbread crust for lemon squares as usual, top it with a cheesecake layer, pour the lemon mixture on top, and bake. Sounds great. But what actually happened was that the lemon mixture leaked under the parchment paper I'd lined my pan with and coagulated underneath the entire dessert. Um, so in a way, I actually ended up with a quadruple layer dessert . . . if you count the parchment paper?

Flowers from a student's parents! So gorgeous!
Some of the lemony liquid stayed on top of the cheesecake forming an odd lemon "glaze" of sorts. The entire dessert now looks a bit weepy, but I assure you, it tasted amazing. How can you go wrong with these flavors? Nevertheless, I decided you wouldn't want to repeat the whole frustrating process. I've deleted the lemon layer from the recipe below, leaving you with a simple two layer dessert: lemon blueberry cheesecake squares on a shortbread crust. Still amazing, bright, springy, creamy, indulgent.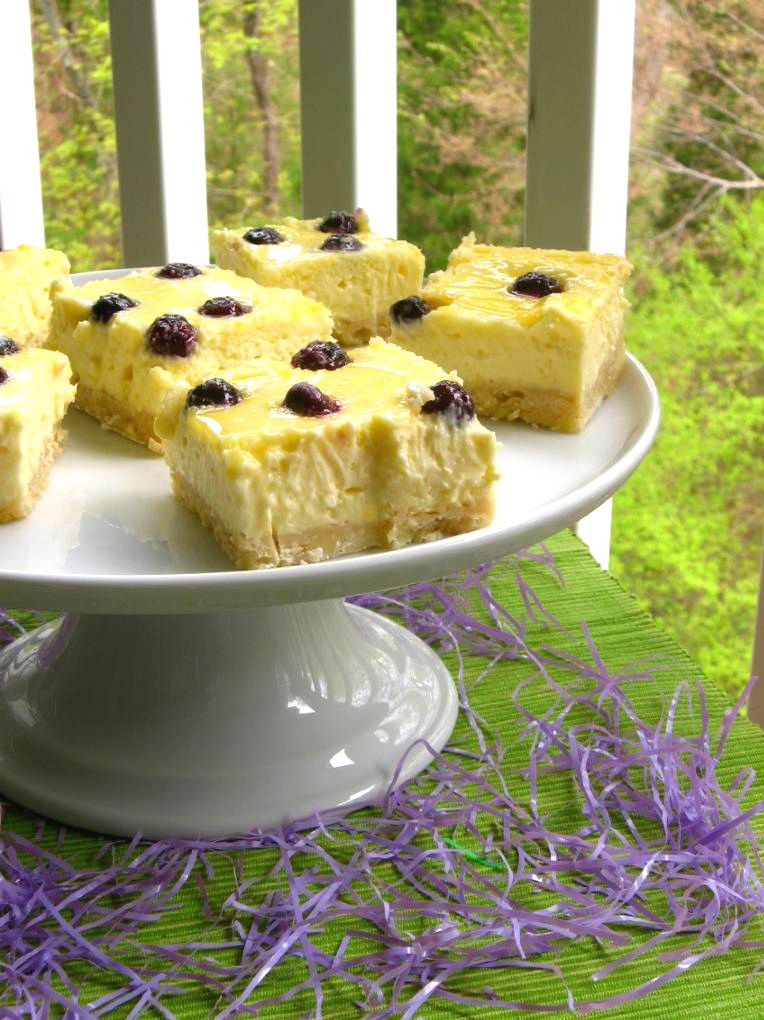 So much for plans. I'm a big planner, and it can be hard on me when things don't work out like I think they should (pat on the back for myself, though, because I think I handled this culinary detour well). Thank God that He's had big plans since before the foundation of the world — plans to send His only Son as a sacrifice for us, even while we were still sinners ignoring the God who loved us.
And of course, with Easter around the corner, thank God for the miracle He had planned for three days after that sacrifice: Christ's resurrection from the dead to triumph over death and the grave.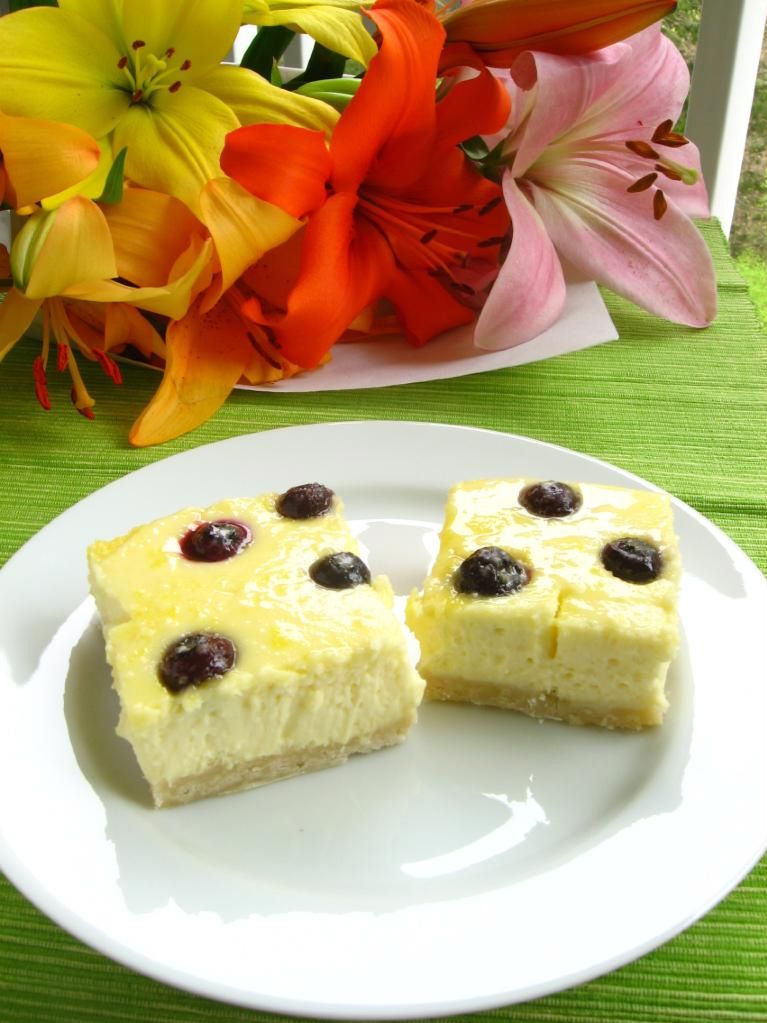 My plans in the kitchen and in life don't always work out. I leave out the baking soda, don't thicken the fruit filling enough, or who even knows what else (yeah, I never even posted that travesty). But God says, "As the heavens are higher than the earth, so are my ways higher than your ways and my thoughts than your thoughts" (Isaiah 55:9). His plans worked — thank God — and we can now have abundant and eternal life because of them.
So, I can't be too upset about my cheesecake squares not having a lemon layer. I've tweaked the recipe below so you can now go make these amazing cheesecake squares without worrying about that either. I'll try again soon — I'm thinking of making lemon squares as usual, and then doing a no-bake cheesecake layer on top. We'll see how that works. But it's okay if my plans don't work out, because you know how planning goes!
Lemon Blueberry Cheesecake Squares with Shortbread Crust


---


Recipe by: Adapted from King Arthur Flour (crust) and Shared Sugar (cheesecake)
Yields: about 18 bars

Crust Ingredients:
1 cup (2 sticks) butter
2 cups all-purpose flour
1/2 cup confectioners' sugar

Cheesecake Layer Ingredients:
32 ounces cream cheese, at room temperature
4 eggs
4 tablespoons lemon juice
1 cup sugar
2 cup blueberries

powdered sugar for topping

Directions:
Preheat your oven to 350°F. Prepare a 9 x 13 in. baking dish with a parchment paper sling. Cut the butter into the flour and confectioners' sugar and press into the baking dish (I used a food processor to cut the fat into the flour, and then the bottom of a dish to press the mixture into the pan). Bake 20 minutes or until light brown. Let cool on wire rack.

In a bowl with an electric mixer, add the cream cheese, eggs, lemon juice and sugar. Mix until the ingredients are creamy and the cream cheese is fully incorporated. Pour into the pan with the cooled crust. Then evenly distribute the blueberries.

Bake 30-35 minutes or until filling is set. Remove from the oven and cool completely. Then refrigerate for at least 3 hours. Remove the cheesecake from the pan using the parchment paper. Cut into bars and sprinkle with powdered sugar.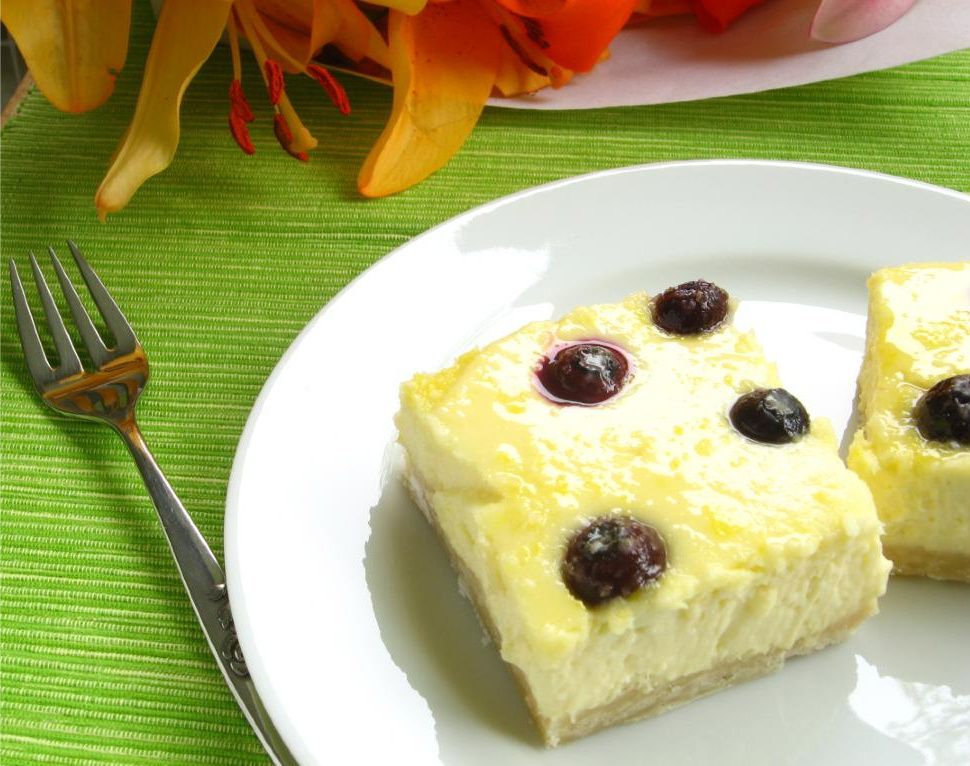 Byrd loves these flowers — imagine a very excited toy poodle with her curly snout stuffed into one of these big blooms. I know: awwww!