I'm clinging tenaciously to summer's hem right now, about to topple off into fall. I do have a quiet excitement growing about the upcoming season -- crisp air, pumpkins, spice cakes, pies, stews and chilis -- but I'm just not ready yet. I need a few more months of summer dresses, fruity cupcakes, and flip flops (although, let's be honest, I will continue wearing those well into winter). Along with the end of summer, I'm facing the beginning of another school year teaching middle school English. Our teacher workdays start this coming week. Don't get me wrong: my school is an absolute Utopia, and I'm excited to spend time with my students in our little classroom together. They're experts at creating special moments: sometimes insightful, sweet, hilarious, and even absurd. I'll listen them complain about (and sometimes start to care about) Shakespeare and Hemingway. We'll laugh over Sei Shonagon's scandalous Pillow Book. We'll fold over a thousand paper cranes after reading Sadako's story. I know it'll be fun (I just have to convince them of that). But right
now
, though the first day of school is still a week away, I'm overwhelmed. Mike and I have been squabbling while trying to make my chaotic mess of a classroom into a decent learning space. I have to make a thousand copies. I have to create a seating chart. I have to plan the first week of school. It's no wonder that this week, rather than any particular food, I craved
simplicity
. When I saw the recipe for this Lemon Blueberry Cake, I knew it fit the bill. It's an ode to summer with plump blueberries and tart lemon, and a simple recipe at that: mix, bake, glaze, eat!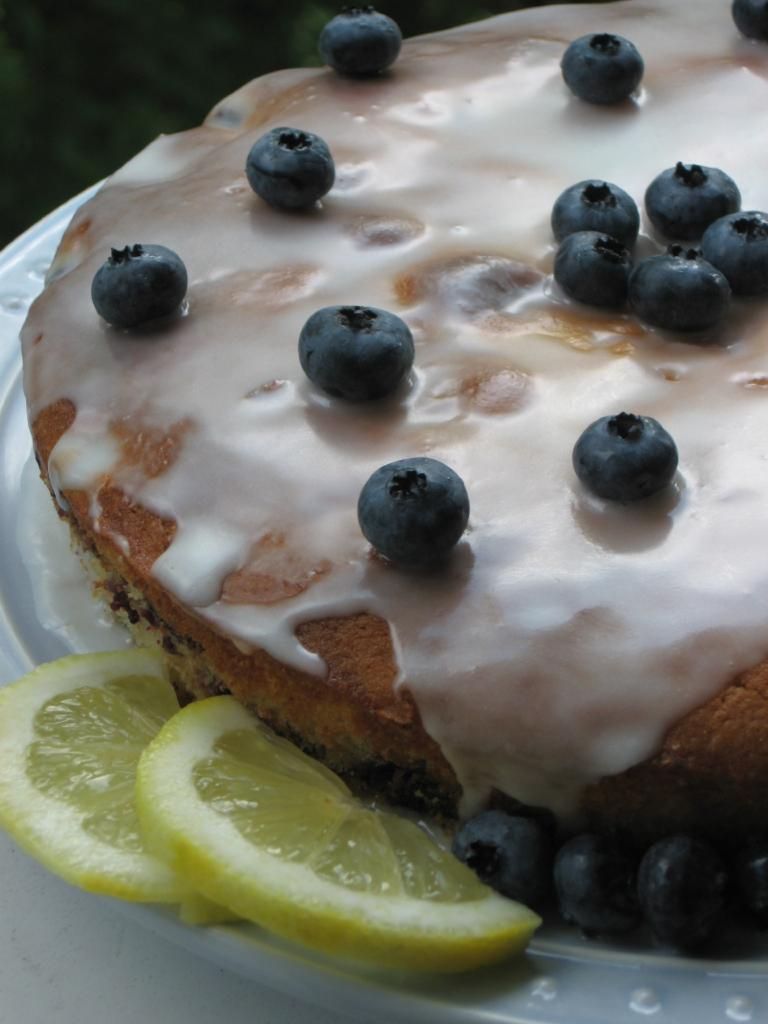 The cake is buttery and moist, and the flavors are a great combination -- I adore blueberries and lemons together,
as you may already know
. While it wasn't the absolute best cake I've ever had, it
was
a nice dessert for the end to a crazy week. How satisfying, to crack the tart glaze with my fork and shovel a bite of dense, sweet cake into my mouth -- and after only having baked for an hour or so! So while I'm not utterly astounded, I am pleased.
This cake would be perfect at a brunch, tea, or garden party, what with its fresh flavors. I'm not going to pretend I have brunches, teas, or garden parties, though; Mike and I will almost certainly devour it while watching Star Trek or something similar. I give you permission to do something more sophisticated with
your
lemon blueberry cake.
Lemon Blueberry Cake

---

Recipe by: Joy of Baking and Silent Auror (adapted by me) Yields: about 8-10 pieces of cake Ingredients: 1 cup (226 grams) butter, room temperature 1 cup (200 grams) granulated white sugar 4 large eggs 1 teaspoon pure vanilla extract Zest of 1 large lemon 2 cups (280 grams) all purpose flour 2 teaspoons baking powder 1/4 teaspoon salt 1/4 cup (60 ml) fresh lemon juice 1-1.5 cup blueberries Icing: 1 cup (115 grams) confectioners' (powdered or icing) sugar, sifted 2 tablespoons fresh lemon juice Directions: Preheat oven to 350 degrees F (180 degrees C). Grease a 9" springform pan or a 8" round cake pan. Note: I used a 9" round cake pan, because I'm a rebel. Cream the butter and sugar until light and fluffy. Add the eggs, one at a time, mixing well after each addition. Beat in the vanilla extract and lemon zest. Sift together the flour, baking powder and salt and then add to the batter along with the lemon juice. Mix only until incorporated, adding the blueberries at the very end. Pour the batter into the prepared pan and bake about 45 minutes, or until a toothpick inserted in the center comes out clean. Note: If you notice the cake is done on top but not in the middle, shield it with aluminum foil for the rest of the baking time. This happened around 35 minutes for me. Place on a wire rack to cool, then gently remove the cake from the pan. Wait until the cake is completely cool before icing. For the icing, combine the sifted confectioners' sugar with the 2 tablespoons lemon juice. (You want the icing to be thicker than a glaze but still thin enough that it will just run over the sides of the cake. If not the right consistency add more lemon juice or powdered sugar, accordingly.) Frost the top of the cake, allowing the icing to drip down the sides. Place blueberries over the top as you like. Note: This cake is another of the many baked goods that tastes better after being refrigerated in an airtight container (such as a cake dome) overnight. The lemon and blueberry get a chance to mingle and chill.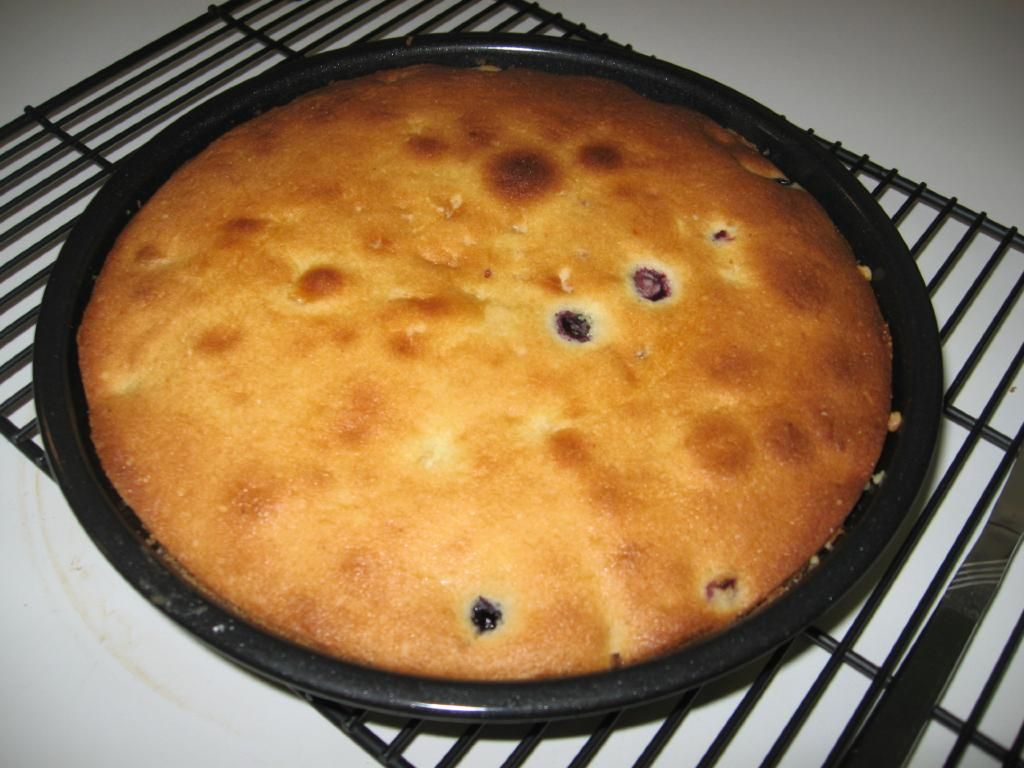 In the oven, and then fresh out of the oven. My cake got a little darker than I wanted on top; keep an eye on it!

Enjoy!
As a side note, I'm "on the spot" this week at The Daring Kitchen -- go and take a look!