This is a love letter. Not the kind William wrote to me in third grade on the inside of a teddy bear greeting card — though that one was nice. Not the sort Abélard wrote Héloïse. In fact, not a romantic letter at all. But a love letter nonetheless.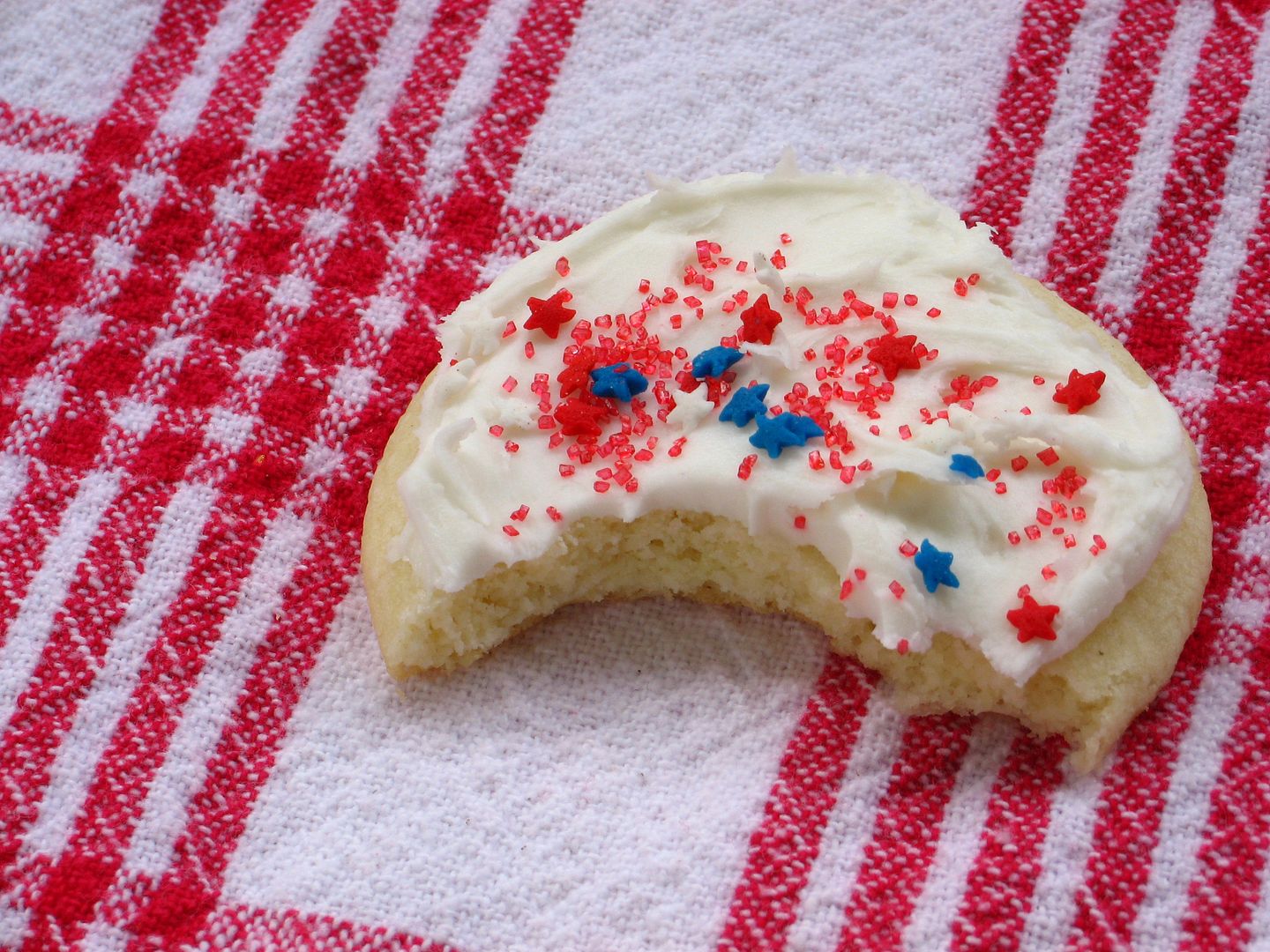 It's a love letter, first, to the kids of the world. It's also a love letter to the communities that care for those kids. It's a love letter to every person who encounters those kids and tells them, "You can be a teacher. You can be a businessperson. You can be an artist. You can be a chef. You can be a scholar. You are a scholar!" It's a love letter to Freedom School.
Freedom School is a Children's Defense Fund program designed to offer summer and after-school enrichment to at-risk kids. The Freedom School Partners in Charlotte are working to "improve academic achievement, reduce dropout rates, and inspire the love of reading" — things that can literally change a child's life. Staff and volunteers for the program become friends, mentors, cheerleaders, teachers, and role models for these kids, serving them every day and motivating them to accomplish their life goals.
When my friend Kevin asked if I'd be willing to host a cookie decorating workshop for the kids, I gladly agreed. Eliminating the achievement gap for at-risk kids and letting them know they're important is dear to my heart. Beyond that — and perhaps you've had the blessing of realizing this as well — any time I give myself in service, I receive so much more than I offer. This time was no exception.
One thing I received was an unbelievable flood of support from people who also love kids. My friends Mary, Katie, and Taylor offered to bake cookies or help the kids decorate. Polka Dot Bake Shop, home to some outstanding Charlotte cupcakes, donated 5 quarts of buttercream frosting and a dazzling array of colored sugars and sprinkles.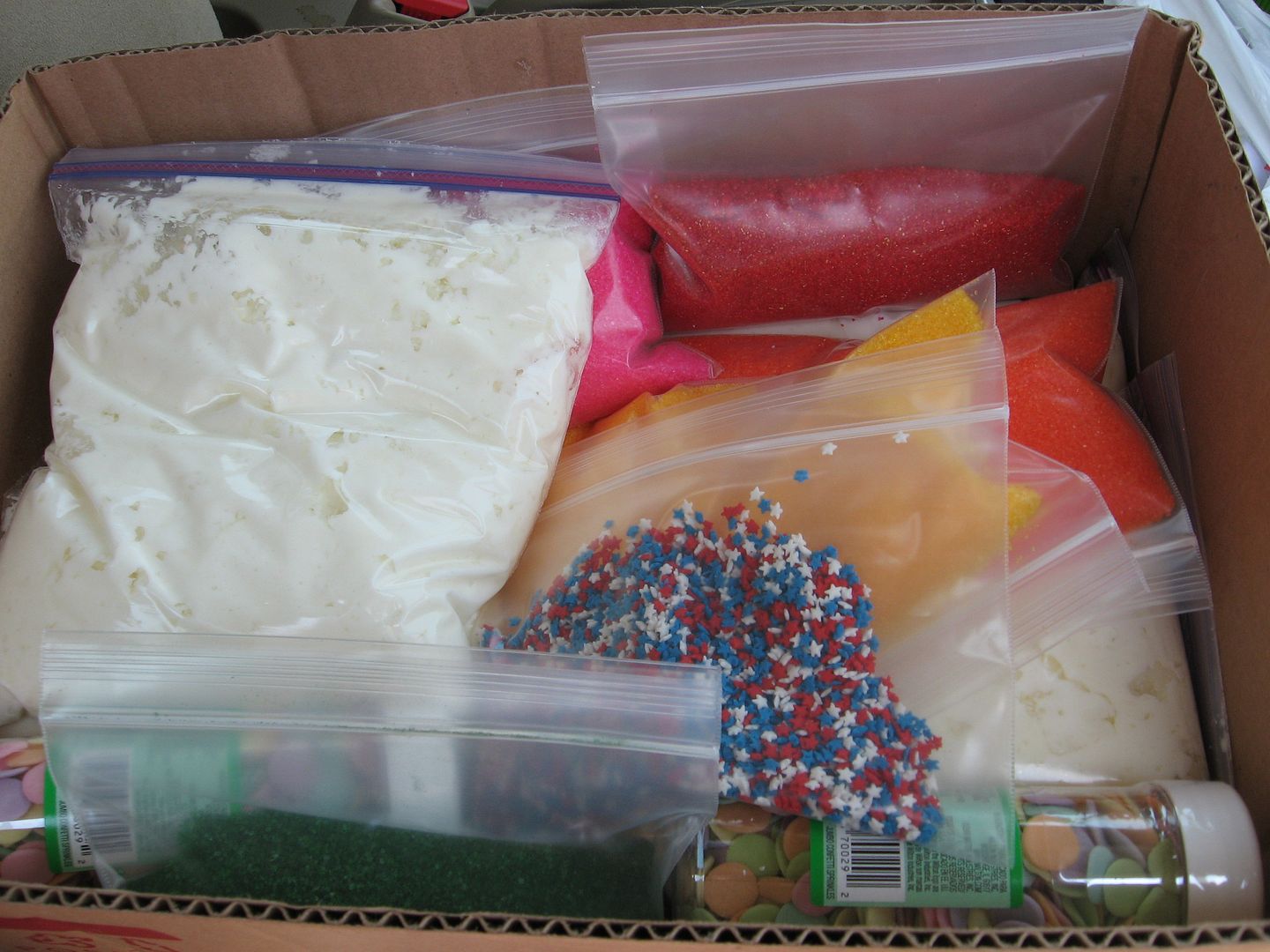 Box of goodies from Polka Dot Bake Shop
Most overwhelming, Amelie's French Bakery, a well-beloved Charlotte institution, stepped in and offered to pay for all the other supplies and donate the use of their commercial kitchen for the preparation of dozens of cookies. I seriously cried when I read their email.
The owner, Lynn, worked with me and Mary for almost two hours. She's an extremely busy person and could have been off doing hundreds of other things, but instead she was in the kitchen with us, washing our dishes as we baked.

Mary and I working in Amelie's production kitchen.
There are awesome people in the world, y'all. I've vowed to be an Amelie's customer for life (not that that's a sacrifice — please go taste one of their salted caramel brownies before you waste time marveling at my loyalty.)
All of these beautiful people's efforts culminated in a fantastic day! Upwards of 40 kids got to hear about becoming bakers and pastry chefs, learn how to use a pastry bag, and exercise their creativity. Each child decorated a duckie cookie (using some yellow sanding sugar, mini chocolate chips, and an orange tic tac beak) and then went wild on their own personal creations.
Katie and Taylor took on the most important role: while I led the workshop, they were on the front lines, encouraging the kids, listening to their stories and opinions (honey bun, anyone?), and building their self-confidence.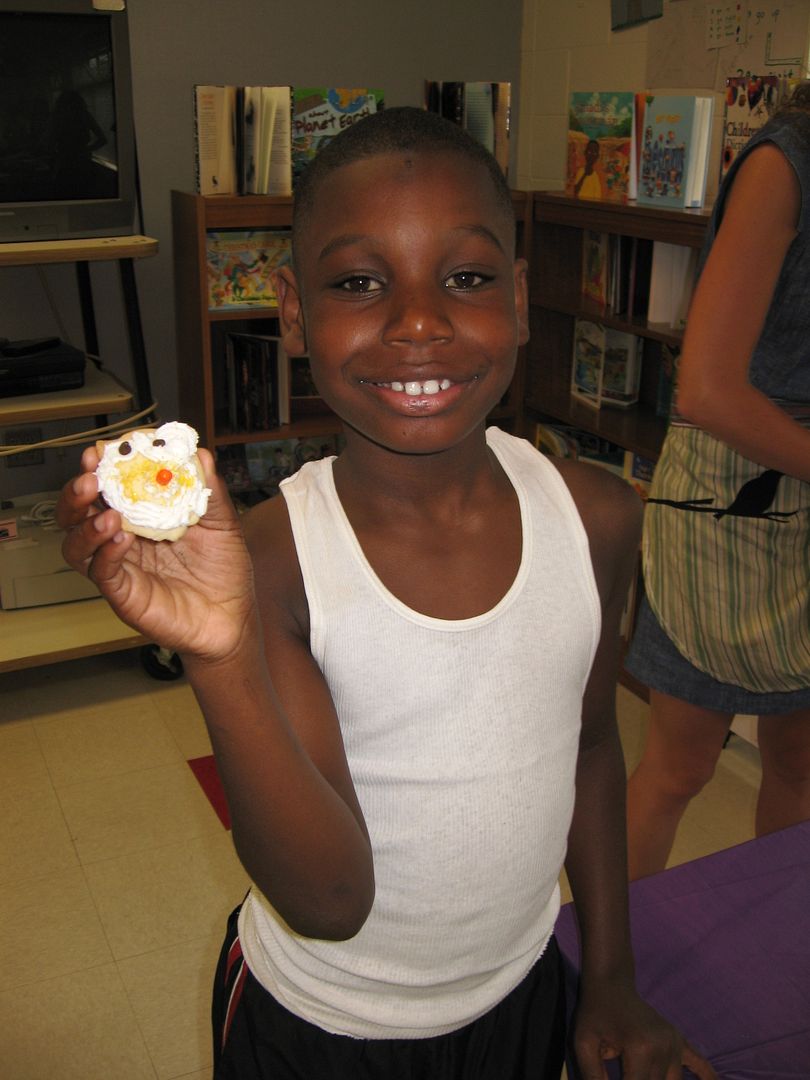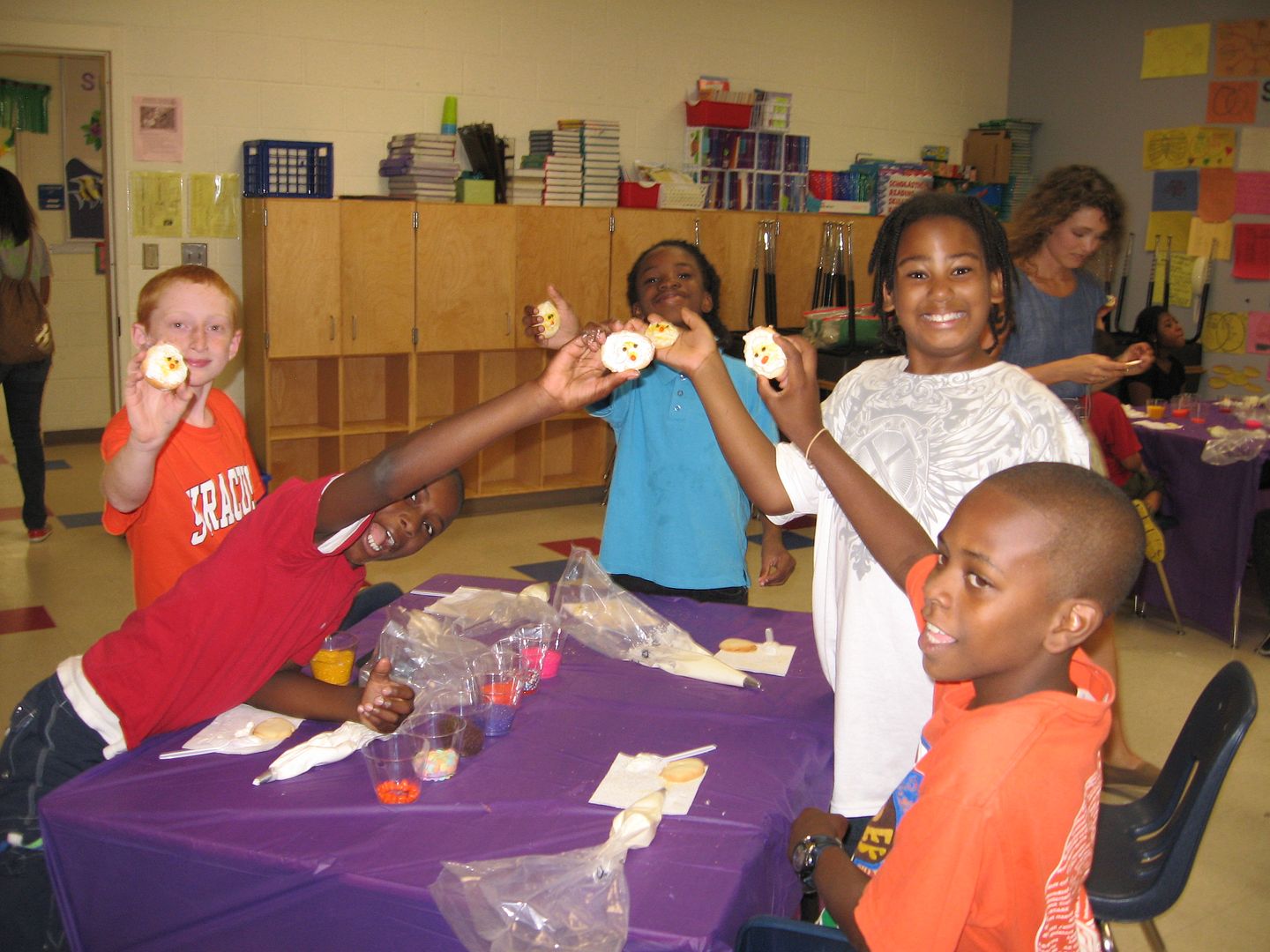 What was humbling throughout the day is how the kids themselves were dying to be of service — "Can I set out those sprinkles? Can I help pass out the spoons? Can I give everyone a napkin?" Here we were visiting and trying to serve them, and their precious little hearts just wanted to serve us. I stood back a few times during the fun to look around and just appreciate their joy.
When it comes down to it, this is a love letter to God: thank you for letting me serve your children. Thank you for modeling self-sacrificial service for me in the first place. Thank you for giving me these opportunities to be amazed by others' generosity, to see the goodness in children, and to decorate duck cookies with friends.
Oh, and I can't forget! This is a love letter to SugarBelle, the sugar cookie queen. Her soft, buttery sugar cookies were the base for all of our fun. I can't wait to use this recipe a thousand times over for all sorts of cookie experiments — it's such a nice dough and doesn't need to be refrigerated. I love it when dough behaves and produces tasty results!
Have you served in a way that was a learning experience for you, or that left you with a beautiful memory? What service do you want to commit to doing for others?
Soft Sugar Cookies

---


Recipe by: The Sweet Adventures of SugarBelle
Yields: 2 – 2 1/2 dozen cookies

Ingredients:
1 cup (two sticks) butter, softened
1 1/2 cups confectioner's sugar
1 egg
2-3 teaspoons flavoring (e.g. vanilla or almond extract)
2 1/2 – 2 3/4 cups all-purpose flour
2 teaspoons baking powder
1 teaspoon salt

Directions:
Preheat oven to 400 degrees F. Sift together the flour, baking powder, and salt (I like to sift it onto a sheet of wax paper that I can then pick up both sides of and use to funnel the dry ingredients). Set aside.

Cream together butter and confectioners' sugar for a few minutes. Mix the egg and flavoring in a separate bowl and add it to the butter mixture once its fully creamed. When the egg is incorporated (you may need to scrape down the sides of the bowl throughout the process), add the dry ingredients little by little. SugarBelle says she can tell the dough is ready when most of it sticks to the paddle. It should have a little give but should not stick to your fingers. I had to add a little more flour to my initial 2 1/2 cups to achieve this — maybe about 1/8 cup more. Let the dough sit for a few minutes after mixing (no need to refrigerate — I LOVE this dough!)

Dust a counter with flour and roll out the dough to about 1/4 inch thick, lifting your corners and turning the dough initially to make sure it's not sticking. Cut out shapes and place on a parchment lined baking sheet. Bake for 7-8 minutes (watch carefully to determine the best time in your oven). Let cool completely before frosting (SugarBelle says she prefers decorating day-old cookies, which is what we did, and they were still soft and lovely.)
P.S. You can find a place to donate to Freedom School on their website!
If you liked this post, please:
–Subscribe to Willow Bird Baking
–Follow Willow Bird Baking on Twitter
–Follow Willow Bird Baking on Facebook
–Give this post a thumbs up on StumbleUpon
Other ways to share this post with friends!