I tilted my head, hoping that it might help me understand why the chocolate cupcake batter sitting in front of me had the consistency of muddy water. Head tilting doesn't seem to increase the comprehension of the dogs of the world (even if they really, really tilt) and sure enough, it didn't work for me either. I just didn't get it. I'd completed the whole recipe correctly — carefully measured, included all of the ingredients, mixed the appropriate amount of time. But still, the bowl in front of me was full of a batter that might have been dredged up from the bottom of the Mississippi.
With considerable misgivings, I poured some of the glop into each little cupcake paper. Maybe magic would happen in the oven?
Or maybe Mt. freaking Vesuvius would erupt in the oven, complete with a fiery, chocolate lava flow. Yeah.
The batter burned in sticky mounds all over the surface of the pan, the middle of the cupcakes inexplicably caved, and I was left with some sort of sculptural oddity that, while mildly fascinating, would probably get me kicked off of Work of Art.

The photograph's not distorted. The cupcake is.
This kind of volcanic eruption of doom always seems to happen when the dessert is for a really special occasion, usually one replete with strangers tasting your food for the first time after hearing so much about your fancy blog. You know, when it matters.
In this case, I had only a few hours to pull up my bootstraps, find another recipe that conveniently didn't use the ingredients I was now out of, and make it happen. "It" being a fabulous cupcake recipe I'll post later this week.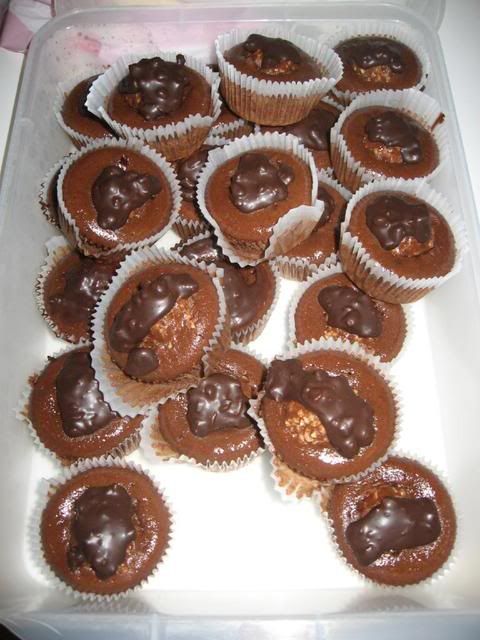 Ferrero Rocher Cupcake Catastrophe.
When folks ask if I have kitchen flops, it'd be fun to look at them quizzically (maybe with a head tilt) and say something along the lines of, "You mean sometimes recipes don't work for you? That's odd." But in the interest of keepin' it real and fulfilling the mission of this blog (to inspire kitchen confidence in home cooks), I have to tell you — flops happen.
Often.

Thanksgiving pie — er, soup.
My Thanksgiving Coconut Cream Pie was Coconut Cream Soup. Same with the Thanksgiving Chocolate Pie. My pie pockets disintegrated. The meringue on my coconut cake was toasted in stripes that made it look like it had recently escaped from dessert prison. My pink poured fondant glopped up and made most of my kitchen surfaces look like they'd been finger-painted with Pepto Bismol. I forgot the leavener in my first batch of Ferrero Rocher Cupcakes and ended up with Ferrero Rocher Hockey Pucks. My chicken and dumplings cooked too long, and I kept adding stock to replenish the liquid — ever eaten a block of salt? My first Red Berry Pie was a blood-red, runny mess that vaguely resembled a crime scene. And my pumpkin ravioli — oh my goodness, did you read about my pumpkin ravioli?!

Pie crust or pie dust?
Maybe the possibility of failure seems like a deterrent to you. Why spend time, energy, and ingredients on something that might fail? In actuality, though, flops should encourage you, and here's why: much of what I've learned in the kitchen, I've learned from flops. That's why when lovely Lauren of Celiac Teen suggested we share our flops, I jumped on board the self-humiliation train.
When a recipe fails, especially when it matters, you have to be resourceful. My pie filling is ruined, but can I fill the crust with something else? My pie crust is ruined, but can the filling double as an ice cream topping? My cake is wobbly, but can I tear it up and make cake balls? My croissants are pale and ugly, but can I shred them and make a caramel croissant bread pudding? My macarons don't have feet, but can I use them as a crunchy sundae topping? My cupcakes imploded, but can they double as doorstops? (okay, that one isn't very helpful.)
This kind of thinking is what chefs do. The more you're able to turn things around and put something fantastic on the table despite your difficulties, the more confident you'll become that there really are no kitchen failures: just kitchen detours.

Coconut Cake Convict
Flops also force you to start over. The repetition of a recipe is always enlightening for me. When I have to remake a pie crust from scratch, I realize that I'm growing: I know the amount of flour by heart, I refrigerate my cubed butter reflexively, I'm a little more savvy about rolling out the dough. The more recipes you try, the more you learn — so it stands to reason that having to try the same recipe twice in one go can be an informative experience.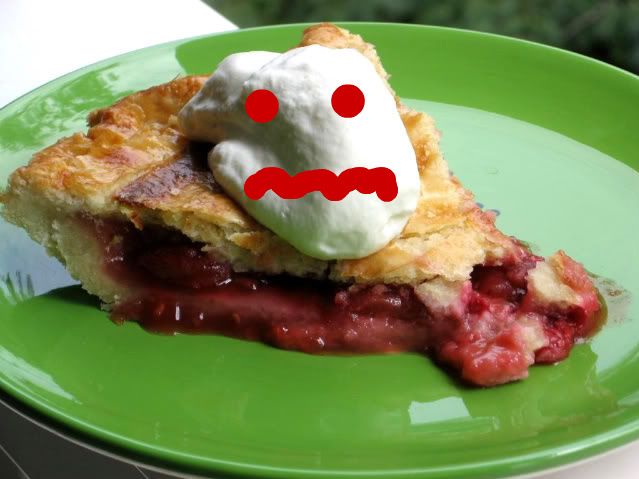 The runny pie massacre.
Finally, flops help you keep perspective. So much of our personal misery comes from seeking perfection in the wrong things. We want our houses to be perfectly clean, our kids perfectly behaved, our hair perfectly coiffed, our croquembouche perfectly . . . bouched. We need the perfect pair of jeans, the perfect car, the perfect body. The truth is, sometimes the fun is in the sloppy details. Cooking isn't supposed to be perfect. It's supposed to be an experience, a process, and something to share. And sometimes sharing the flops is just as fun as sharing the fancy stuff.
Now, how about you? What are your favorite kitchen flops?
To see other bloggers' favorite flops, check out the links on Lauren's Kitchen Flops and Disasters post.
If you liked this post, please:
–Subscribe to Willow Bird Baking
–Follow Willow Bird Baking on Twitter
–Follow Willow Bird Baking on Facebook
–Give this post a thumbs up on StumbleUpon
Other ways to share this post with friends!